Did you know you can encounter a number of Disney Villains at Disneyland Resort? It's true that during Halloween Time more of them tend to be found in the Parks, but any time of year you can come across them.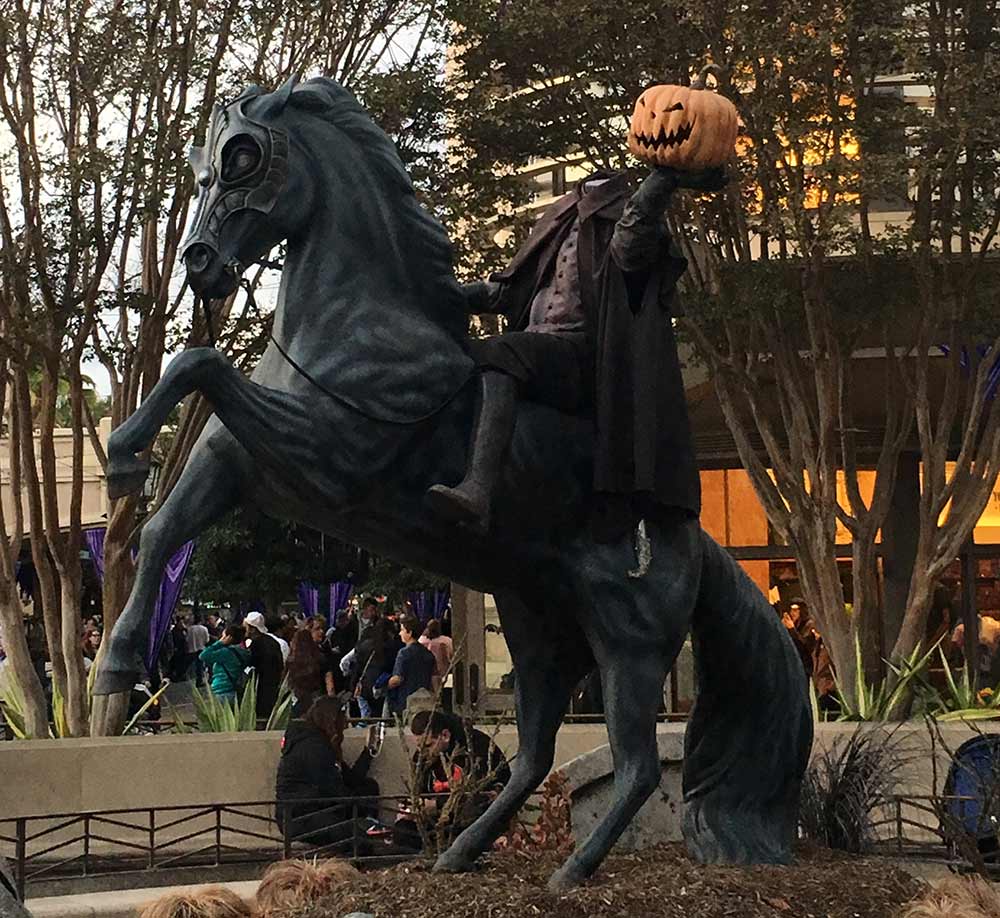 Disney Villains Guide
Today we've put together a Disney Villains guide to help you find them on your next visit to Disneyland Resort. Keep reading to discover who you might meet, and where to find them.
Nearly every Disney story has a villain; perhaps it is time, represented by Tick-Tock the Crocodile from Peter Pan, or the Dark Side represented by Darth Vader and Kylo Ren. Fans seem to love Disney Villains and are looking for ways to find their favorites in the Parks. Perhaps you want to find Ursula, the sea witch from Little Mermaid, or Gaston from Beauty and the Beast. These Disney villains and more are running throughout the park and it can be a fun adventure to find them!

Disney Villains Guide - From Star Wars: Galaxy's Edge to Disney California Adventure Park
In recent years, Disney fans young and old have arrived at Disneyland Resort with the specific goal to search for their favorite villains. Now that Star Wars: Galaxy's Edge is open, kids of all ages rush to see their their favorite dark side characters such as Storm Troopers, members of the First Order and Kylo Ren. While getting ready early in the morning, one young fan could not wait to put on his Kylo Ren outfit. He walked throughout the park pretending to use the Force. He visited his favorite ships, (Kylo Ren's ship) and then ran into Storm Troopers. In true Disney fashion, the Storm Troopers treated him like the boss! They walked with him and ensured that all was just right within the First Order. Disney provides many opportunities for a special moment such as this with guests.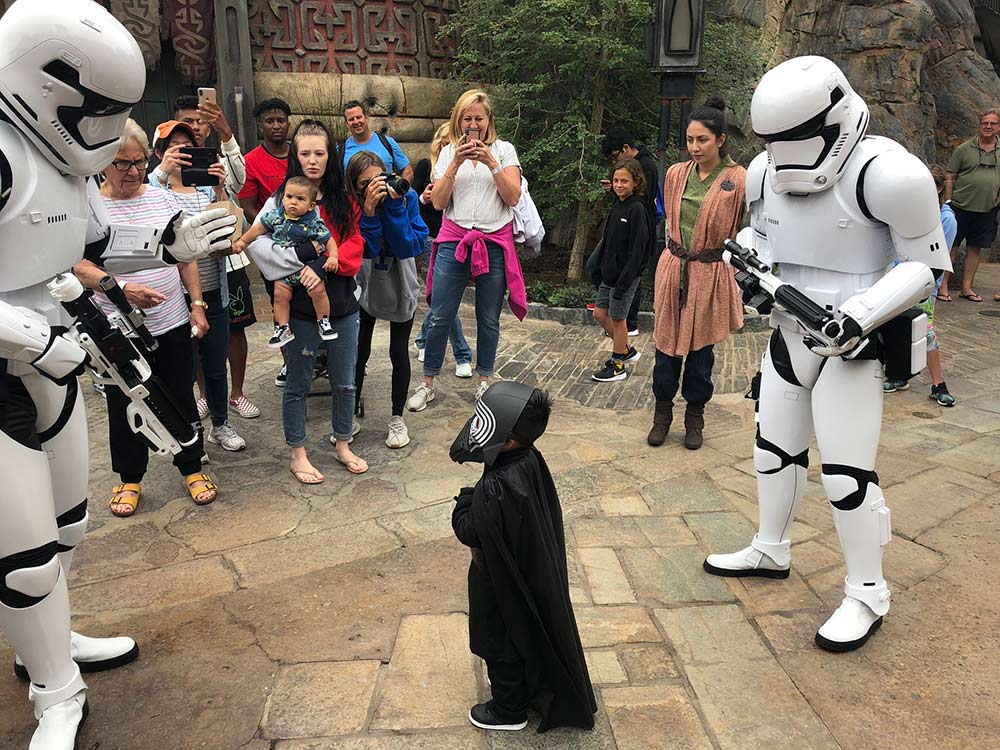 Disney Villains Guide - Blurring Lines Between Heroes and Villains
Popular books and shows like the new Star Wars movies ponder and wonder about the other side of the story. Traditional villains are "conflicted," embracing both good and evil, leaving fans to wonder if there really is good left them in them! After learning back stories, fans are sensitive to characters like Kylo Ren and Darth Vader and are now rooting for them to make the right decisions, but understand the inner turmoil that they must be feeling. Fans can see Darth Vader, Kylo Ren and sometimes even Boba Fett in Disneyland Park at the Star Wars Launch Bay.
There are those Disney villains who fully embrace who they are, which has become endearing to Disney fans everywhere. Gaston from Disney's Beauty and the Beast has become a fan favorite. Totally emerging into the character, he might challenge you to a push up competition to see who is tougher. Probably not such a great idea to challenge him to see who is best at "expectorating," but Gaston typically loves to challenge anyone to a flexing contest or questions about how to be handsome or manly. One of his favorite questions is "How many eggs do you eat Gaston?" He will typically say: "When I was lad, I ate four dozen eggs every morning to help me get large! And now that I'm grown I eat five dozen eggs, so I'm roughly the size of a barge!"
You can typically find Gaston hanging around the Fantasy Fair area, not far from Belle! Just remember that no one is quick or as slick as Gaston.
Disney Villains Guide - A Checklist
Disney villains are typically hanging out in the shadows, waiting… Take a stroll and see if you can find them throughout the parks:
The Wicked Queen from Snow White can be found in the Fantasyland Plaza. Take a look above the entrance to Snow White's Scary Adventures and you just might catch the Wicked Queen parting the curtains to peek out at the guests below.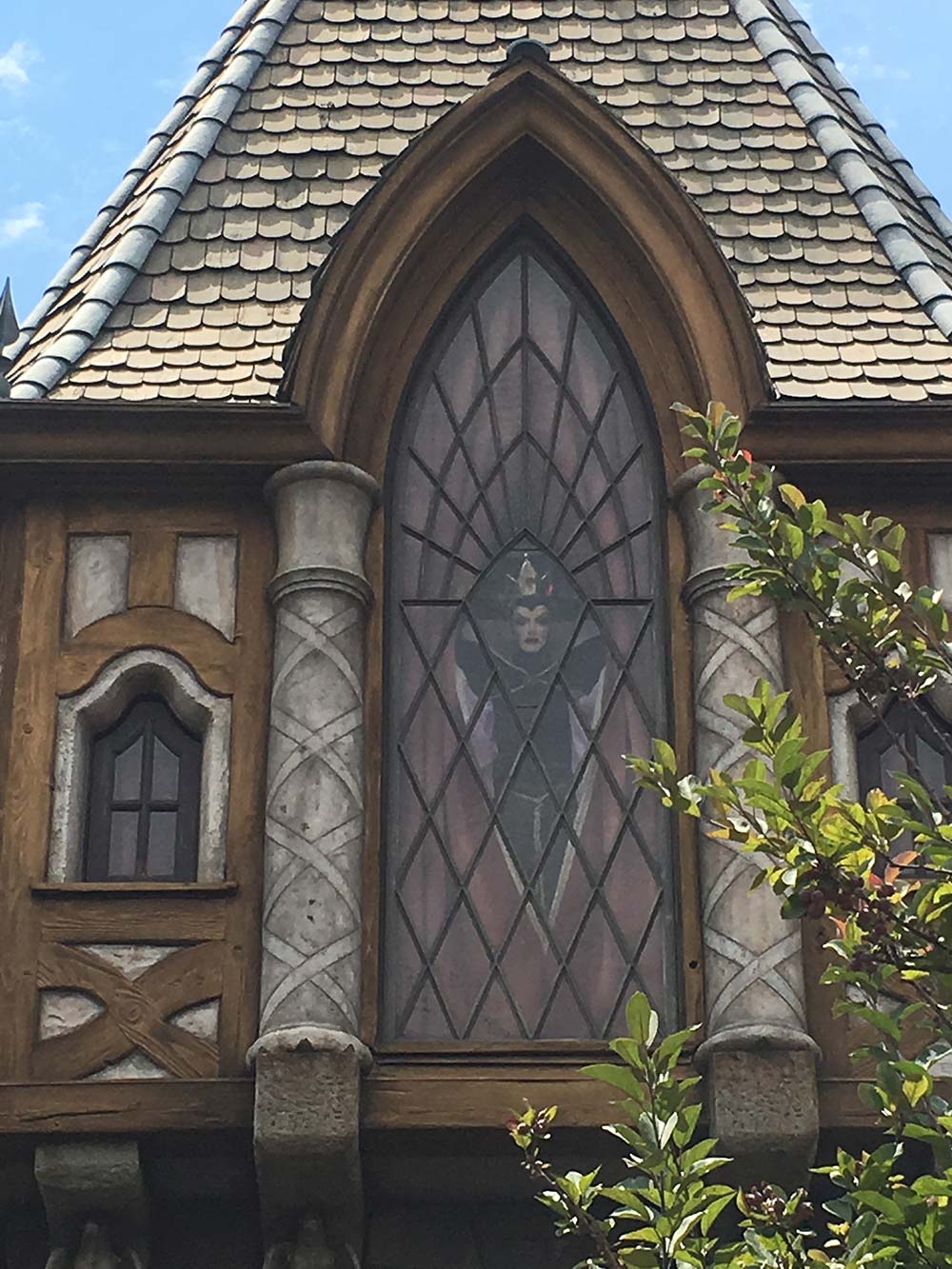 Maleficent can be found in lurking in Sleeping Beauty's Castle. Slip into the castle to see the beautiful story of Sleep Beauty. On the stairs leading down from the second story, listen and look closely. Her shadow and maniacal laugh is present, and if you look quickly you'll see her shadow appear on the wall for a few seconds. Be careful not to fall into her trap! Like Darth Vader many fans have come to cheer for Maleficent and believe that she may be misunderstood.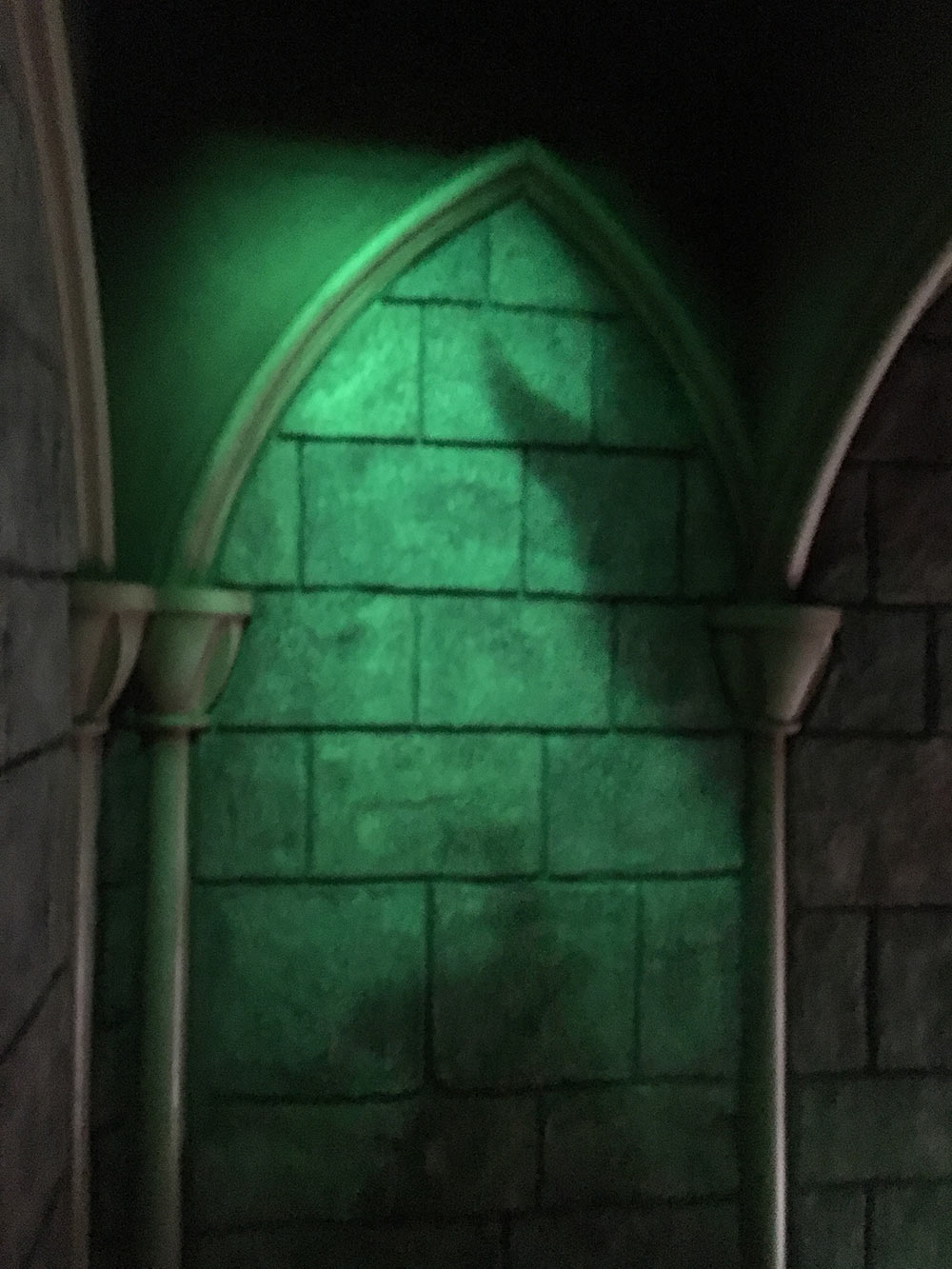 Wampa, the Snow Monster that captured Luke in the Empire Strikes Back, can be found in Dok-Ondar's Den of Antiquities in Star Wars: Galaxy's Edge. Enter the store, walk to the middle and look behind you; the Wampa is peering at guests from overhead!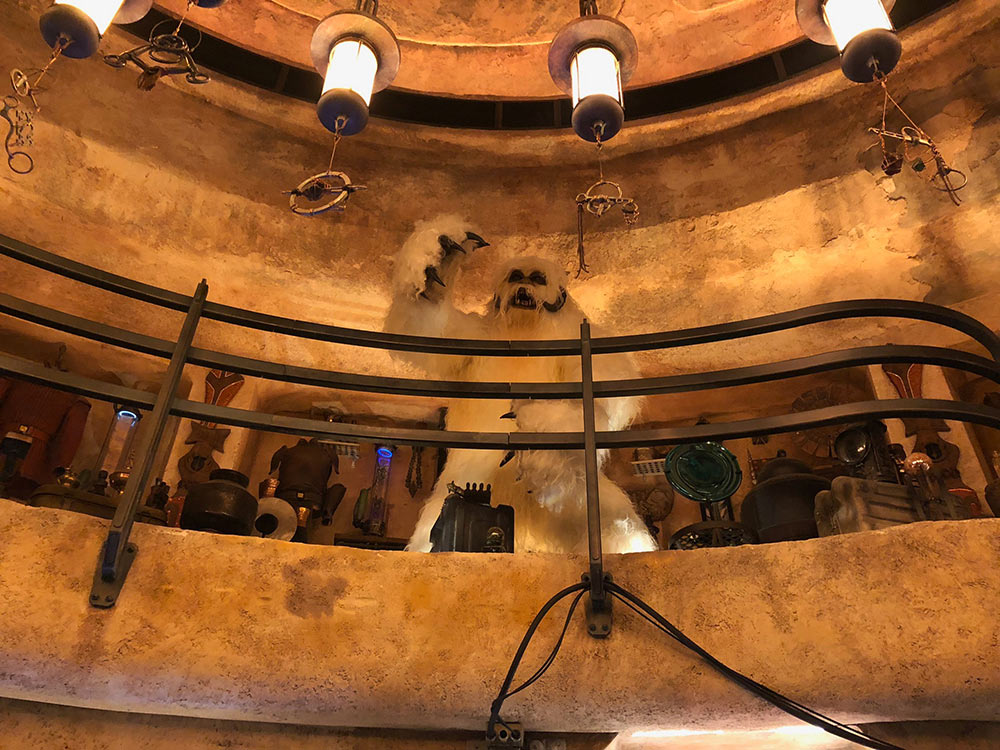 Disney Cast Members call him "Harold," and he is Disneyland's original Yeti. He can be found in the Guardians of the Galaxy attraction in Disney California Adventure Park, or you can always experience the Yeti in his natural habitat on the Matterhorn in Disneyland Park.

Disney Villains Guide - Fantasmic!
The nighttime speculator Fantasmic! at the river's edge of Waters of America features many Disney villains such as Jungle Book's Giant Python, Ka, to a 50 foot fire breathing dragon! Fantasmic! features a scene where the Old Hag from Snow White summons many of the Disney villains to fight against Mickey Mouse and his imagination. Villains from all angles appear including Chernabog from Fantasia to Monstro the Whale from Pinocchio and many additional villains from Disney history. You simply can't miss them. The dragon lights the Rivers of America on Fire and villains have their moment in one of the best nighttime attractions ever produced.
Oogie Boogie Bash - A Disney Halloween Party in Disney California Adventure Park provides the ultimate experience for Disney Villain fans. Villains have their day at Disneyland Resort during the Halloween Time parties and guests get to experience many of their favorites, including a night-time parade dedicated to villains: the Frightfully Fun Parade. Look for your favorites like Captain Hook, Hades (from Disney's Hercules), Jafar, and many others. The Frightfully Fun Parade parade includes the ballroom dancers from the Haunted Mansion, the HatBox Ghost, and characters from the Nightmare Before Christmas including Oogie Boogie, Jack, Sally, and Zero the ghost dog!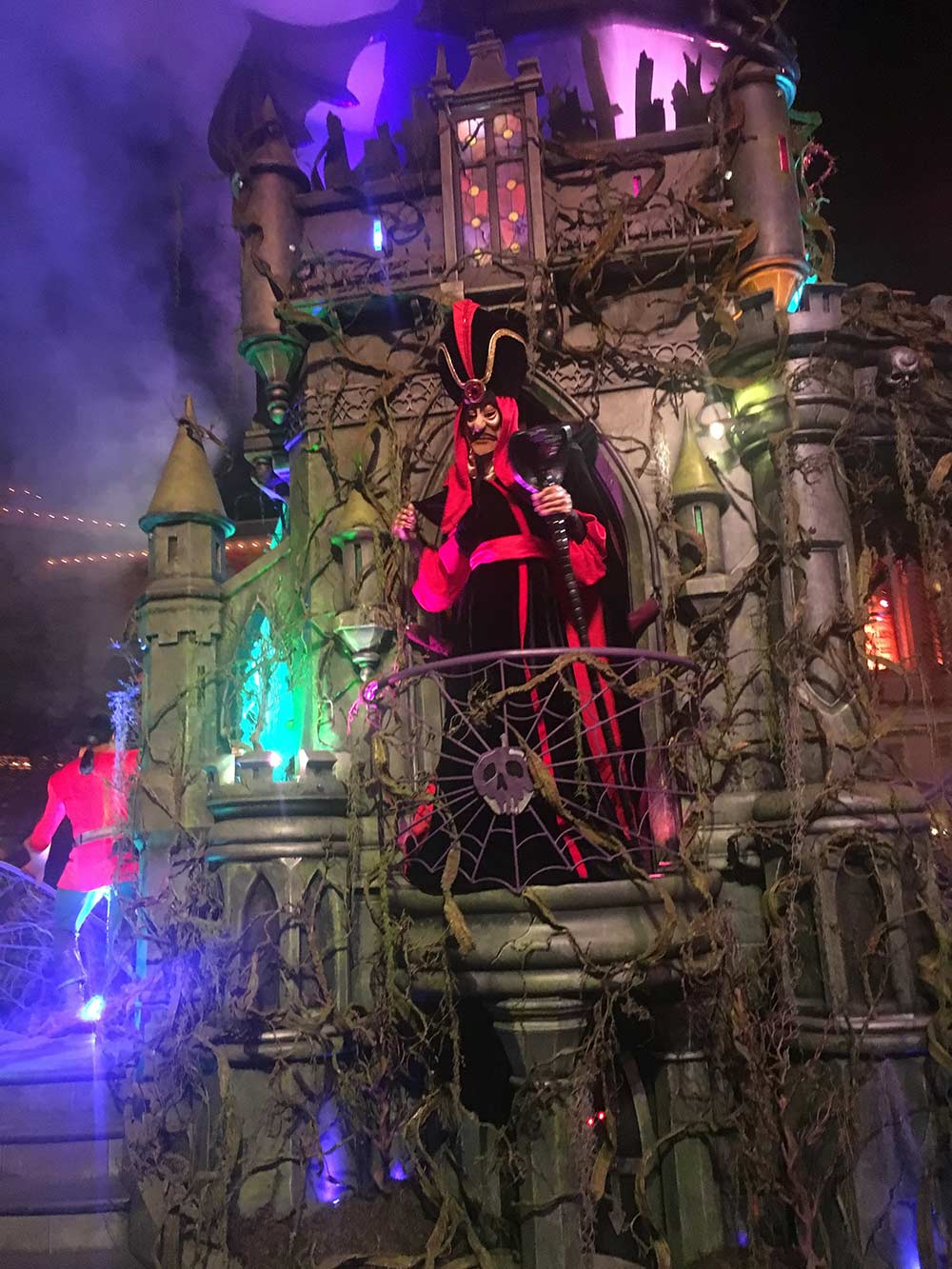 Disney Villains Guide - Villains in Attractions
Many attractions at Disneyland feature villains, and here are a few examples:
The Collector welcomes his guests to the Collector's Fortress at Guardian's of the Galaxy - Mission: Breakout! in Disney California Adventure Park. Guests get to see all of the Collector's acquisitions, including artifacts from the Marvel Universe. Insider secret: Look for Ultron from the Avenger's movie The Age of Ultron as well as the Grand Master from the Thor movie Ragnarok in the Collector's Fortress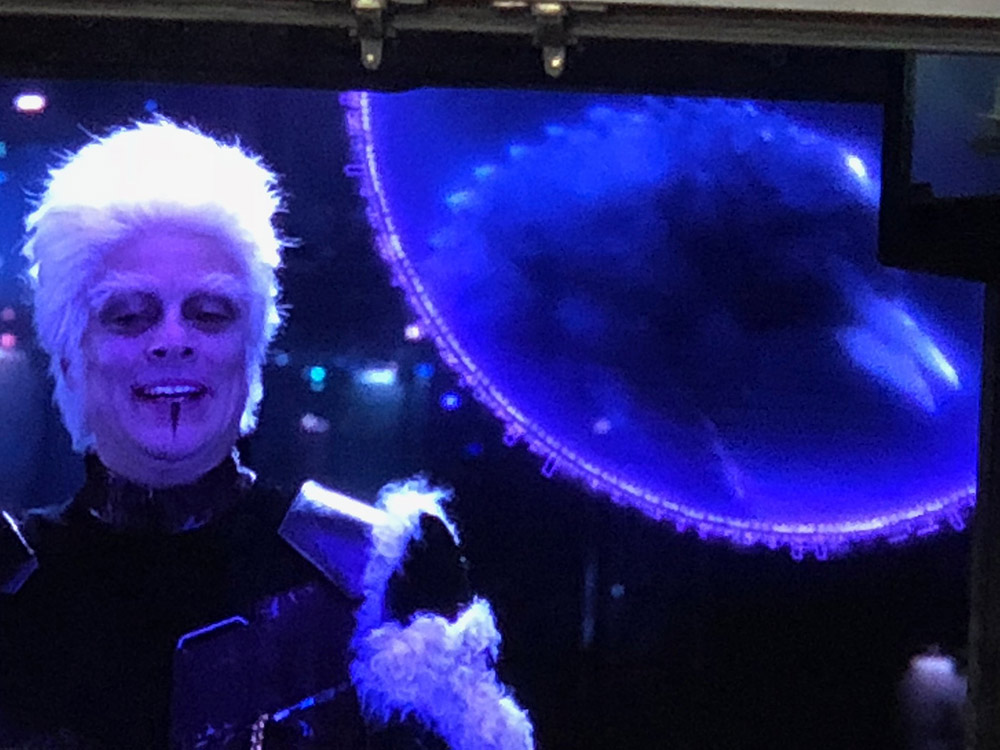 Briar Fox and Briar Bear can be found chasing Briar Rabbit in Splash Mountain.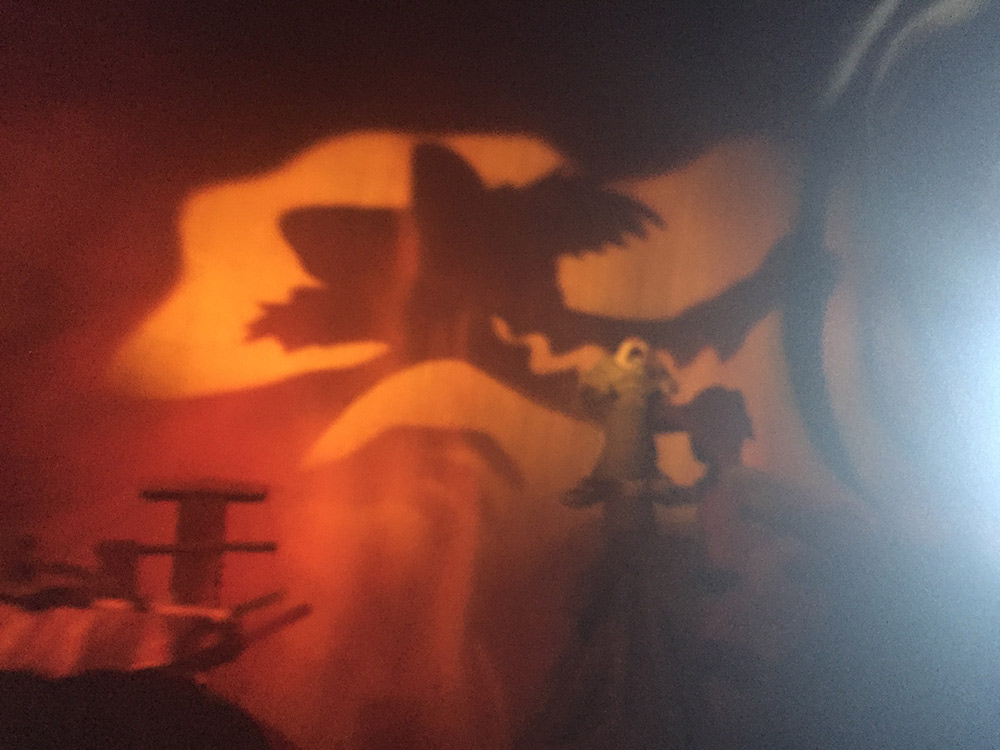 The Wicked Queen from Snow White can be found in Snow White's Scary Adventures. She magically transforms from the Queen to the "old hag" in front of your eyes! Spoiler alert: There are two separate animatronics to perform the trick… look at the old hag's reflection in the mirror; you will see the other animatronic with the Queen's crown.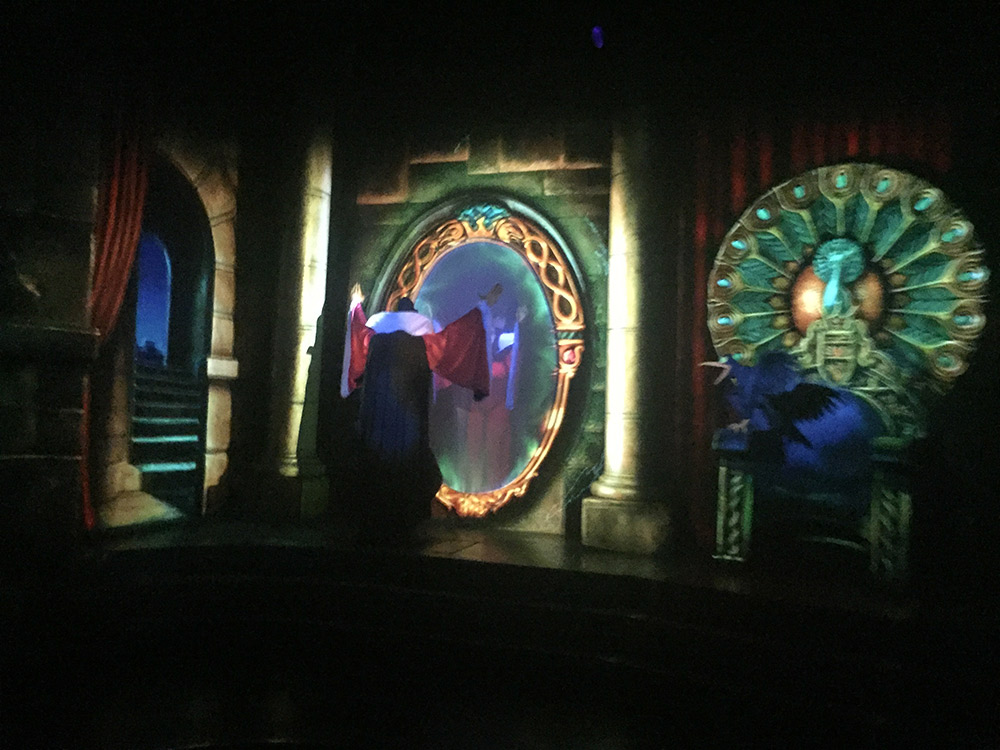 Ursula the Sea Witch can be found taunting guests in Arial's Undersea Adventure in Disney California Adventure Park.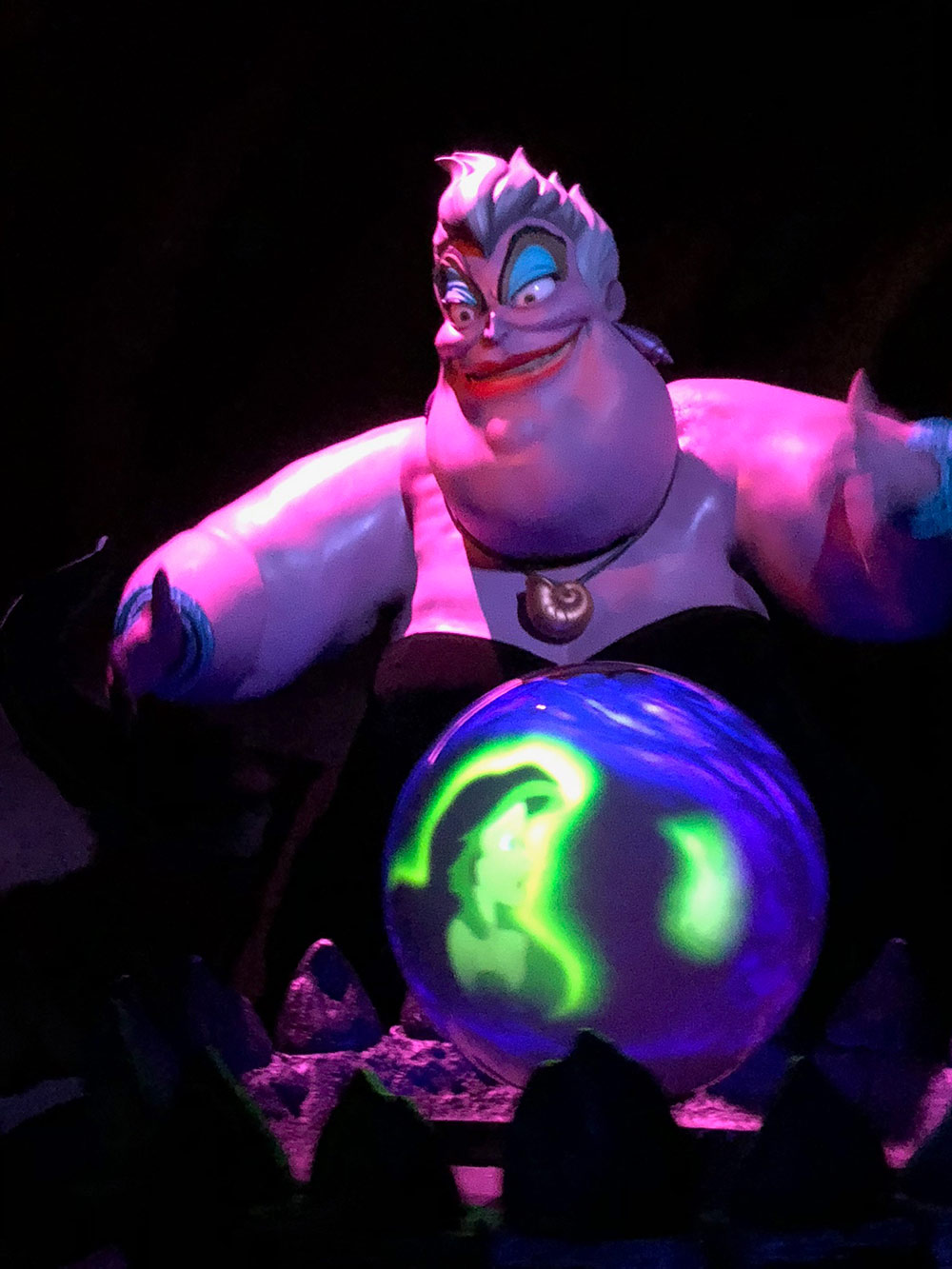 Don't miss Oogie Boogie in the Haunted Mansion as part of the Nightmare Before Christmas Attraction, showing between Halloween Time and the New Years Celebration.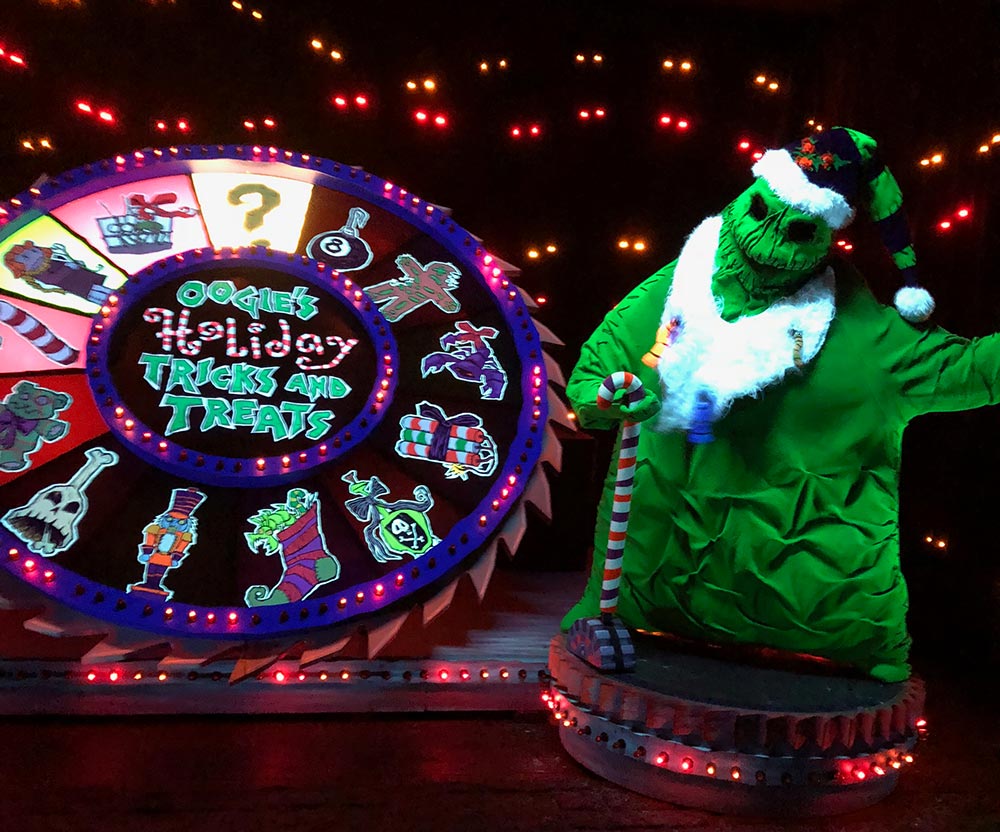 Disney Villains Guide - On the Streets
Look for your favorite characters throughout Disneyland Resort any time of year. You will find many of your favorites in their natural habitat. Captain Hook can often be seen waltzing by the Peter Pan attraction, Boba Fett can be seen near the cantina in Star Wars land or near the Star Wars Launch Bay. Classic Characters like Cruella De Vil (ever notice that her name spells: Devil?!) can be found in Hollywoodland in Disney's California Adventure Park.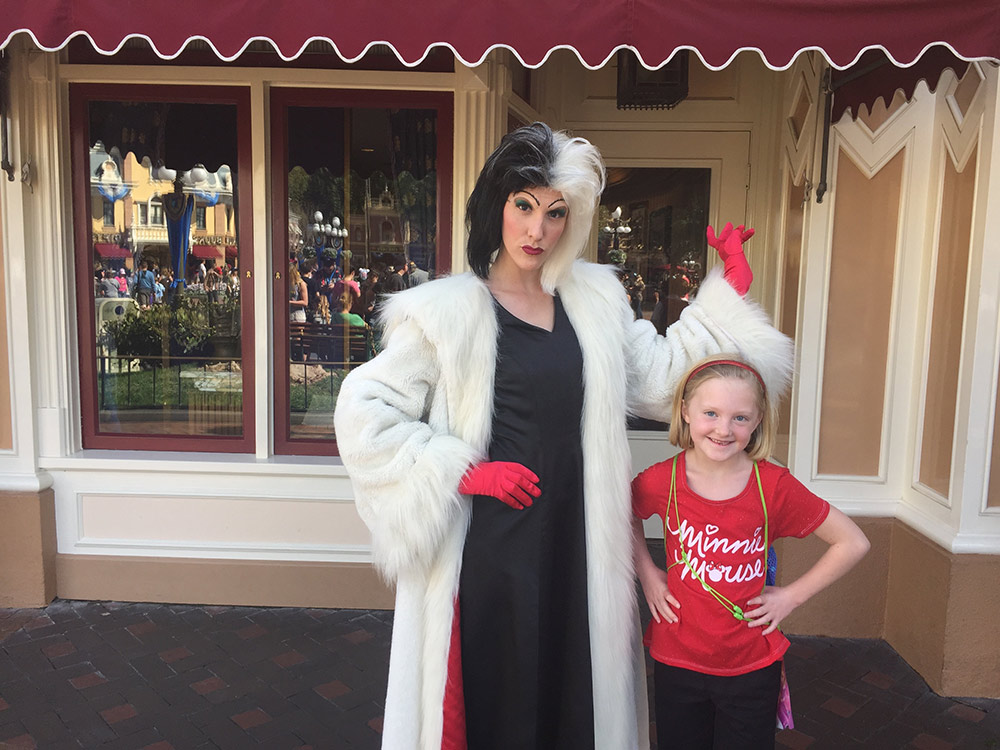 The Disney villains are so much fun to be around, as they play their villainous selves well and it's fun to ask them about their stories. For example, ask Cruella about her favorite coat. Ask Darth Vader why the Dark Side is so powerful, or ask Gaston what it takes to be handsome. Either way, it's a ton of fun for the family.
The ultimate Halloween Time villain is the Headless Horseman. He leads the parade and can be seen in California Adventure.
Choose your adventure and make lasting memories, whether you're searching for Disney Villains or Princesses!
Get Away Today will help you to get to Disneyland Resort and provide your family with every detail to choose a fun adventure. For as low as $175 down you can take advantage of the interest-free Layaway Plan and book a vacation now. Make flexible payments and pay off the vacation package five days before travel and you'll be good to go! It's never too early to start planning a Halloween Time Disneyland vacation so you can use this Disney Villains guide to track down your favorite characters. See all discount Disneyland vacation packages online, or call a travel agent at 855-GET-AWAY.
Chris Dallin is a Disneyland fanatic. He travels to Disney parks several times a year and continues to find hidden gems, adventure, joy and magic in the Happiest Place on Earth. Tune into future blogs for additional ways to experience the magic of Disney Parks.