Disneyland characters can sometimes seem elusive, which is why we put together our Disneyland character guide below. You'll be on your way to a star-studded vacation in no time!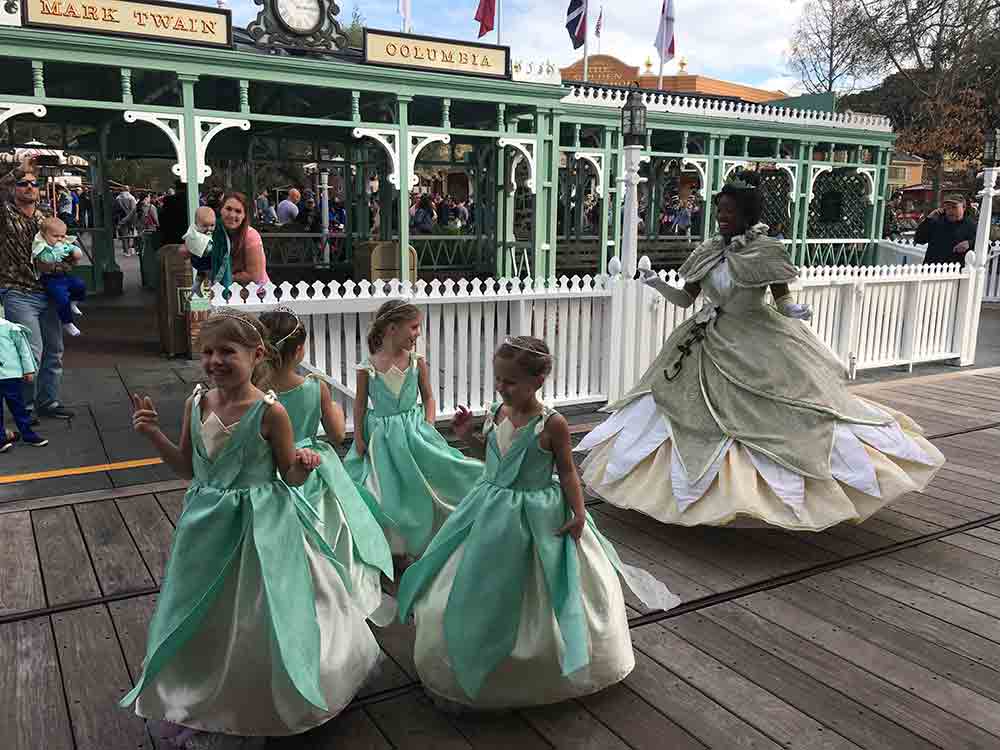 Planning a Disneyland trip is always fun, especially when you think of all the characters you can meet. Whether you want to find your favorite Disney princess, visit with Mickey and his friends or save the galaxy with a Marvel hero, you can do it at Disneyland. To make the most of your experience, we created a Disneyland character guide. Check it out below and use the 11 tips to make the most of your next character experience!
Disneyland Character Guide: 11 Tips to Meet and Greet Them All!
1. Make sure you have the right gear for meeting Disneyland characters.
To make the most of your Disneyland character experience, you'll want to have the right gear ready. That includes an autograph book, big pen and a camera. If you forget to pack your autograph book or a big pen, don't worry though – they can be bought throughout the resort. Many of the characters (like Mickey Mouse, Goofy, etc.) have limited sight and big hands, so a bigger pen will make it easier for them to sign.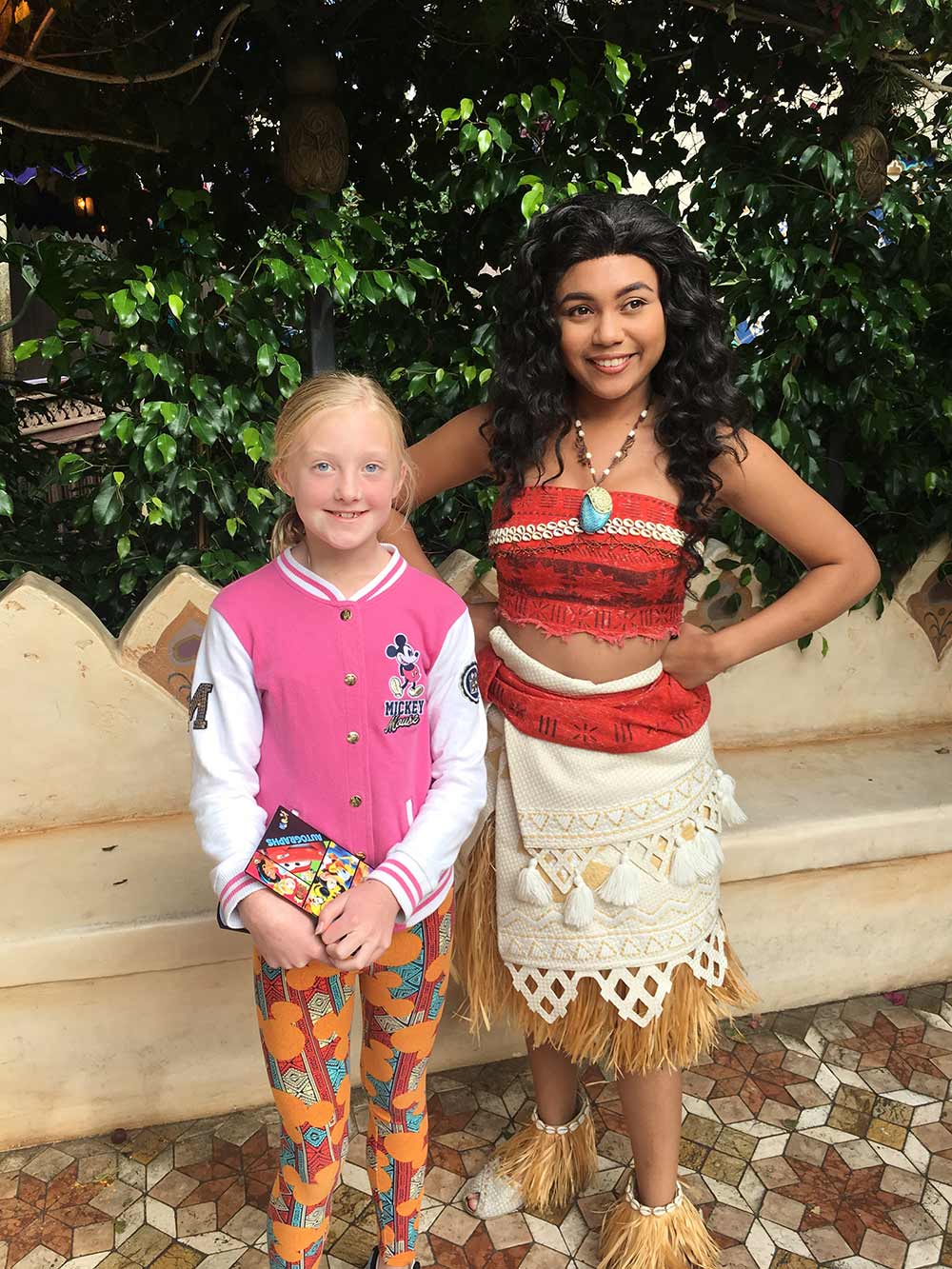 Having your camera ready is also a must. It can sometimes be easier to use the camera on your phone since that's usually easier to use in spur-of-the-moment character sightings. Many of the characters will have a Cast Member with them who is more than happy to use your camera to take the picture. That way everyone can be in the fun! Or, if they have a photographer with them, you can purchase the Disney PhotoPass service for access to those pictures. A great tip is to buy MaxPass for the day as it includes the PhotoPass downloads for the entire day!
Cast Member secret: There are two kinds of Disney characters. The first are face characters like the princesses, Peter Pan and Mary Poppins. The second are fur characters like Mickey Mouse, Goofy and any of the character who wear full body and face costumes. Cast Members aren't allowed to break the magic by saying which character they play in the Parks. Instead, they say "I'm friends with…" For example, if someone appears as Mary Poppins in Disneyland, they would say, "I'm friends with Mary Poppins!"
2. Encourage interaction with the characters.
To maximize the fun for your family, encourage interaction with the characters. Make it easy for them by wearing something with your name on it – kids will be amazed when the Disneyland characters know their name right away. You can pick up a celebration button from City Hall on Main Street U.S.A., Chamber of Commerce on Buena Vista Street or many retailers throughout the Resort. The buttons announce when you're celebrating a birthday, engagement, first time visit or anything else. Characters and Cast Members will be sure to wish you a happy day and interact even more when you wear them.
3. Think of finding Disneyland characters as an adventure.
It's important to create reasonable expectations when planning a Disneyland day around characters. Think of it as an adventure like bird watching or wildlife photography; you might not run into your favorite character, but, if you look close, there's likely another character right around the corner. Keep your eyes opened at all times – you never know who you'll find wandering the Disneyland Resort.
4. Use Disneyland's published schedule.
Luckily, Disneyland does have a published schedule for some of the character interactions. Usually the most popular Disneyland characters have a set schedule of times and locations, making it easy to cross them off your character search. While you can pick up the paper guide when entering the Parks, we recommend using the Disneyland app. It will show you the schedule in real time – which includes any last-minute changes that won't show in the paper guides.
5. Think of where your favorite Disneyland character would be.
Disneyland characters tend to flock to their natural habitat. When you're on the hunt for your favorite character, ask yourself, if you were that character, where would you be? The Disneyland Resort has many different lands and areas where they can appear.
If you want to crash into Lightning McQueen or Mator, stop by Cars Land. If you want to run into Tiana from The Princess and The Frog, stop in New Orleans Square. Star Wars characters? Check Tomorrowland. Marvel heroes? Look in the backlot areas of Hollywood Boulevard. Moana? Swing by the Tiki Room. Characters are most comfortable in their natural habitat, so that's always a great place to start if you're looking for a character without a scheduled appearance.
Insider secret: During rainy days, look for characters in the Disney Animation building at Disney California Adventure and in the Opera House on Main Street, U.S.A. at Disneyland.
6. Plan your Disneyland character searches for different times of the day.
Mickey and friends tend to be most active in the morning. Looking to meet classic Disney characters like the Fab Five? Mickey, Minnie, Donald, Pluto and Goofy can be found on most days early in the morning around Main Street, U.S.A. in Disneyland or Buena Vista Street in Disney California Adventure. They love to greet guests as they arrive to the park!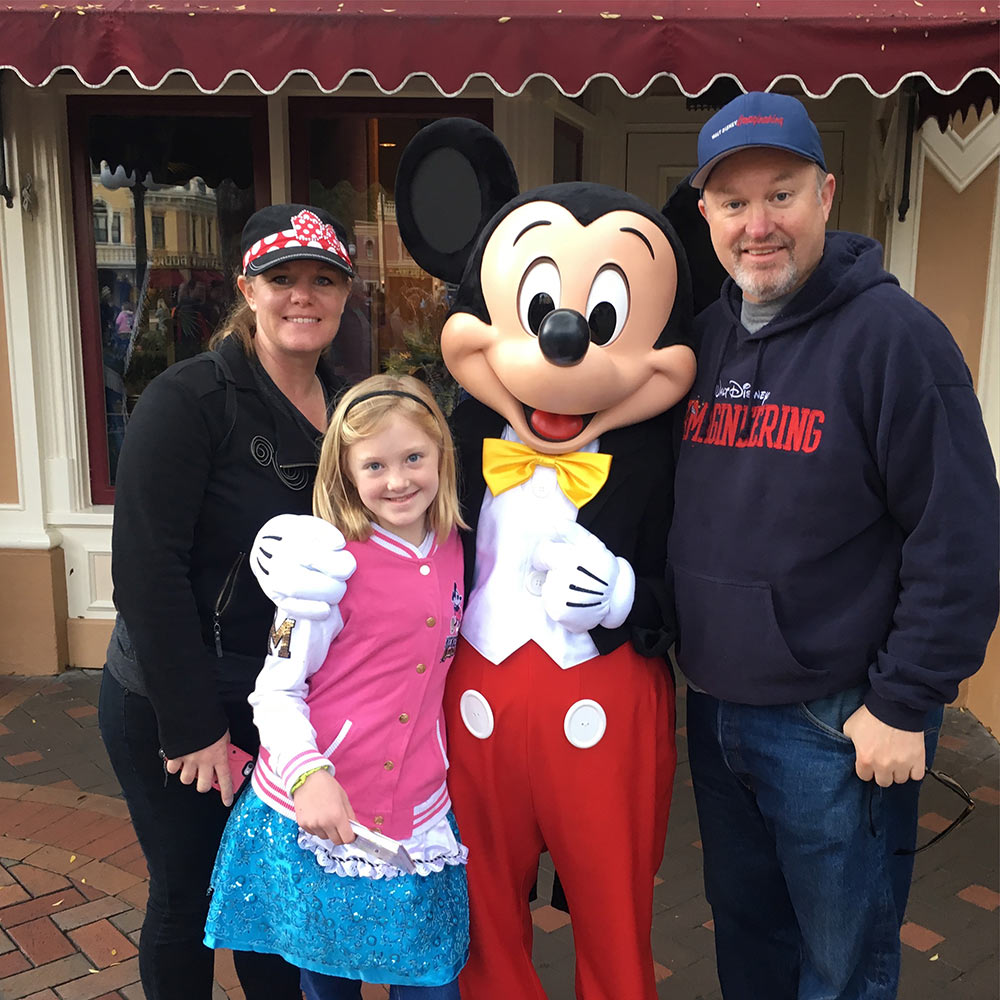 In the afternoon, you'll likely find them in Toon Town. The residents of Buena Vista Street tend to turn up in the afternoon as well – they may not be Disney movie characters, but they're always a hoot to meet. You may also notice wandering characters, like Peter Pan and Mary Poppins, tend to have scheduled appearances for early in the morning and later in the afternoon.
7. See the most Disneyland characters while enjoying a meal.
A fun and guaranteed way to interact with Disneyland characters is to make reservations for a Character Dining meal. The Disneyland Resort Hotels offer Character Dining meals that don't require park admission. Options include Donald Duck's Seaside Breakfast at Disney's Paradise Pier Hotel, Goofy's Kitchen at the Disneyland Hotel, or Mickey's Tales of Adventures Breakfast at Disney's Grand Californian Hotel and Spa. These are perfect to plan for the night before your park admission begins !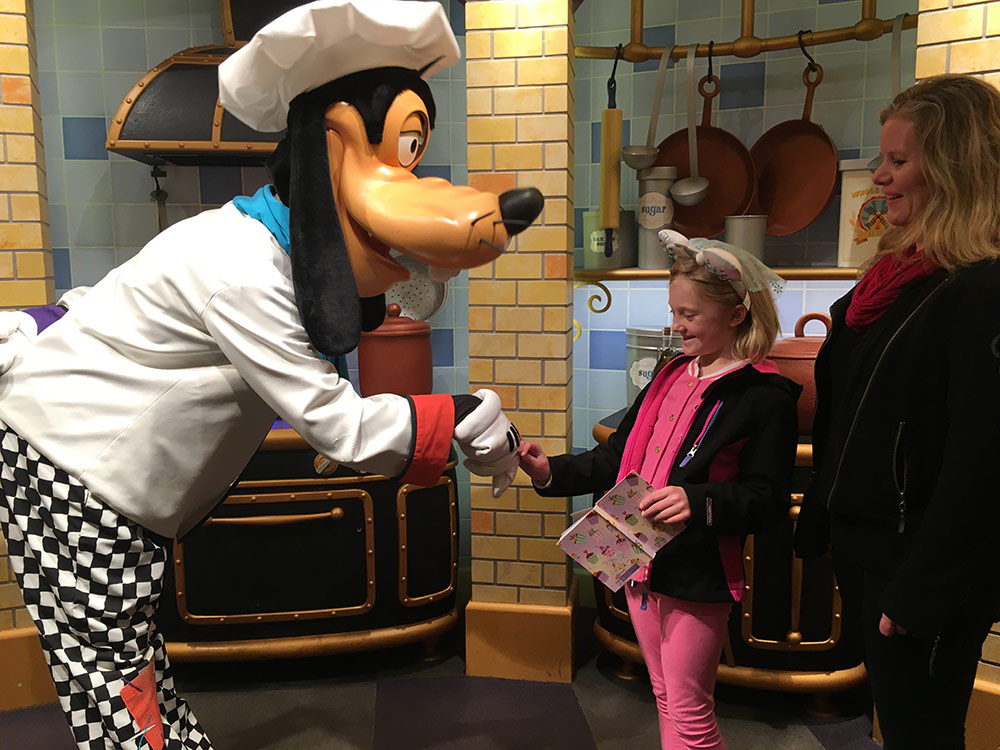 If you want the chance to enter Disneyland a little early and share your breakfast with Disneyland characters, check out the Minnie and Friends Breakfast at Plaza Inn. This is a fan-favorite when it comes to Disneyland characters since the breakfast always hosts an eclectic mix. You're guaranteed to see Minnie of course, but the other characters always change. We've seen Captain Hook, the Fairy Godmother, Chip and Dale, Max and Rafiki, just to name a few.
8. Find the designated Disneyland character spots.
On your Disneyland park guide or in the app, you'll find designated character meeting spots. Examples include Pixie Hollow, where you're sure to see Tinker Bell and her friends throughout the day. Star Wars Launch Bay is another option, as it houses many of the Star Wars character interactions in Tomorrowland. ToonTown is another favorite designated spot, where you're sure to meet a few of Mickey and his friends.
Insider secret: Disneyland characters need breaks from time to time. The Cast Members with them make sure they get that break and are always aware of when the specific interaction will end. While many of the designated spots have been designed so that characters can easily switch out, without a long wait time or the guests even noticing, it's not as easy for street or wandering interactions. But the character handlers do a great job of informing people in line of those break times, so you won't end up waiting in line for a long time only to find out the character has left and won't be back.
It's important to note that the Disneyland character handlers can be identified by their yellow shirts with red sketches of characters on them. If you ever have a question about when or where to find a character, these are the Cast Members who will have the most information.
9. Look for hidden characters throughout the Parks.
Many people know to look for hidden Mickeys throughout the Disneyland Resort. But did you know that you can also find other hidden Disney characters? Mrs. Potts and Chip are somewhere in Tarzan's Treehouse, while Jack the Pirate Monkey can be found in the Pieces of Eight shop in New Orleans Square. There are even a few Cars movie characters hidden in the shops throughout Cars Land. Our favorite has to be Herald the Yeti, tucked away somewhere in the Guardians of the Galaxy ride. Everyone is in on the fun of the hidden characters; even the cleaning crew, who like to draw Disney character on the sidewalks as they go. You always want to look closely, because you'll never know what – or who – you'll find throughout the Disneyland Resort!
10. Seasonal Disneyland characters are always a fun find.
If you're going to Disneyland during a special event, you'll likely see a few special characters that aren't usually found there. Halloween Time is one of the best times for this, with characters like Jack, Sally, Smee, Max and many of the villains making appearances. Holidays at the Disneyland Resort will usually bring many of the normal characters out but dressed in their seasonal best. Mushu and Mulan are always fun to meet during the Lunar New Year Festival as well. Any time you're visiting during a special event, keep an eye out for unique characters or the usual characters with different outfits.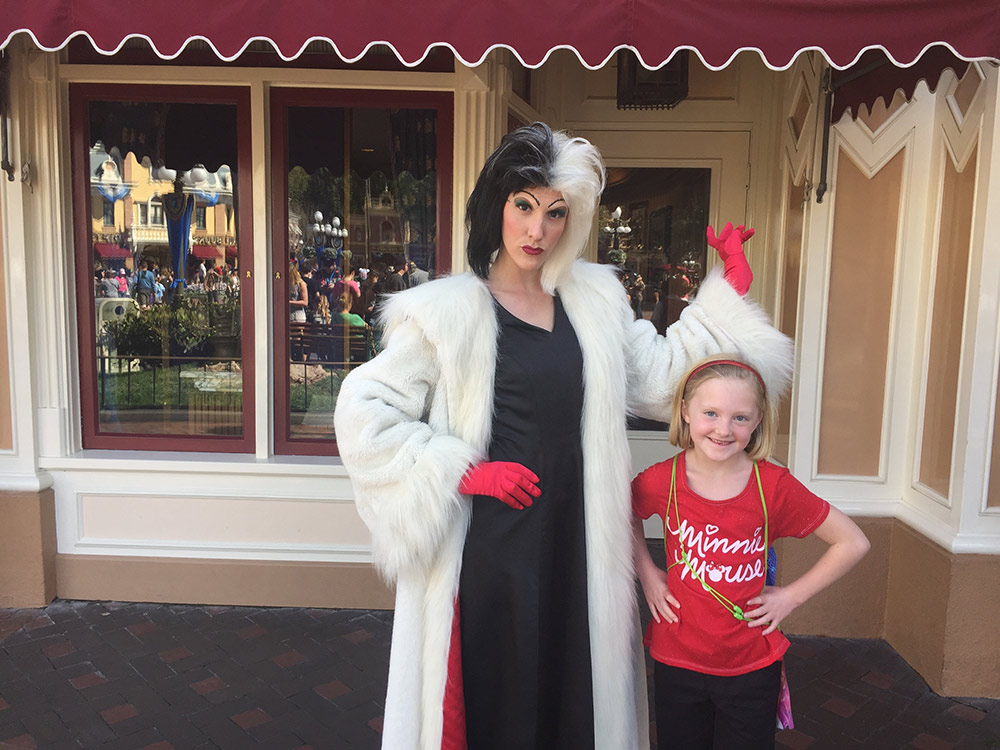 11. Get into character yourself!
The number one thing to remember is to get into character yourself. Disneyland characters love to interact, and it makes it easier when you dress the part with your favorite Mickey ears and know the characters. A few ideas include asking Olaf for a warm hug, challenging Goofy to a Thriller dance during Halloween Time, making "Tick Tock" noises with Captain Hook, or asking Belle about the Beast or her favorite book. You'll find yourself having an even more magical time with the Disneyland characters when you get into character yourself. And don't feel silly – Disneyland is for kids of all ages and you won't be the only one singing with Moana or dancing with the Mad Hatter.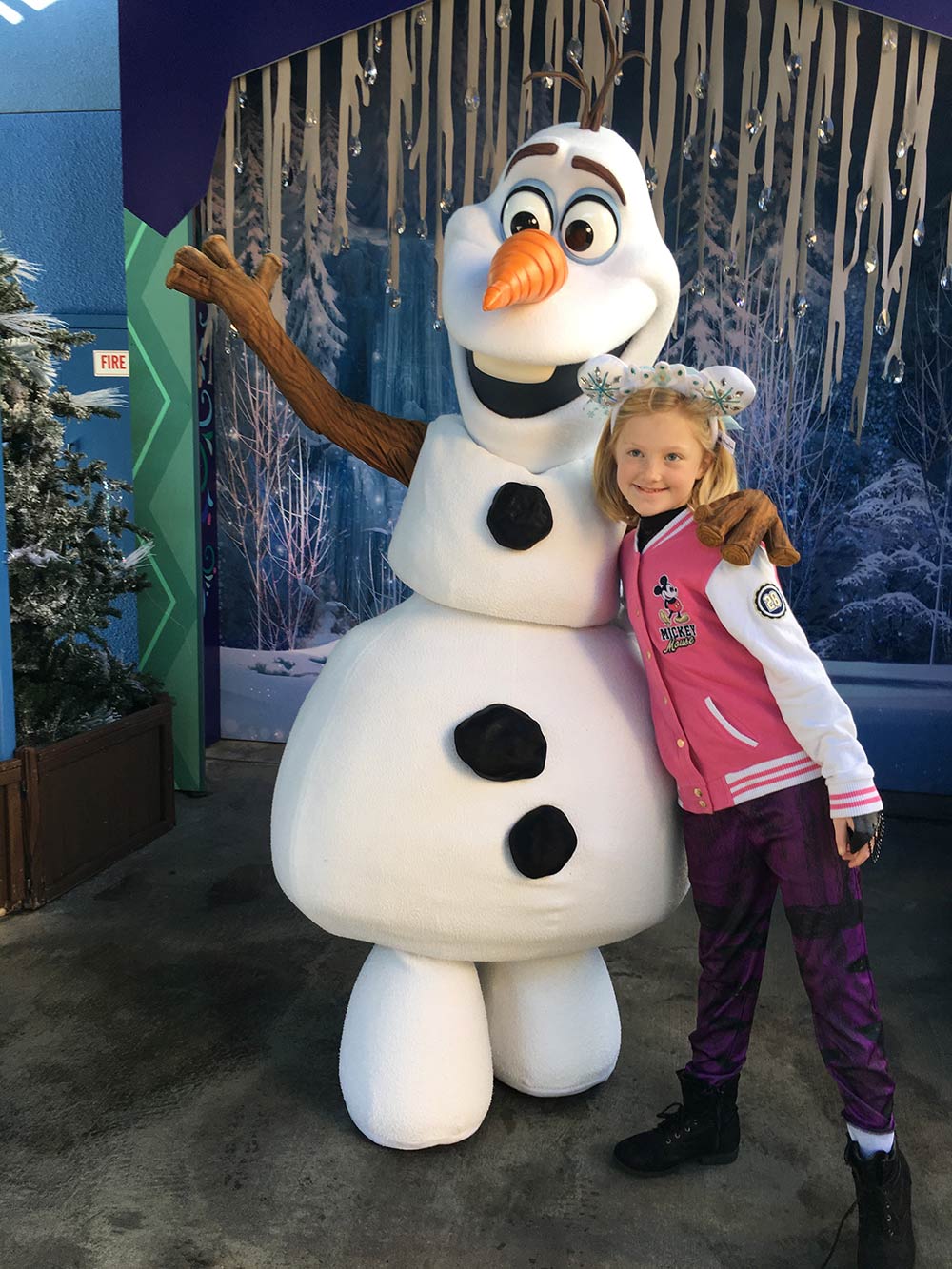 It is so much fun to interact with the Disneyland characters – and it will create memories that last a lifetime. Start planning your next Disneyland vacation with Get Away Today. We'll help you with everything from your hotel and tickets to park tips. You can book any of our affordable Disneyland packages online or give our travel experts a call at 855-GET-AWAY.