UPDATED OCTOBER 2023. Leave it to Disney to grant even more magic at the Disneyland Resort Resort with just a flick of the wrist. MagicBands+ are the latest craze to hit Disneyland!
Magic Bands+ are lightweight, waterproof wristbands that unlock the magic during your vacation. They come in one adjustable size for adults and children.
At Disneyland Resort it's important to note that only the new, upgraded Magic Band+ will be functional here. Old versions of the MagicBand from Walt Disney World will not be available for use at Disneyland.
In this article we'll explore why you might add a Magic Band+ to your trip and how it can add to the magic!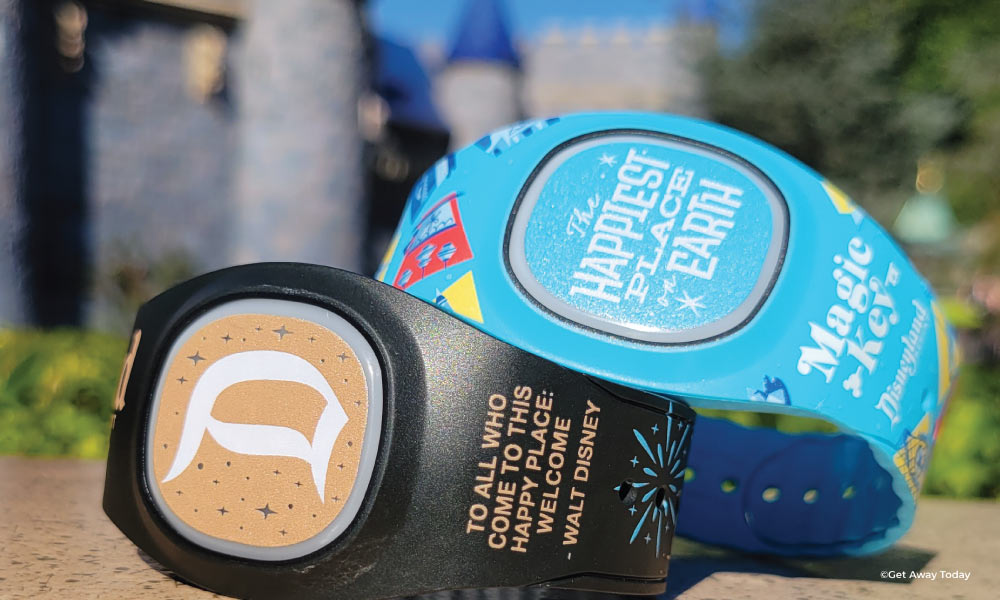 Magic Bands Before Your Disneyland Resort Vacation
The first thing you are probably wondering is, "Do I need a Magic Band for my Disneyland vacation?"
While use of Magic Band+ is not required, it sure does make things simple and magical! Our Get Away Today team loves the ease of Magic Bands+ because they allow guests to do so many things, at every step of your vacation.
We've , and now that they're here at Disneyland, we want to share a few Magic Band+ perks.
MagicBands are a wristband you wear at Disneyland Resort
Magic Band+ stores your theme park tickets. Simply tap for entry at the Disneyland Resort theme parks (reservations required).
Magic Band+ allows you to quickly redeem Lightning Lane selections. Just a tap admits you to the line without fumbling for paper tickets or pulling out your phone.
Magic Band+ unlocks your room at Disneyland Resort hotels. No lost keys or struggling to find them when you return late at night, just tap and unlock. This feature is coming soon to Disneyland Resort but will not be part of the initial launch.
Magic Band+ makes it easy to pay for food and merchandise, just enter your custom 4-digit code and tap to pay. This feature is coming soon to Disneyland Resort but will not be part of the initial launch.
Of course there's even more tricks Magic Bands+ can do, but you can actually get started with by booking your Disneyland Resort vacation now.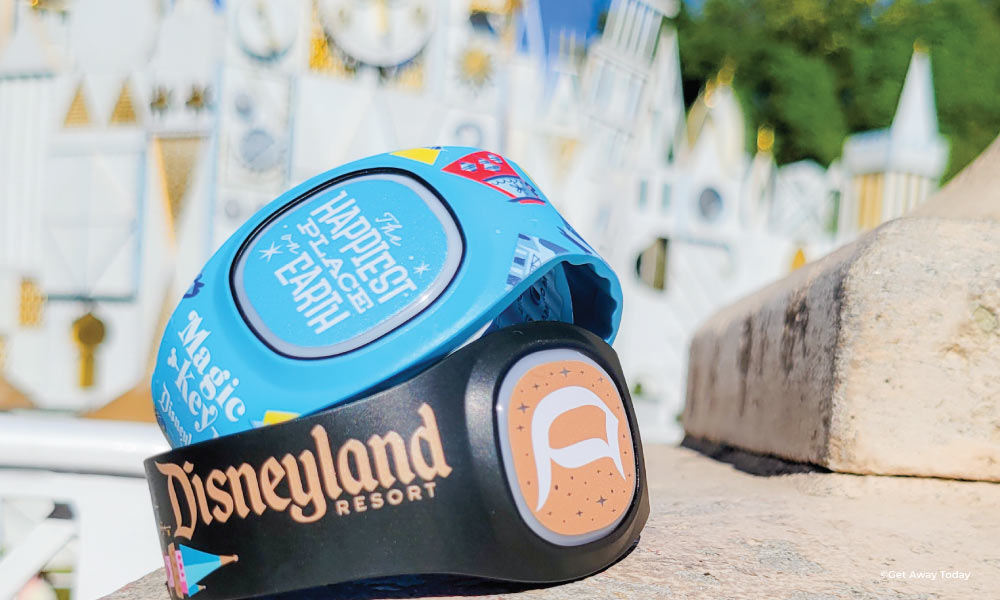 We recommend…
We recommend at least a 3-day Park Hopper ticket so you can experience one day at each park and mix and match as you go.
Then choose to stay at one of Disneyland Resort Resort's onsite hotels to enjoy even more magic with your Magic Band+.
There are always new Magic Band+ designs being released. Choosing and customizing Magic Bands+ is one thing many families enjoy doing as they count down to their vacation.
Magic Bands+ come in classic colors, trendy hues, and tons of Disney character options! These wrist bands are available in one size and can be adjusted to fit so everyone can enjoy the magic.
Get Away Today pro tip: purchase your Magic Band+ as early as possible to avoid shipping delays.
Magic Band+ On Your Disneyland Resort Vacation
The "tap and go" magic of Magic Bands+ lets you explore and enjoy with ease. Parents will love the convenience of ditching bags, purses, wallets, paper tickets in favor of the small wristband device.
During your vacation a Magic Band+ gives you access to:
Your room at a Disneyland Resort Hotel (coming soon)
Enter Disneyland and Disney California Adventure Park with valid admission and reservations
Check-in at Lightning Lane entrances (valid with Genie+ purchase)
Charge food and merchandise purchases (coming soon)
Link Disney PhotoPass to photos to your Disneyland account
Guests staying off property can purchase Magic Bands+ at the Disneyland Resort upon arrival or at shopDisney. These bands have many of the same perks where you can link your park ticket and account to the band to use it for admission, Genie+ reservations and more.

Magic Bands+ FAQs
Do you have more questions about Disneyland Magic Bands+? We have gathered the most frequently asked questions and answers below to help you have an even better vacation.
Are Magic Bands+ free?
Magic Bands+ are not free. We recommend purchasing your MagicBand+ as soon as your vacation is booked. Start your Disneyland Resort Vacation planning here.
How much do Magic Bands+ cost?
Magic Bands+ range from $20-$50 or more, per Magic Band. Be sure to order your Magic Band+ early to take advantage of your early booking discount.
What's the difference between the Magic Band+ and other Magic Bands?
MagicBand+ is the newest technology and is the only MagicBand type that will currently work at Disneyland Resort. You may also use the DisneyBand+ specifically marketed for Disney Cruise Line at Disneyland Resort.
Your Magic Band+ will include:
New, enchanting interactions at the parks and select entertainment (notice the buzz/vibration as you walk by certain attractions and locations for more information)
Rechargeable battery (remember to charge each night!)
Waterproof
Customizable options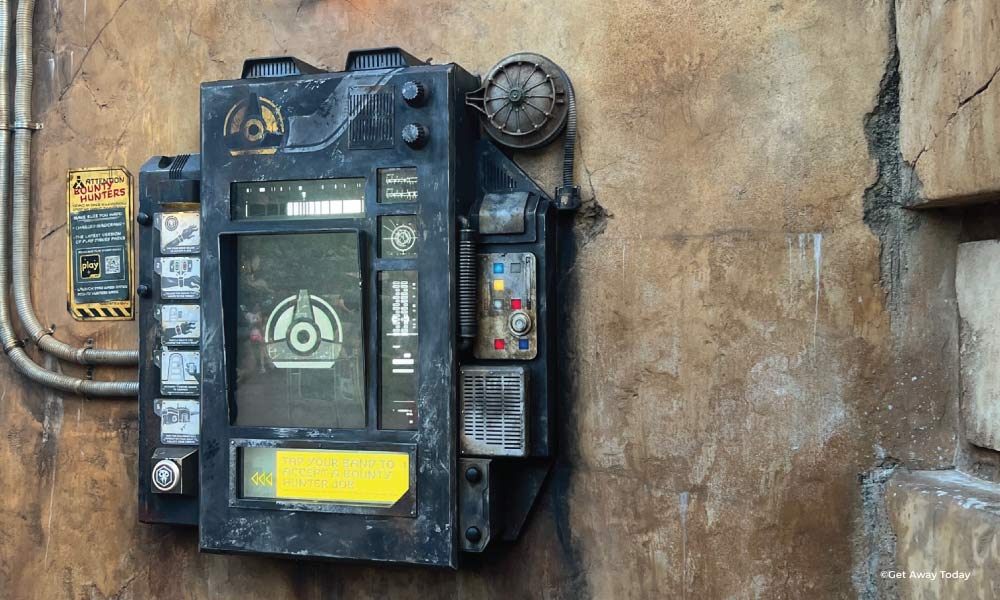 Can I use my Magic Band+ again?
Yes, you can use your Magic Band+ over and over, making it part of every Disneyland vacation experience.
Can one Magic Band+ be used for my entire party?
No, you will need one Magic Band+ per person. However, Magic Bands+ are not required for your visit. Some in your party may choose to use Magic Band+ and some will instead use the Disneyland app.
How do I charge for food and merchandise on my Magic Band+?
This feature will debut at Disneyland Resort at a later date.
How do I link photos to my Magic Band+?
When you take photos with one of the many Photopass photographers at Disneyland Resort, simply tap your Magic Band+ to the Photopass device and the photos will automatically link to your Disneyland app account.
Later on, we hope to see automatic updates for ride photos as well.
These Disneyland Resort attractions feature ride photos:
Space Mountain (Tomorrowland, Disneyland)
Tiana's Bayou Adventure (opening at Disneyland at a future date)
Guardians of the Galaxy – Mission: BREAKOUT! (Avengers Campus, California Adventure)
Radiator Springs Racers (Cars Land, California Adventure)
Incredicoaster (Pixar Pier, California Adventure)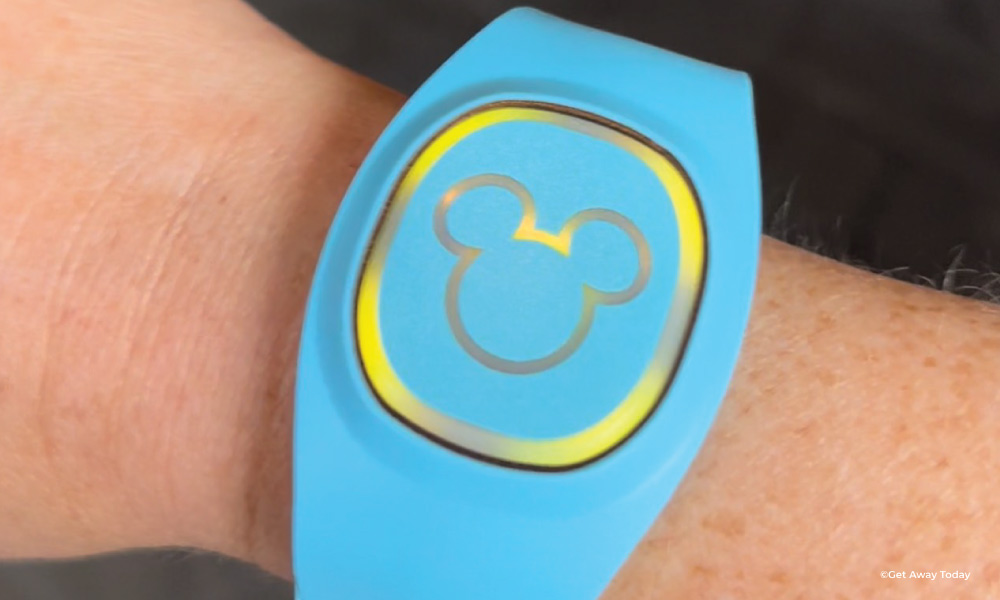 Are you ready to book your Disneyland Resort vacation with Get Away Today? Getting started is easy! You can call our agents at 855-GET-AWAY for the quickest response from our agents. Or, you can click here to book online now. No matter how you book your Disneyland vacation, we can't wait to help!