At Get Away Today we're always asked about the Hotels of the Disneyland Resort. What makes them different from other hotels? What makes them different from each other? Is it worth it to stay there? Today I'd like to do a hotel-by-hotel comparison and show you some of the similarities and differences that make the Disneyland Resort Hotels so awesome.

First of all, the Disneyland Resort offers exclusive amenities to guests staying at all three of the Hotels of the Disneyland Resort. These exclusive amenities include early entry into a theme park each day of their stay. Staying at one of the three Disneyland Resort Hotels is also the only way to get early entry into Cars Land at Disney California Adventure Park - a huge benefit. The Key to the Magic Card is another exclusive benefit allowing guests at the theme park to have their purchases sent directly to their hotel instead of carrying around everything all day long. Guests at all three hotels also have Character Dining on-site, bedtime stories told by Disney Princesses on TV nightly, and wake-up calls from Disney Characters each morning.

The differences between the three Disney Hotels mainly include theming, room size, amenities, location and price. Here is what makes each hotel stand out from the others:

Disney's Grand Californian Hotel & Spa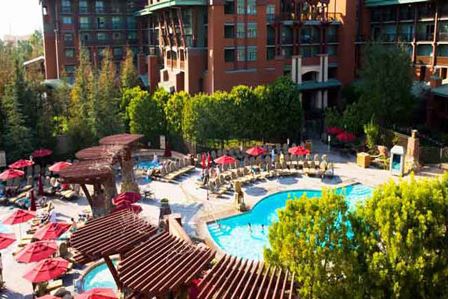 Theme: The Grand Californian is meticulously California Craftsman themed and features a huge lobby with a warm fireplace and hearth. The hotel is surrounded by a mini forest, providing a feeling of relaxation and seclusion.

Rooms: The rooms at the Grand carry the Craftsman feel as well. Most rooms have two queen beds and in true woodsy fashion, the hotel offers a sleeping bag and pad in lieu of a roll away beds.

Amenities: Disney's Grand Californian offers the most recreational amenities on-site including three swimming pools and the Madara Spa. The hotel also provides their guests childcare for a fee at Pinocchio's Workshop.

Character Dining: Chip 'n Dale's Critter Breakfast is served inside Storyteller's Cafe daily. It is the most intimate of the Character Dining experiences and features some of the rarely seen Disney Characters. Guests can order off an a la carte menu or dine at the Farmer's Market Buffet.

Location: The Grand Californian is the only hotel located inside Disney California Adventure Park, or any theme park for that matter! Guests staying here have a private on-site entrance to the Park and can access Disneyland by cutting through Disney California Adventure Park (normally the quickest), or through the Downtown Disney District either by foot or via the Monorail.

Price: It makes sense that the grandest of the hotels has the grandest price tag.

Disneyland Hotel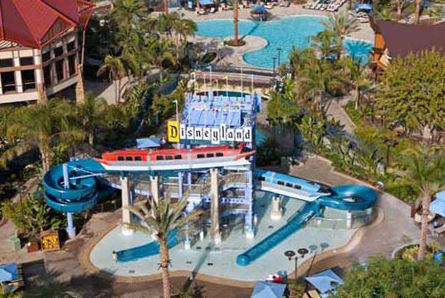 Theme: The Disneyland Hotel celebrates classic Disney magic and nostalgia throughout the entire property. Each of the three towers is themed after a land in Disneyland Park and guests can relax in giant tea cups in the lobby.

Rooms: The newly renovated guest rooms are amazing and the most "Disney" of all three hotels. My favorite touch is the carved Sleeping Beauty Castle headboard that lights up and plays music. Most of the rooms at the Disneyland Hotel come with two queen beds.

Amenities: In my opinion, the Disneyland Hotel has the best swimming pool areas. An E-Ticket and D-Ticket pool offer plenty of space for swimming and splashing. The main attraction though is the Monorail Pool with two Monorail water slides. At night the pool area transforms with tiki torches from the nearby Trader Sam's Enchanted Tiki Bar lighting the area and live island music filling the air. I love it!

Character Dining: Goofy's Kitchen is the quintessential Character Dining experience. As the largest and most popular of the Disney Character Dining options, Goofy's Kitchen offers a "brunch" from approximately 7am-2pm and dinner nightly. Goofy menu items include PB&J Pizza, Dirt and Worms and Mickey Mouse Waffles.

Location: Tucked at the end of the Downtown Disney District, the Disneyland Hotel is the farthest of the three Disney Hotels from either theme park's Main Gate. Not to worry though, guests staying here can ride the Monorail from Downtown Disney directly into Tomorrowland.

Price: The Disneyland Hotel is priced right in the middle between the Grand and the Pier.

Disney's Paradise Pier Hotel




Theme: Disney's Paradise Pier has a Southern California beach theme with a Disney twist. The hotel screams fun-in-the-sun!

Rooms: The rooms at Disney's Paradise Pier Hotel are the largest in size of the three hotels. Many of the rooms include two queen beds and a pullout daybed making it super comfy for families.

Amenities: Although Disney's Paradise Pier offers the fewest amenities of the three hotels, it has some pretty spectacular features. The most popular is the roof-top boardwalk style swimming pool and water slide. Its pool deck even has a pretty great view of the Disneyland fireworks with piped-in music.

Character Dining: Disney's Paradise Pier offers the only Character Dining experience that includes Mickey Mouse. In fact,the PCH Grill, where the Surfs Up! Breakfast with Mickey and Friends is served, is the only place you'll see Mickey outside of the theme parks!

Location: With the second most convenient location, Disney's Paradise Pier Hotel is located directly across the street from the Grand Californian.Guests staying here have easy access to the parks through the Downtown Disney District either by foot or Monorail.

Price: One major draw to the Paradise Pier is that although no less magical, it offers the lowest prices on hotel rooms.

So, that is a pretty good summary between the three hotels. There isn't one that is better than the others, it really just boils down to personal preference.

If you've been wanting to stay at one of the Hotels of the Disneyland Resort, now is the time to try it out. You can save 20% at all three of the Hotels of the Disneyland Resort for travel Sunday - Thursday for travel August 25 - September 28, 2013!* These dates allow you to take your family for a last-chance summer vacation or an early celebration with HalloweenTime at the Disneyland Resort which starts September 13. Availability is limited, so you'll want to book as soon as possible. You can check out our Disneyland vacation packages online or call our Reservation Specialists at 855-GET-AWAY!




*Subject to availability and change at any time.

Check out these great videos of the Disneyland Resort Hotels:

Disneyland Resort Hotels Overview
Disney's Grand Californian Hotel & Spa Room Tour
Disneyland Hotel Room Tour
Disney's Paradise Pier Hotel Room Tour