Now you can catch not just one, but two awesome extended previews at Disney California Adventure Park. It's a big year for Disney, and right now you can see a special preview of Doctor Strange and Moana at the Disneyland Resort.
For this special edition of #MovieMonday, we thought we'd share a sneak peak into two upcoming what we're sure will be blockbuster hits. Disney California Adventure Park regularly shows extended previews of upcoming Disney films. These are short engagements, and it's always fun to see if there's something extra going on while you're on vacation.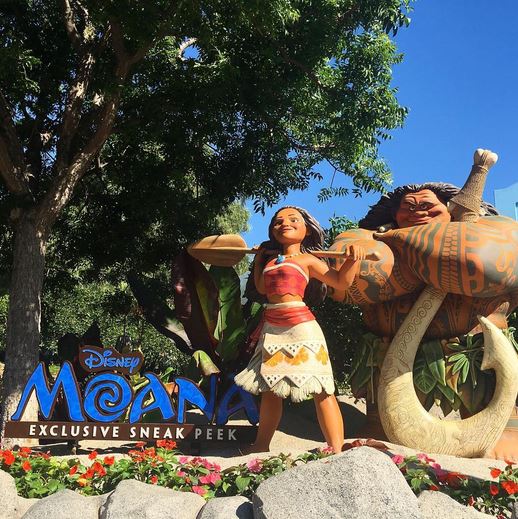 These extended previews used to be held quite often in the "It's Tough to Be a Bug" Theater. Then, after Frozen - Live at the Hyperion opened, the Crown Jewel Theater, which used to house For the First Time in Forever - A Frozen Sing-Along Celebration, closed. It then re-opened as the Sunset Showcase Theater as a long term location to show these limited time sneak peaks. It first showed an extended preview of Alice Through the Looking Glass, which was followed by a sneak peak of the new live-action Pete's Dragon for a few weeks. This is what the theater looks like between showings... it changes so quickly!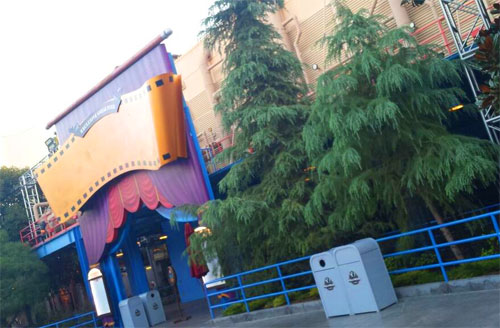 It was expected that when the Sunset Showcase Theater opened that "It's Tough to Be a Bug" would return full time and all previews would be held at the newly rethemed theater in Hollywood Land. And it was the case for a while, but what to do when you have to of the most highly anticipated films of the year coming out weeks apart from eachother? You have two previews; one at the Sunset Showcase Theater and one at the "It's Tough to Be a Bug" theater.
Doctor Strange will come to theaters across the country on November 4, 2016. But you can catch an extended preview with in-theatre special effects at the Sunset Showcase Theater in Hollywood Land right now. We think this is a sign of things to come with more Marvel coming to Hollywood Land. We are so excited for Guardians of the Galaxy: Mission - BREAKOUT to open next summer near the release of Guardians of the Galaxy 2. We have a feeling there will be an extended preview for that one as well.
If you haven't heard of Doctor Strange, you now know it's part of the Marvel Cinematic Universe. The story follows a nuerosurgeon who loses the ability to use his hands after a terrible car accident. He then is introduced to an all new and nearly unbelievable world of magic. He then must decide to use his powers to help save the world from dark forces.
Be aware that Doctor Strange is rated PG-13, which means that some of the scenes, even in the preview, may be a little intense for younger children. Although it won't be nearly as long or immersive, you can get an idea of whether or not you think your kids are ready for it with the offiical trailer:
Then, later in the month, Moana opens on Thanksgiving day, on November 23rd, 2016. Dwayne Johnson (aka, The Rock) stars as Maui, and I would be remiss if I didn't mention how incredible it is that Lin-Manuel Miranda of Hamilton fame co-wrote the music for the film.
Moana is the story of you guessed it, Moana, a teenager who embarks on a journey to find the demi-god Maui, to help her save her people. In addition to finding adventure around every corner, she also finds herself. We can't wait to find out more about Moana when it officially comes out. But before then, you can get a little taste of what to expect in this short trailer:
If you want to catch either of these extended previews complete with extra effects you'll only be able to experience at Disney California Adventure Park, you'll want to hurry! These special engagements will only be around until around the time the movies hit the theaters nationwide. Luckily, we still have great packages available.
When you're planning, you'll also want to remember that this year Halloween Time at the Disneyland Resort continues through October 31 and Holidays at the Disneyland Resort officially begin on November 10, 2016. And of course, there's always Disney magic. All of our Disneyland packages can be booked online, or you can call any of our Disney Experts at 855-GET-AWAY.

Check out these other great videos on our blog: