Model Citizens the world over are excited that DUPLO Playtown
LEGOLAND
reopened in May! This play area in LEGOLAND invites guests to ride, slide and hide amidst life-size versions of DUPLO structures.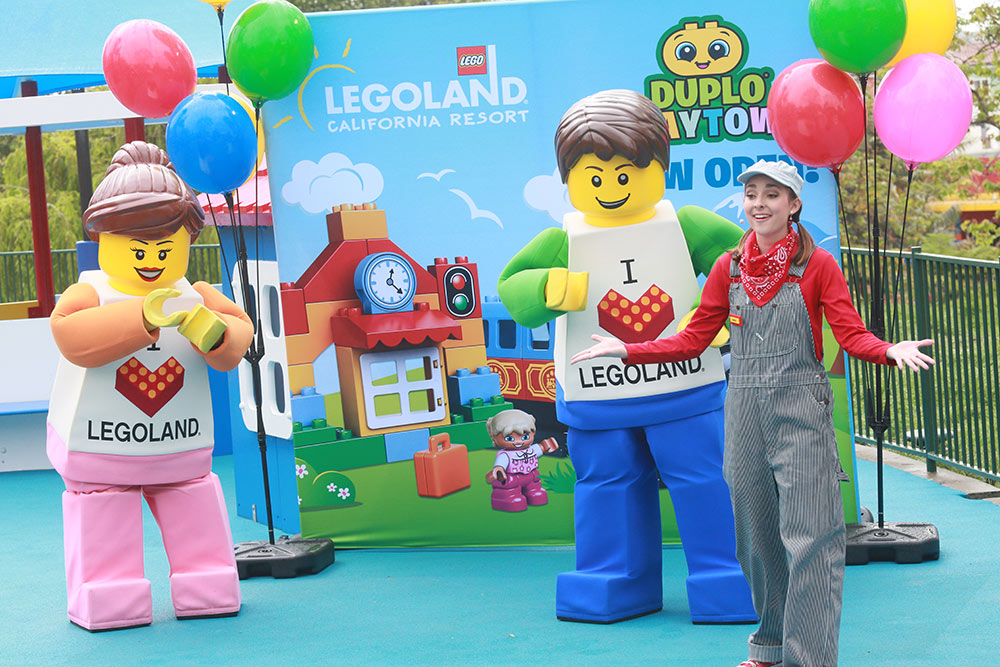 Photo courtesy of LEGOLAND California
DUPLO Playtown LEGOLAND
May 9, 2019, DUPLO Playtown LEGOLAND reopened to lots of fanfare. It includes playhouses, a train and more. Best suited for ages 5 and under, DUPLO Playtown LEGOLAND has no minimum height restrictions, and is now located at The Ridge in Fun Town.

DUPLO Playtown LEGOLAND - DUPLO Village
Within LEGOLAND, DUPLO Village offers a place for young Model Citizens to explore pint-sized playhouses, rides and adventures. DUPLO Village is divided into separate areas, including Safari and Fairy Tale themes on Explorer Island and Playtown in Fun Town.
DUPLO Playtown LEGOLAND - Rides
LEGO lovers can head to DUPLO Playtown for a ride aboard the LEGOLAND Express train. The tot-sized train invites kids to take a seat in the engine or a number of train cars for a quick trip around DUPLO Playtown at a leisurely pace. The LEGOLAND Express is an ideal ride for kids who do not yet have much experience with theme parks; we often say LEGOLAND is perfect for this age because it most likely will not overwhelm young kids.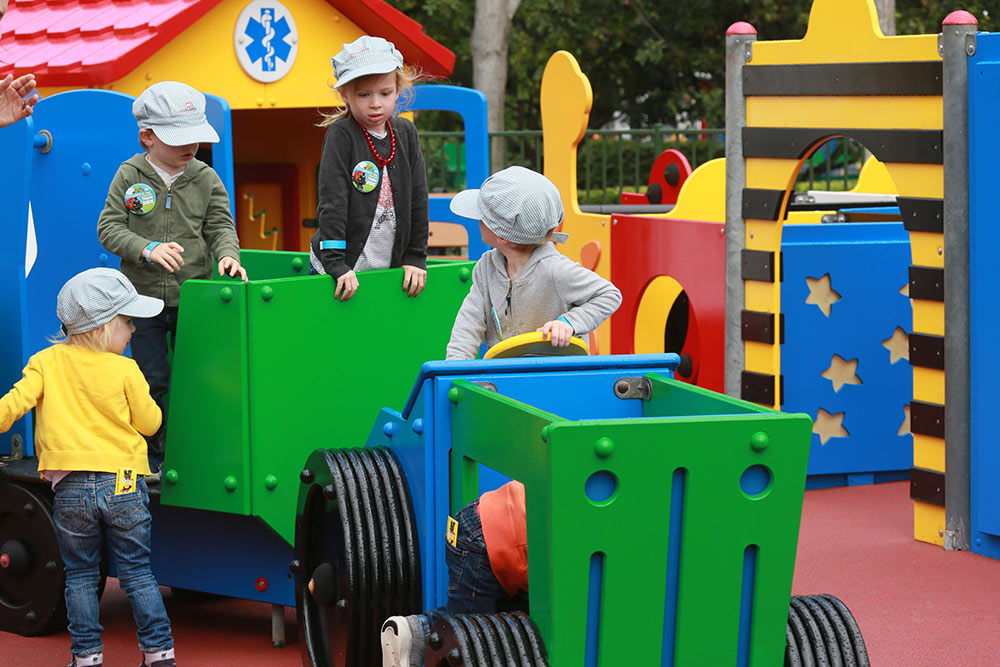 Photo courtesy of LEGOLAND California
Also in DUPLO Village Fun Town is Kid Power Tower, offering panoramic views of LEGOLAND Park as well as a controlled free-fall experience. Since this ride requires you to use your own man-power to pull your seat to the top of the tower, Model Citizens must be at least 40 inches tall to ride. Those who are between 40 and 48 inches must be accompanied by a rider 14 years old and 48 inches or taller. And trust us, you'll want the help to use the pulley system to bring your seats to the top of the Power Tower!
While outside DUPLO Playtown itself, note that in the Safari area on Explorer Island in DUPLO Village, toddlers can climb into cars on tracks for a Safari Trek. Keep your eyes peeled for LEGO animals on this ride! Model Citizens must be at least 34 inches to ride, and those 34 - 38 inches tall must be accompanied by a rider 48 inches or taller and 18 years of age.
For those who love fairy tales, set sail on the Fairy Tale Brook boats on Explorer Island and see princesses come to life in the form of LEGOS. There is no minimum height requirement for this ride, but those shorter than 48 inches must be accompanied by a rider at least 14 years of age.
DUPLO Playtown LEGOLAND - Attractions
In the DUPLO Village center, Water Works provides toddler friendly splash area. Water Works features water guns to spray through the interactive fountains and at LEGO water animals such as frogs and crocodiles. On warm weather days, you might want to put your kids in their swimsuits so they can really take advantage of the Water Works center! Again, this is not located in DUPLO Playtown LEGOLAND, but is part of DUPLO Village.
Toddler-friendly slides can be found throughout DUPLO Playtown LEGOLAND, built into the many different DUPLO houses in the Village. There are also maze structures and plenty of opportunities to hide in addition to slide.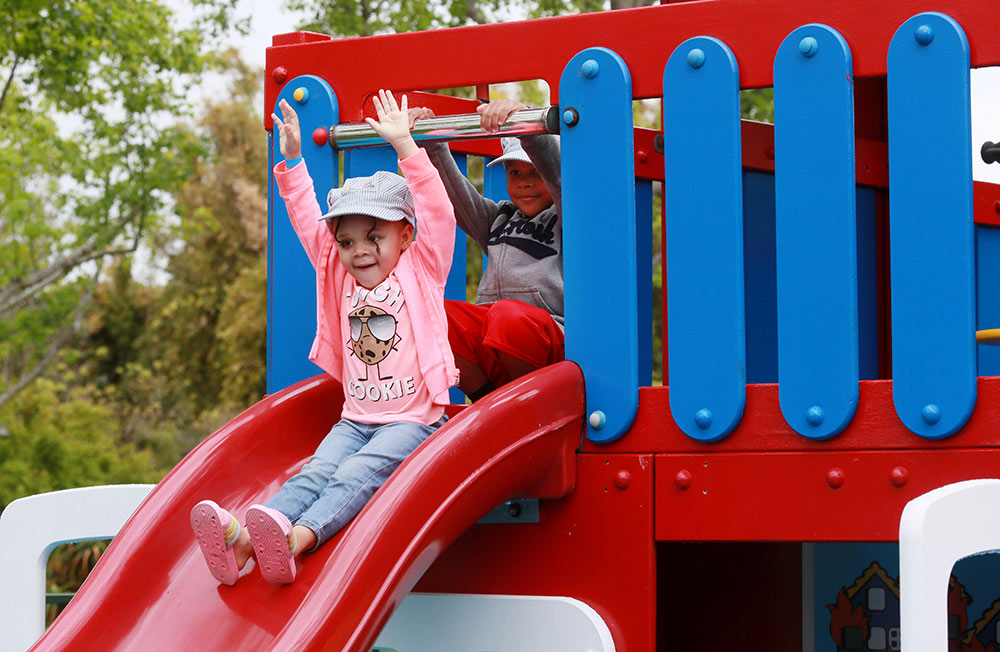 Photo courtesy of LEGOLAND California
DUPLO houses also feature interactive elements such as ball pits, stationary cars, motorbikes and even sound effects. The DUPLO Playtown LEGOLAND houses have their own themes and feature a hospital, grocery store, homes and more. They will invite imaginative play and learning in a colorful environment with lots of shade. It's a great way to stay cool and for parents to take a break under the trees while little Model Citizens enjoy DUPLO Playtown.
And, of course, DUPLO Playtown LEGOLAND wouldn't be complete without the presence of a few bricks. Visitors will find DUPLO bricks throughout Playtown, offering up a chance to build creations of their very own.
DUPLO Playtown LEGOLAND - Previous Location
Coming in August, LEGOLAND should be revealing an all-new addition in the DUPLO Playtown's previous location. We don't yet have details, but when we do we'll be sure to share with you!
LEGOLAND - Water Park Season
As summer kicks into gear, it is officially Water Park season at LEGOLAND! LEGOLAND Water Park does require a ticket upgrade for entry, but it's well worth it! Open daily as of March, the Water Park within LEGOLAND boasts water slides such as Riptide Racers, Orange Rush and Pirate Reef. The Water Park also has a DUPLO section for young Model Citizens and includes smaller slides and splash areas. There's no shortage of fun just because you're... SHORT!
LEGOLAND - Kids Free in 2019
To celebrate LEGOLAND's 20th birthday, during all of 2019 kids can have free admission to LEGOLAND on their individual birthdays! All you need to do is verify your child's birthday at the gates and you're in to enjoy a day of bricks, splashing and DUPLO Playtown LEGOLAND.
Discount LEGOLAND Vacations
To visit DUPLO Playtown LEGOLAND, book with Get Away Today. We always guarantee the lowest prices, and have a convenient, interest-free Layaway Plan to make vacations more affordable than ever. You can see LEGOLAND vacation packages online, or call an agent at 855-GET-AWAY. We would love to help you plan your next Southern California vacation!