Get our free LEGOLAND Castle Hotel Vacation Surprise. Use this medieval time printable and LEGO minifigure to announce a stay at the
LEGOLAND Castle Hotel
and a visit to the LEGOLAND theme park.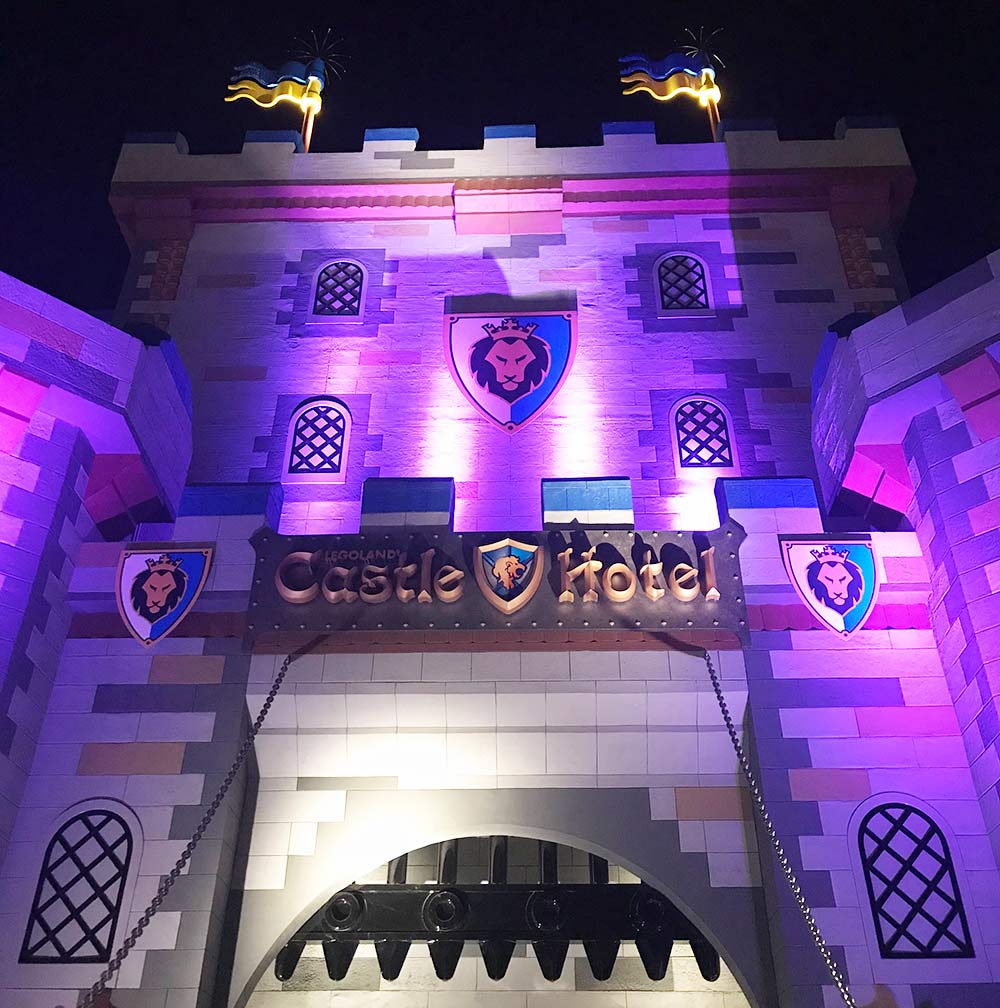 If you're reading this article today, HAPPY THANKSGIVING! Our office is closed for the holiday, but we have customer service available from 9am-4pm MT for anyone who is currently traveling or scheduled to travel within 72 hours. Just call 855-GET-AWAY and leave a message. One of our Customer Service Reps will call you back ASAP.
And of course, you can book any new travel online while you are gathered with your family.
LEGOLAND Castle Hotel Overview
The LEGOLAND Castle Hotel opened just a few months ago in Carlsbad, California. It is themed like a true medieval castle...but made out of LEGO bricks! At least that is how it appears. The castle is truly magical. The rooms are themed with dragons, knights, wizards and princesses. There are special LEGO surprises in each room and adorable picture zones all throughout the hotel. Breakfast is included with your stay - and it is the most amazing breakfast buffet you'll ever find at a hotel. The pool is heated and open year round. Guests enjoy family nighttime entertainment for when the LEGOLAND park is closed. What is not to love?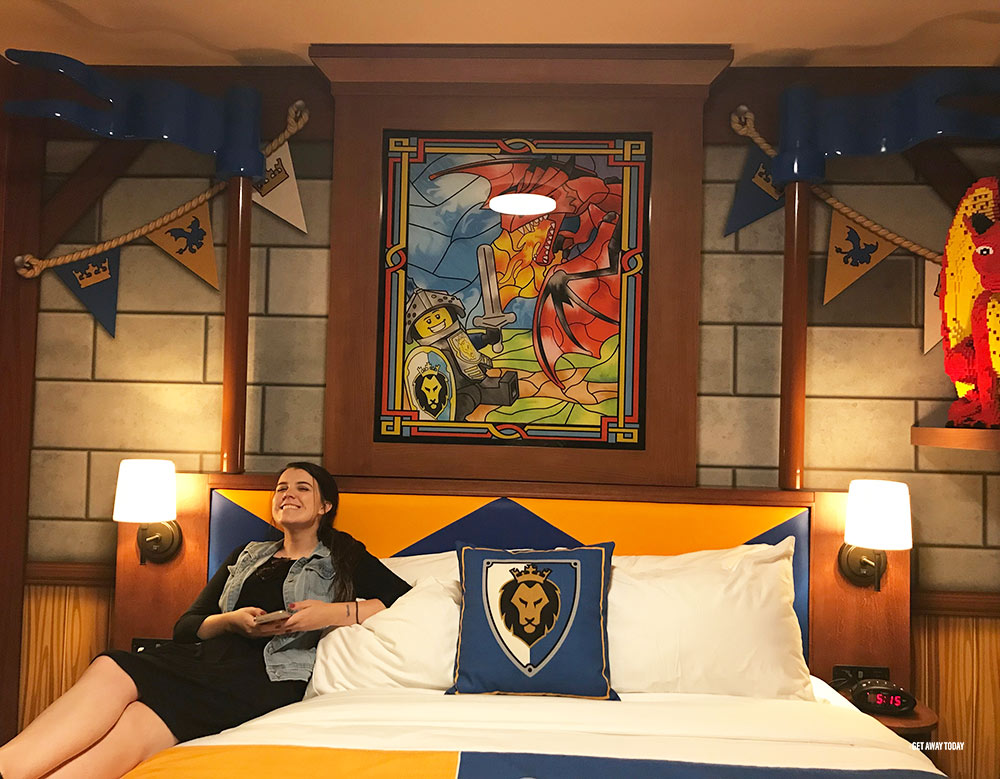 My family visited LEGOLAND this fall. When we got to the park, my two boys saw the new LEGOLAND Castle Hotel. Their jaws literally dropped to the sidewalk. They couldn't stop talking about how cool it looked. They insisted on getting some pictures with the LEGO knights and dragons that are just outside the doors. My littlest looked at me and said in the most astonished voice, "Mom, WHY didn't we sleep here?!" I had to wonder the same thing! It looked like so much fun.
So, they don't know this yet, but I am going to surprise them with a trip to the LEGOLAND Castle Hotel. And of course that includes a fun day or two at LEGOLAND as well! Although I am giving it for Christmas this year, this LEGOLAND Castle Hotel vacation surprise can be used any time of the year. It would make an extra special birthday surprise, or even a just because vacation reveal.
I can't wait to see the look on my boy's faces when they figure out what the note says. They are going be so excited.
LEGOLAND Castle Hotel Vacation Surprise Printable
The theme for the LEGOLAND Castle Hotel vacation surprise is medieval to fit the theme of the castle. You can download the printable here. Make sure to print it in color ink and use thick paper so it feels like a note card.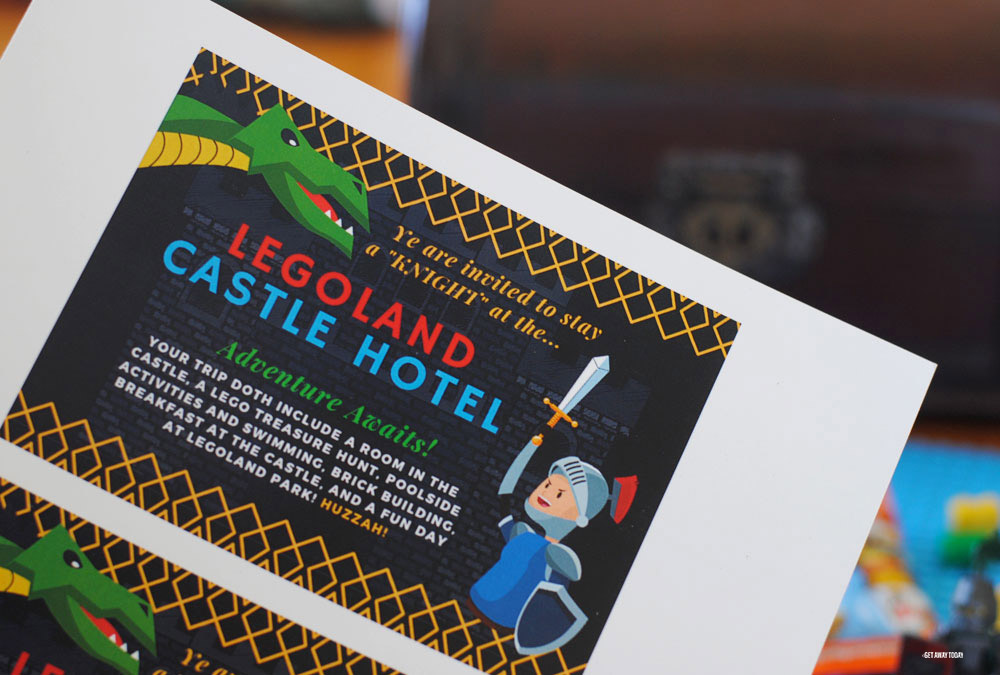 Each printable has two notes - just in case you need a spare! Trim around the card.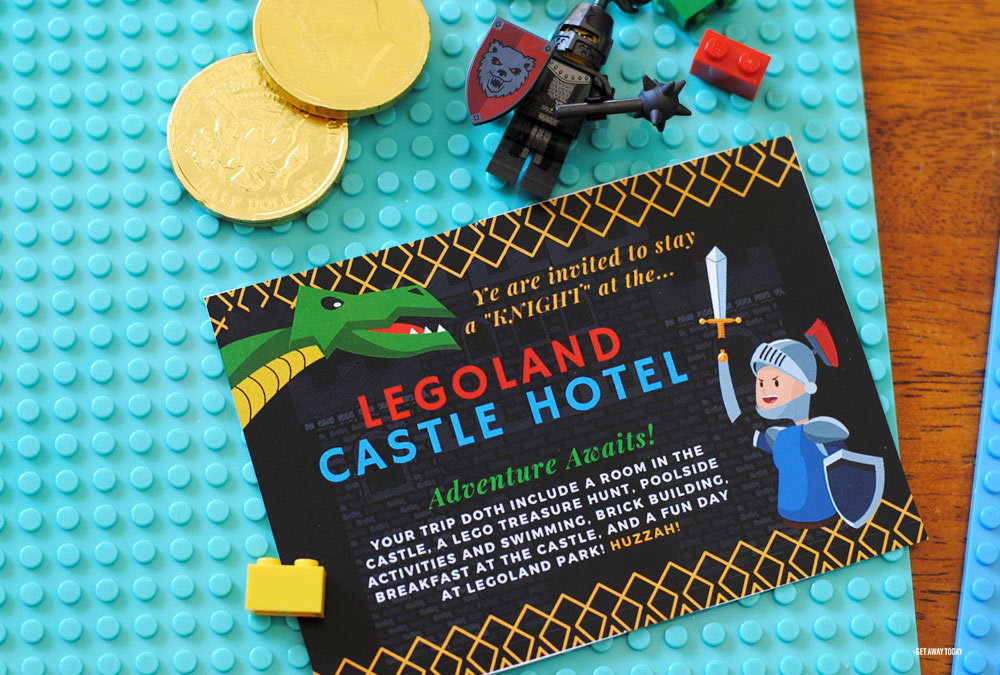 LEGOLAND Castle Vacation Surprise Ideas
There are a lot of fun ways you can present your LEGOLAND Castle Hotel vacation surprise. One way is to combine the printable with a LEGO Knight Minifigurine. I found a few options on Amazon that were pretty cool. You can pick your favorite. There is a silver Heroic Knight or the green Frightening Knight or the black Evil Knight.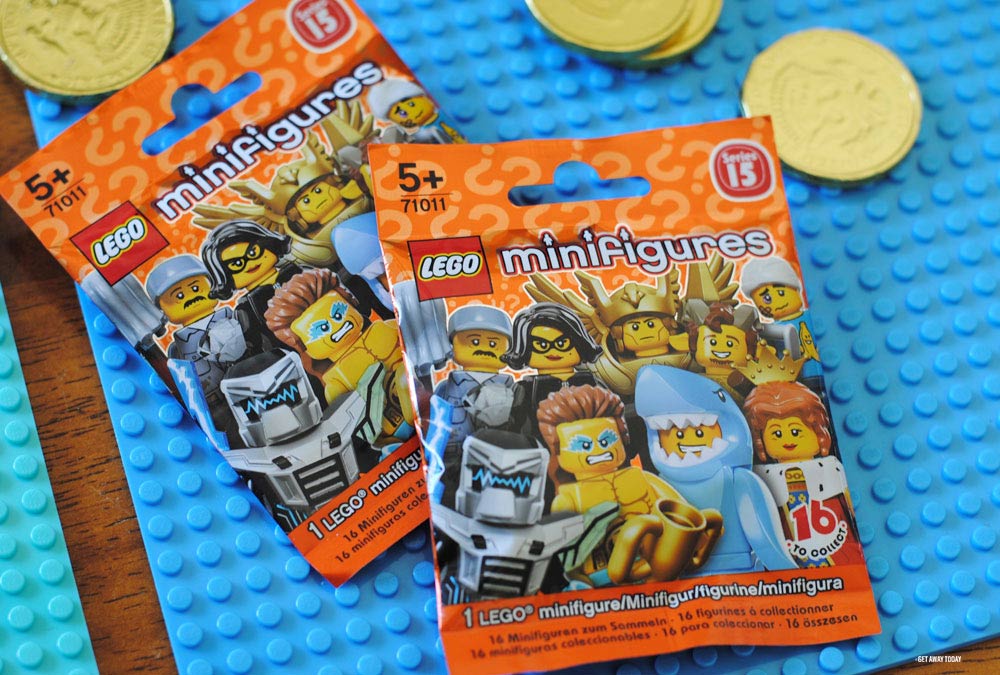 Wrap the package and let your little knight open the minifigure. Then give him or her the card that explains that they are going to the LEGOLAND Castle Hotel!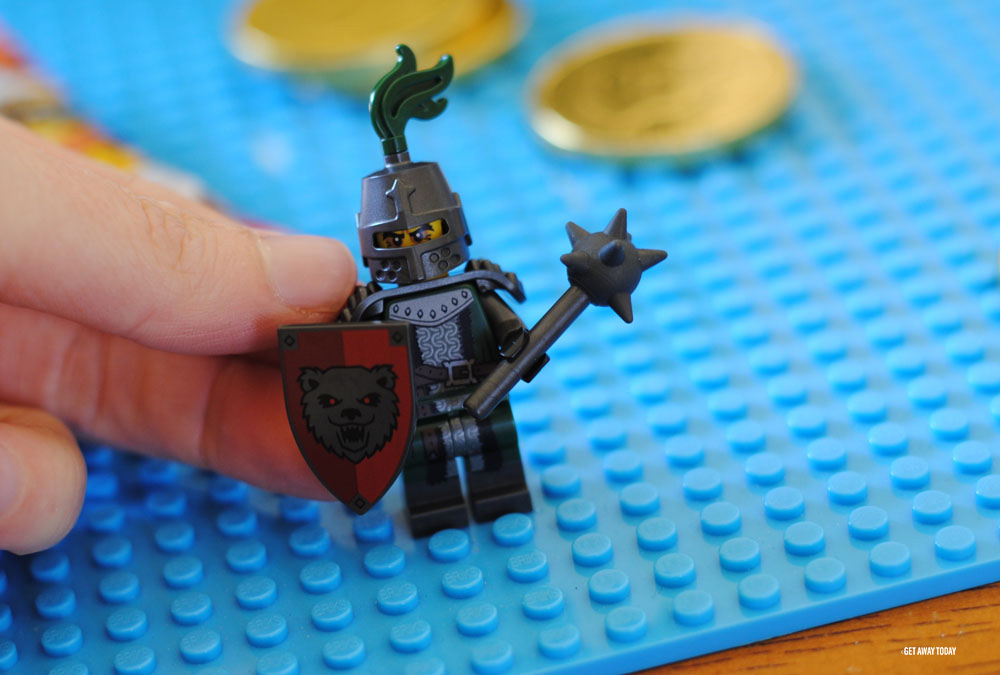 You could also go with the knights, dragons, and adventure theme and put together a LEGO treasure box. Fill it with LEGOS and gold candy coins. Let your kids go on a quest to find the treasure.
You could make up clues like a treasure hunt, or play hot and cold and just hide the treasure box in the house somewhere. When your kids open the treasure box they will find the chocolate gold treats and the awesome card announcing the LEGOLAND Castle Hotel surprise vacation. So exciting.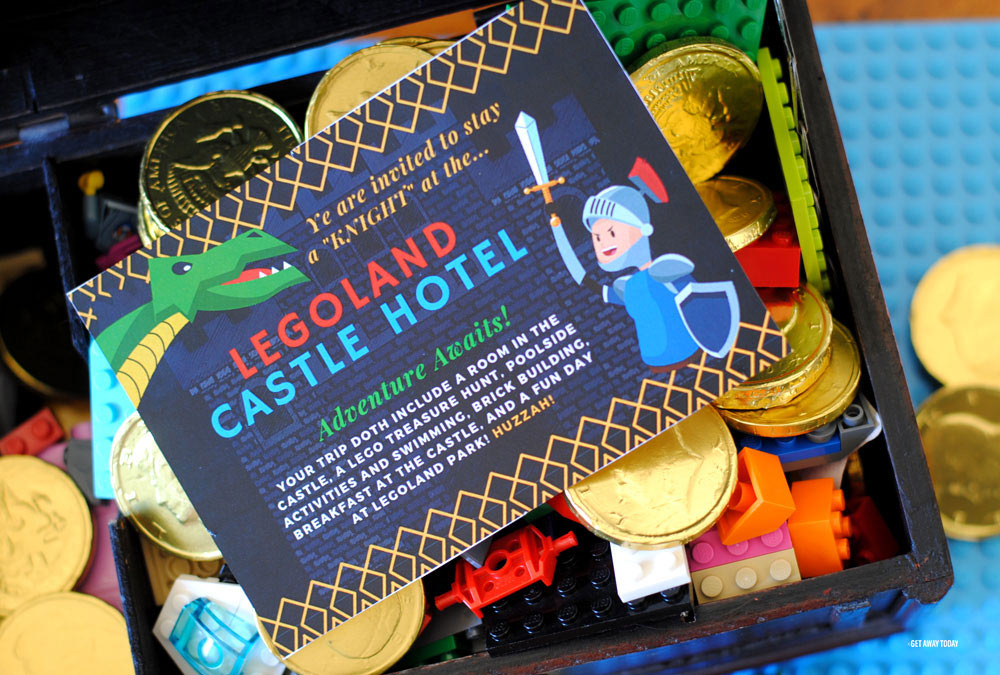 I hope you have fun surprising your kids with a vacation to the LEGOLAND Castle Hotel. I have taken my family to all of the California theme parks and LEGOLAND is their very favorite place right now. If you have young kids between the ages of 5 and 9, then you are at prime LEGOLAND ages. LEGOLAND was created specifically for kids ages 2 - 12, but I think that 5 - 9 is the real sweet spot. It is such a fun place for them to explore and build their own LEGO creations. The rides aren't scary and the LEGO decorations make them so happy!
LEGOLAND Castle Hotel Vacation Suprise Planning
If you need help planning your awesome LEGOLAND vacation, give our agents a call at 855-GET-AWAY. They can get you the best prices and help you plan the perfect trip. Or, check out our LEGOLAND vacations online. You'll get the best price either way.