There is something so magical about a trip to the
LEGOLAND California Resort
. We're often asked how long you really need at LEGOLAND. We think that two days is a pretty perfect length of stay ticket for LEGOLAND. And, it's even better when you get your 2nd day free - a special that we regularly offer! We've put together a 2-Day LEGOLAND itinerary that we think any family will love.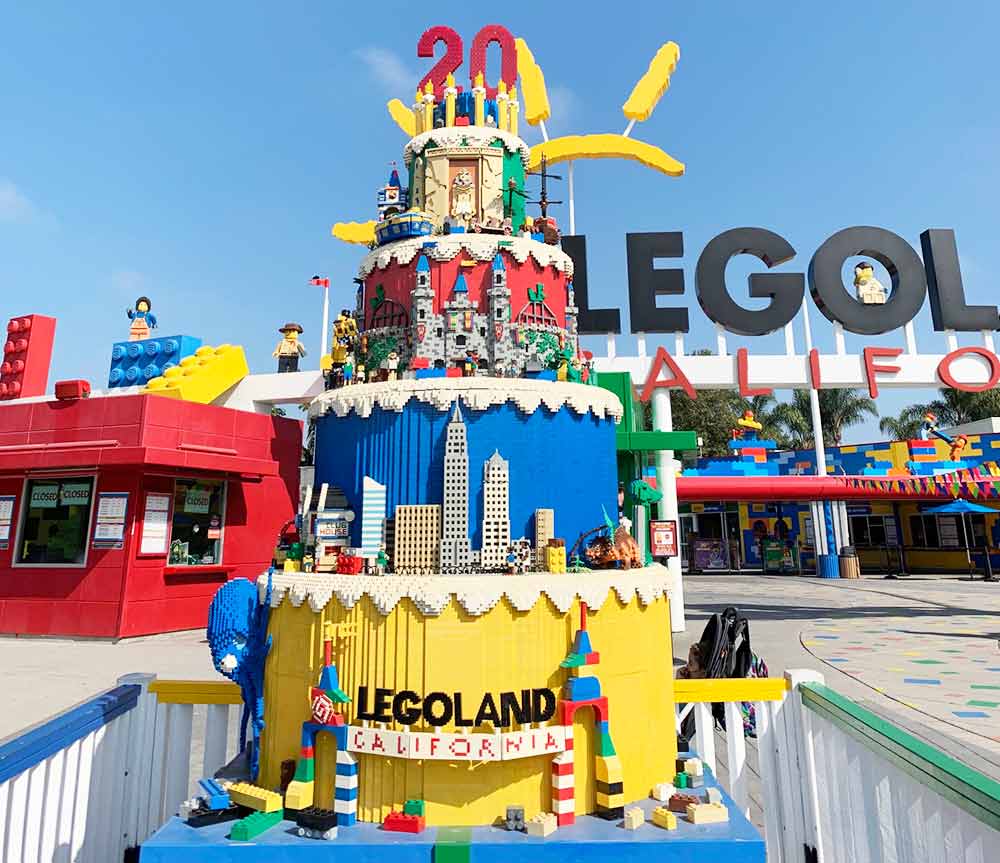 2-Day LEGOLAND Itinerary
If you're planning a family vacation to LEGOLAND, we have the perfect 2-day LEGOLAND itinerary for you. One thing that we absolutely love about the LEGOLAND California Resort is that in addition to having some really fun attractions that the whole family can enjoy together, there are so many spaces that foster creativity and play. Our 2-day LEGOLAND itinerary allows enough time for both attractions and play. And, if you have a Park Hopper ticket that includes the SEA LIFE Aquarium, the LEGO Water Park or both, we can work that in too.
Keep in mind that any of these itineraries can be modified to suit your family's interests or ages. They can also be modified depending on park hours and the time of year you are visiting. This itinerary is what my family enjoyed on our visit last month with our three young kids ages two, four and six. We had a blast and we hope you will too!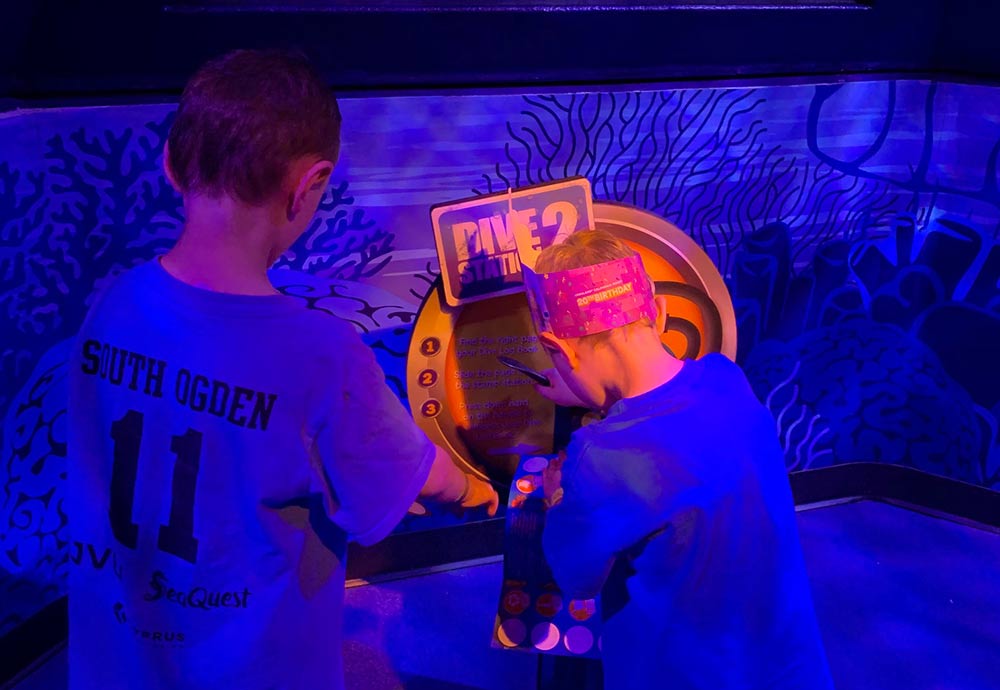 LEGOLAND Itinerary Day 1:
Begin your day with breakfast at your hotel, especially if you are staying at one of the LEGOLAND Hotels. If you're staying on-property, you'll want to be sure to take advantage of your early entry. In order to do that, we recommend getting to breakfast as early as possible, because it gets busier the closer it gets to park opening.
No matter where you are staying, plan on arriving to LEGOLAND 30 minutes to an hour before official opening. If you have early entry for staying at the LEGOLAND Hotel or the LEGOLAND Castle Hotel, start at the attractions that are open during early entry. Early entry attractions normally include Coastersaurus, Safari Trek, Fairy Tale Brook and NINJAGO The Ride. Pick one or two that you for sure want to ride, and go there first. If you're going during a non-busy time of year, you may even be able to ride all four attractions in your extra half hour.
For day one of your LEGOLAND vacation, we recommend starting your day with the following attractions that are located next to each other in Explorer Island:
Coastersaurus (36" height requirement)
Safari Trek ("34 height requirement)
Fairy Tale Brook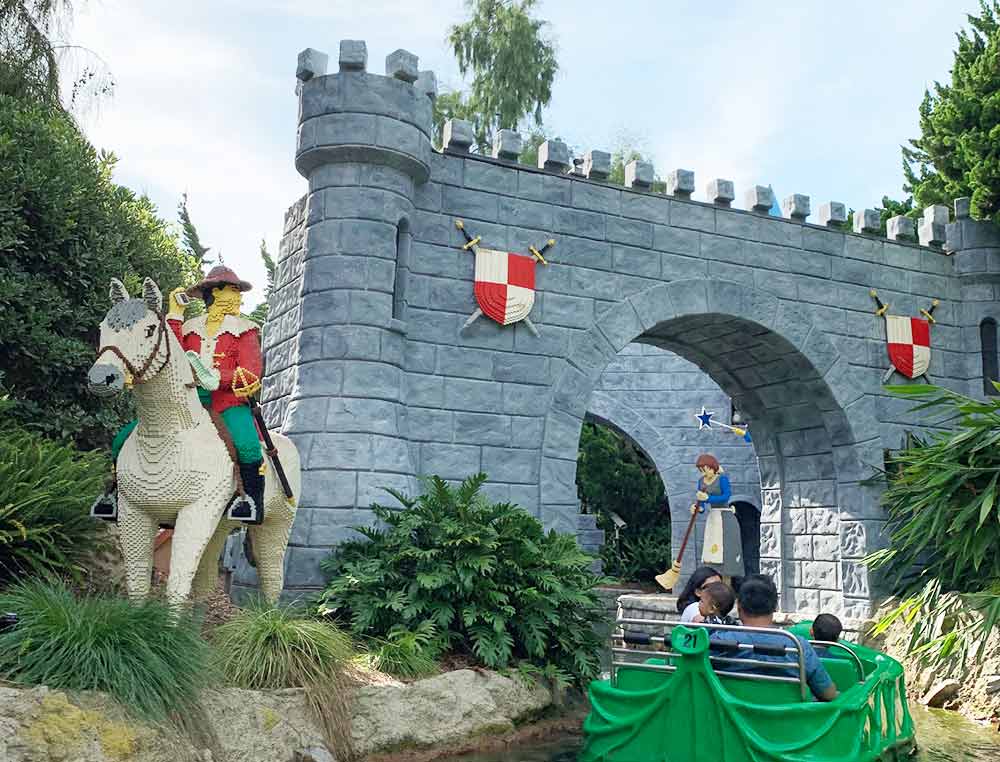 Be sure to use the LEGO play area for kids that's located in the queue for the Safari Trek. Kids can play while parents wait in line. It's genius! Also, if you have little kids who don't quite measure up to the 36" height requirement for the Coastersaurus, LEGOLAND has a great rider swap option. There's also a really fun sand box where kids of all ages can dig for giant dinosaur bones and fossils. You may want to build some play time into that area as well.
Next, we suggest making your way over to Fun Town for a few hours of playing and exploring. Here is what you can find there:
Driving School (ages 6-12)
Jr. Driving School (ages 3-5)
Fun Town Police and Fire Academy
Skipper School (34" height requirement)
Sky Patrol (34" height requirement)
Kid Power Tower (40" height requirement)
LEGOLAND Express
If you have little kids like mine, plan on spending a few hours in this area. If your kids are older, you may want to plan on doing a couple of rides, and then hitting the LEGO Water Park if it's open during your vacation.
Next, you'll likely have worked up an appetite, so we suggest a lunch break. Here are some of our top picks for an in-park lunch:
Burger Stop (located in Fun Town)
The Market (located at The Beginning with grab-n-go sandwiches and salads)
Pizza Mania (located in the Imagination Zone with family combo meals)
After lunch, we recommend seeing a show. The LEGO Show Case Theater plays a variety of shows throughout the day. Check the schedule and pick one or two to see depending on what's playing at the time. Here are the options:
The LEGO Movie 4D Adventure
LEGO City 4D Officer in Pursuit
LEGO NINJAGO - Master of the 4th Dimension
They're all fun and worth watching. Next, we recommend spending some time in the Imagination Zone where you can do the following:
See the LEGO Movie 2 Experience
Meet characters from The LEGO Movies
Bionicle Blaster
LEGO Technic Coaster
Aquazone Wave Racer
LEGO Hero Factory
WB Family Games Space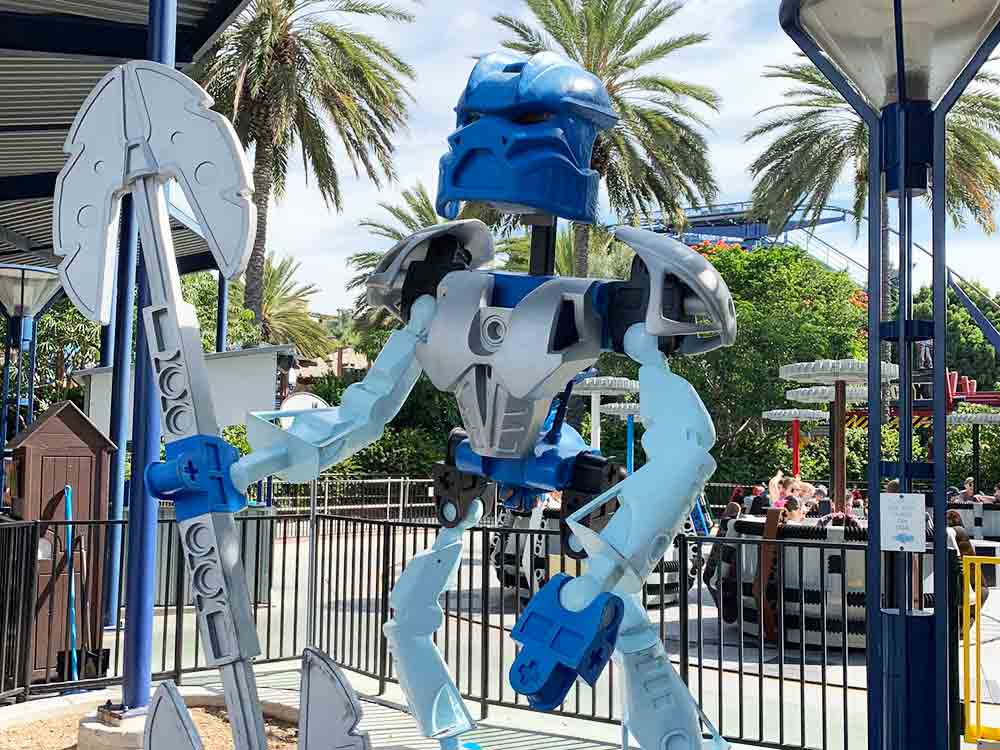 If you're in the mood for more rides, head to the Land of Adventure. Or, if you want to do some exploring, you'll want to give yourself enough time to take in everything at Miniland U.S.A.. Here are your choices at either land:

Land of Adventure
Beetle Bounce (must be between 36" - 55" to ride)
Cargo Ace (riders must be able to stand on their own)
Dune Raiders (36" height requirement)
Lost Kingdom Adventures
Pharaoh's Revenge (kids under five must be accompanied by an adult)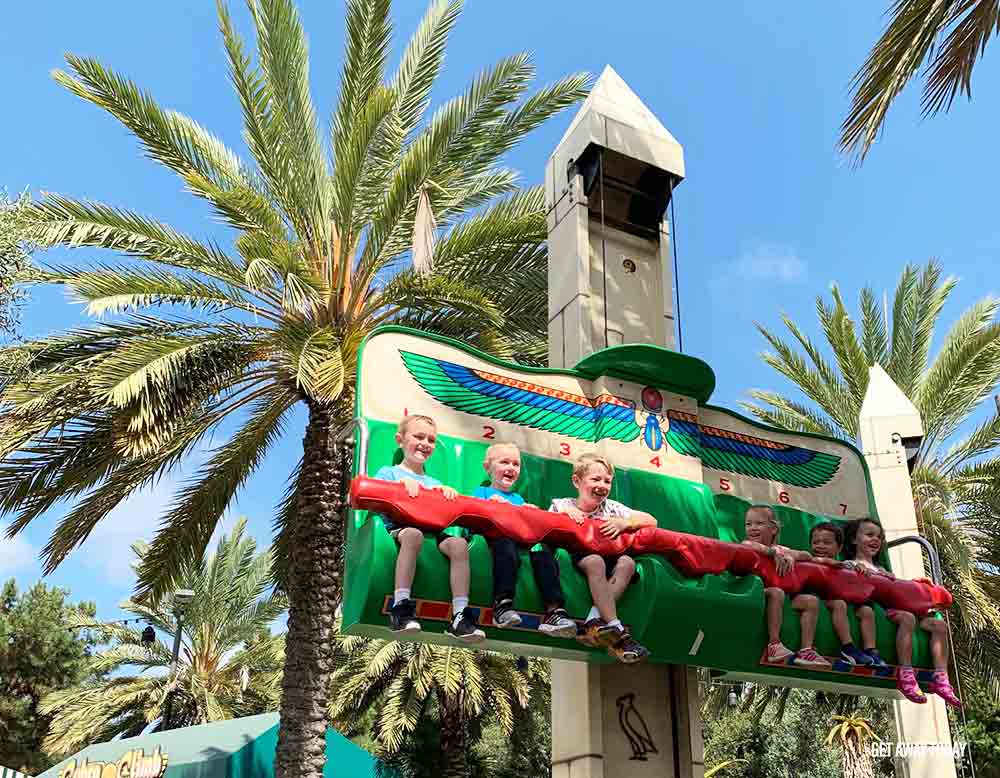 Miniland USA
Block of Fame
Coast Cruise
LEGO Star Wars
Las Vegas
New Orleans
New York
San Francisco
Southern California
Washington D.C.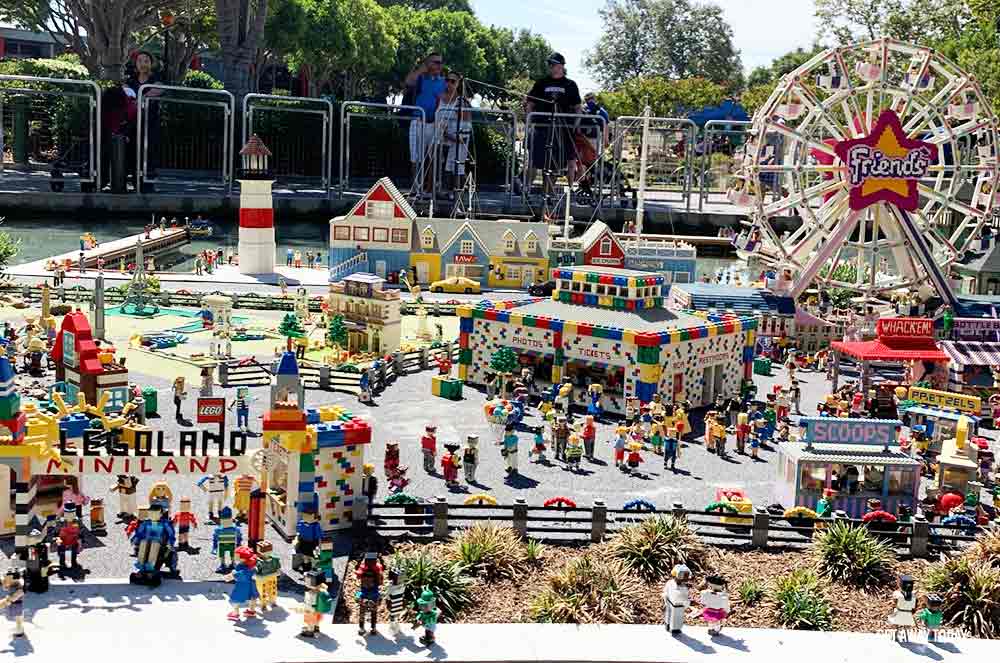 Depending on how much time you want to spend at either spot, you may have time to fit in both Miniland USA and Land of Adventure. If you don't get to both in your first day, don't worry, there will be time on your second day. So, with that, we'll call day one a success! After a full day of fun, we recommend a good dinner, maybe at one of the restaurants at the Carlsbad Premium Outlets. Then, get a good night's rest, because day two is going to be just as fun!
LEGOLAND Itinerary Day 2:
For your second day, we once again recommend arriving before the park opens to get the best head start on your day. Whether or not your day includes early entrance, we recommend starting at LEGO NINJAGO World. The Ride is the main attraction. However, you may want to spend a few minutes playing with the spinners and climbing wall. And, if you're lucky, you can even meet a LEGO NINJAGO Character while you're hanging around.
LEGO NINJAGO World
LEGO NINJAGO The Ride
Kai's Spinners, Jay's Lightning Drill and Cole's Rock Climb
LEGO NINJAGO Characters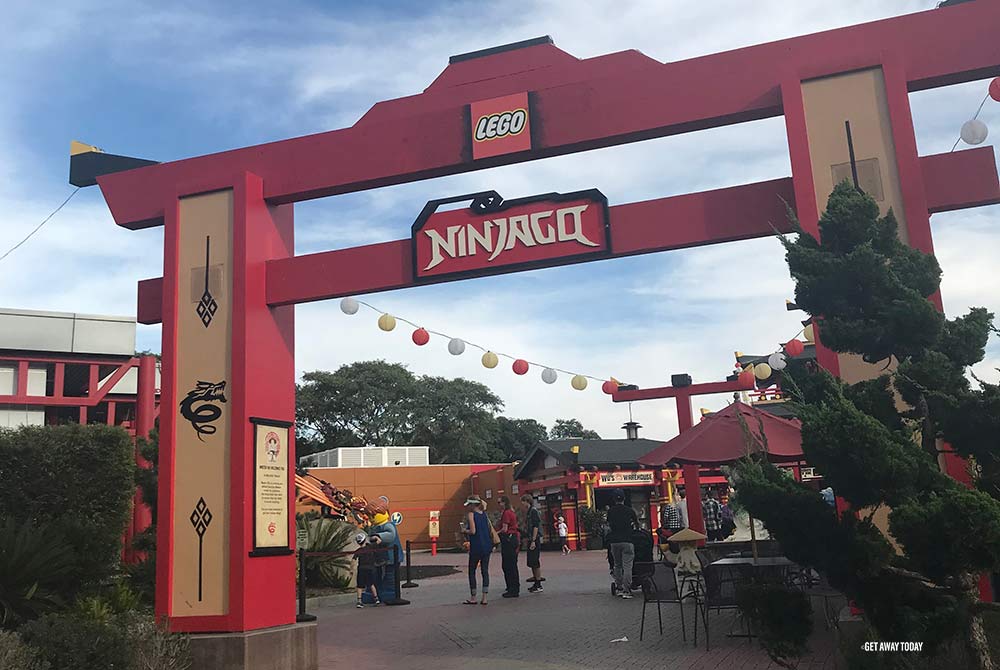 After you've had your NINJAGO fix, we recommend heading up to Castle Hill. Here you'll find thrilling attractions and one of the coolest play areas we've ever seen, Hideaways. Hideaways is the largest tree house/fort/playground you've ever seen complete with rope ladders, slides, bridges, tunnels and more. It's a kid's dream come true. Our kids spent hours playing here, so be prepared to do the same. Here's what else you can find in Castle Hill:
The Dragon (40" height requirement)
Royal Joust (36" height requirement and ages 4-12 years old)
Knight's Tournament (40" minimum and 6'4" maximum height requirement)
Hideaways
LEGO CITY: Deep See Adventure
Granny Apple Fries (this treat deserves a mention - grab some and you'll be glad you did)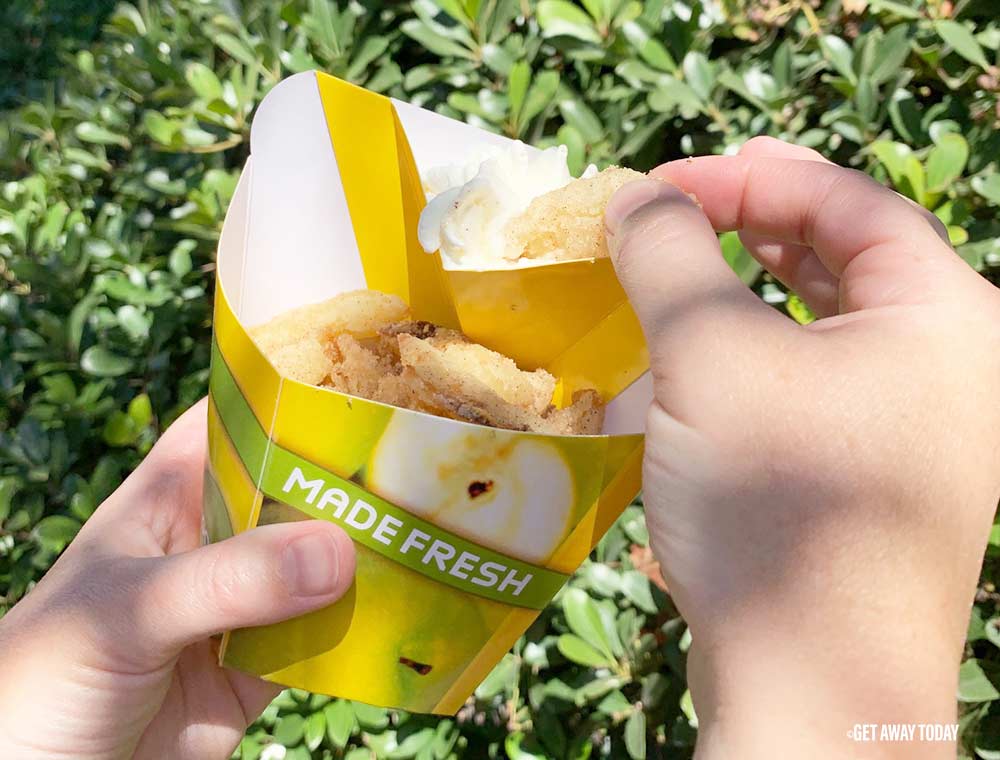 After Castle Hill, we recommend heading to Pirate Shores if it's a hot day. If it's cooler or you don't want to get wet, you'll want to skip this spot. If you're game for some water rides, here's what you can find at Pirate Shores:
Captain Cranky's Challenge (34" height requirement)
Pirate Reef (36" height requirement)
Splash Battle (36" height requirement)
Swabbie's Deck (water play area for kids that requires swim diapers for children age three and under)
No matter whether you're starting from Pirate Shores or Castle Hill, we recommend strolling down through Miniland USA. If you visited this area on your first day, you may just want a quick revisit to the area. If you missed it on your first day, be sure to plan at least an hour interacting with the detailed exhibits.

By now, it's probably lunch time. For day two, we recommend one of the following lunch spots:
Ninja Kitchen (located in LEGO NINJAGO World)
Knights' Smokehouse BBQ (located in Castle Hill)
Pizza & Pasta Buffet (located in Imagination Zone)
If you're thinking of a late lunch or early dinner, Pizza & Pasta Buffet on occasion will offer a Kids Eat Free Deal after 3pm. If you can wait that long, or have a late breakfast or early lunch, it's a great deal and your family will love it.
After lunch, we recommend catching another show at the LEGO Show Case Theater, preferably one that you didn't see on the first day of your itinerary. Then, for the rest of your day, you can choose any of the following, depending on what ticket you have:
Re-ride any favorite attractions or visit any favorite play areas from your first day
Visit the LEGO Water Park
Visit the SEA LIFE Aquarium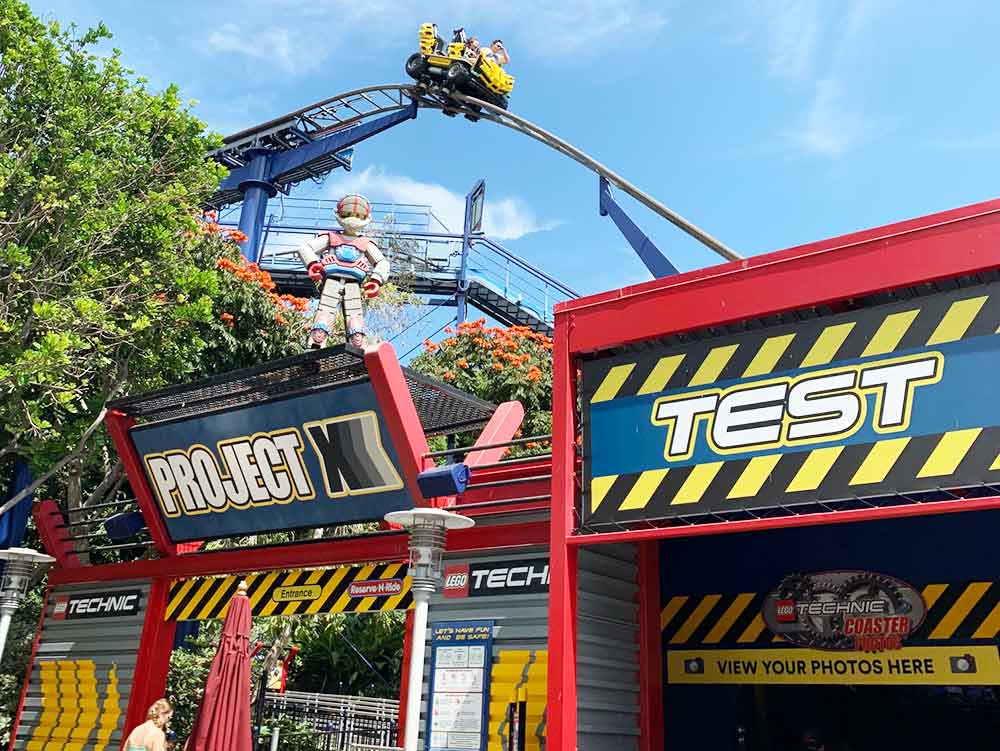 Booking your LEGOLAND vacation
We hope that gave you some inspiration for your own action packed LEGOLAND vacation! For the most immersive experience, we recommend staying at either the LEGOLAND Hotel or the LEGOLAND Castle Hotel. Both are located right next to park, so if you need to add a mid-day nap or break into your itinerary, it makes it so easy.
If you want to extend your stay in Carlsbad, we also have some awesome hotels nearby. Consider the Hilton Garden Inn Carlsbad Beach that is steps from the sand at Carlsbad Beach. Or, stay at the The Cassara Carlsbad, Tapestry Collection by Hilton that overlooks the world-famous Carlsbad flower fields in the spring. Another great choice is the Homewood Suites Carlsbad that features rooms that sleep up to six and have a full kitchen, plus serve a hot breakfast each morning and light dinner Monday - Thursday nights.
No matter where you decide to stay for your LEGOLAND vacation, we'd love to help. You can find our LEGOLAND packages online, or you can call our agents at 855-GET-AWAY.