Heading to LEGOLAND for spring break? Or maybe you're planning a summer or fall getaway to Carlsbad this year. Either way, our LEGO countdown chain will have you excited and ready for your awesome vacation in no time.
One of the best parts of a vacation, besides the vacation itself, has to be the excitement building as you get closer and closer. That is why I love activities that help the whole family enjoy the anticipation, like our LEGO countdown chain. My family just got back from our trip to LEGOLAND California, where we stayed in a NINJAGO room at the LEGOLAND Hotel and partied to "Everything is Awesome" every day in the park.
If you want to see what the NINJAGO rooms at the LEGOLAND Hotel look like, be sure to check out our room tour. It was my kids' dreams come true!
Now that you've seen the room, you can see why my kids were in heaven. NINJAGO heaven, that is. In fact, on our first morning before going into the park, I told my 2-year-old it was time to put the in-room LEGOs away so we could go to LEGOLAND. He looked at me genuinely confused and said, "Mom, we're already in LEGOLAND." I couldn't argue that!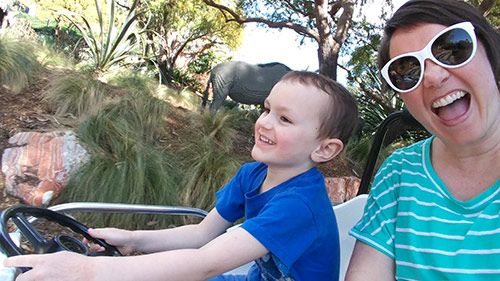 It was such a fun trip, especially because it had been our Christmas gift to our kids. While they were excited to figure out the surprise on Christmas morning, nothing beat the excitement of finally visiting the park and experiencing everything LEGO. If you're looking for an easy way to surprise your family with a LEGOLAND vacation, check out our LEGOLAND vacation surprise printable. Your entire family will have fun decoding the secret message and you can always turn it into a scavenger hunt to make it more challenging.
On Christmas morning, we wrapped our countdown chain underneath the decoder surprise. With such an exhilirating reveal, I knew I needed something fun to keep the enthusiasm going until vacation day... Especially with a four, two and one year old! Enter our LEGO countdown chain. It seemed really long on December 25, but it was an easy craft that had my kids jumping up and down each day wanting to take a link off.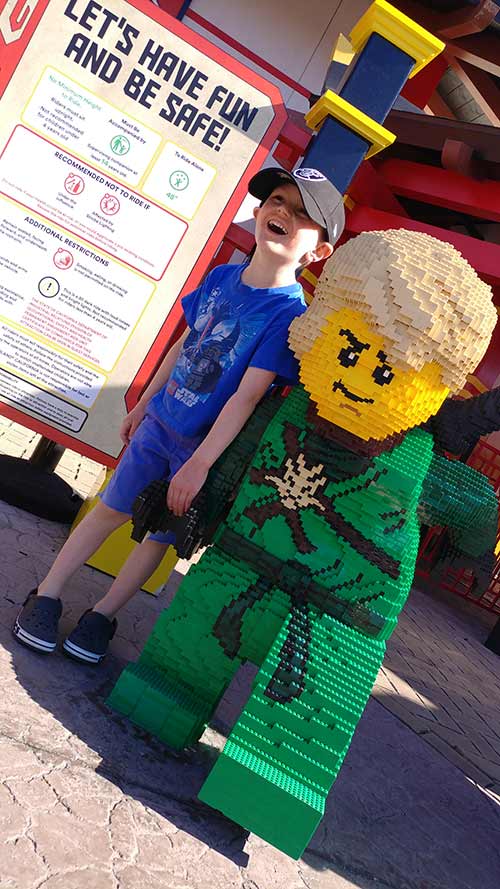 Mom tip: if you have more than one little, assign each child a color. This countdown chain has red, yellow, white and blue links. Because my youngest is only one, we assigned two colors to each of my boys. That way, they knew who was going to pull of the link each day and we had an easy answer when they asked. You can easily incorporate more colors if you'd like, we just really like the primary color look. You could also assign certain days of the week for each child if that's easier. Whichever you choose, I just recommend having a system set up beforehand. That way you'll always have an answer to the "Who gets to pull the chain off today, Mom?" question.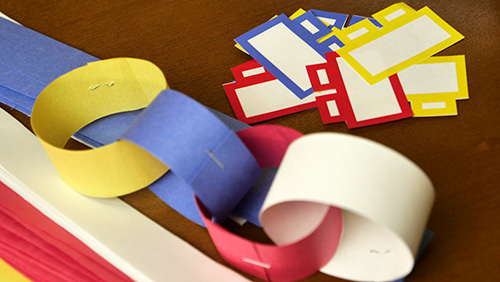 We knew we had to share this LEGO countdown chain, so we put together an easy tutorial for you to use this for your own upcoming vacation. Whether it's a week or two months away, you'll love watching the bricks disappear as your trip gets closer!
LEGO Countdown Chain Materials & Tutorial:
(these may be affiliate links)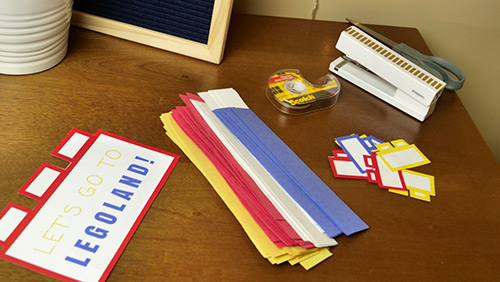 First, download the LEGO Countdown Chain template. Once downloaded, print the template on cardstock paper and cut it out. You can print the second page as many times as you need, depending on how many days until your LEGOLAND vacation.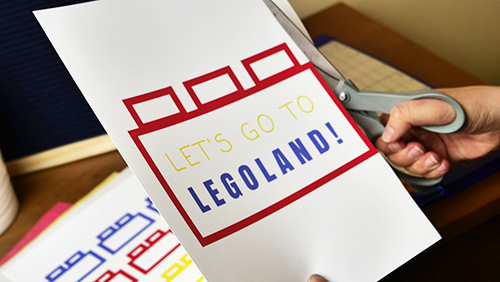 Next, use construction paper to cut 1" strips for the links. You can choose to use one color of paper or multiple colors. For ours, we used red, blue, yellow and white construction paper. Again, I like those primary colors. Keep cutting until you have one strip per day left until your trip.
If you want to write LEGO themed activities to do on a few of the days, now would be a good time to do it. You can write things like, "Play with your LEGOs or, "Watch The LEGO NINJAGO Movie." We did that one a LOT as we were getting ready for our LEGOLAND vacation. And I have to say, it really did add to the excitement. If you want to get really fancy, you could even try to make your own copycat version of LEGOLAND's famous apple fries.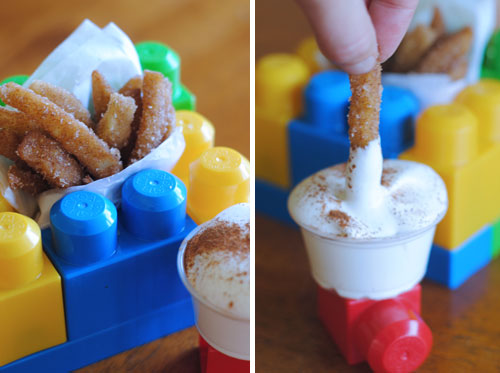 The rest is even easier. Begin your chain by making a circle with one of the links and stapling it. Loop the next chain through it and staple again. Continue making your chain until you have all of your links connected.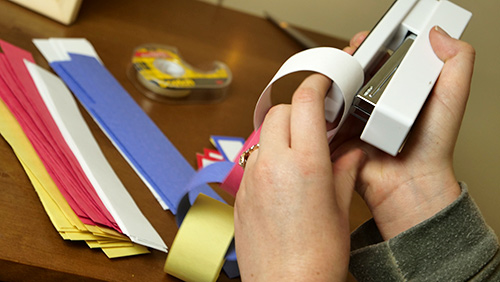 Now, use a glue stick or double sided tape to attach the LEGO brick cutouts to the links. You can choose to attach them to every single link or just the ones that are facing forward. We thought it was easiest to do them on the white links. It made them pop a little bit, and they were always facing forward. But, it's your LEGO countdown chain, so make it however you'd like.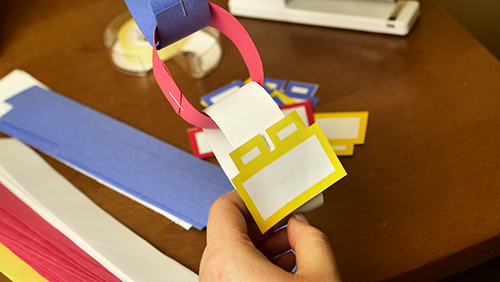 When you're finished, simply attach the header to the top link with a piece of string or ribbon. Your LEGO countdown chain is ready to be hung for all to see! If it starts out really long like ours, you can even use it as a garland. We had ours draped around our kitchen chandelier for nearly two months.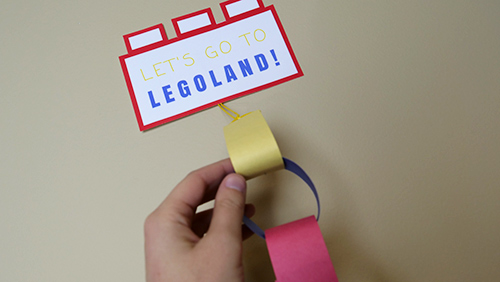 Hopefully your family enjoys this countdown chain as much as mine did. There's just something fun about being able to rip a link off and actually see your vacation get closer. I hope you have the best time on your next LEGOLAND adventure!
If you haven't booked a trip to LEGOLAND, let Get Away Today help. Our discount tickets, reduced hotel rates and expert knowledge will have you singing "Everything is Awesome" from booking to traveling and beyond. Book online now or give our agents a call at 855-GET-AWAY.

Check out more ways to get excited for your LEGOLAND vacation below: