Universal Orlando Resort is probably most well-known for its first two theme parks:
Universal Studios Florida
and Universal's Islands of Adventure. Based on action-packed, family-friendly and downright silly movies and TV shows, it's easy to see why. But did you know about Universal's Volcano Bay Orlando, a water theme park unlike any other that features dozens of attractions? It's a favorite of both Get Away Today staff and guests!
All About Universal's Volcano Bay Orlando
Are you ready for island living right in the heart of Florida? You'll find it at Universal's Volcano Bay Orlando. The wide variety of attractions offer thrills for guests of all ages, as well as laid-back water play areas for those who want to relax and soak up the rays.
Universal's Volcano Bay Orlando - Attractions
If you're not familiar with all of Universal's Volcano Bay Orlando offers, we have details on all the rides and how to avoid long wait times with TapuTapu Bands. Before we get into Volcano Bay tips and tricks, here's a look at the rides you'll want to check out when you visit:
Kopiko Wai Winding River - This is a slow, lazy river ride that will cool you off with the occasional spray of water. You'll also float under the night sky when you enter the Stargazer's Cave.
ika Moana of the Honu ika Moana - This multi-person ride is suitable for guests 42 inches and taller. You'll tube along slides in a five-passenger raft, catching glimpses of bubbling geysers along the way.
Ko'okiri Body Plunge - With a minimum height of 48 inches, this experience offers some serious thrills and fun! The body plunge begins with a 70 degree fall through a drop door and an encounter with Vol, the volcano god, as you race along 125 feet of slide toward a pool.
Honu of the Honu ika Moana - This multi-person ride is for guest 48 inches and taller. It is inspired by the Waturi people who crested waves on sea turtles. Four-passenger rafts glide through twists and turns on this slide embellished with images of turtles.
TeAwa The Fearless River - For guests 48 inches and taller, this white-water experience is the ultimate adventure! Wearing a life vest, you'll float along the rapids and waves.
Kala & Tai Nui Serpentine Body Slides - Take a leap off the volcano in these Body Slides! For guests 48 inches and taller, the Serpentine Body Slides to drop through twin drop doors at the top and race to the bottom of the tubes to the pool below.
Punga Racers - Ride a manta ray (slide mats) through underwater caves and explore the world of the Waturi children. Four slides race side-by-side, so guests 42 inches and taller can see who earns the first-place prize of a water spray salute.
Tot Tiki Reef - Perfect for babies and toddlers, Tot Tiki Reef is a water play area that offers small fountains, a small volcano and singing whales.
Puka Uli Lagoon - This leisure pool offers fun in the form of swimming, water drums, fountains and more.
Krakatau Aqua Coaster - Built around the volcano, the Krakatau Aqua Coaster is designed for guests 42 inches and taller. Four-person canoes glide through darkness and light, twists and turns as they explore the volcano. The conclusion of the ride takes your canoe through a waterfall.
Waturi Beach - This will be your first stop when you enter Volcano Bay. Waturi Beach offers seating, gentle surf and views of Krakatau Volcano. Swim, splash, lounge and dine at Waturi Beach.
The Reef - In The Reef you can splash and play in the pool with a view of the Body Plunge ride. A clear slide tube actually cuts through The Reef, which is located beside Waterfall Cove.
Tonga of Taniwha Tubes - Mimicking puka trees, these slide tubes seem to organically curve toward the pool. This water ride is for guests 48 inches and taller.
Ohyah of Ohyah & Ohno Drop Slides - For this slide, what goes up must come down! You'll first climb a cliff before finding yourself sliding toward a four-foot drop into the pool below. This thrill ride is for guests 48 inches and taller.
Puihi of Maku Puihi Round Raft Rides - Ride the lava tubes on this multi-person experience. For guests 42 inches and taller, rafts explore dark caves and experience zero-gravity before splashing to the bottom of the ride.
Ohno of Ohyah & Ohno Drop Slides - More than just a water slide experience, you'll need to climb to great heights and cross a rope bridge just to queue! Designed for riders 48 inches and taller, the Drop Slides offer thrills as you zip through the water and end up plunging into a pool at the end.
Maku of the Maku Puihi Round Raft Rides - For riders 42 inches and taller, this raft ride takes groups of six through a volcanic gorge and features spins and water sprays.
Runamukka Reef - Designed to mimic a coral reef, this splash area is fun for all ages. It offers shade, seaweed and even play structures.
Raki of Taniwha Tubes - Guests who are 42 inches and taller can ride tubes along slides that resemble the roots of puka trees. There are two different tracks, each dotted with tiki statues that spray jets of water at riders.
Universal's Volcano Bay Orlando - TapuTapu Bands
Now that you know about all the breath-taking attractions at Volcano Bay, how do you make the most of your visit? With TapuTapu Bands you can enter virtual lines for some of the most popular attractions throughout the Park! TapuTapu Bands are included in Volcano Bay admission so you can take advantage of this time-saver at no additional cost. TapuTapu Bands are handed out right when you enter Volcano Bay, and when you leave the Park for the day you return them. This is especially helpful for families with young children as there's no way to misplace your TapuTapu Band at the hotel between visits to Universal Orlando Parks.
How do you use TapuTapu Bands at Volcano Bay Orlando?
There are several ways to use TapuTapu bands at Volcano Bay and we'll go over each one below:
Use your TapuTapu to secure a virtual wait in line for popular attractions
Use your TapuTapu to interact with features throughout the park
Use your TapuTapu to snap and sync pictures in the park to your account
Use your TapuTapu to access lockers around the park
TapTu Ride
Nearly all rides feature the "TapTu Ride" function. This means, you guessed it, you tap to ride! Simply approach the TapTu Ride totem at the queue for a slide and tap your TapuTapu Band against it. This places you in a virtual queue so you don't have to physically stand in line. You can then spend the wait time enjoying other features in Volcano Bay, and your TapuTapu Band will vibrate when your wait time is up. With the TapuTapu Band, you are permitted entry to one virtual line at a time. If you want to cancel your spot in one virtual line and instead enter a different one, tapping your TapuTapu Band against a new queue totem will do so. If you're in the virtual line for a ride that has a temporary closure, your TapuTapu Band will notify you so you can make other plans and enjoy other rides in the meantime. It's such a great feature because you're never left wondering why it's taking so long for you to be notified of a wait time.
TapTu Play
Another element of TapuTapu Bands is TapTu Play. There are designated spots throughout Volcano Bay where you can TapTu Play and interact with water features, tiki statues and lighting effects.
TapuTapu Photos
The TapuTapu Bands also make it a snap to capture memories while in Volcano Bay. In addition to photos taken on rides, there are photo spots located throughout the Park. TapuTapu Bands automatically load photos to your user account so you can view and/or purchase them at the end of the day.
TapuTapu Lockers
There are four locker areas throughout Volcano Bay, and your TapuTapu Band is your key to access one. Up to four TapuTapu Bands can be used to gain access to one locker, which makes it much more convenient to retrieve stored items throughout the day. No one person has to be responsible for grabbing snacks!
Universal's Volcano Bay Orlando - Dining
We all know that one of the best parts of vacation is the food, and Volcano Bay definitely delivers. With island-inspired dining options within the Park, you'll get the feeling you really are on an island paradise. Here's a look at what you can find at Universal's Volcano Bay.
Whakawaiwai Eats
This quick-service dining option serves lunch and dinner dishes, as well as snacks and refreshing beverages. Here you'll find a Coca-Cola freestyle machine, and alcoholic drink options. Menu items include BBQ chicken pizza, green salads, hot dogs served on pretzel buns and fruit. Whakawaiwai Eats is located near the shores of the lazy river.
Kohola Reef Restaurant & Social Club
This quick-service vendor serves lunch and dinner plus a variety of snacks and drinks. From healthy options to Coke, you'll find it here. Sample delicious dishes such as mango BBQ pulled pork sandwiches, quinoa edamame burgers, guava tapioca pudding and alcoholic beverages. Kohola Reef Restaurant is located behind the seating areas on the shores of the Bay.
Bambu
For the ultimate in island vibes, stop by Bambu for lunch, dinner, snacks and beverages. This full-service dining option serves up tasty fare such as craft burgers, sandwiches, karika chicken sandwich, chicken tenders and salads. Find refreshing soda or alcoholic beverage options.
The Feasting Frog
Taco lovers need to plan a stop at The Feasting Frog, located near the Raki of Taniwa Tubes. Shaped like a frog, you can't miss it! Choose quick service lunch, dinner and snack options like Poke Poke Bowl, taco sampler or plantain chips and guacamole. Dancing Dragons Boat Bar - Shaped like a canoe, Dancing Dragons Boat Bar is located near the seating area by The Reef. Kick back and relax with tropical cocktails, frozen drinks and a variety of snacks.
Kunuku Boat Bar
Located by the Krakatau Aqua Coaster, you'll find Kunuku Boat Bar is the perfect spot to quench your thirst. With a selection of specialty drinks, frozen concoctions and snacks you can fuel up and be ready for more fun. Sunshine, swimming and tubing will work up an appetite while you're in Universal's Volcano Bay, so in addition to these dining options you are welcome to bring in your own food and drink. Pack in your favorite crackers, fruit snacks, chips or sandwiches, and keep in mind no outside alcoholic beverages are permitted.
Booking your Universal Volcano Bay Vacation
We love this water park and think it makes an incredible vacation all on its own! But don't stop there.
We recommend…
For the full Universal Studios Florida experience we recommend staying at least 4 nights at
Universal's Cabana Bay Resort
where you'll be the closest to Volcano Bay and enjoy an exclusive hotel guest entry. Add that to 3-Park Base tickets which will give you time to not only enjoy your resort amenities but also allows you to experience all three Universal Studios theme parks.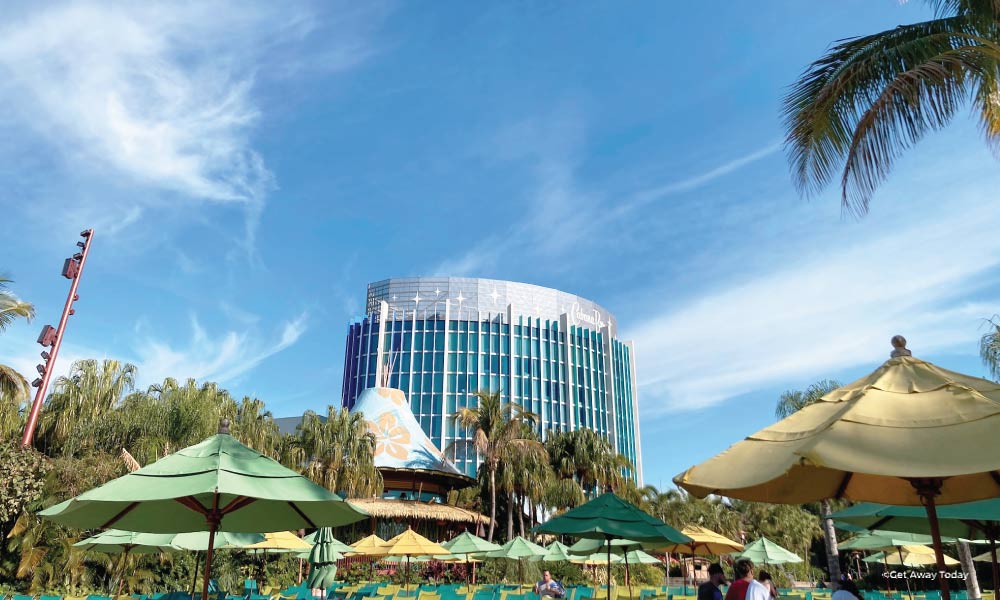 A specialist can help you book available experiences, dining and the coolest room at Cabana Bay Resort for your vacation.
Check out our Universal Orlando Resort vacation packages online
or call an agent at 855-GET-AWAY.