Pixar Fest is in full swing at the Disneyland Resort and today we're excited to share everything you need to know about the Pixar Play Parade. We were able to talk in detail about what you can expect at this limited time parade only at Disneyland until September 3, 2018.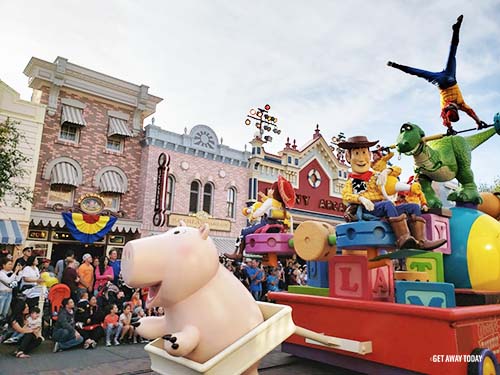 ?
We were so excited to be at the Disneyland Resort for the kick-off of Pixar Fest. One of the limited time entertainment offerings is a new and improved Pixar Play Parade! We were able to meet with David who is the Director of Entertainment Services at Disneyland. What a job!
We went into detail to find out everything you need to know about the Pixar Play Parade. Watch our video and enjoy:
As a recap, we've outlined some of the major differences between the previous Pixar Play Parade and the current edition available during Pixar Fest.
First, the Pixar Play Parade was a fan favorite that used to be in Disney California Adventure Park. But this time, it's in Disneyland. One of the major differences about moving locations is the feel of the parade. Because the streets are so much wider in Disney California Adventure Park, you weren't able to get as close to the floats and sequences. The Pixar Play Parade feels so much more intimate in Disneyland because you are so much closer. You can really interact with your favorite Pixar Characters. We love when David mentioned that this parade is based on how the Pixar characters really would play with you!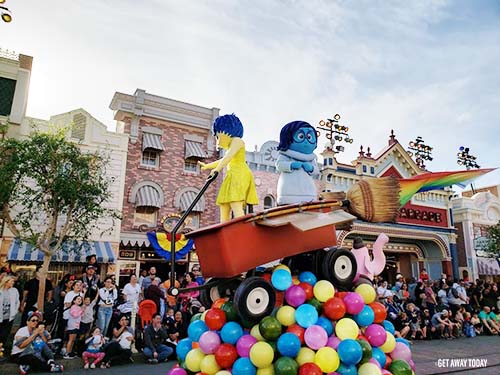 ?
The other differences that you'll notice right away are the new floats and sequences that are part of the Pixar Play Parade. The parade is now led with the Pixar Lamp and Pixar Ball that you can see as the backdrop of our video. It just starts off the parade with such a fun, recognizable staple of Pixar.
But the lamp isn't the only new addition. You'll also get to see your favorite characters from Inside Out. Joy, Sadness and Bing Bong can all be seen in their very own scene. You'll love the bright colors and rainbow trail.
Fans of Up will also be delighted to know that Carl, Doug, Russell and Kevin all have a home in the new Pixar Play Parade at Disneyland. It is adorable and so much fun!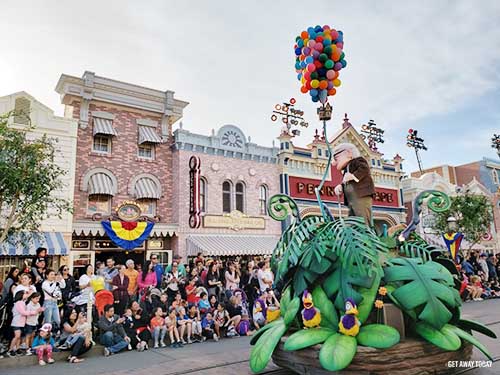 ?
You can also still see some of your favorite sequences from before including "a bug's life," Toy Story, Monsters Inc., Finding Nemo and of course, The Incredibles. It is not to be missed!
The Pixar Play Parade is playing daily during Pixar Fest. You'll want to check the official Disneyland calendar and the official Disneyland app during your stay for the exact time, but it has been playing around 6pm each day.
If you want to make sure you get a premium spot for the parade, you can get a Pixar Play Parade dining package from the Plaza Inn on Main Street. You can pre-purchase a picnic style lunch that comes with a reserved viewing area for the Pixar Play Parade. These dining packages can be booked up to 60 days in advance and do sell out. You can make your dining reservation for the Pixar Play Parade by calling Disney Dining at 714-781-3463. You can also make reservations on Disneyland.com or on the official Disneyland app. If you do have to cancel for any reason, make sure to do so at least 24 hours in advance to avoid a $10 per-person "no show" charge.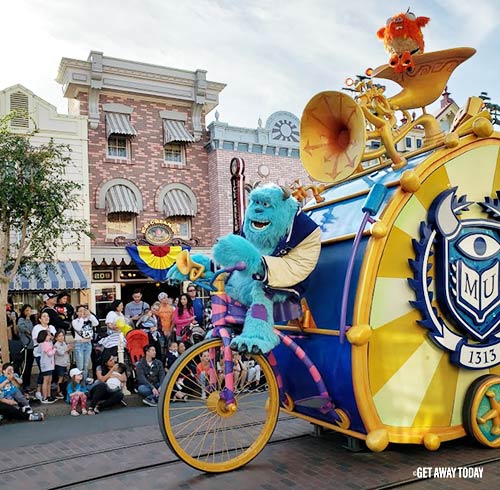 ?
Get Away Today would love to help you experience the Pixar Play Parade. But remember, it's only available for a limited time as part of Pixar Fest at the Disneyland Resort. Be sure to book your vacation for travel before September 3, 2018 to make sure you get to experience all of the fun of the Pixar Play Parade at Disneyland for the first time ever! You can find our packages online or call our agents at 855-GET-AWAY.

Check out more information about all the Pixar fun going on in Disneyland:
?