Our team recently was able to spend some time at the Fiesta Americana in Cozumel. We're excited to share our Fiesta Americana Cozumel review. Find out first hand about this all-inclusive resort located in Cozumel, Mexico and whether or not it's right for your vacation.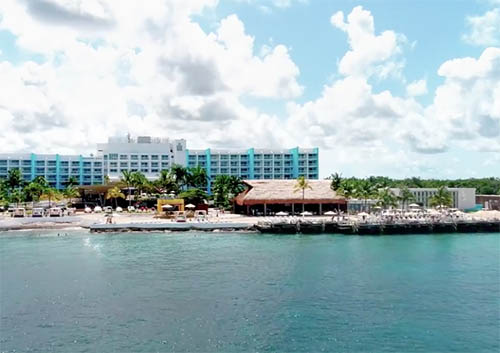 Photo courtesy of Fiesta Americana
Planning a vacation is a big deal and we understand how important it is. Nobody wants to spend their hard earned money and vacation time and return home disappointed. When you're planning an all-inclusive vacation, nothing affects your trip more than picking the right resort. That's why we've put together our Fiesta Americana Cozumel review. We've broken everything down into five areas; rooms, restaurants, activities, beach and location. Check it out to see if it's the right resort for your Mexico vacation.
Fiesta Americana Cozumel Review - Rooms:
The rooms at the Fiesta Americana Cozumel are beautiful, fresh and comfortable. The standard rooms have either two double beds or one king bed. One awesome thing about the rooms at the Fiesta Americana Cozumel is that there are so many connecting rooms available. Their room configurations allow the hotel to have a wide range of standard and suite rooms. It's perfect for couples, families or groups of any size. Yesterday we shared a room tour that showed exactly what I mean. If you missed it, you can watch it here:
Fiesta Americana Cozumel Review - Restaurants:
The Fiesta Americana Cozumel is an all-inclusive resort, and here that means five restaurants and three bars are included. That's a total of eight choices available. Don't be fooled into thinking that just because it's all-inclusive means the food isn't quality. In fact, the food here is delicious! And, unlike some other all-inclusive resorts, there's only one buffet available. The other options are a variety of table service, counter service and bars.
The food is so fresh, and the Fiesta Americana strives for having the very best quality available. There is a wide range of cuisines available from farm-to-table to authentic Mexican. We recommend doing a combination of quick service and some more upscale dining throughout your stay to get the full experience. If you're looking to celebrate a special occasion, consider dining at Rosato, their authentic Italian restaurant.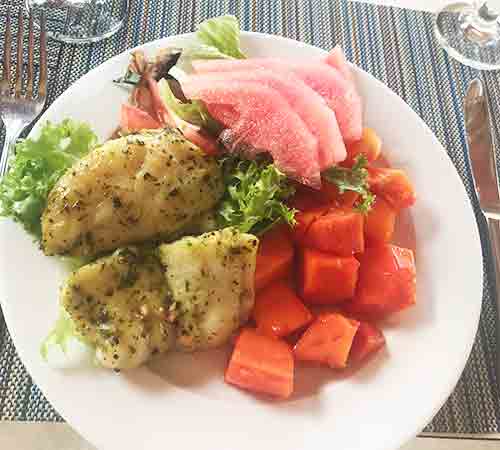 Fiesta Americana Cozumel Review - Activities:
Almost all of the on-site activities are included with your stay. The snorkeling is awesome and just steps away. There are yoga and fitness classes, and the pool is incredible. There's also a kids' club that has supervised activities for kids ages 4-12. If you have younger kids or want in-room care, it's available for a charge. You can also add on golf, scuba diving and other nearby activities for a fee.
Fiesta Americana Cozumel Review - Beach:
The beach at the Fiesta Americana Cozumel is great, but there are a few things you should know. First, it's a private beach, so that is a huge plus. There are plenty of beach loungers available, which is always nice. You can find over-the-water beds, hammocks, lawn chairs and more. If you're looking to lounge, both the beach and the pool offer incredible service and scenery. You should be aware that the hotel's private beach, complete with a beach club, isn't a sandy beach that you may be used to. There's sand of course, but there is also a pretty big drop off.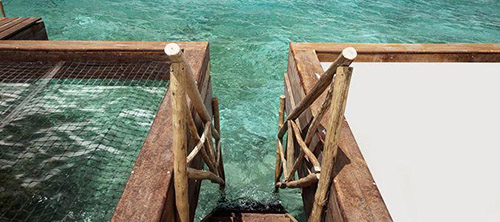 However, the huge plus about this beach is that it is 100% snorkel ready. Just slap on your gear and head down the ladder directly into the warm Caribbean waters. You should be aware that local activity companies charge anywhere from $30-$50 for snorkeling around this area. But, when you stay at the Fiesta Americana Cozumel, it's all included. Score!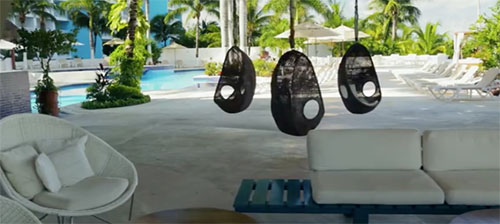 Photo courtesy of Fiesta Americana
Fiesta Americana Cozumel Review - Location:
The Fiesta Americana Cozumel is located just a 20 minute drive from the Cozumel airport. You can also fly into Cancun, take a shuttle to Playa del Carmen and then ferry over to the island of Cozumel. If you can fly into Cozumel, we recommend taking that route. Once you get to the resort, you're situated right across the street from an awesome snorkel beach. You're also around 20 minutes away from ruins, beach/aquatic parks and more. Plus, if you're staying on the island for a while, you may even want to ferry over to the main land and explore some of the more popular ruins or the town of Playa del Carmen.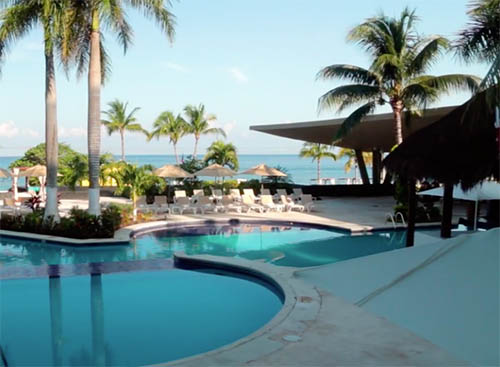 Photo courtesty of Fiesta Americana
If you're thinking about booking a stay in Cozumel or staying at any of the Fiesta Americana Resorts in Mexico, give our agents a call at 855-GET-AWAY. And if for some reason the Fiesta Americana isn't your first choice, we can help you find your perfect fit. We take care of all of the details so all you have to focus on is enjoying your perfect vacation.

Check out any of these articles for more tips for your tropical vacation: