Today we're headed to Mexico for our #MovieMonday where we're giving you a glimpse into one of our favorite all-inclusive resorts in Cozumel. Our Fiesta Americana Cozumel room tour will show you three different room types at this gorgeous hotel.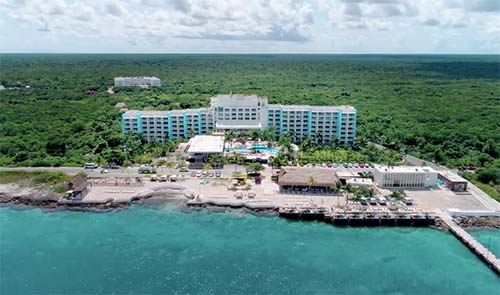 Photo courtesy of Fiesta Americana
Have you ever wondered what the hotel you are booking is really like before you go? Find out exactly what you can expect when you check-in at the Fiesta Americana Cozumel with our room tour. This room tour is actually more like three room tours in one. We'll show you two standard rooms; one with a king bed and the other with two double beds. Then, see how each of them can transform into a one or two bedroom suite with a living room.
If you're looking for the perfect resort for anything from a honeymoon to a family reunion, we think the all-inclusive Fiesta Americana Cozumel is a fantastic choice. Watch our video to see just some of the reasons we were so wowed by these rooms:
As you can see, the rooms are beautiful. The decor is fresh and clean, and everything in the rooms is super comfortable. We especially loved the rainfall shower heads in the bathrooms. Not to mention, every room that is on the second floor or above has an ocean view. And the ground floor rooms are right by the pool. You can't ask for much more than that!
We were also incredibly impressed with how versatile the room configurations at the Fiesta Americana Cozumel are. There are nearly endless combinations with the amount of connecting rooms they have. A few of the rooms connect with the living and dining room areas to create suites. Some of the suites even sleep up to 10 people, which would be perfect for a large family, or even a multi-generational vacation.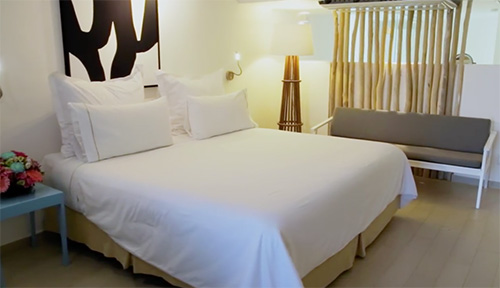 Photo courtesy of Fiesta Americana
Remember that your stay at the Fiesta Americana Cozumel is all-inclusive. That means all meals and drinks are included with your stay too. Most of your on-site activities, including snorkeling and yoga classes are included as well.
If you've never been to Cozumel, you should know it's an island off the coast of Playa del Carmen. You can fly directly into Cozumel, which has been known to have some pretty great deals on airfare. The next closest airport is Cancun. Be aware that if you fly into Cancun, you'll need to take a shuttle to Playa del Carmen. From there you can take a ferry to Cozumel. The entire process takes around three hours, but it's a beautiful coastal drive and a fun way to see more of Mexico.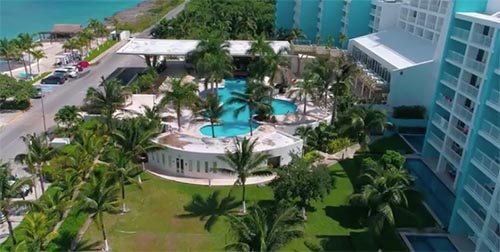 Photo courtesty of Fiesta Americana
If you're thinking of a trip to Cozumel, or anywhere else in Mexico, we'd love to help. Fiesta Americana has resorts throughout Mexico, including some of our most popular destinations like Cancun and Puerto Vallarta. You can find our all-inclusive Mexico vacation packages, including the Fiesta Americana Resorts and Hotels, on our site. Or, you can call any of our vacation experts at 855-GET-AWAY. Whether you book online or over the phone, our team is here to make sure that you have the best and most affordable Mexico vacation.

Check out more articles for the best Mexico vacation yet: