Count down the days until your LEGOLAND vacation with this fun LEGO building activity. Use our free printable to create a countdown to LEGOLAND out of a regular LEGO set to get excited about your upcoming adventure.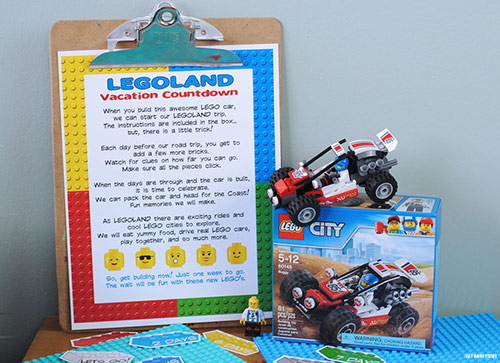 Are you heading to LEGOLAND for a family vacation? LEGOLAND is certainly a great destination for families with children who love LEGOs! My kids have recently discovered LEGOs and we are all about building and creating at our house right now. Who knew how many hours of fun could be had with a pile of colored bricks?
The LEGO fun is ramped up to the next level at LEGOLAND. Practically everything is built out of LEGOs. It is amazing. The creativity behind the decorations and construction of the buildings and rides is really spectacular. It is a LEGO lover's dream! You don't even have to ride any of the attractions to be entertained. It is a very festive place to be.
I am sure your little crew is excited to head to LEGOLAND! Here is a fun activity to help you countdown to LEGOLAND and all the fun you'll have. It can be started one week before your departure date. I love that this countdown is so simple and inexpensive. I think you will love it too!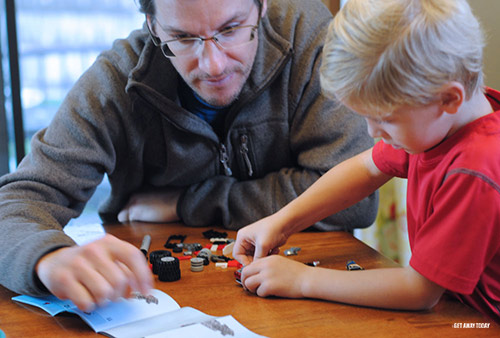 You'll need:
You can choose any LEGO set for this activity. The concept works with any instruction booklet. But, I recommend choosing a car set if you are heading on a road trip and an airplane if you are going to fly. I felt like it was more meaningful that way. For this project, I purchased the Buggy set 60145 and the Race Plane set 60144. They have about 80 pieces each and cost about $7 on Amazon.
The prep work for this Countdown to LEGOLAND Activity is so fast and easy! First, carefully open the LEGO box and remove the instruction booklet.
Download and print the free Countdown to LEGOLAND Bricks printable. This sheet has 8 LEGO bricks on it. The LEGO is numbered from 1-7 days and there is also a "Let's Go" image. Cut each of the LEGO images from the paper. I did a bubble cut to make it super quick.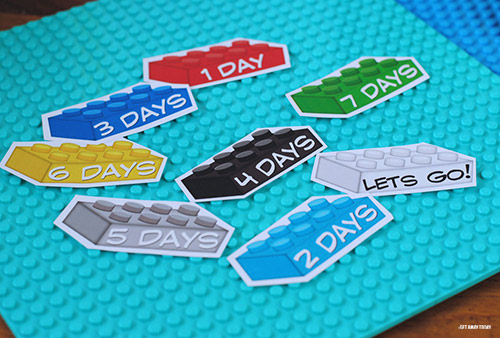 In the Race Plane instruction booklet there are 43 steps to building the LEGO plane. So, if you divide it by 7 days that is about 6 to 7 steps per day.
The process of the Countdown to LEGOLAND Activity is to build the LEGO set over the course of a week. You spread out the steps so that your builder gets to put on a few pages of instructions per day. The LEGO brick images are used as a guide for when to stop building each day.
Start with the 7 Days LEGO image. Attach it to a page in the instruction book towards the beginning. I did it on step 7. This marks where building STOPS for the day. It reminds your child there are 7 days left until you leave.
A little bit of tape on the back of the brick is all you need to stick it in place.
Continue adding the LEGO brick images to the instruction book. Work down from 7 to 1. I put them every 6-7 steps in the building process.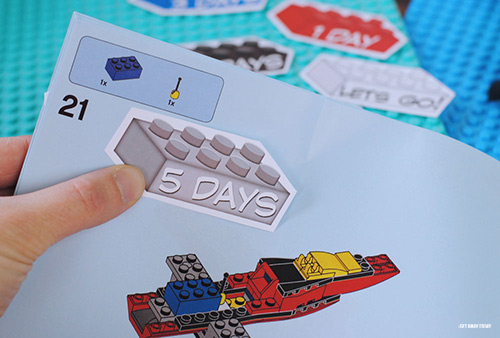 At the very end of the book, add the brick that says, "Let's go!" When their item is finished, the countdownto LEGOLAND is over.
Once the LEGO brick markers are in place, slide the book back into the LEGO set. You could wrap it and give the set along with the Countdown to LEGOLAND printable, as a surprise to reveal the vacation to your family. Or, you could just give it to your child as a way to get excited the week before your vacation.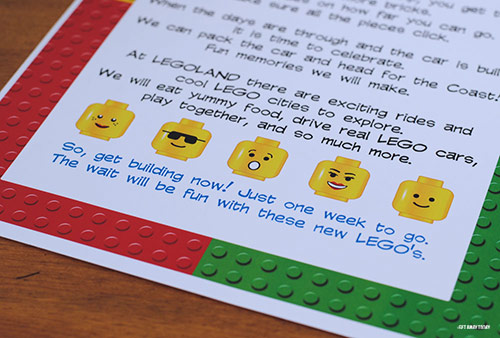 It is fun to have a new LEGO set to take along on the vacation to play with. LEGO building is perfect for playing at the hotel or even in the car if you are careful with the pieces. I hope this Countdown to LEGOLAND Activity adds an extra element of excitement and adventure to your LEGOLAND vacation.
Book your LEGOLAND vacation now for the best price, including discount LEGOLAND tickets and reduced hotel rates. Plus, the travel experts at Get Away Today have all the info you'll need to make your LEGOLAND trip awesome. Book online now or give our agents a call at 855-GET-AWAY.

Check out more Legoland fun below: