Make Hot Cocoa Marshmallow Macarons with this simple tutorial. They are a perfect treat for any Winter celebration!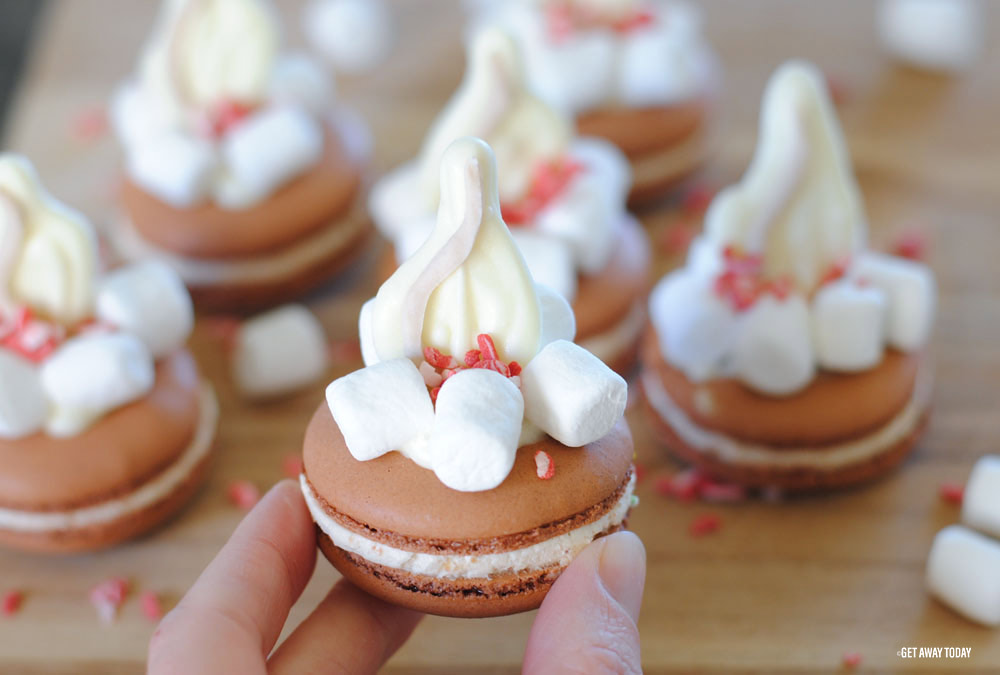 Hot Cocoa Marshmallow Macaron Tutorial
If you love macarons, you are going to melt over the adorable Hot Cocoa Marshmallow Macarons from Disney California Adventure Park. They are a chocolate macaron base with a little marshmallow and white chocolate fire on top. These festive cookies are one of the cutest Disney treats that I have seen to date.
I thought it would be fun to create a copycat version, so all of us could whip up some Disney magic at home. I decided to just buy the cookies from the bakery by my house. Talk about easy! I read several macaron tutorials and decided to leave the baking to the experts! If you love making macarons, then feel free to use your favorite chocolate macaron recipe to kick off this project.
The Harmons grocery store by my house had fresh macarons and I noticed that Trader Joe's sells a combo pack with chocolate and vanilla macarons as well. Most bakeries carry them too!
This tutorial is all about decorating the top of the cookie.
Hot Coco Marshmallow Macaron Supplies:
mini marshmallows
peppermint flakes
These instructions are for making 12 Hot Cocoa Marshmallow Macaron Copycat Cookies.
Hot Cocoa Marshmallow Macaron Tutorial - Getting Started

Start by lining a cookie sheet with wax parchment paper. Then, melt 1 cup of white chocolate chips. I always make sure to use real quality baking chips. Cheap chocolate is waxy and the flavor is subpar. Melt the chips in the microwave for about 1 minute on high. Then, stir. As you stir, the chocolate should continue to melt. If you need to put it back in the microwave for an additional 15 seconds, you can. Just do not overcook the chocolate. It can burn.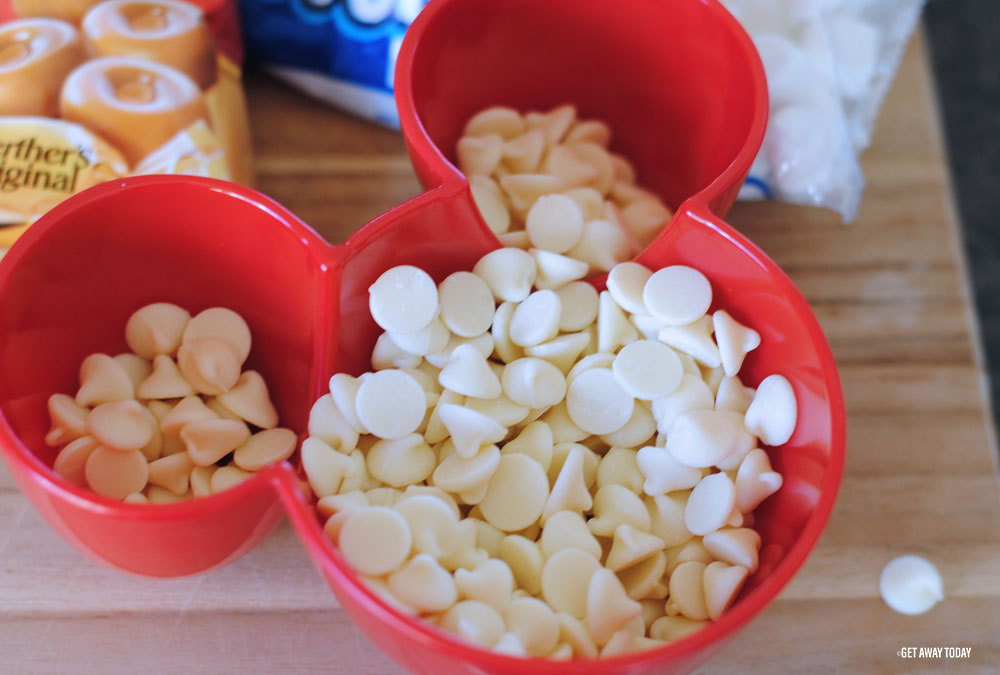 Hot Chocolate Marshmallow Macaron Tutorial - Piping Chocolate
Pour the melted chocolate into a plastic frosting piping bag. Then, snip the end off the tip of the bag. You want a small opening! So, only cut off a tiny bit. Pipe the chocolate onto the wax paper to make little flame shapes.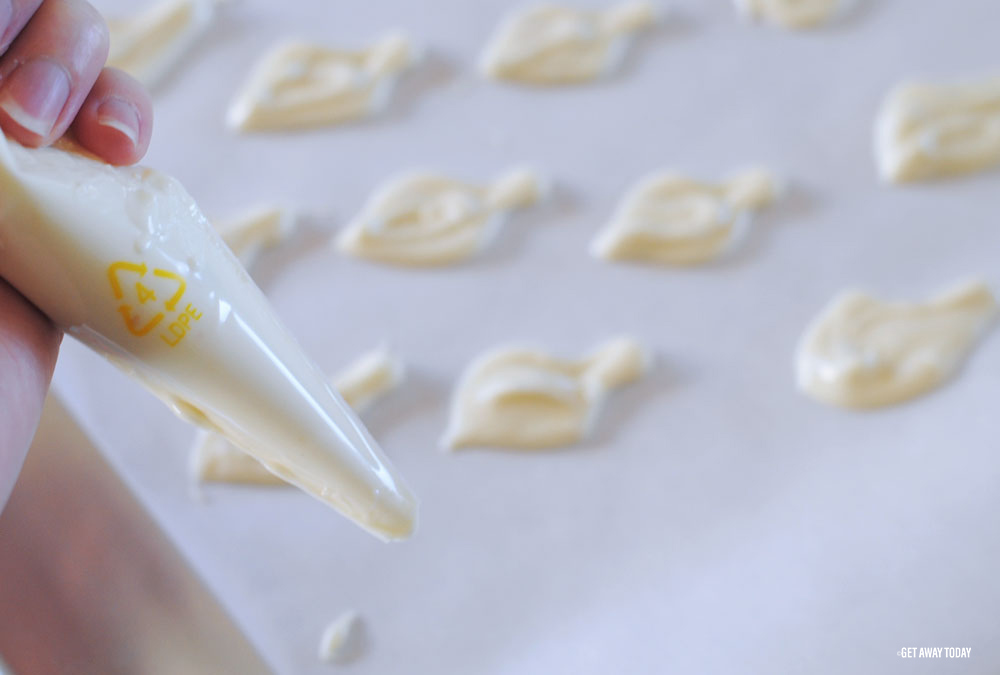 You won't use all of the chocolate in the bag. Set it aside for just a moment. Then, melt 1/3 cup of caramel chips in a bowl. You will only need to melt them for about 45 seconds.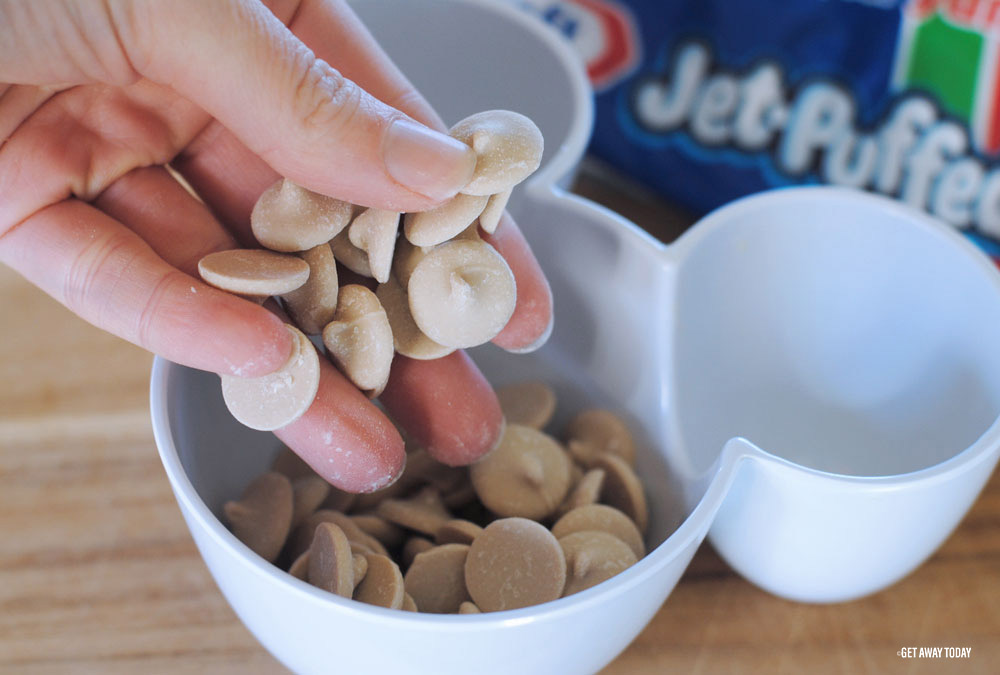 Pour the melted caramel chips into a piping bag. Snip a small hole in the top of the bag, just like you did before with the white chocolate. Then, pipe a small curved line up the side of each white chocolate flame. This gives the flame just a little bit of definition.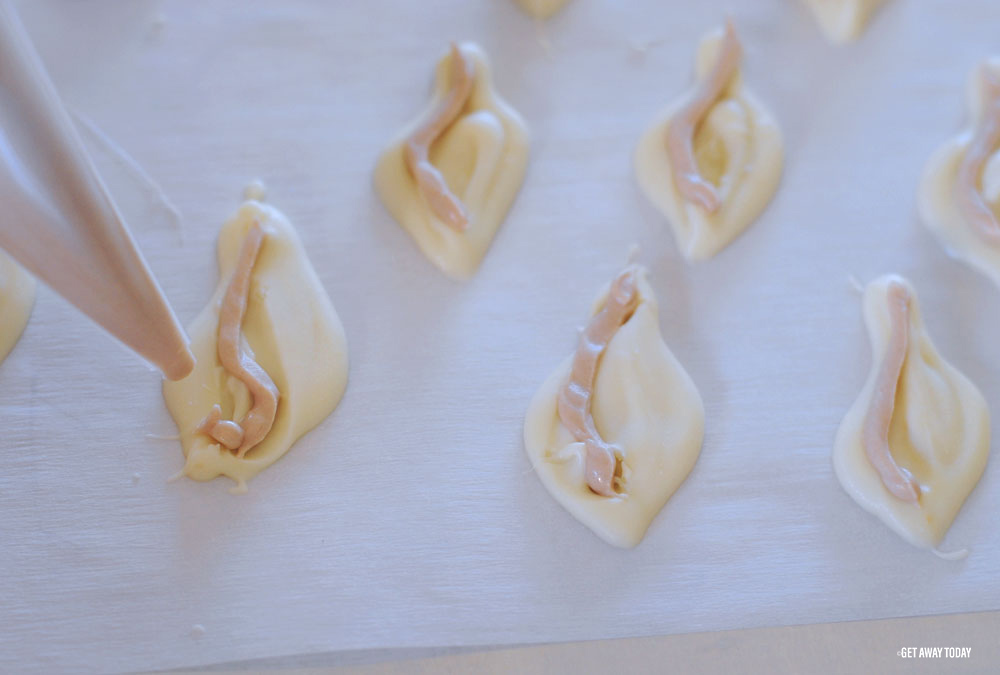 Move quickly, so your white chocolate doesn't set up complete in the piping bag. Put a quarter sized dot of white chocolate on the top of each macaroon.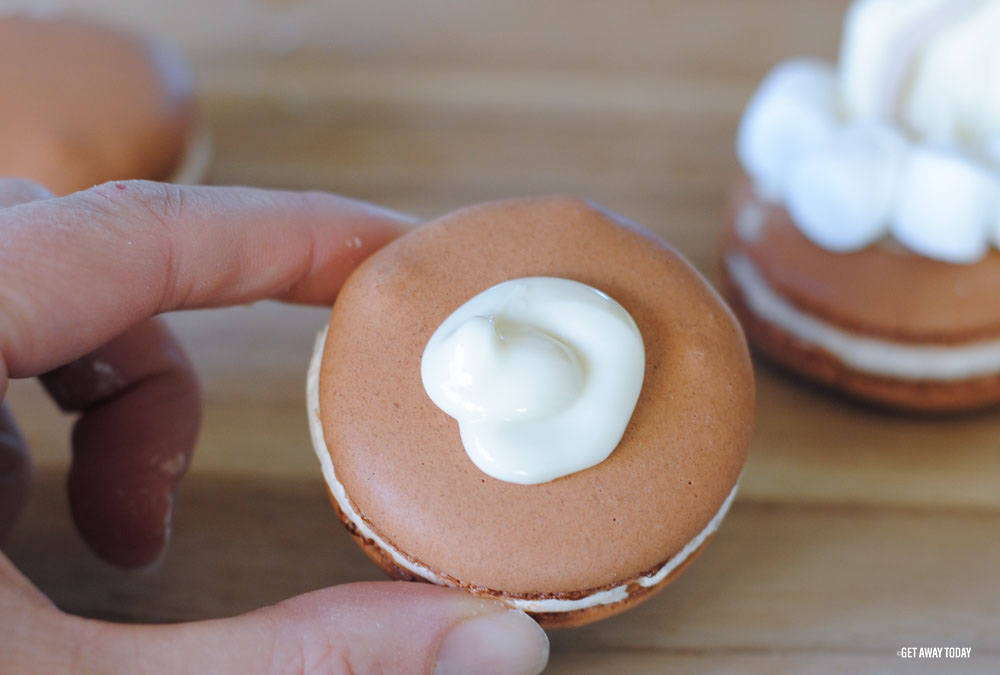 Hot Cocoa Marshmallow Macaron Tutorial - Decorating
Then, set about five mini marshmallows in a circle lining the outside of the white chocolate dot.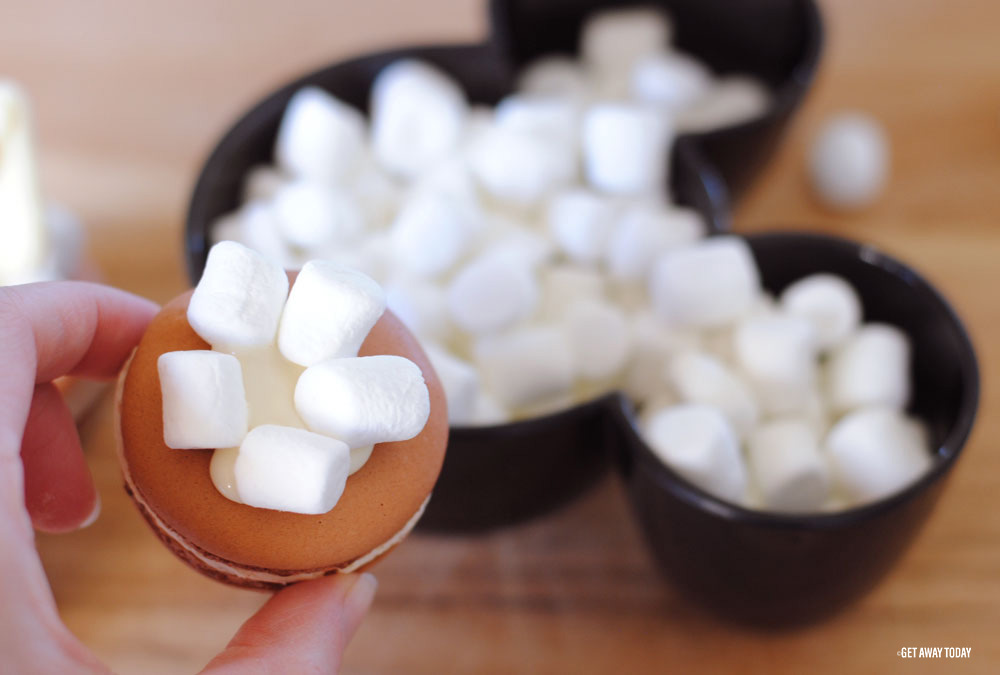 Place a chocolate flame in the center of the marshmallows. If you push the flame it too far, it will crack the macaron. So, be careful.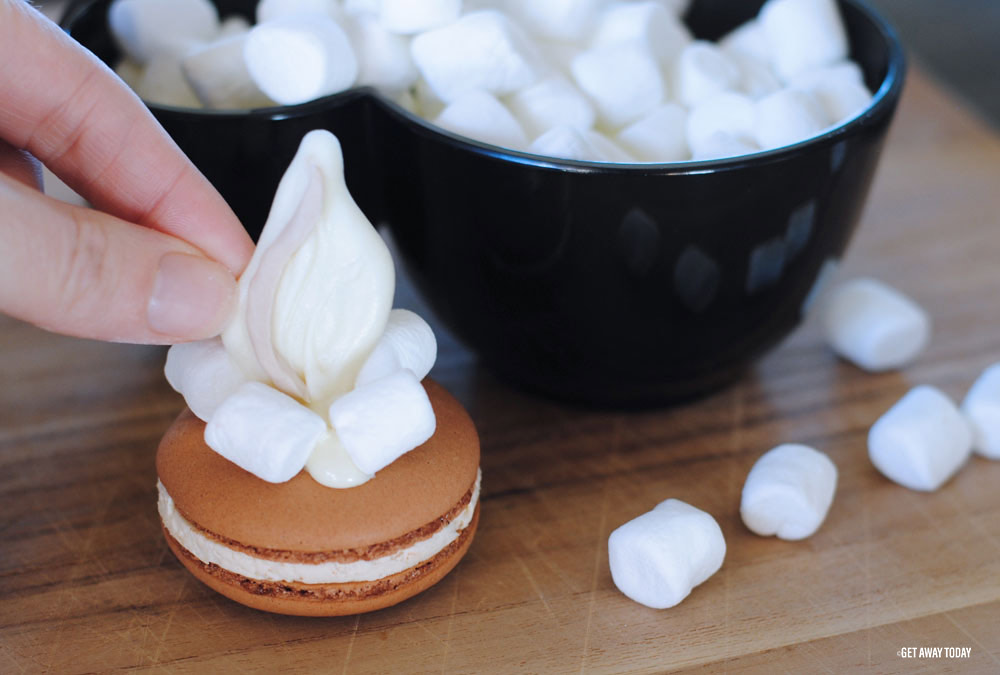 Finish adding all of the chocolate flames to the cookies. I think they are so adorable! If you don't like peppermint, you can totally stop at this step. The Hot Cocoa Marshmallow Macarons are darling (and so yummy!) like this.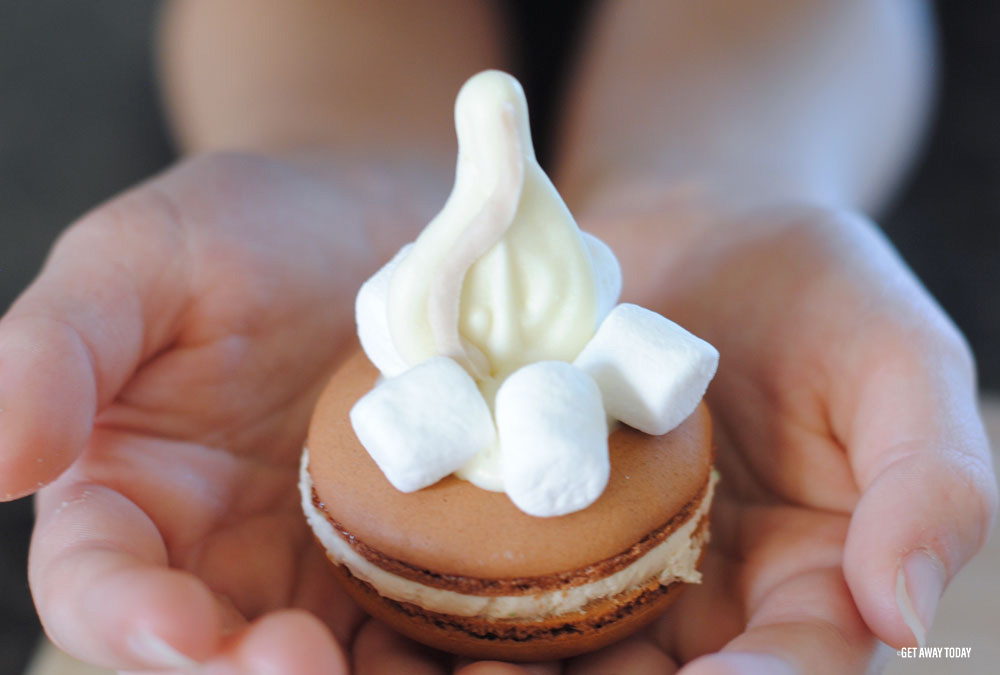 As you can see, I do like peppermint! It gives the macaron just a little extra pop of flavor. I found a container of the cutest tiny candy cane sprinkles to use. You could also crush up a regular peppermint candy cane into small flakes as a substitution.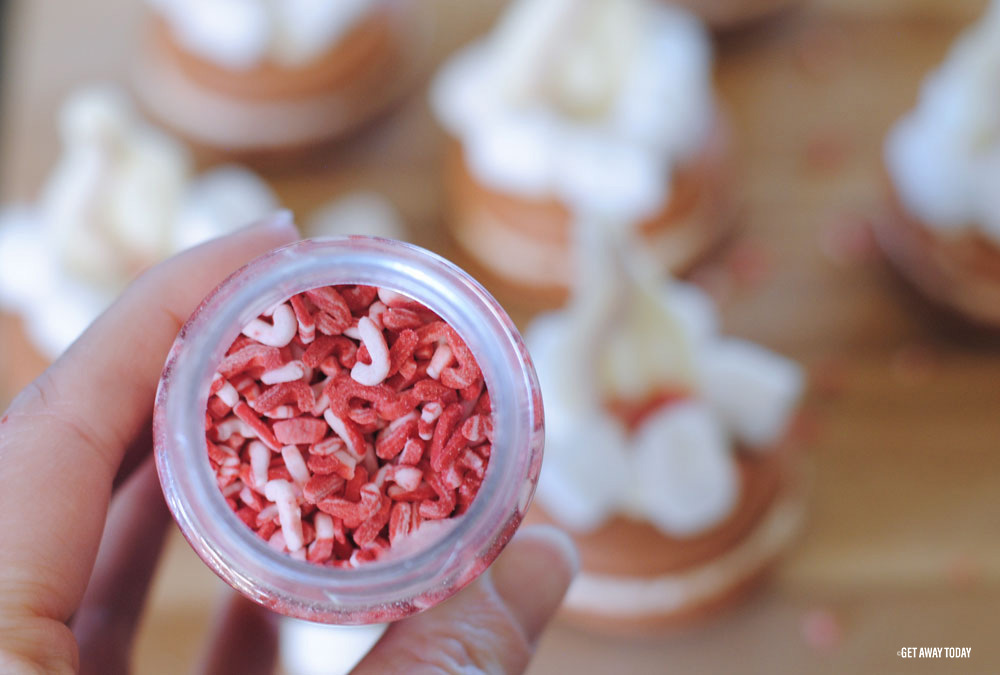 Sprinkle the peppermint onto the white chocolate around the flame. It really makes the "fire" come to life!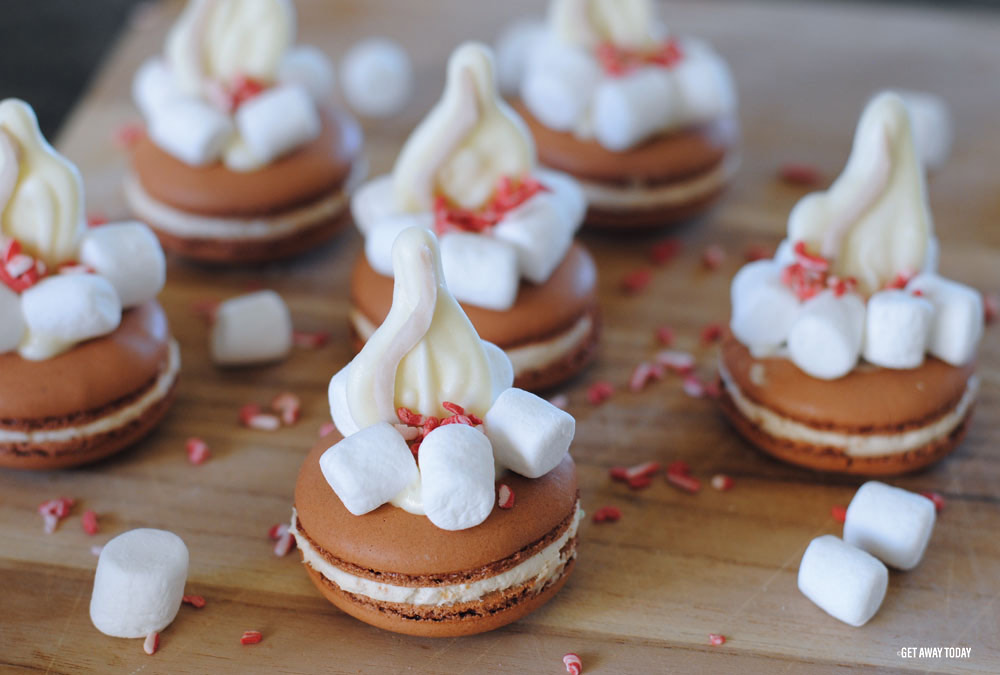 These Disney Copycat Hot Cocoa Marshmallow Macarons would be a perfect addition to any Winter celebration. You can find them at the Disney Parks during the Holiday Season. But, you can make them at home any time of the year!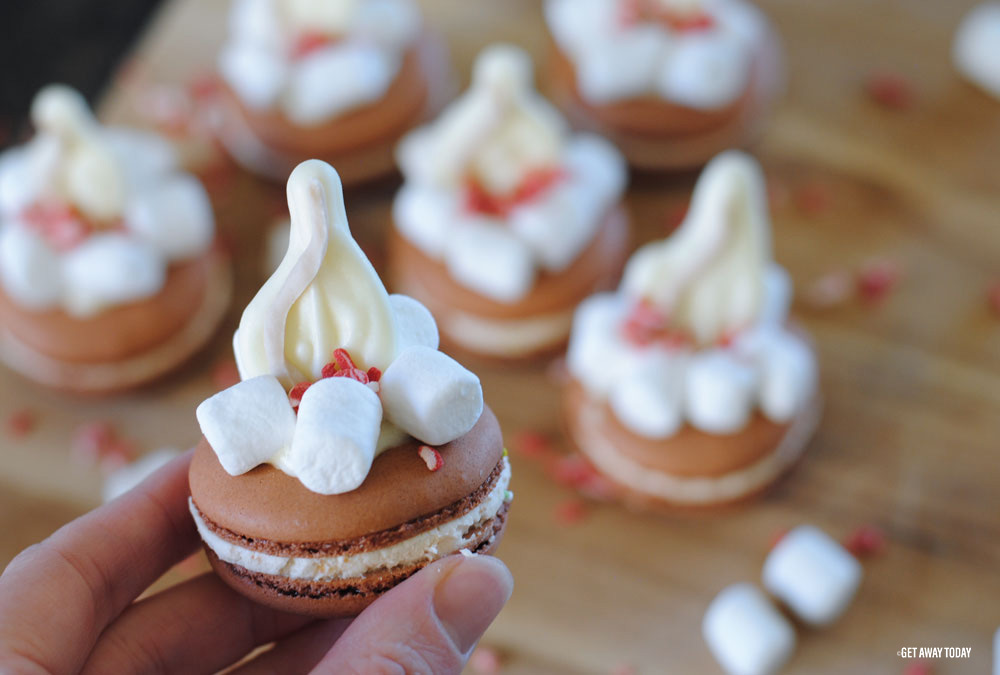 They would be a cute camping or girl/boy scout themed snack as well. So many fun options! I hope you enjoy making your own version and that you can feel the magic of Disney in your kitchen as you bake!