These easy Olaf Cookies are the perfect addition to any Frozen party or event! Not only is Olaf that happiest snowman we know...he is also the tastiest!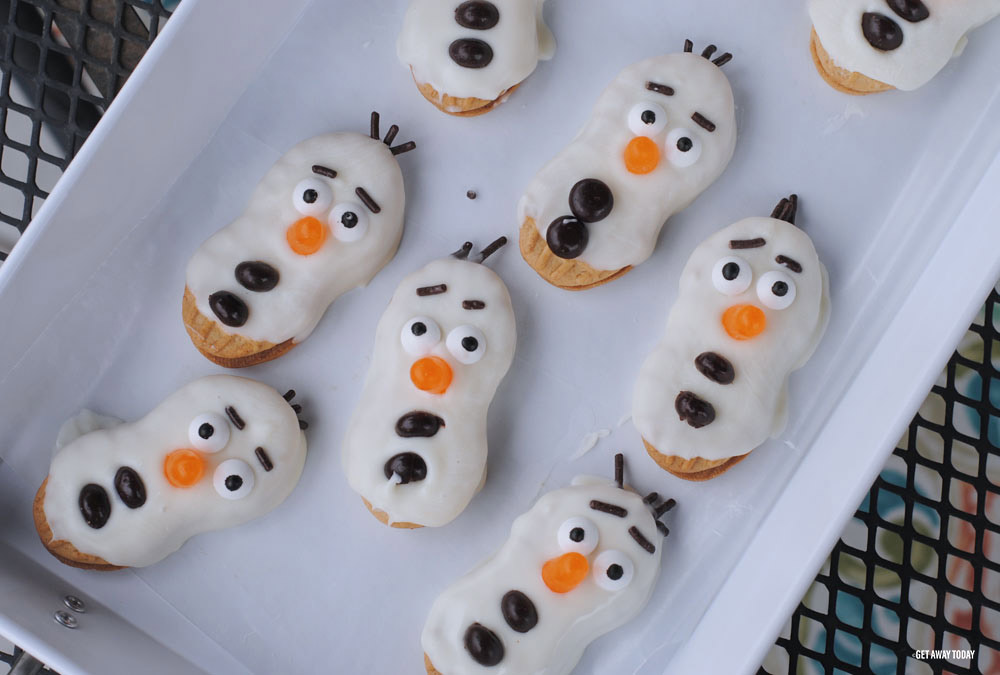 Frozen 2 is coming soon to theaters and I can't wait to see what happens next for the Queen and Princess of Arendelle. I'm glad that Disney continued the story and didn't just let it go. All of the best characters from the original are back for round two! It is going to be pretty magical. November 22nd can't come soon enough.
Olaf Cookies Recipe
If you want to stir up a little bit of Frozen fun at your house, then this tutorial for Olaf cookies is a good place to start. Elsa couldn't make anything better! Gather up your supplies and get ready to build a snowman! I know you want to, I don't even have to ask.

Olaf Cookies Supplies:
Nutter Butter Cookies
Chocolate Sprinkles
Orange Mike and Ike Candy
These adorable Olaf cookies are so easy to create. It is a great project for kids to help with. I wanted to keep things as simple as possible, so you will notice Olaf doesn't have his big toothy grin or stick arms. I felt like they made the project too crazy and busy. You will thank me later! I promise.
Olaf Cookies Recipe - Prep Work
Start by prepping your supplies. Everything you will use is on the supply list. The Nutter Butter cookies are ready to go. Use sharp scissors to cut the Mini Junior Mints in half. You will also need to snip the back 1/4 section off of the orange Mike and Ike candy. Olaf's nose would be way too big without trimming it down a bit. Set the candy eyes in a bowl and dump a little pile of the chocolate sprinkles out on a dish so they are ready to go as well.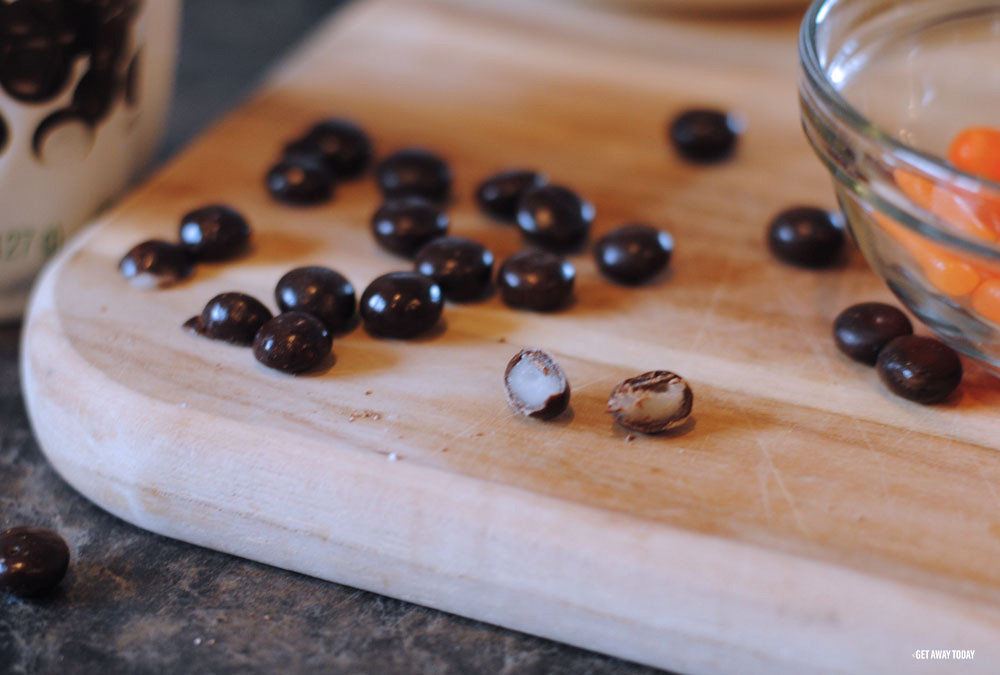 Cover a plate or cookie sheet with wax paper.
Olaf Cookies Recipe - Melting Chocolate
Then, melt half of the bag of melting chocolate in a microwave safe bowl. My favorite melting chocolate is the white vanilla flavored melting wafers from Ghirardelli. The flavor is awesome and it also melts really well. Pour the wafers into a bowl and microwave them for about a minute. Then, stir. If the chocolate isn't all melted, then do an additional 20 seconds.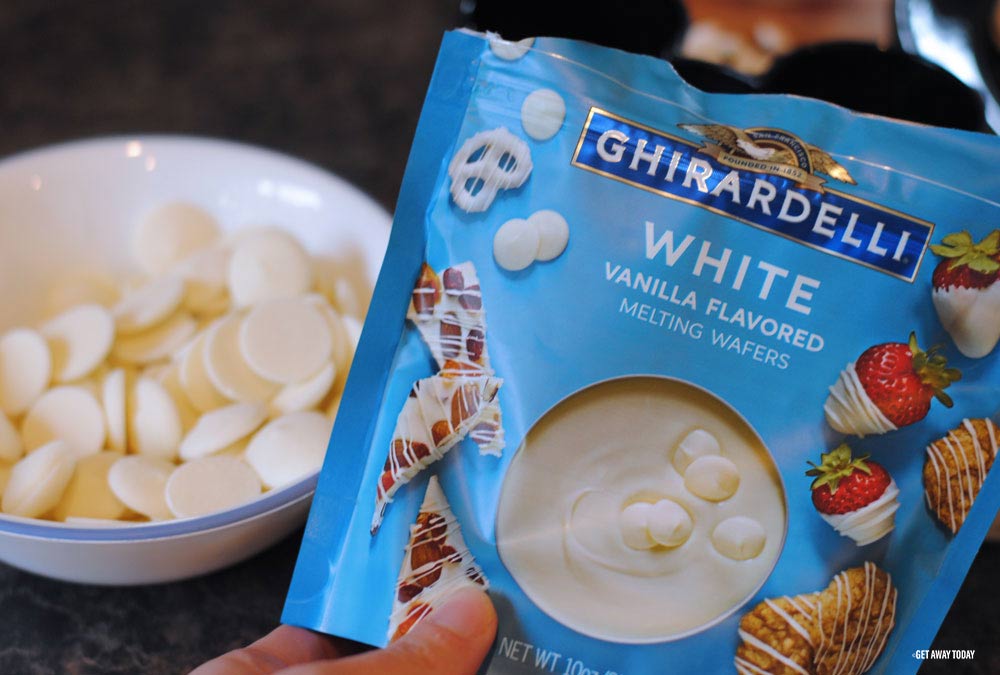 Use a spoon to ladle the melted chocolate over a single Nutter Butter cookie. Let the excess chocolate drip off of the cookie and then set the cookie onto the wax paper.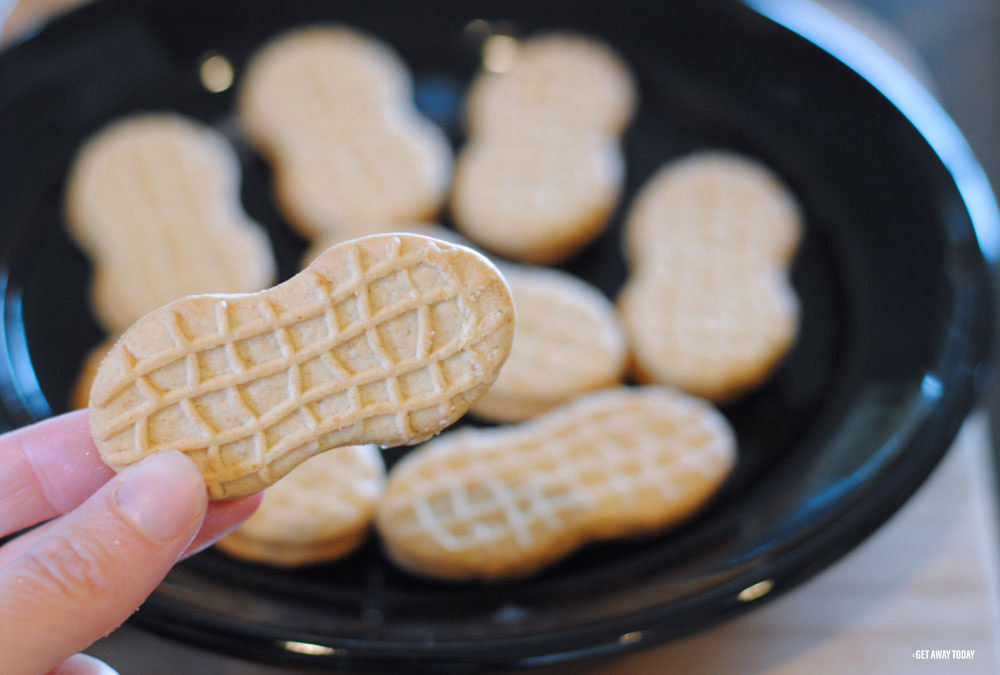 Olaf Cookies Recipe - Olaf's Face
Immediately place the candy eyes in their spot. Some of the candy eyes make me laugh! They have huge pupils and other ones have little pupils. In my batch, several of the dots got put on crooked. You might want to hunt for the best looking eyes. Or, get ready to giggle at some silly Olaf faces.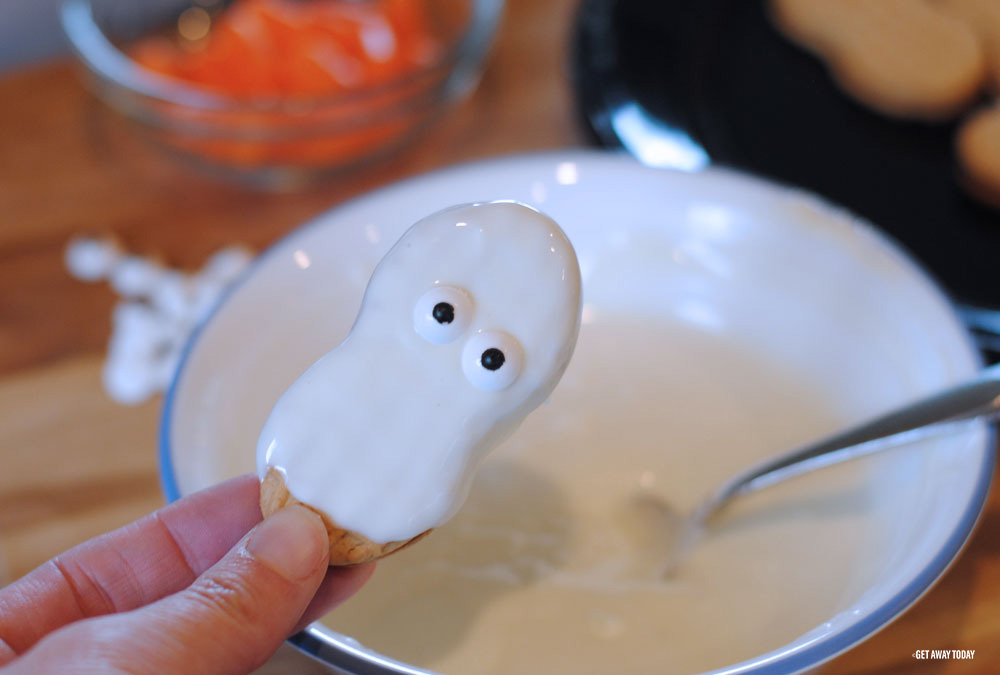 Then, add the chocolate sprinkle eyebrows. If you have the eyebrows point down in the middle Olaf looks angry. If they are straight he looks surprised! If they tip down on the outside, Olaf looks happy! Have fun giving him all sorts of emotions.
Put on the candy nose. Don't let Sven see it. He loves carrots!

Olaf Cookies Recipe - Other Embellishments
Use the halved Junior Mints on Olaf's tummy. They are his buttons. Place the cut side down in the chocolate so the shiny black part is showing.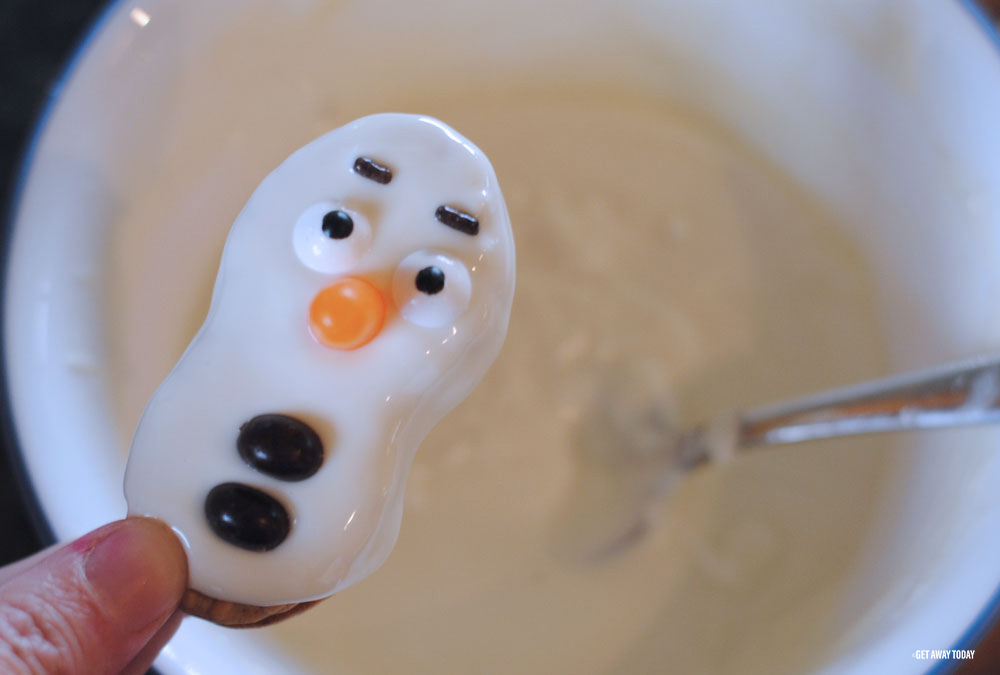 Place the little chocolate sprinkles hair on Olaf last. The sprinkles stick better when the chocolate has set up a little bit.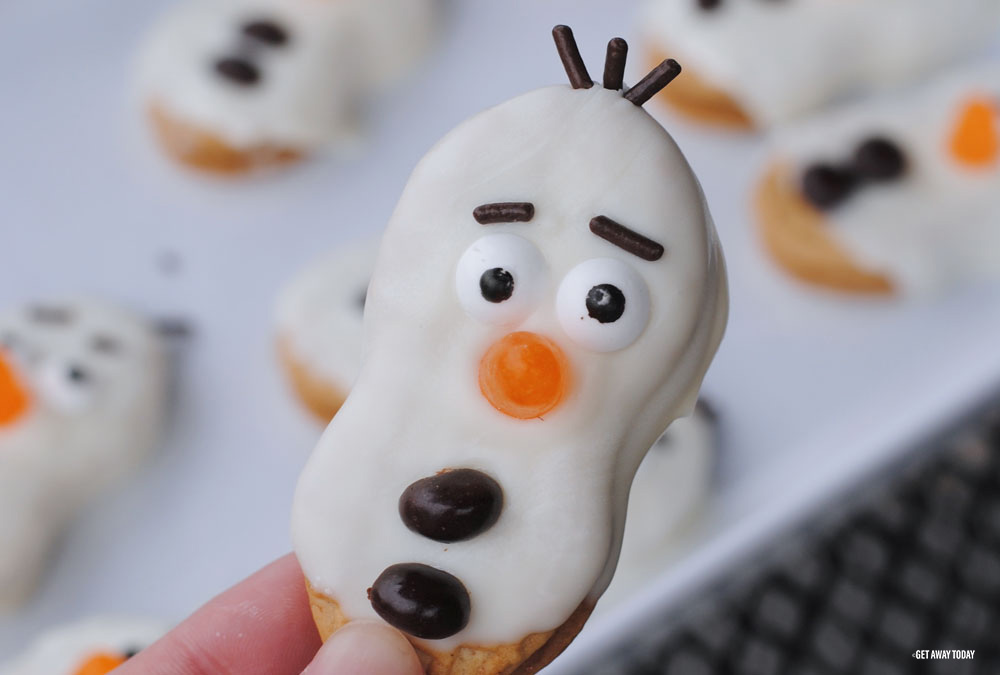 You will need to build each Olaf completely before moving on to the next snowman. That way, all the parts and pieces stick to the chocolate! If you need to soften the melting chocolate during the building process, put the bowl back in the microwave for about 30 seconds on 50% power.
I think they are pretty adorable Olaf cookies! The combination of chocolate, mint, and peanut butter, is a yummy combo. Bring Olaf along as a movie snack or throw a pre-movie party before the big show and add Olaf to the menu. Your family and friends will love them.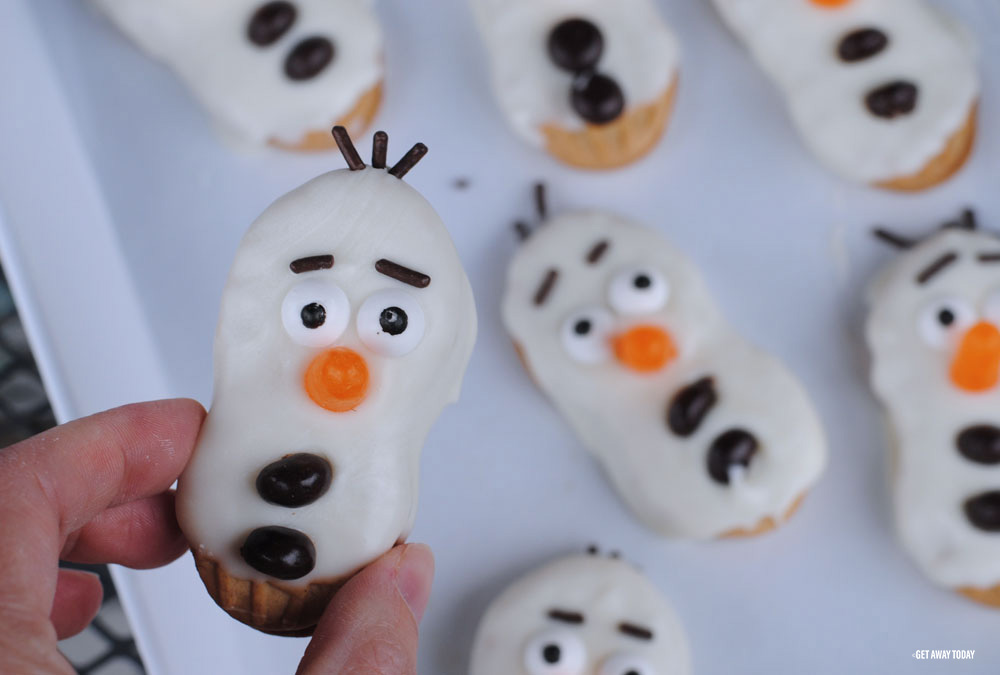 Let us help you plan your Disney vacation so you can enjoy the fun, detailed treats and snacks offered at the Resort! Check out vacation packages online, or give one of our travel specialists a call at 855-GET-AWAY.