Looking for an easy Pixar inspired recipe? Look no further than these delicious Jessie's Cowgirl Hat Cookies. Your Toy Story themed event will be a rip roaring good time with these. Outlaws young and old are sure to love them!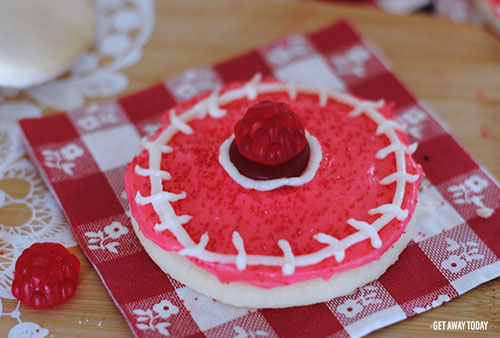 Jessie is one of the most beloved Toy Story characters. She is funny, brave and knows how to ride a horse. She is one of Woody's very best friends and eventually catches the eye of Buzz Lightyear. An astronaut and a cowgirl...how cute are they? If you like Jessie as much as I do, then you are going to love seeing her at Pixar Fest this summer at the Disneyland Resort and in Toy Story Land at the Walt Disney World Resort.
You can find Jessie and her fellow Toy Story pals in Paradise Gardens at Disney California Adventure Park in the Disneyland Resort now through June 23rd. Once June 23rd rolls around, you'll find her and her Pixar friends at the brand-new Pixar Pier. If you're heading to Disney World after June 30th, you'll be able to meet Jessie, Woody, Buzz and their friends in the also brand-new Toy Story Land. Whichever park you're in, make sure to check your map or app for meet and greet times. Yee-ha!
All of the food at Pixar Fest in Disneyland is centered around Pixar movie characters. Jessie has her own Berry Jubilee Funnel Cake and a Yodeling Cowgirl Pretzel. Check those out for sure! If you want to make your own Toy Story themed food at home, these Jessie's Cowgirl Hat Cookies are so easy to make. Your little outlaws will be able to help. So, round up your crew and get cookin'!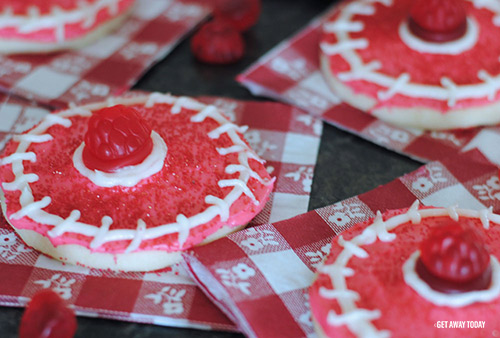 Jessie's Cowgirl Hat Cookies Recipe
The base of the Jessie's Cowgirl Hat Cookies are sugar cookies. Whip up a batch of your favorite sugar cookies or just buy some pre-made from the grocery store. I love the "work smarter, not harder" motto – especially in the summer!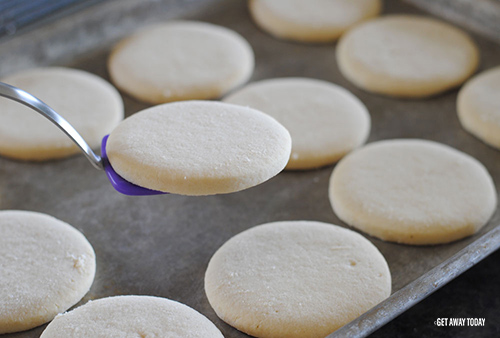 The best part of sugar cookies is the frosting. Frosting is seriously so yummy. I wanted to make these cookies a little bit fruity, so the frosting has a berry kick. I think it is a fun twist. This recipe makes enough to cover 12 large sugar cookies.
Jessie's Cowgirl Hat Cookies - Berry Frosting:
2 sticks of butter
4 oz cream cheese
2.5 cups powdered sugar
1/2 tsp vanilla
2 T milk
pinch of salt
1/2 tsp strawberry flavoring
red food coloring
Jessie's Cowgirl Hat Cookies - Decorating Candy:
Red Raspberry Gummy Candy
Lifesaver Wild Berry Gummy Candy
Cream the butter and the cream cheese together so they are smooth and creamy. If you pulled them straight from the fridge, then soften the butter in the microwave for about 20 seconds on half power first.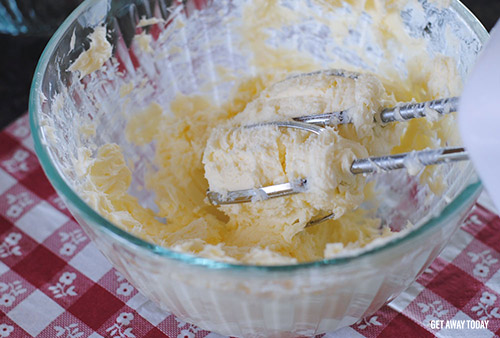 Then, add the sugar, vanilla, milk and salt. Mix it all together until combined. Taste a little sample to be sure it meets your standards. I like my frosting a little bit rich and not too sweet. You can add more sugar if you want it to be sweeter.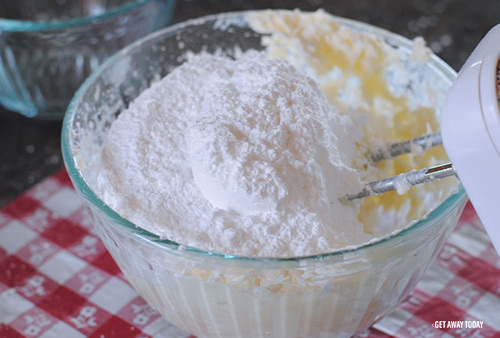 Separate the frosting so that 1/3 is in a separate bowl. This is going to stay white. The rest of the frosting is going to be red. Add quite a bit of red food coloring to the frosting. I used about 1/2 teaspoon of red dye. Add about 1/2 tsp of strawberry flavoring too. Mix it in until the color and flavoring is fully incorporated. If you want the frosting to be really red, then you may need to use more red dye. I kind of hate the taste of food coloring. So, I like to add the minimum amount.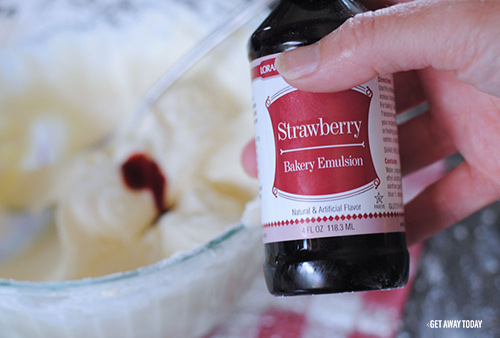 Frost the cookies with the red frosting.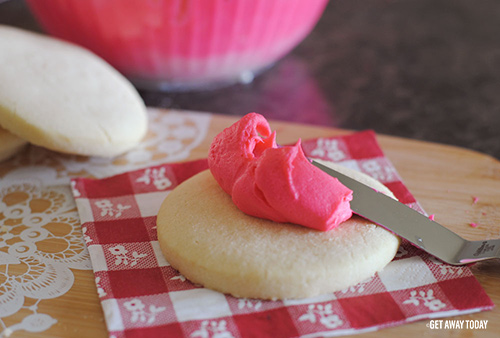 Sprinkle them with red sugar crystals to make them pretty. Jessie may be a cowgirl, but she can still be fancy!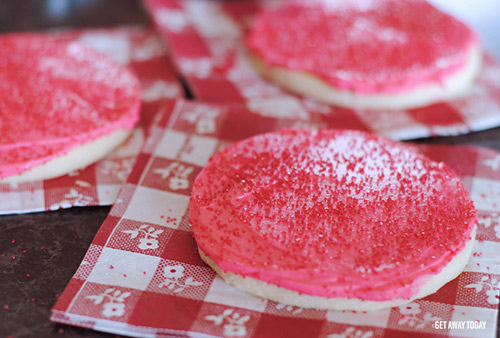 Scoop the white frosting into a frosting bag that is fitted with a small round tip. Squeeze a dollop of white frosting into the center of the Jessie Hat Cookie.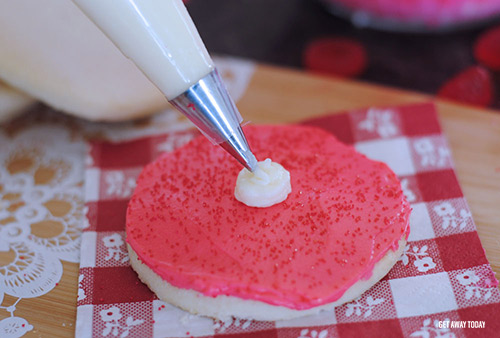 Place a red raspberry gummy candy on top of a red lifesaver gummy candy. Push the treats into the white frosting mound. They should stick in place and create a white ring around their edges.
Use your frosting bag to make a white ring around the edge of the cookie. Leave a small space between the edge of the cookie and the frosting. Make the Jessie Hat stitching with the frosting by adding little tics of frosting across the white circle.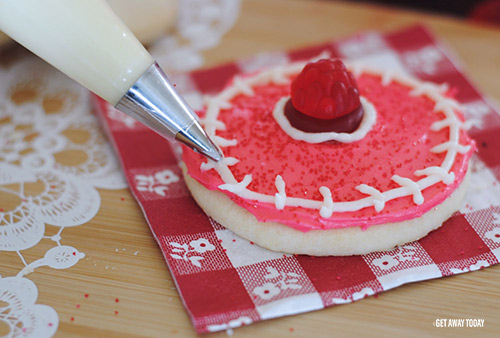 Your Jessie's Cowgirl Hat Cookies are ready to go. The berry candy is a nice combo with the strawberry flavored frosting. They are sweet...just like Jessie!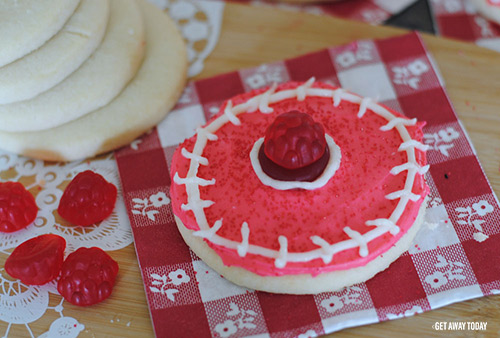 I hope you have fun making your adorable Jessie's Cowgirl Hat Cookies. Be sure to watch for Jessie this summer at both Disneyland and Disney World. Give her a hug for me!
Whether you want to dance it out with your Pixar pals in Disneyland or explore with the Toy Story gang in Disney World, let Get Away Today help. We not only guarantee the best price, but also the best customer service. Plus, we have expert tips and the cutest at-home activities (like these cookies!) to make before, during and after your trip amazing. Book online now or give our agents a call at 855-GET-AWAY.

Check out more Pixar inspired crafts and recipes:
Finding Dory I-Spy Game