This DIY Disney Slime recipe has been tested so you get perfect slime every time you make it. With fun googly eyes and a custom Monsters Inc. inspired slime label, your kids will be screaming with excitement.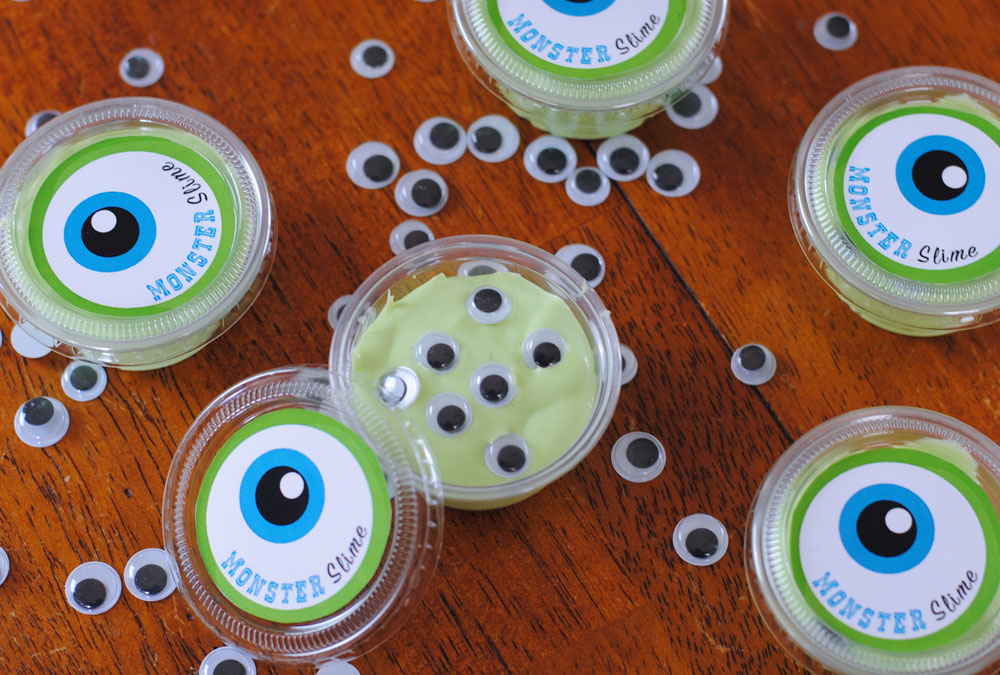 We are totally slime crazy at our house. My kids are always whipping up batches of the gooey stuff. We have tried so many different versions in our quest to find the perfect slime recipe. This Disney Slime has just the right amount of stretch and it doesn't stick to your hands. You can download the Monsters Inc. inspired label to make your own adorable portable containers. It is a great size for travel. Take your slime in the car on a road trip or use it while waiting in line for attractions at Disneyland!
Are you ready to get started?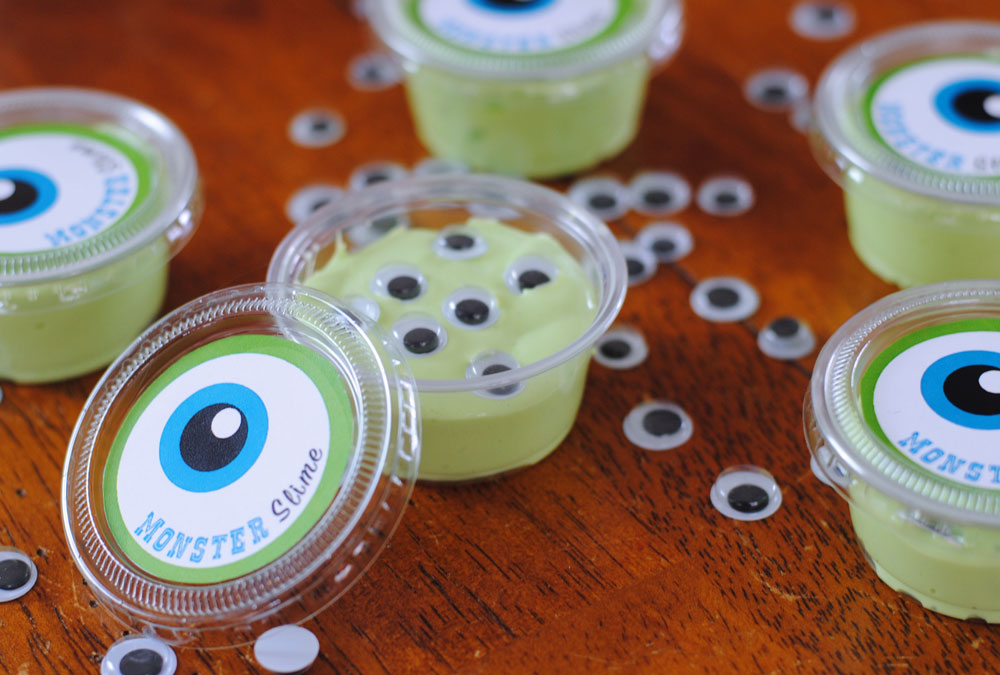 DIY Disney Slime Recipe – Monsters Inc. Edition:
1 Cup Elmers Glue (You must use the name brand school glue, or it will not work.)
1 Cup Hot Water
Gather your ingredients together. Pour one cup of Elmer's School Glue into a mixing bowl to begin your Disney slime.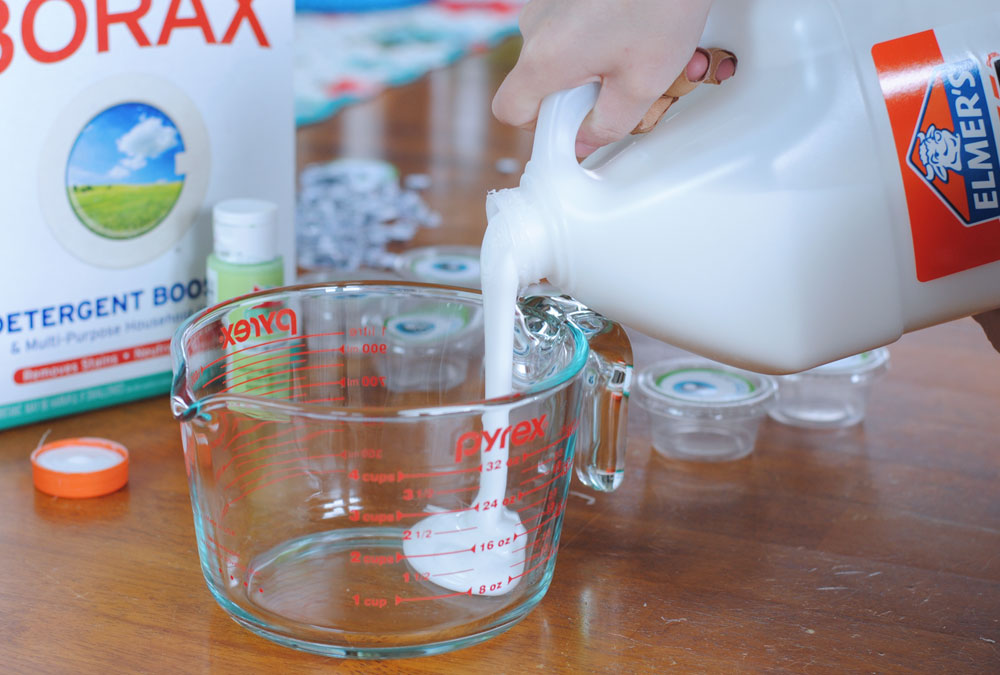 Squeeze about 2 teaspoons of acrylic paint into the glue. You can choose any color you want. We picked lime green to match Mike Wazowski from Monsters Inc. He is the inspiration behind the whole project!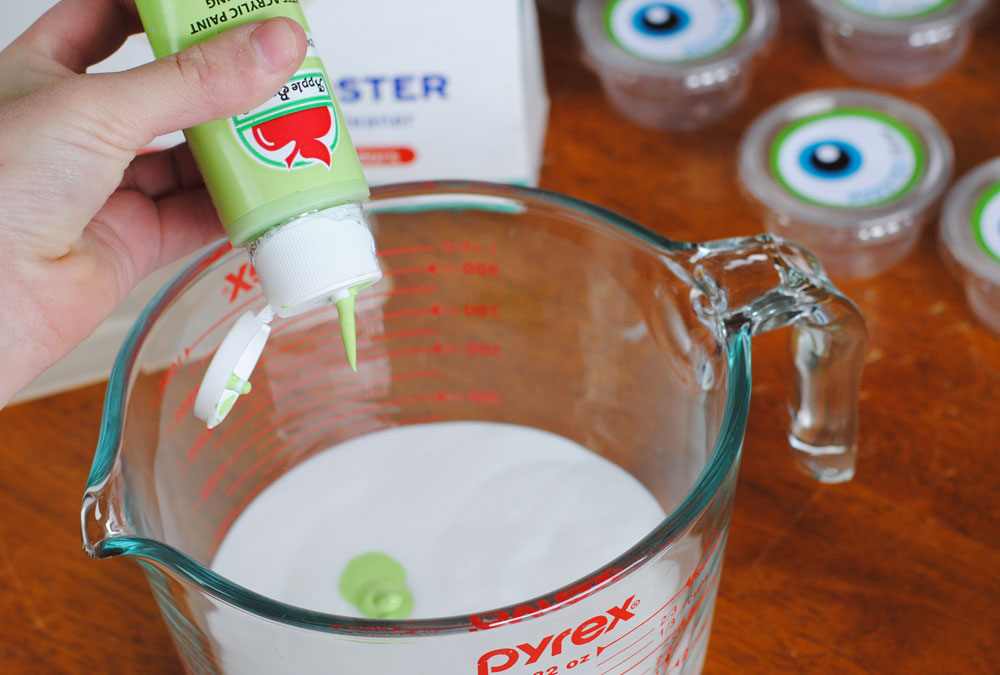 Start with the recommended amount of paint and then add more if you want the slime to be a deeper color. Stir until the color is combined with the glue.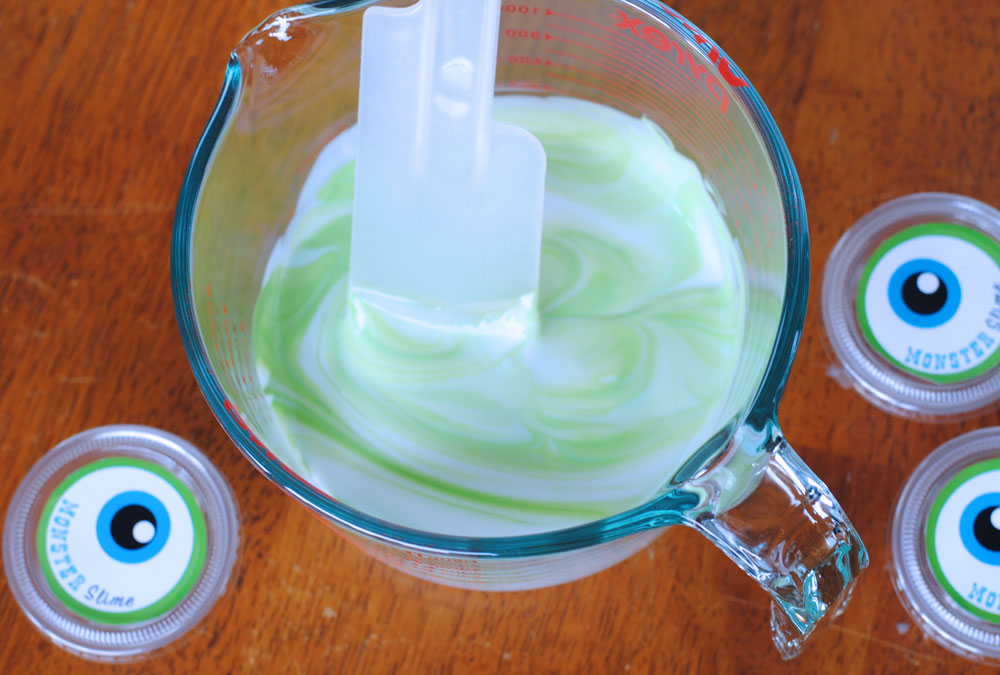 Heat up one cup of water in the microwave for one minute. Then, mix 1/2 tablespoon of Borax into the water. Stir until it is completely dissolved.
Now, you'll need to add your Borax and water to the glue slowly. For best accuracy, use a measuring syringe to add the Borax mixture to the glue. I got this syringe from the pharmacy, but you can find them on Amazon as well.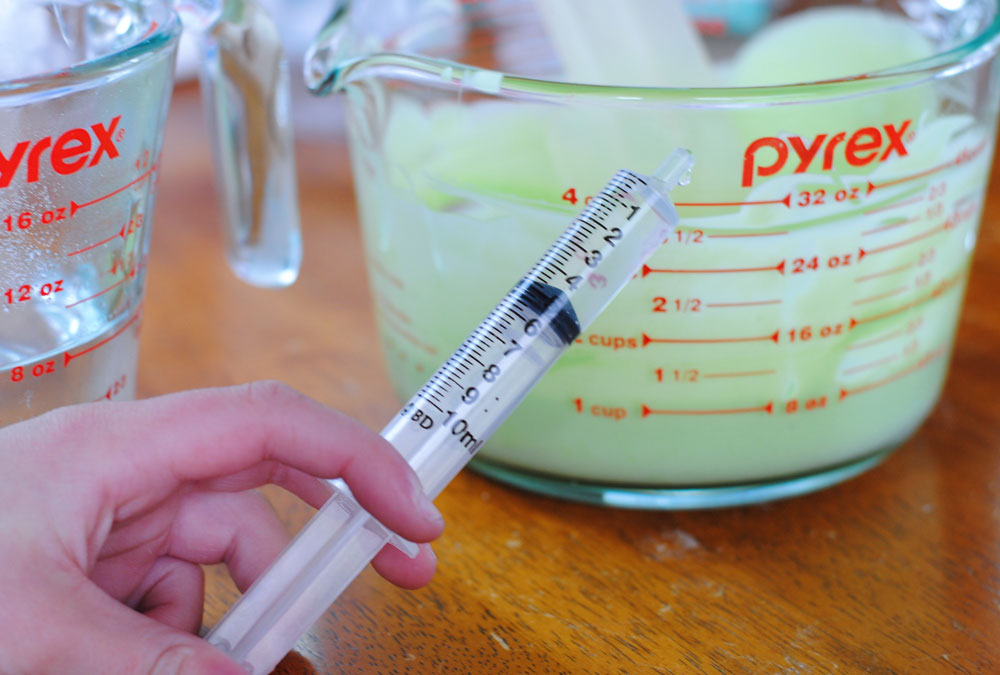 Start adding the Borax water to the glue 5 mL at a time. Stir well each time you add the water.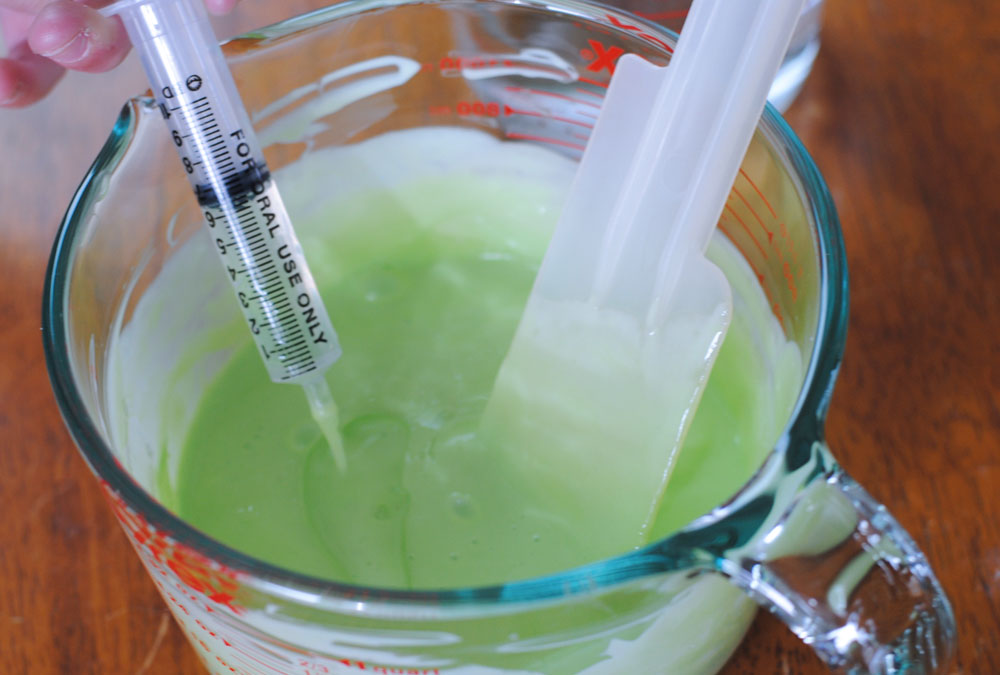 The Borax makes the slime less sticky and it also increases the stiffness. You will notice the slime coming together more and more as you continue to add the Borax water. The slime will start to pull away from the edge of the bowl and form a ball.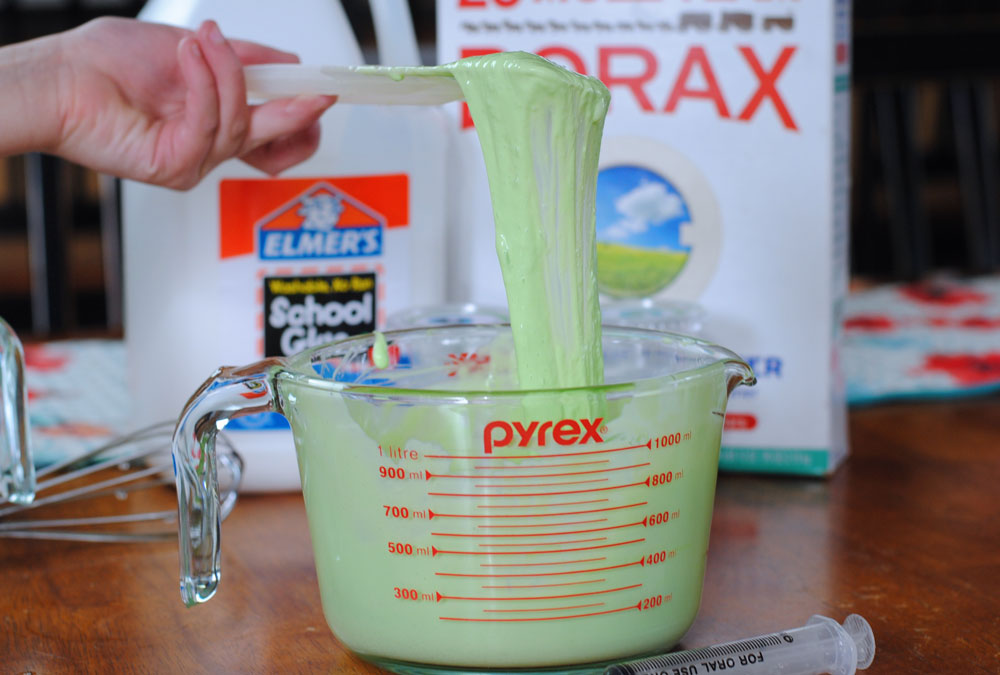 The ideal amount of Borax water will be between 40 and 45 mL. Just watch to see how sticky the slime is as you are adding the last squirt of the Borax water.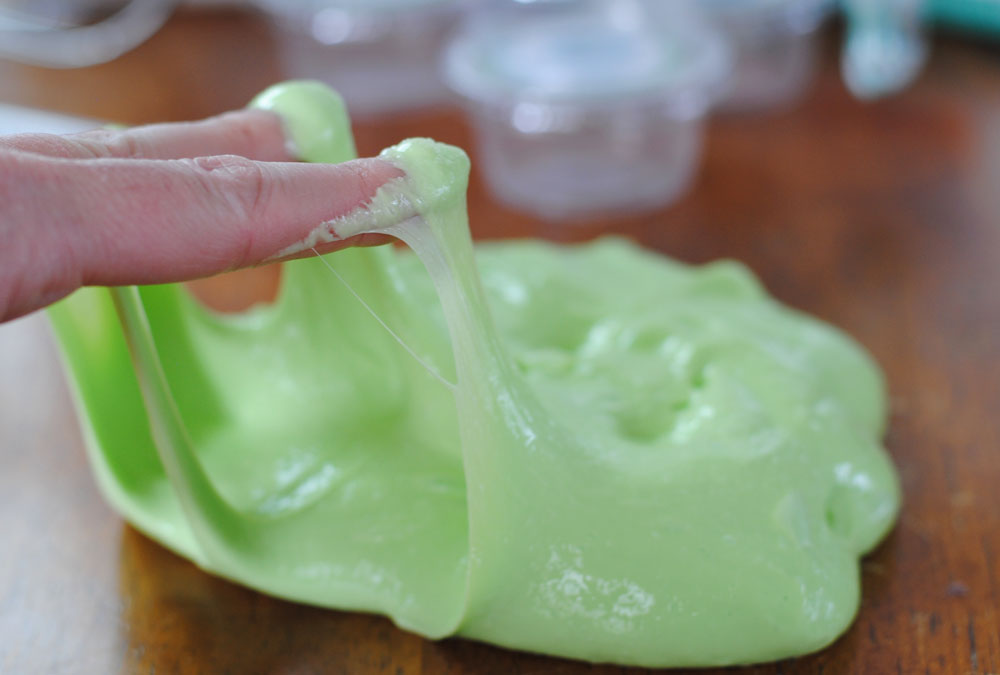 You will know your Disney slime is ready when it doesn't stick to your fingers when you press into it.
If you are making regular slime, then you can stop at this step and have fun playing with it! If you want to make our Monsters Inc. edtion, then continue on with the tutorial.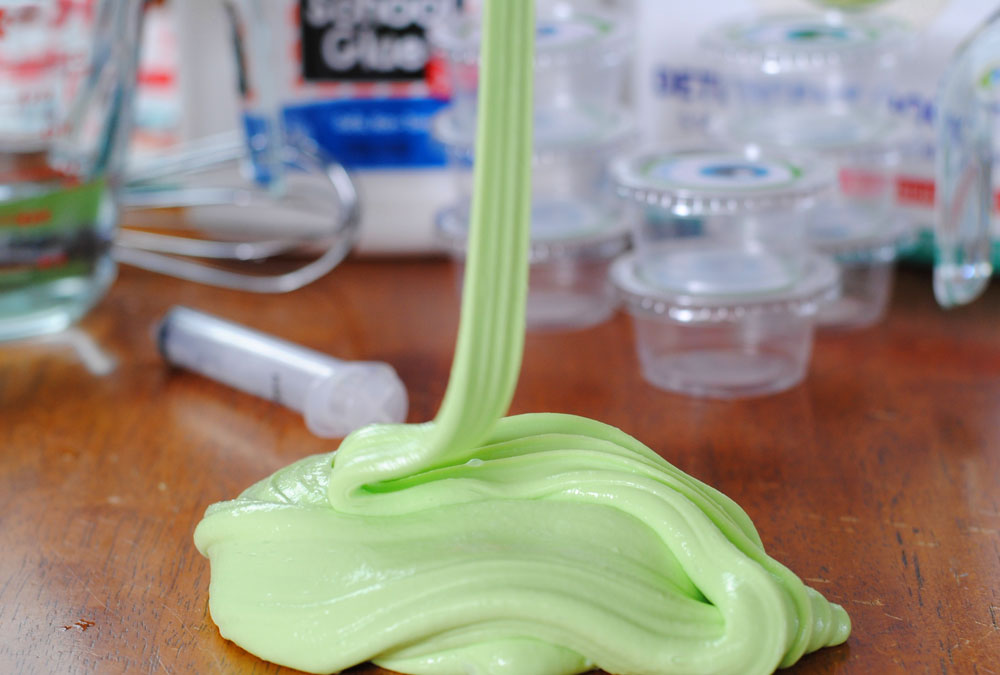 Place the slime into small 2oz plastic containers. They are sold at the grocery store in the paper goods section or online. While these condiment cups are perfect for packing on-the-go snacks, they're even better for slime packaging.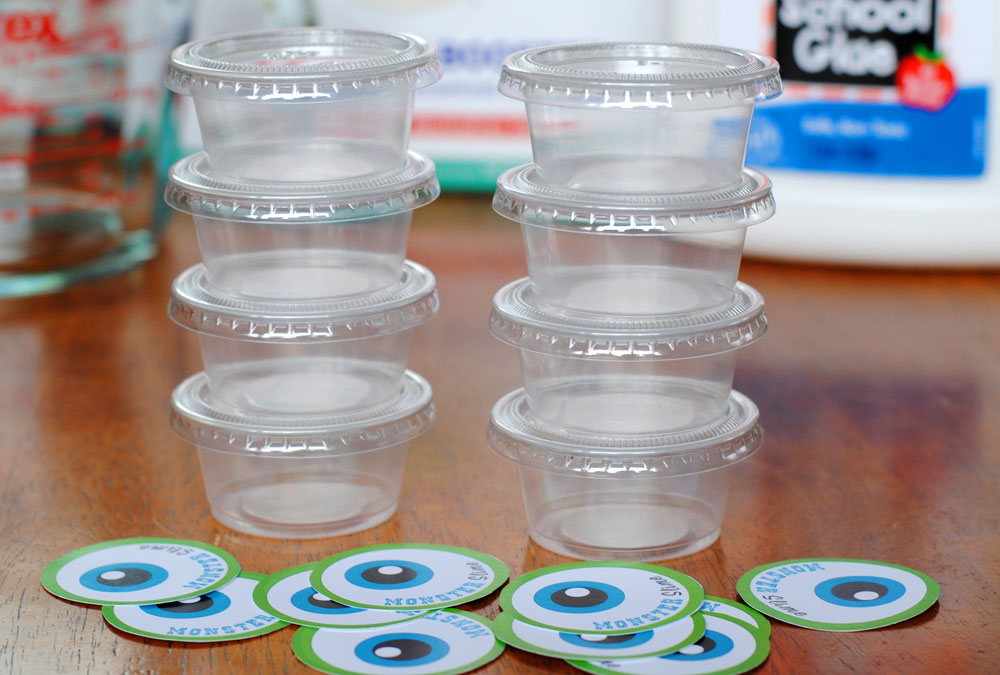 Place about 10 googly eyes on top of the slime. This transforms the slime from regular slime to Monsters Inc. Disney Slime!
Print the Monsters Inc. inspired labels here.
Cut out around each label circle. It is Mike Wazowski's eye!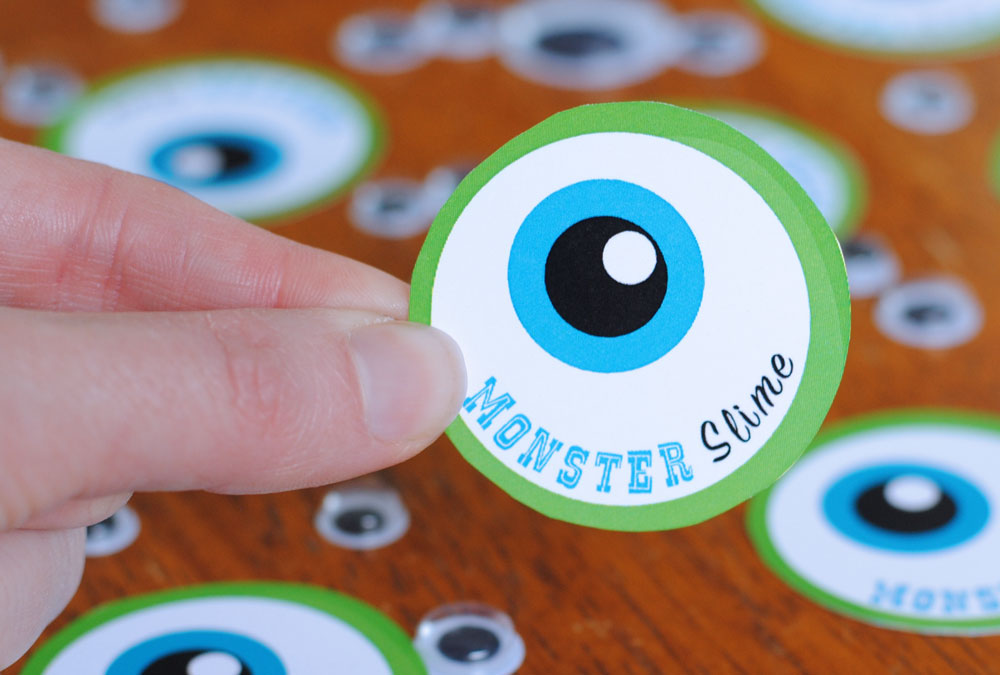 Place a strip of double sided tape onto the back of the label and stick it onto the little container lid. The label makes things official. Don't you agree?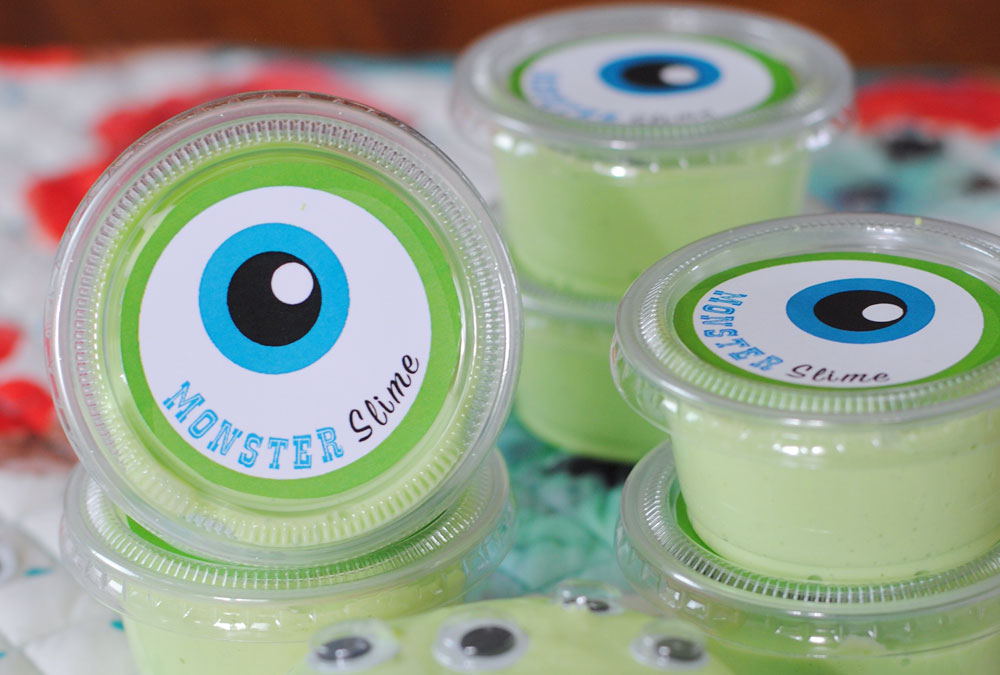 I was surprised at how fun it is to find the eyes that are buried in the slime. They don't stick too much and sometimes they pop out and stare at you when you least expect it. It's pretty silly!
I hope you have fun playing with your Disney Slime. If your kids are as obsessed with slime as mine are, then I guarantee it will be a hit.
This Disney Slime is the perfect boredom buster to take with you to Disneyland this spring and summer, too. Especially since Pixar Fest opens on April 13th in Disney California Adventure Park! The limited time event runs through September 3, 2018 and focuses on the friendships from our favorite Pixar movies, including Mike and Sulley from Monsters Inc.. And you'll be able to celebrate your favorite Pixar pals even more when Pixar Pier officially opens on June 23rd.
To experience the Pixar fun while saving money, make sure you book with Get Away Today. Our discount Disneyland tickets and reduced hotel rates help make Disneyland vacations more affordable, so you can enjoy the Happiest Place on Earth without breaking your budget. Book online now or give our Disney experts a call at 855-GET-AWAY.

Click below for more Disney inspired crafts: