Print this free LEGOLAND Countdown Calendar for your family. Do one LEGO activity per day in the weeks before your LEGOLAND adventure. Everything is awesome with this LEGOLAND printable!
Are you ready for some LEGO fun? This free printable LEGOLAND Countdown Calendar will help you and your family count down the days until your exciting trip to LEGOLAND. Each day on the calendar suggests a unique LEGO building activity. You can be creative on how to complete the tasks. Some of them may be more difficult than others!
Looking forward to a vacation is one of the best parts of traveling. The anticipation is really quite exciting. Build the excitement for you vacation with this simple and fun LEGO activity.
Participation is easy! Download the free LEGOLAND Countdown Calendar here. Print it out onto cardstock paper so it is durable. This calendar will see some action.
There are 28 days worth of LEGO activities listed on the calendar. So, it is ideal to start four weeks before your LEGOLAND vacation begins.
"You can make a LEGO pizza!" Who doesn't like pepperoni and brick flavor? It's a must at our house.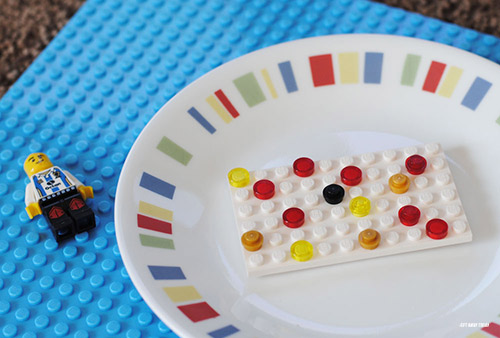 "Create a LEGO treasure map." We had a blast creating a jungle adventure with our LEGO treasure map. We even found some pretty shiny jewels buried in our LEGO treasure box. Be sure to watch out for the alligators in the water! Yikes.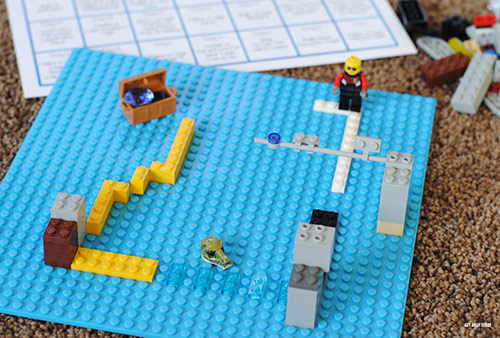 "Play Tic Tac Toe using LEGOs." The classic game of Tic Tac Toe is even more fun with a LEGO game board. How will you design yours?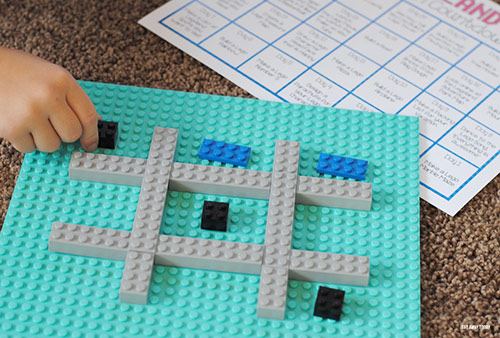 "Count how many red LEGOs you have." Do your kids like to sort and count? Mine do. And, it counts as doing math, which is a bonus. See how many red LEGOs you can find in your pile of bricks.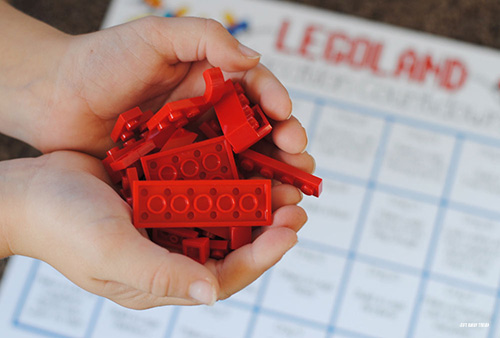 "Build a LEGO airplane." Are you ready to fly to your LEGOLAND adventure? Or are you hitting the road? Either way, you can build a pretty awesome vehicle out of LEGOs while you wait. This plane is ready for takeoff.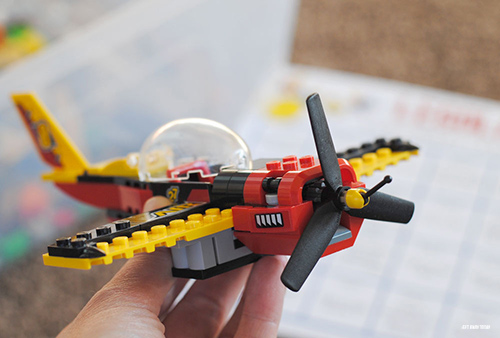 Be sure to mark off each day on your LEGOLAND Countdown Calendar when that day's task is complete. It provides a nice visual on how soon the trip is approaching. If your crew asks the question, "How many more days until we can leave on our trip?" You can happily respond, "Check the LEGOLAND Countdown Calendar!" It is every mother's dream come true.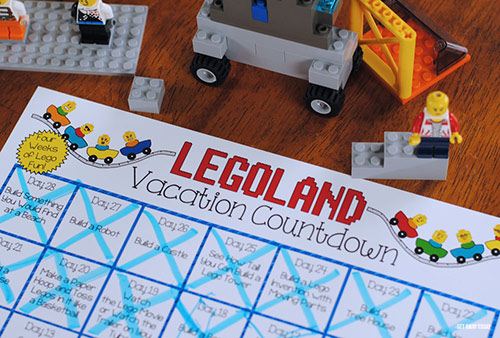 Don't forget to mark your calendars with all the fun happening at LEGOLAND California in the next few months, either.
Who wants a picture with a life sized LEGO Santa? I do! The Holidays at LEGOLAND are awesome. They deck the halls with LEGO decor including the world's largest LEGO Christmas Tree. Enjoy the park with twinkling lights, holiday entertainment, tasty treats, and more. Don't miss your chance to see the festivities before they end on January 1st.
Or, you can ring in the New Year with a festive party at LEGOLAND. Fireworks, a brick ball drop, special music, entertainment and more all all part of the fun! Worried about kids being out too late? You don't have to be - LEGOLAND holds their countdown and ball drop around 6pm. That means your family gets to enjoy the fun, but not the consequences of being up past bedtime.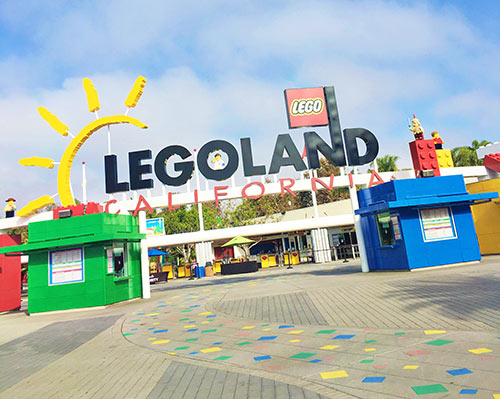 Starting on January 18th, the LEGO Showplace Theater will debut the new LEGO NINJAGO Master of the 4th Dimension. This short adventure film will take guests on an awesome 4-D adventure with some famous NINJAGO characters!
You could be among the first guests to stay at the LEGOLAND Castle Hotel that is set to open on May 11, 2018. The castle is being built, brick by brick, and will be quite the fortress when completed. It will be a royal treat to stay there. We can't wait to check it out!
Are you excited to build a perfect family vacation at LEGOLAND?
Even if you aren't going to LEGOLAND, this free LEGOLAND Countdown Calendar could be used as entertainment for anyone who loves playing with LEGOs. A little bit of direction makes the bucket of LEGOs fun again!
Save the most on your LEGOLAND vacation when you book with Get Away Today. Everything is awesome when you take advantage of their discount LEGOLAND tickets, reduced hotel rates and expert tips. Book online now or give their travel agents a call at 855-GET-AWAY.

Check out more LEGO fun: