Build your own Star Wars Lightsaber Fruit Kabobs with this simple tutorial. Create a unique lightsaber handle and then string on your favorite fruit to make a delicious edible weapon. Great activity for a Star Wars party.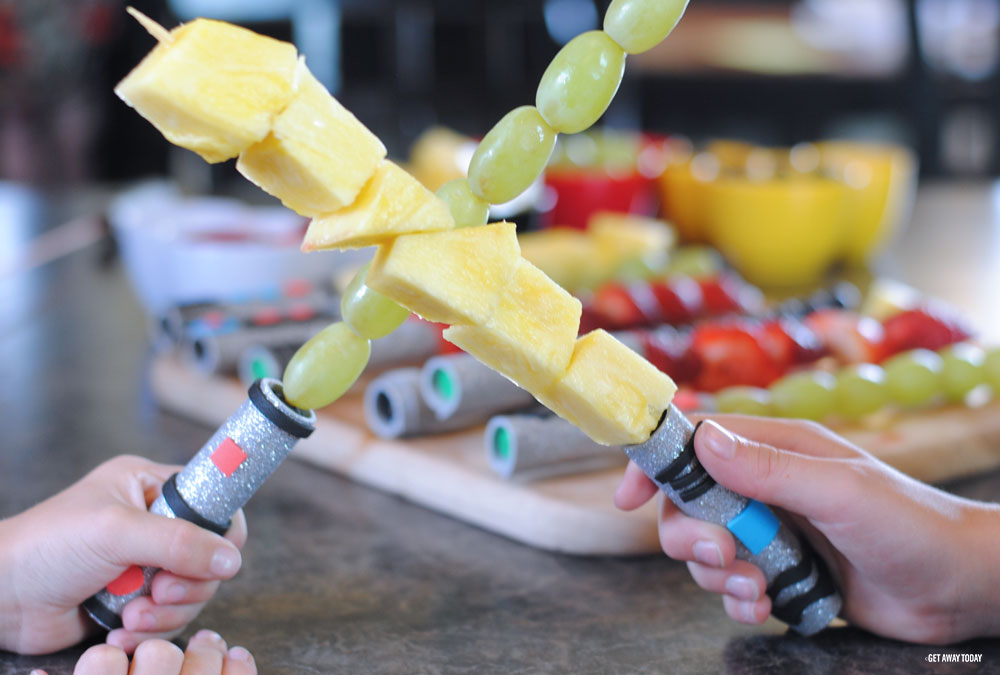 Even if you have been living under a rock in any corner of the galaxy, you know that Star Wars: Galaxy's Edge is on the verge of opening! The anticipation is almost unbearable. News about the atmosphere, experiences, food, photo opportunities, attractions, and more is all over the internet. It is going to be absolutely incredible. The Happiest Place on Earth is about to become the Happiest Place in the Universe.
One of the unique experiences guests can enjoy while at Galaxy's Edge is to build a customized Lightsaber. These custom Disney Lightsabers are not just little trinkets or junky souvenirs. They are totally legit!
Those who wish to participate have to seek out and find Savi's Workshop in Galaxy's Edge. A secret passcode is required for entrance. Once inside, guests get to choose from an assortment of parts and pieces to craft a hilt and blade. There are four themes of lightsabers to choose between including Peace and Justice, Power and Control, Elemental Nature, and Protection and Defense.
Sari's Workshop is open to 14 builders at a time. It is an exclusive opportunity for only those who feel a strong connection to the Force. Doesn't that sound like an incredible experience?! I am sure Jedis across the globe are counting down the minutes until they can enter.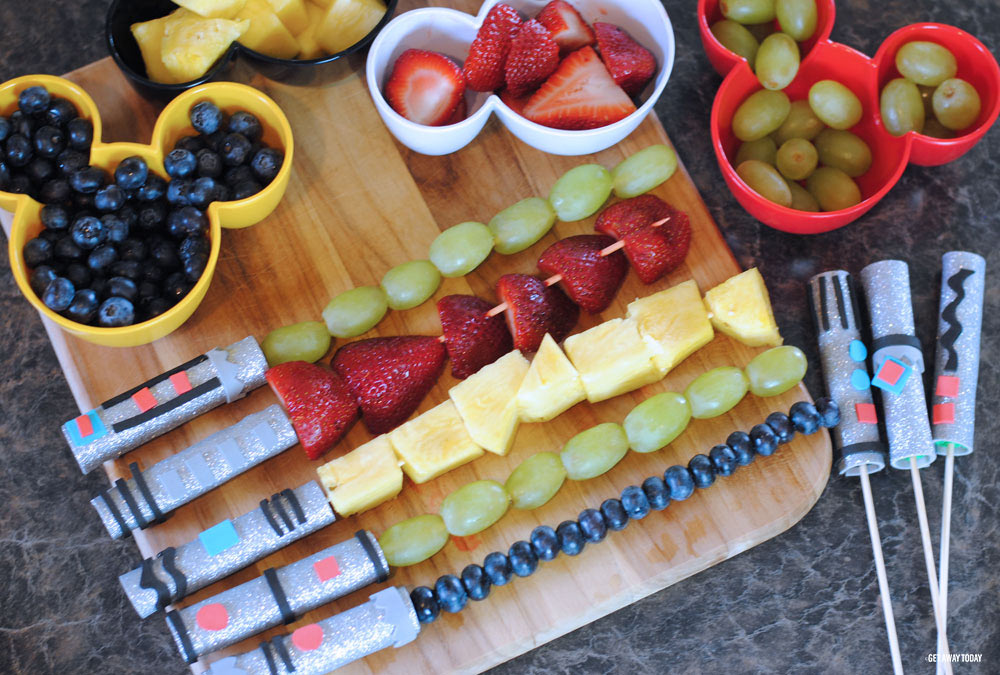 Lightsaber Fruit Kabobs
In the spirit of customized lightsabers, I thought it would be fun to build lightsabers at home. Instead of using metal and crystal, these lightsabers are made of foam, wood, and fruit! Build your own lightsaber fruit kabobs for a Star Wars movie party or for a Jedi's birthday bash. They are fun to create and yummy to consume.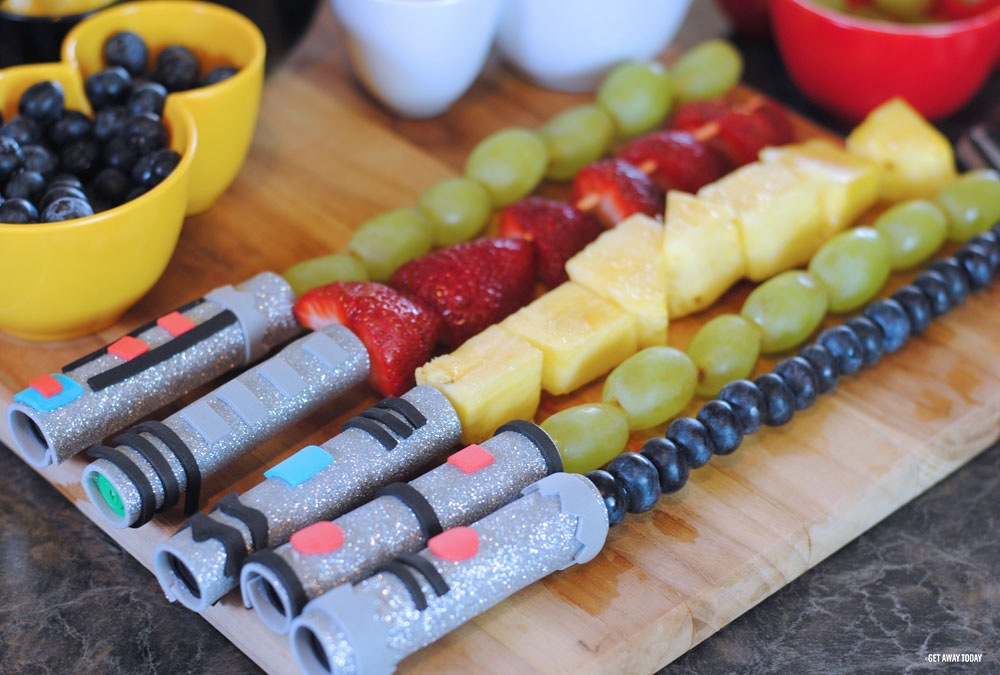 Lightsaber Fruit Kabobs Supplies:
Foam Adhesive Craft Sheets
Sparkle Silver Craft Foam Sheets
Wooden Kabob Sticks
Fruit
Scissors
Hot Glue Gun
Lightsaber Fruit Kabobs - Getting Started
Start by creating the lightsaber hilt. You will want to get the basic hilt constructed before the party and then let the Jedi guests decorate them.
I bought the 4 X 5.5 inch foam sheets that come in a package at the craft store. Make sure to buy the kind that have adhesive backing. They are the "sticker" kind. One sheet will make two lightsaber hilts.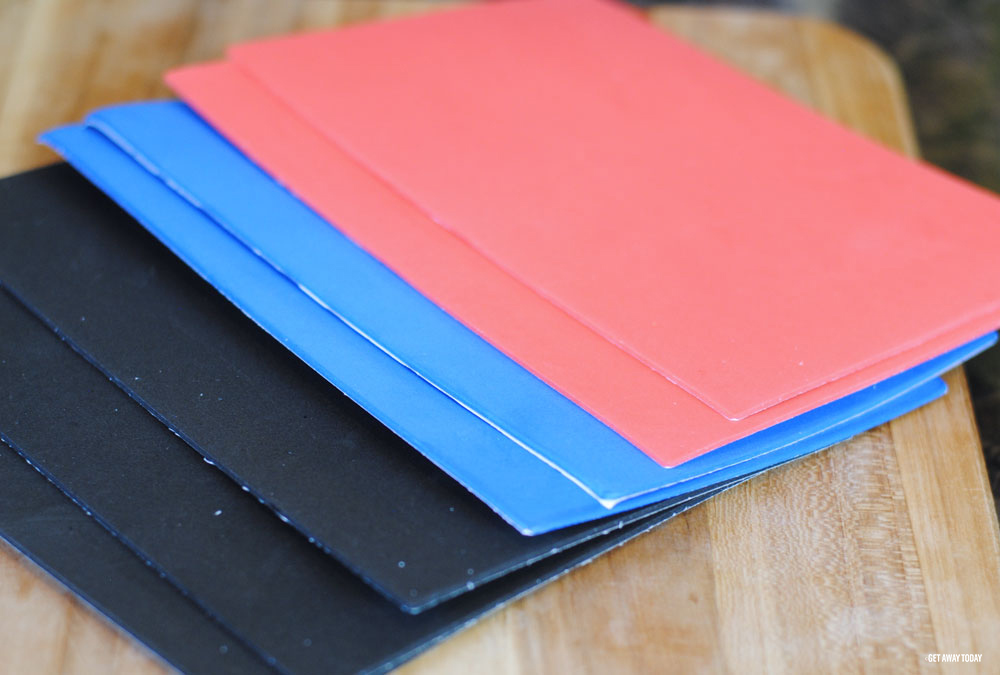 Cut each sheet in half the long way so you have two short long sections per each craft foam sheet.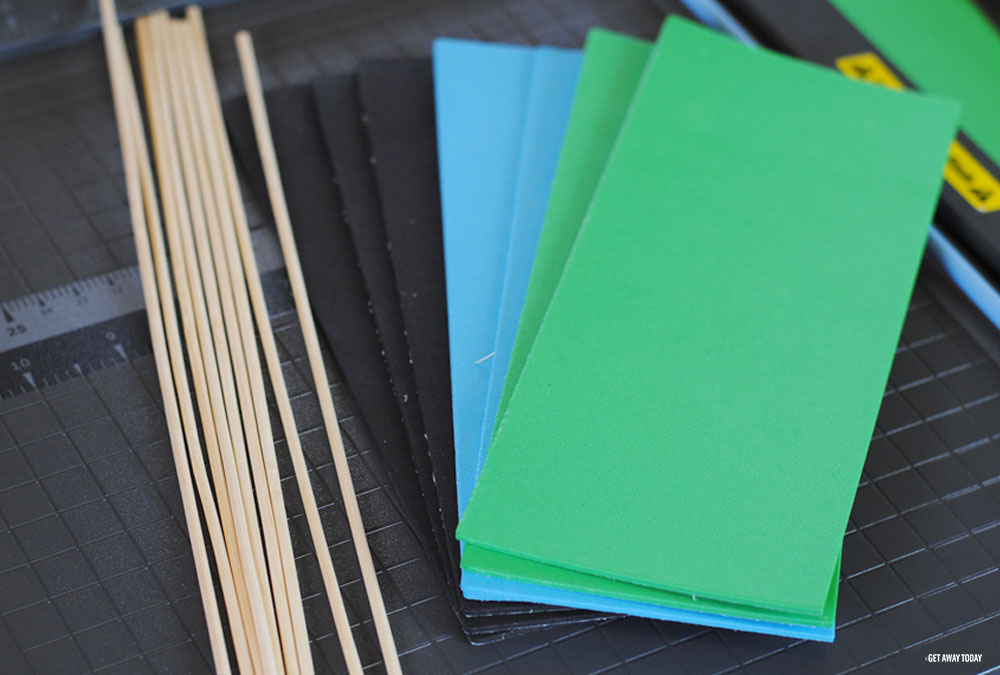 Peel the backing off of the cut section and place it on the bottom end of the wooden kabob stick. Make sure you do not use the pointed end of the stick! You need that end free to poke the fruit. Wrap the foam around the stick in a tight spiral. Use the entire strip of foam.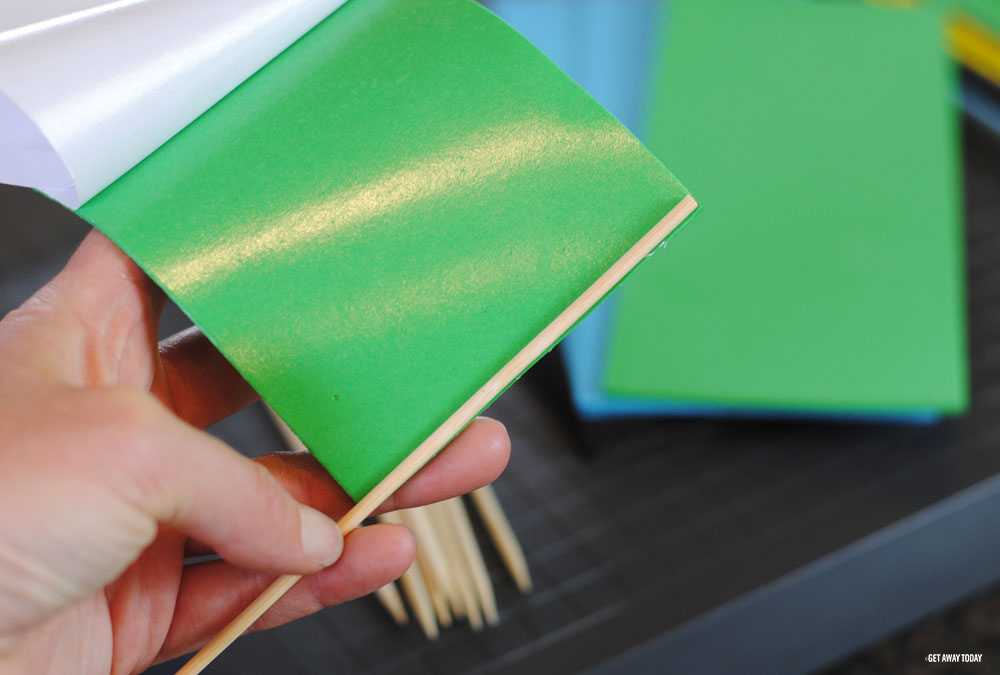 Lightsaber Fruit Kabobs - Adding Details
Once you have covered all of the sticks with the foam, you need to add the sparkle silver to make it look like metal. I couldn't find adhesive sparkle foam, but if you can find it, get it! Cut the silver piece so that it fits right over the foam that is wrapped around the skewer stick. Mine were 4.5 by 3 inches.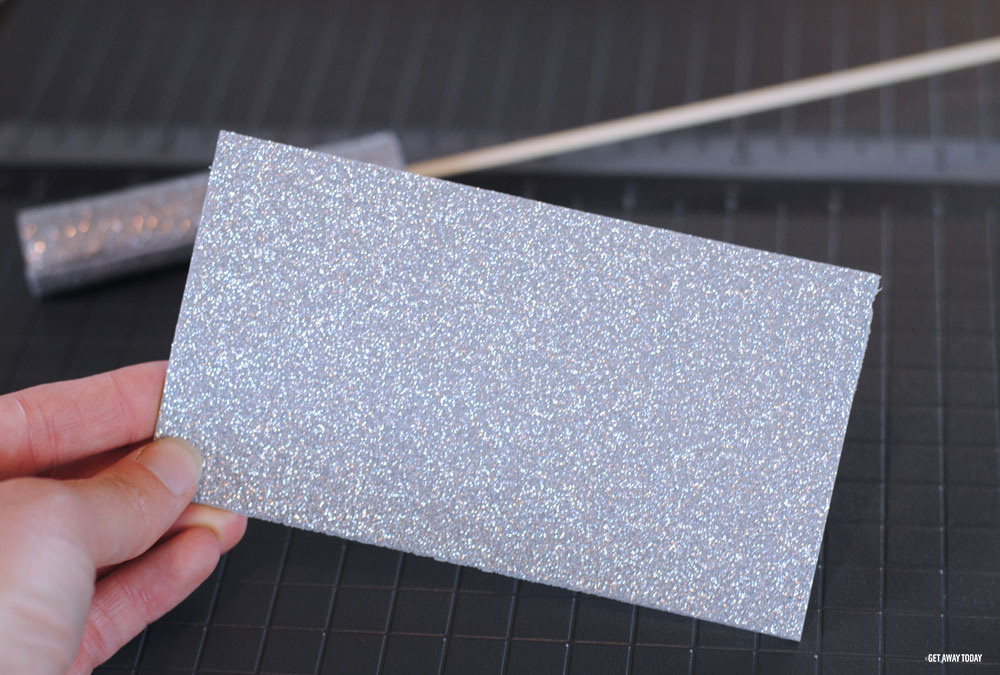 Place hot glue across the back of the silver foam and then secure it in place on the lightsaber handle. Hold it in place until the glue sets. Continue to wrap each of the lightsaber fruit kabobs sticks until they are all covered in the sparkle foam.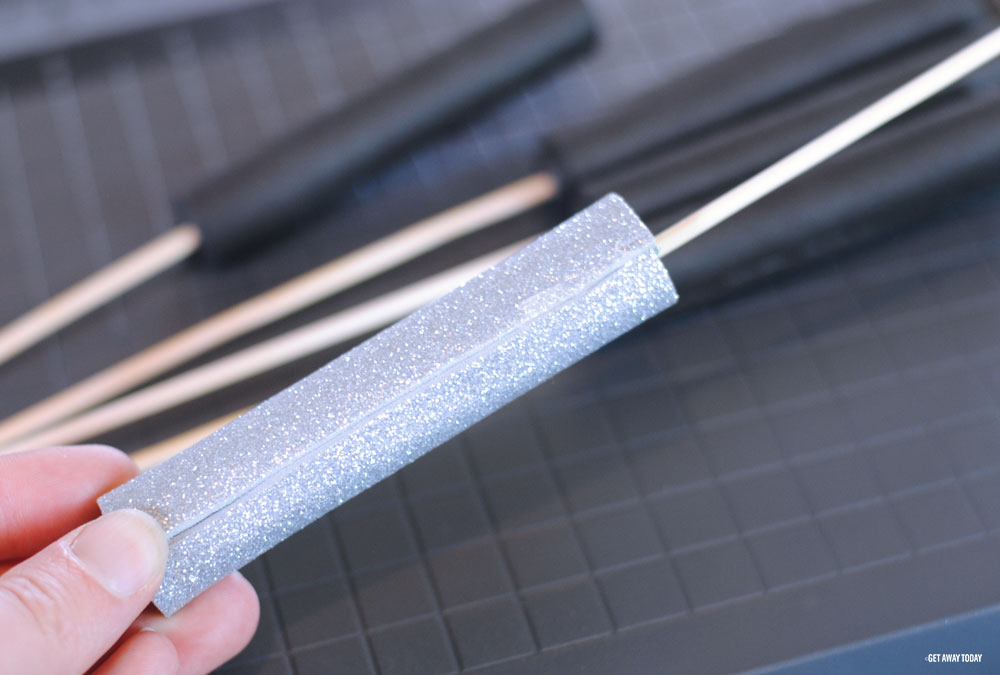 Lightsaber Fruit Kabobs - Party Activity
Set them aside until the party begins or until you are ready to decorate the hilts. Cut an assortment of colored adhesive foam into shapes for decorating. I used red, blue, grey, and black foam. You can cut circles, rectangles, squares, or squiggly lines! Just freehand the cutting! They don't need to be perfectly identical shapes.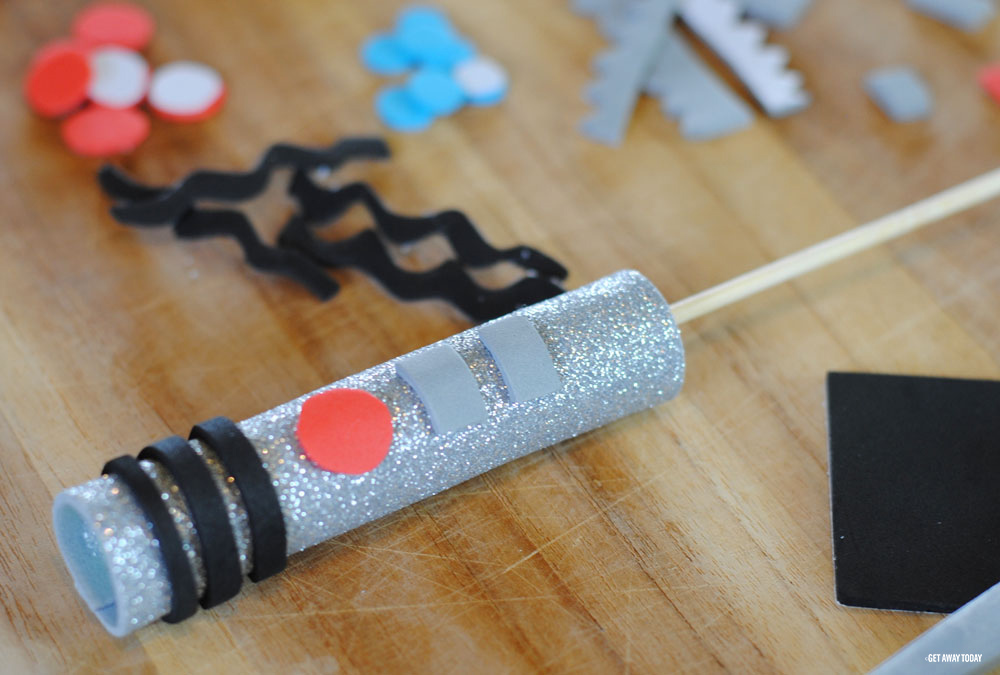 Stick the shapes onto the lightsaber hills to make then personalized and unique! My kids loved decorating theirs.
A lightsaber needs a blade! What color of blade do you prefer? There is a fun chart on Pinterest that explains how each color of lightsaber blade represents a different crystal and level of connection to the force. Master Yoda said, "The heart of the lightsaber, the crystal is." So, pick your lightsaber fruit wisely! Blue is the most common color for a Jedi, and red often symbolizes someone of the dark side.
Lightsaber Fruit Kabobs - Food Prep
Cut up an assortment of fruit into large chunks. The fruit color determines the color of the blade. The fruit pieces need to be big enough to stick on the kabob skewer without breaking. I used grapes, strawberries, pineapple, and blueberries.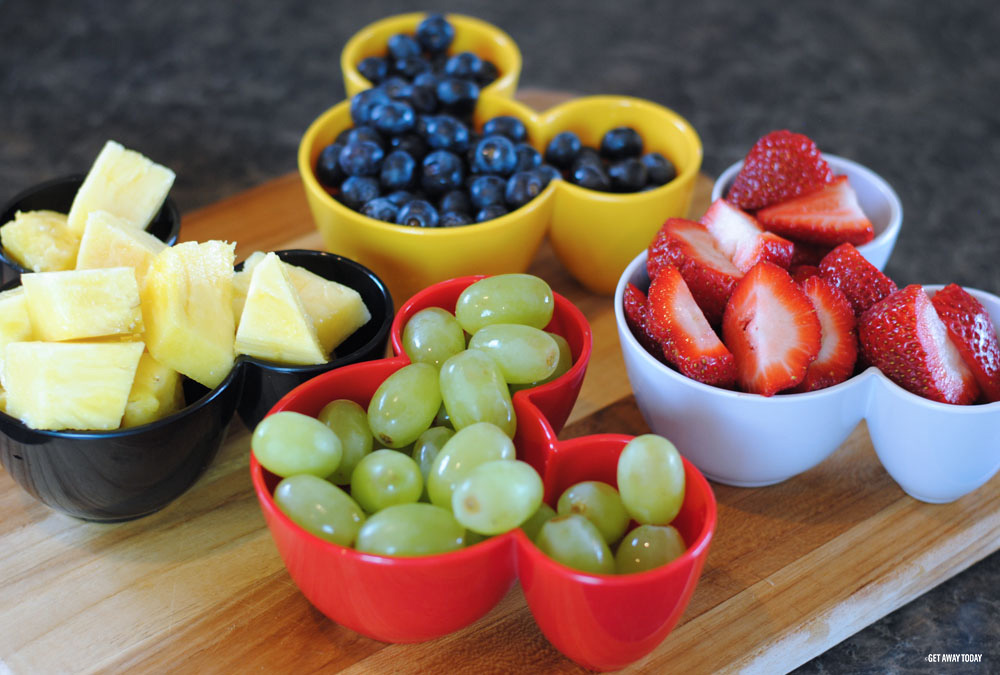 Let the party guests select the fruit and put it onto the kabob stick. Since this activity is all about building a custom lightsaber like at Savi's Workshop, you can mix and match fruits and colors if you want! Just follow the promptings of the Force.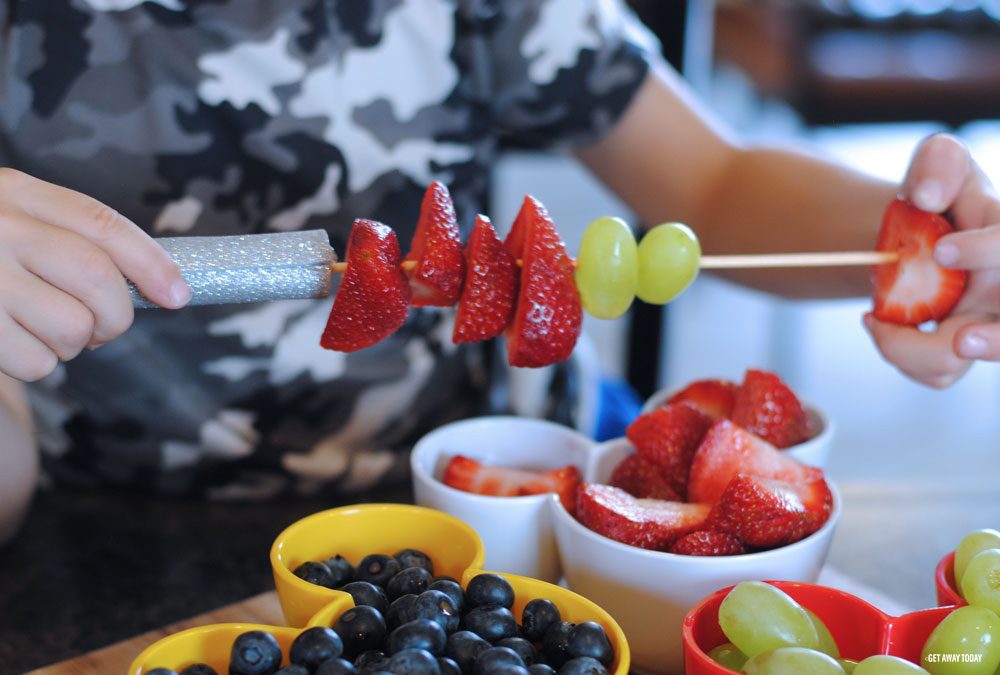 Once the lightsaber fruit kabobs are complete, enjoy wielding them and battling before eating the tasty snack!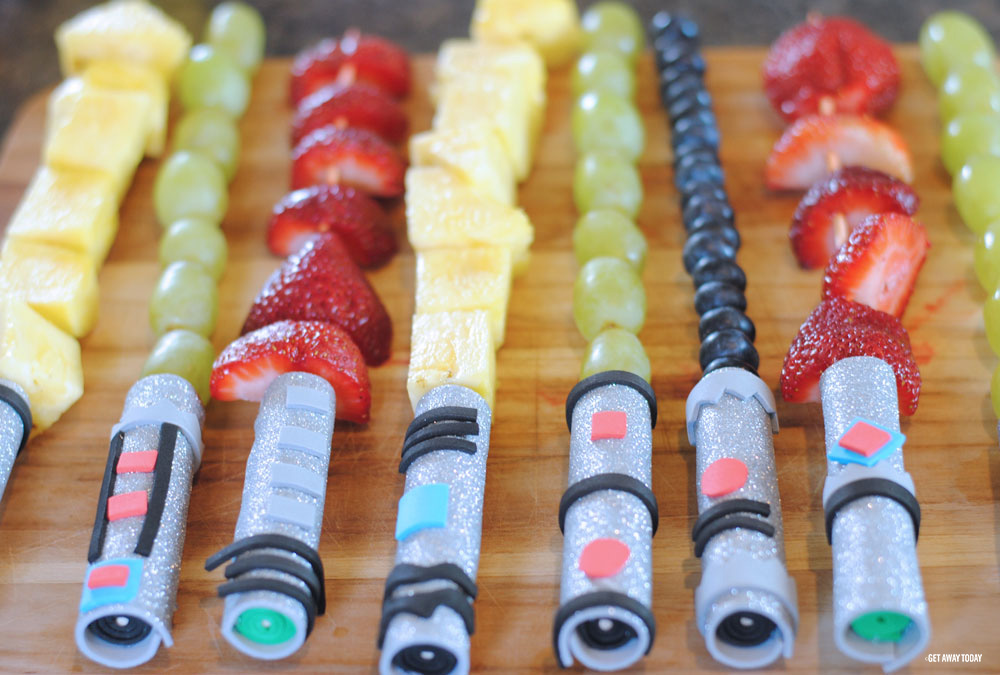 I hope you enjoy this fun Star Wars activity and treat! Remember to watch for Savi's Workshop in Galaxy's Edge at the Disneyland. It is a place every Star Wars fan will want to visit at least once in their lifetime. You can still get reservations to enter Galaxy's Edge May 31 - June 23, 2019 by staying at one of the three Disneyland Resort Hotels. A stay at Paradise Pier Hotel, Disneyland Hotel or Disney's Grand Californian Resort & Spa comes with a four-hour Galaxy's Edge reservation for each registered guest. Check out our packages online, or call 855-GET-AWAY for all the details.