"We stayed in a Premium View Room at the Disneyland Hotel. The room was comfortable and the magic headboard was amazing. Mousekeeping did a great job keeping the room clean and fresh every day and even put our daughter's stuffed animal on the bed as nice touch. Steakhouse 55 was great. The hotel staff is friendly and super helpful. We will stay here again and again."
- Tina H.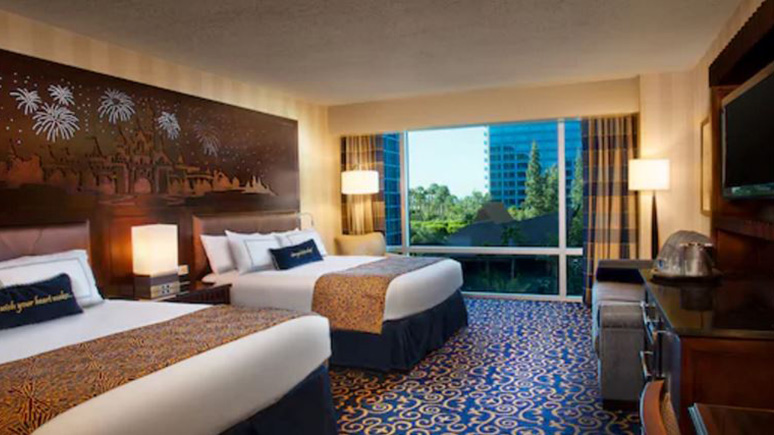 "The Disneyland Hotel is amazing - makes you feel like you're at home and everyone is family. It's literally only a 7 min walk to Disneyland and California Adventure while Downtown Disney is just right there. You will not regret staying here - love love love this hotel!!!"
- Daniella M.
"We stayed at the Disneyland Hotel with two kids, and they thought it was incredible. They loved the Monorail slide, and my wife and I enjoyed the hot tub and fire pit. The beds were great, and my daughter kept starting and restarting the light-up musical headboard. We did Goofy's Kitchen on our last day before leaving, which I thought was fine, but the kids loved it. We would definitely stay here again with young kids."
- Christian F.
"We stayed in a Premium View room at Disney's Paradise Pier Hotel. Very comfortable room! Enjoyed the theme. There was plenty of space for a family of 5 and all our bags, a stroller, cooler and roomy closet for hanging coats and jackets and things in. Decent bathroom, having two sinks helped. The sofa bed was used by our 19-year-old son and he said it was comfy. We were so exhausted from having fun it really didn't matter. The service was great and in fact, the maids displayed our kids Disney teddy bears in cute ways on the beds every time we came back. Our kids loved it!
There's an arcade on the lobby floor with super fun games and the kid's theater was cute, always showing Disney cartoons. We LOVED PCH Grill. The food was super yummy and we met all the characters, even got a pic with Stitch and our son who is a huge fan of Stitch. We've been to Disneyland twice before and never ran into Stitch in the park. PCH Grill is the best opportunity to get a Stitch visit. One night our daughter wasn't feeling well and instead of going to World of Color we had to go back to the hotel. Our Premium View Room was awesome. We curled up in the comfy chairs, turned on the World of Color music station on the T.V., and we got to see an amazing World of Color show from the cozy confines of our room which was very special for our kids... We had a great time!!! "
- William B.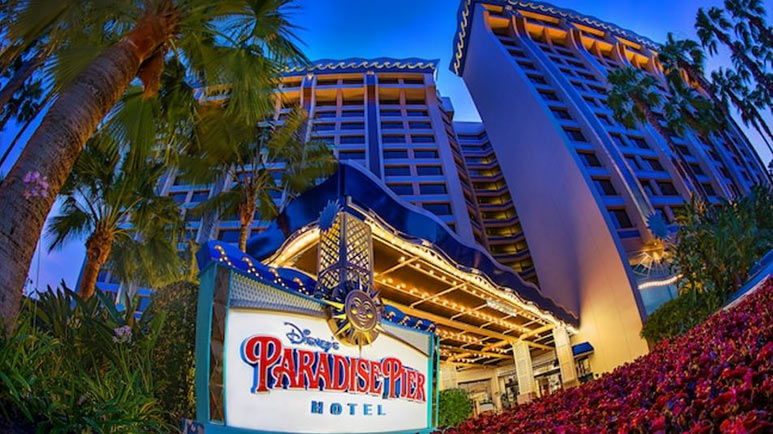 "The Paradise Pier Hotel was a very nice hotel. Everyone was friendly, accommodating and helpful. From the moment we went to the front desk to when we left. The room was clean, comfortable. We checked in early and when the room was ready they texted us."
- Richard A.
"Disney's Grand Californian Hotel & Spa is beautiful, the lobby is a site to see. The hotel staff is very professional as always. I've stayed in all three Disneyland Resort Hotels and have enjoyed them all."
- Carlton A.
"My adult daughter and I stayed at Disney's Grand Californian and had a wonderful time. We loved our room with the park view, got pedicures at the spa, and had dinner at Napa Rose. We used the private entrance, which was really nice. It was a once-in-a-lifetime vacation and felt like one. I highly recommend staying at the Grand for special occasions."
- Diane A.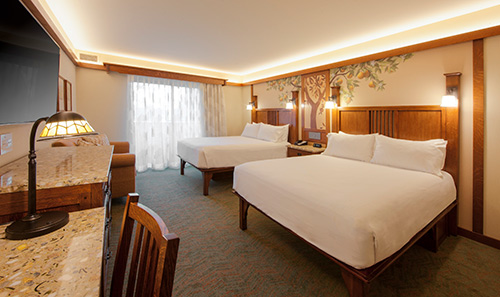 It's easy to see why we can't help but love staying at one of the Disneyland Resort Hotels. For more reviews, information and pricing you can visit each of our hotel pages:
You can book any of our Disneyland packages online or give our Disney experts a call at 855-GET-AWAY. No matter which you choose, we'll have you on your way to a magical vacation in no time!