If you've been to the Disneyland Resort over the last few years, you've seen a wide range of Frozen expiences come and go. Like the seasons, Frozen has brought some magical moments that melted away when the time came. We are thrilled to announce that more Frozen changes are coming - and this one promises to have a much longer season than the rest.
First, it should be noted that the Royal Theatre at the Fantasy Faire in Disneyland is no longer showing a Frozen show. Instead, two shows, one inspired by Beauty and the Beast, and the other inspired by Tangled have returned.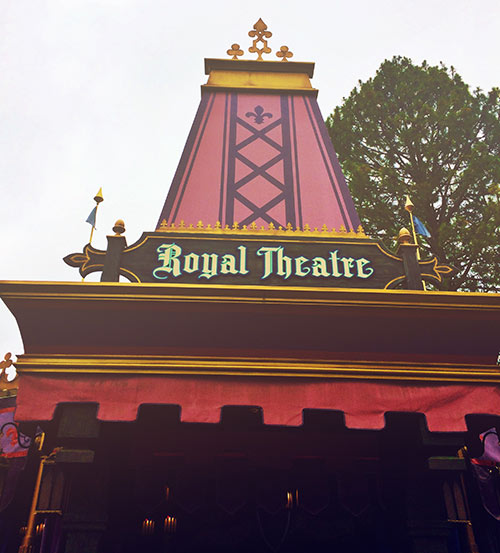 Second, For the First Time in Forver: A Frozen Sing-a-long Celebration will make its final curtain call in Disney California Adventure Park on April 17. If you're heading to the park before then, you will want to make sure you see it.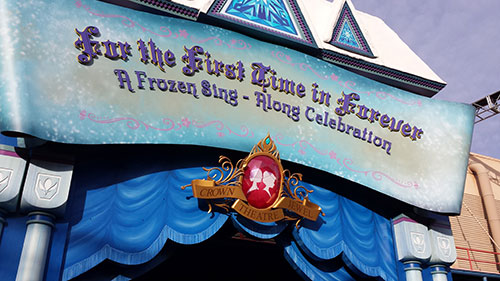 This brings us to our thrilling announcement that Frozen - Live at the Hyperion will debut on May 27, 2016. This will be a full-scale musical that replaces the long-standing Aladdin - a Musical Spectacular that closed permanantly earlier this year.
Frozen - Live at the Hyperion promises to be a Broadway caliber production complete with elaborate costumes and sets, puppetry, special effects, and of course, musical numbers that will make you fall in love with Frozen all over again. Some of the biggest names in musical theater and Walt Disney Imagineering have come together to create a truly magical experience specifically for families at the Hyperion Theatre, Disney California Adventure Park's nearly 1,900 seat theatre. Although the theatre is quite large and holds a lot of people, we recommend getting there early to make sure you get a spot. Also, try the first showing of the day for fewer crowds and more alert kids, or catch a show later in afernoon for a break during the heat of the day. No matter when you decide to see it, expect to be blown away by Frozen - Live at the Hyperion. We can't wait!
If you're looking for more Frozen fun at the Disneyland Resort, there are many other opportunities currently taking place:
Meet both Anna and Elsa at a Royal Reception at the Animation Building inside Disney California Adventure.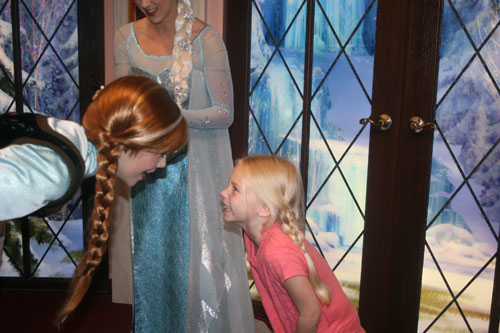 Watch the sisters make their way all aglow as they light up the night skies during the Paint the Night Parade. You can catch the parade anywhere along the route, but we recommend Main Street U.S.A. for the most immersive experience, or near "it's a small world" for fewer crowds.
No matter where you decide to see the parade, stick around after the parade for the Disneyland Forever fireworks to enjoy the "Let It Go" sequence and watch it snow.
See Arendelle and Elsa's ice castle up close as part of the Story Book Land Canal Boats inside Fantasyland at Disneyland.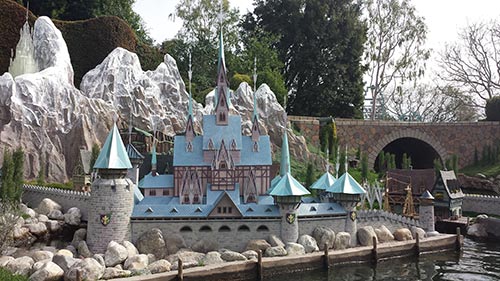 Shop all things Frozen at Anna and Elsa's Boutique in Downtown Disney. Kids ages 3 - 15 can even get Frozen inspired transformations for a fee. Reservations for this can be made up to 60 days in advance.
Of course, there's so much more to do and see at the Disneyland Resort, and we want you to do it all! With classic attractions, the limited time Star Wars Season of the Force, and the incredible nighttime entertainment of the Diamond Celebration, you'll want as much time at the Disneyland Resort as possible. Check out our Extra Day Free tickets and Extra Night Free hotel offers for the most savings. You can book any of our Disneyland packages online or call our agents at 855-GET-AWAY for personalized help.

Check out our other articles: