Knott's Berry Farm is starting the New Year strong with a huge announcement! In the spring of 2015 Knott's Berry Farm will be opening Voyage to the Iron Reef, a cutting edge 4-D interactive attraction. Located on the new expansion of the Boardwalk Pier, this incredible new ride adds high tech fun for the whole family.

Voyage to the Iron Reef takes guests on a journey to save Knott's from the mysterious creatures emerging from the seas beneath the Boardwalk. The Queen Kraken and her army of sea creatures are attempting to steal all of the roller coasters within their grasps to take down the theme park. Guests will climb aboard a four-person submarine inspired vehicle and embark on a brave journey to save Knott's Berry Farm. Equipped with an interactive freeze ray, this 4-D gaming adventure will have guests aiming to take down all of the monstrous sea creatures trying to destroy Knott's Berry Farm and save the day.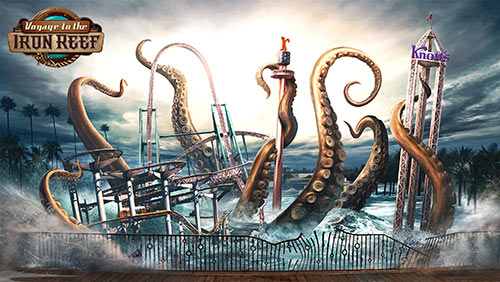 Photo Courtesy of Knott's Berry Farm
This state of the art ride takes you through enchanting underwater forests, disorienting ocean current tunnels and mysterious mechanical wreckage all in 3-D! Also with live action special effects throughout the ride, there is something new and exciting around every corner. And every time you ride this interactive voyage you have a different experience! The ride even reacts to the actions and accuracy of the guests on board the vessel. At the end of the ride you will see how well you did saving Knott's Berry Farm and the number of creatures you stopped!

Knott's Berry Farm is excited to integrate this new cutting edge technology into their already full line up of state of the art rides and attractions. 2015 is sure to be a great year full of excitement and new additions for Knott's Berry Farm, with Voyage to the Iron Reef in the center of it all. So be sure to keep an eye out for all of the fun happening at Knott's Berry Farm this year on our blog.

Knott's Berry Farm has something for the thrill seeker in all of us. With so many classic and mind bending roller coasters and creative new interactive rides, there are so many reasons to make your way to Buena Park in 2015. And you can't forget Camp Snoopy for the little adventurers in your family. With interactive attractions and rides, the kids will love hanging out with Snoopy and all of his pals. There is truly something for everyone!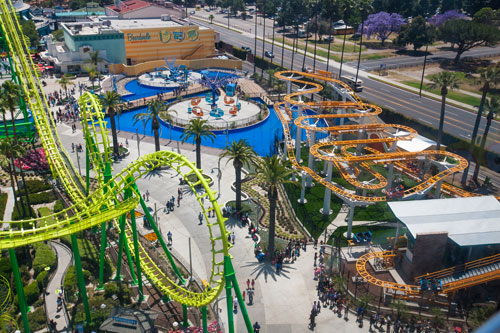 Photo Courtesy of Knott's Berry Farm
Knott's Berry Farm has so much to offer and on top of all that, it is just a short drive from The Happiest Place on Earth! Be sure to check out all our Disneyland packages and our limited time Adults at Kids Prices Disneyland tickets to complete your amazing adventure. Book any of our vacation destinations, including Knott's Berry Farm, online or call our travel experts at 855-GET-AWAY.

Check out these other articles: