The Norwegian Bliss is the newest ship in the Norwegian Cruise Line's fleet. Our team was able to experience it all on its Christening Celebration held May 30 - June 2, 2018. We break everything down in our Norwegian Bliss review. Learn about the onboard amenities, dining, staterooms and so much more.
Norwegian Bliss Review
Our team was one of the first groups ever onboard the brand new Norwegian Bliss. The Christening Celebration was such a fun way to get a glimpse into what you can experience on this incredible new ship. Our team felt so special to be invited along with the president and executives from Norwegain Cruise Line, celebrities and top travel professionals. Pitbull, Smash Mouth, Tone Loc and the Broadway Cast of Jersey Boys were just a few of the stars that were onboard with our team.
While onboard, our team got a sample of an Alaskan itinerary departing out of Seattle and explored all that this new ship has to offer. Today we are sharing their Norwegian Bliss review to help you decide if it's the right ship for your family vacation. We break it down about the rooms, amenities, entertainment, and of course, the food. Enjoy!
Norwegian Bliss Review - Rooms:
We expected the rooms on the Norwegian Bliss to be pretty great because they were brand new. But even still, our team was blown away by the staterooms on the ship. All of the rooms on the ship feature elegant decor, rich woods, crisp white linens and clean lines.
One super unique thing about the Norwegian Bliss is that 70% of its staterooms have balconies. Because this ship primarily sails in picturesque destinations like Alaska, that's a big deal. There are a limited amount of inside staterooms, so if you're one who typically likes to save some cash by booking an interior room, you'll want to book early.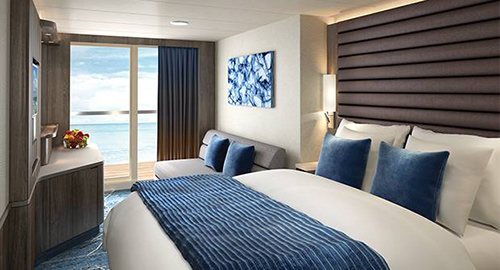 Photo courtesy of Norwegian Cruise Line
One other thing that sets the staterooms on the Norwegian Bliss apart is that they offer both standard and family sized ocean view rooms. The family sized rooms are much more spacious and sleep up to five. With so many cruise lines only allowing 3-4 passengers per stateroom, it's nice to have some options other than booking two rooms on the Bliss.
Another incredibly unique offering aboard the Norwegian Bliss is their studio rooms. The studio rooms are perfect for single occupants. We don't know of another cruise line that caters to single travelers and doesn't make you pay double occupancy!
One final room type we have to point out is the Haven Class staterooms. The Haven Class is almost like a private yacht built within the ship. The rooms are incredibly exclusive with all concierge or butler service. Anyone who bookes a Haven Class stateroom gets priority boarding and access to public areas, as well as their own pool, restaurant and bar. If you are looking for the true VIP experience, a Haven Class room on the Norwegian Bliss is it!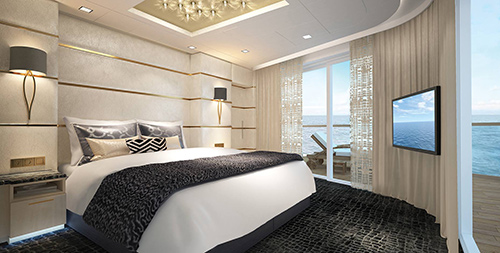 Photo courtesy of Norwegian Cruise Line
Norwegian Bliss Review - Amenities:
No cruise ship would be complete without a swimming pool or two, and the Norwegian Bliss definitely has them. However, it's important to note that since the ship spends so much time in cold weather, the pools were a little smaller than you may find on other ships. But, on the plus side, there are actually more hot tubs than pools onboard. Additionally, the pool decks have a retractable roof, so one day you may be swimming outdoors and the next indoors depending on the weather.
Another huge feature worth mentioning in our Norwegian Bliss review is that the ship has a super intense water slide. You start standing, then, the floor drops out and you get shot through a clear tube that extends over the ocean. It is any adrenaline junky's dream water slide.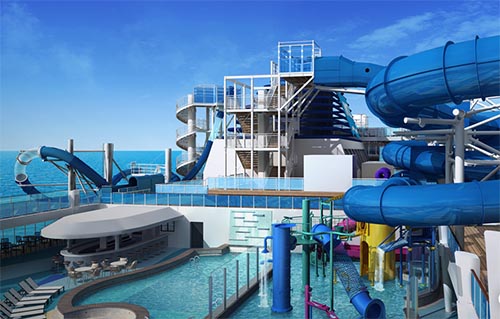 Photo courtesy of Norwegian Cruise Line
You'll also find laser tag and go carts onboard. These activities are available for an additional $5-$7 per person per time slot and require a reservation. The minimal charges are there to help manage wait times, which you'll appreciate onboard.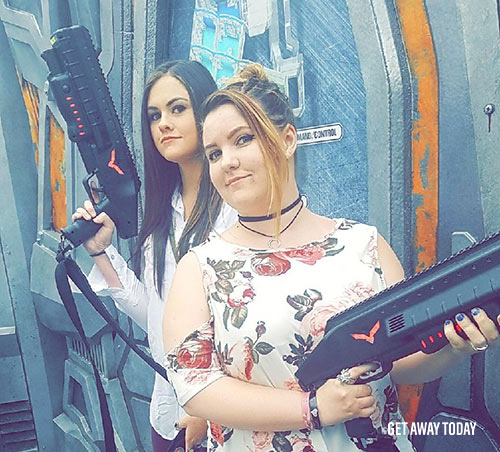 If you're looking for something more relaxing, you'll want to head to the Observation Lounge. This area will take your breath away with stunning views from floor to ceiling windows. It's the perfect spot for glacier watching on your Alaskan cruise. Or, an ideal location to curl up with a book on a relaxing day at sea.
The Norwegian Bliss also has pretty amazing kids clubs. The clubs are separated by age groups and are perfectly geared towards their interests. You'll also find onboard shopping and a casino. There is something for everyone in terms of amenities on the Norwegian Bliss.
Norwegian Bliss Review - Entertainment:
The can't miss show on the Norwegian Bliss is the Tony Award Winning show, Jersey Boys. There are two shows daily, and it is the full Broadway version of the show with all of the music you love from Frankie Vallie and the Four Seasons. There is some adult content, so you may want to become familair with it before deciding whether or not to take your kids.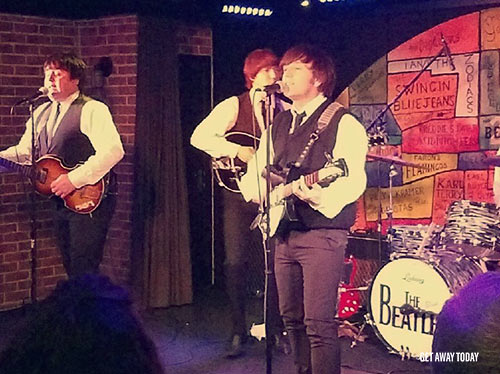 The Norwegian Bliss also features the Levity Comedy show which rotates comedians and plays twice daily. Havana is a Cuban music and dancing stage show. Another fun entertainment option that is bound to be something you haven't done before is the Silent Disco. The club plays music - but only into your own headphones. Anyone walking into the club initially will just hear silence while everyone is singing and dancing to the beat of their own song. It's a trip! Then, after a certain time, the DJ pumps up the volume and the Silent Disco turns into a traditional dance club. Just rest assured, there is always plenty to see and do aboard the Norwegain Bliss.
Norwegian Bliss Review - Dining:
Now we'll get to the meat of our Norwegian Bliss review... the food! There are nearly 20 dining options including table service restaurants, cafes, pubs, bars and buffets. Some are included and some are available for an upcharge. Just know that it is all amazing and you won't be disappointed with anything you choose.
If you've sailed on other cruise lines, you may be expecting a formal night or other themes. The Norwegian Bliss doesn't do that. Instead, what you wear is based on each individual restaurant's dress code. That allows you to choose your meal and outfit according to how you feel. That means if you want to dress up, make a reservation for the steakhouse. If you want to keep it casual, one of the main dining rooms or the buffet would be a great choice.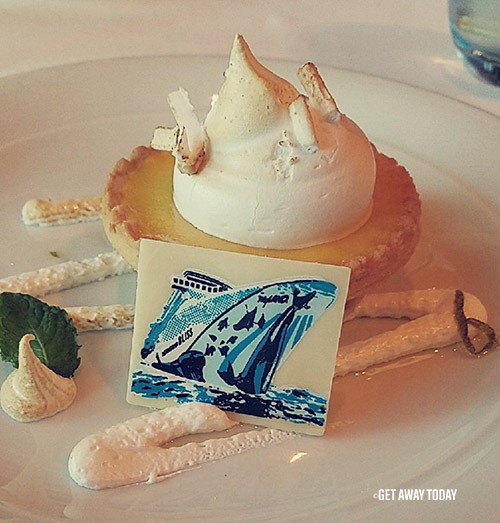 If you want to stick to the dining that is included with your package, there are a few main restaurants that you can choose from. Taste, Savor and The Manhattan Room are considered main dining rooms. These are table service restaurants that serve breakfast, lunch and dinner. The menu will rotate, but there is always at least one steak, chicken or seafood option. Other included dining options include The Local, which is a 24-hour pub and The Garden Cafe, which is a buffet.
The Norwegian Bliss also has 13 Specialty Dining locations with food options across the board. There is everything including an upscale steakhouse, a fine dining Mexican restaurant, French cuisine and multiple dessert specialty shops. There's also a Starbucks, barbecue and our team highly recommends the fish tacos from Jimmy Buffet's Margaritaville. The charges vary on the speciality dining restaurants. Some are a fixed price, while others feature an a la carte menu. Because the specialty dining restaurants are so popular, we recommend making reservations.
Norwegian Bliss Review - Ports:
As you know, our team got to experience the Norwegian Bliss in Alaska. Its Alaskan cruises are available during the summer. They depart and return to Seattle with stops in Ketchikan, Juneau, Skagway and Victoria. Then, once the season is done in Alaska, the ship will relocate based on season.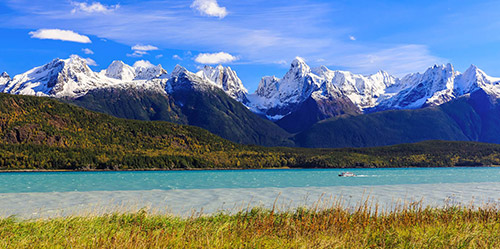 Photo courtesy of Norwegian Cruise Line
After Alaska, the Bliss will make its way to Los Angeles with a Pacific Coast cruise before a handful of Mexican Riviera sailings. It will then make its way across the Panama Canal, make a few trips out of Miami, and then port in New York. From New York, the Bliss will sail on a number of Caribbean cruises.
Norwegian Bliss Review Wrap-up:
Regardless of where and when you sail aboard the Norwegian Bliss, we are confident you'll have a wonderful time. Not only is the Norwegian Bliss one of the newest ships on the ocean, it is one of the largest. Everything from the entertainment options to staterooms is so well thought out.
If you're thinking of booking a cruise aboard the Norwegian Bliss, explore our rates online, or call our agents. Our cruise experts would love to help you plan the perfect trip. Call them at 877-510-2929 for details, pricing and Get Away Today's exclusive perks.

Check out more of our cruise tips and reviews: