Cruises have become one of the most popular vacations for families, groups and couples, allowing people to see multiple destinations in one trip. If you're asking yourself, "How do I get the best price on a cruise?" you aren't alone. We've gathered our best tips to make sure you get the best deal every time. Imagine being able to see multiple beach destinations, like Belize or Grand Cayman, in one trip. Or, being able to explore both Naples and Barcelona without taking a train or flight between the two cities. Now, add in gourmet dining every night and fun activities for the whole family. You just imagined
some of the most popular reasons to take a cruise
! It's easy to see why cruising has become such a popular vacation choice, for families, couples and friends alike. As more and more people cruise, "How do I get the best price on a cruise?" has become one of our most frequently asked questions at Get Away Today. So in honor of upcoming National Cruise Month (October) we've put together our top tips to make sure you
get the lowest price on your cruise every time
.
How to Get the Best Price on a Cruise: Book in Advance
It can be tempting to want to wait for a better deal, but the days of amazing last-minute cruise deals are dwindling. As cruising has become more popular, cruise lines are finding it less difficult to fill their itineraries. This means it's now a rare thing to find those insanely discounted cabins just a week or so before sailing. And, if you do happen to find one, the cost of booking airfare so close to your travel date usually cancels out those savings.
By booking in advance, you'll be able to get the first choice of cabin and still get an amazing deal. You can even make payments when you book a cruise with Get Away Today, which is a huge benefit to booking in advance. With itineraries available for up to two years out, that gives you plenty of time to save.
How to Get the Best Price on a Cruise: October Sales
Another great time to book a cruise? October! It's like the Black Friday of cruising. Since October is National Cruise Month, many cruise lines share their best prices in October! And if you're looking for an adults only escape, our team particularly enjoys
Virgin Atlantic Cruise Line
.
How to Get the Best Price on a Cruise: Avoid Holidays & Peak Travel
This savings tip may seem obvious, but cruises that take place over holidays or a peak season are going to cost more. But, if these dates are your best option try to sail the very first week or very last week of the peak season. It's also a great time to compare cruise lines and their prices for holiday sailings, like taking a look at
Carnival Cruise Line, one of our staff favorites
. Peak season can change depending on the itinerary, so you'll want to
talk to our cruise experts for the best times to go
. And, if the peak season or holidays are the only time you can go, don't forget that you can get the best price by booking in advance. A holiday cruise for next year is going to cost less than a holiday cruise for this year, simply because many of the cabin choices have sold out.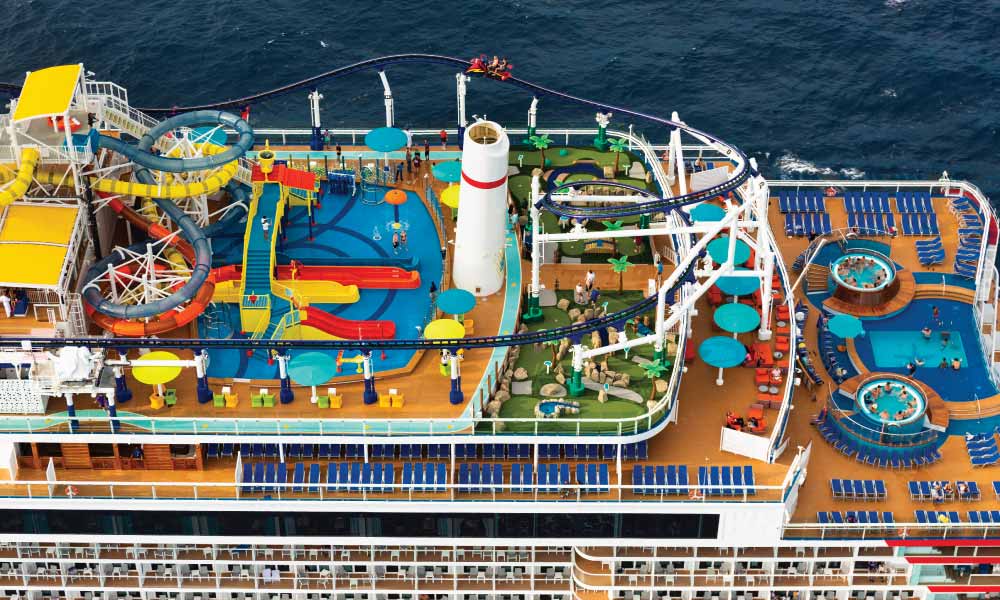 Image Courtesy of Carnival Cruise Line
How to Get the Best Price on a Cruise: Choose Inside Cabins
Interior staterooms are the least expensive option on cruises. This is because inside rooms don't have a window or balcony to the outside. If you are only traveling with 2-4 people, these can be a great option to get the best price on a cruise. With so many things to see and do on the cruise ship, you'll only be in your room to sleep. Plus, since the inside staterooms get very dark, they work perfectly for those who are light sleepers. Just make sure to set an alarm so you don't miss anything! If you're worried about seasickness, it may be worth the money to upgrade to an ocean view stateroom. Keep in mind this will be more expensive than an inside cabin, but still less expensive than a stateroom with a balcony. There are so many cabin types, you might be surprised where you could save some money.
How to Get the Best Price on a Cruise: Two Cabins Instead of a Suite
This tip will help families with five or more members get the best price on a cruise. Now, if you have five family members, you can often find larger suite staterooms that will fit your family. However, these tend to be much more expensive. These large suites are more than an upgrade in space, they are also usually balcony rooms and on the highest deck levels. We can price out getting two inside or even two ocean view cabins and help you compare that with a suite. Plus, not many cruise lines have just one suite that fits more than five people. Our cruise experts can even help book cabins that are right next to each other or connecting. Another popular choice for families with older children is booking one ocean view cabin and an inside cabin straight across the hall. That way, Mom and Dad get the extra perk of an ocean view while the kids are still nearby.
How to Get the Best Price on a Cruise: Closest Port to Home
Cruises don't just leave from Florida. In fact, there are cruise ports all around the country. Port Canaveral, New York, San Diego, Long Beach, Galveston and New Orleans are just a few of the most popular. By finding a cruise port near you, you can save on travel to the start point. Whether you find a killer deal on airfare or decide to drive, it's going to save you versus traveling to a cruise port on the other side of the country. All those extra savings can then be spent on experiences like spa treatments or excursions.
How to Get the Best Price on a Cruise: Budgeting Tips
Speaking of excursions and spa treatments, you'll want to start budgeting as soon as you start looking at a cruise. While so much is included in your cruise (
see what's included on Norwegian Cruise Line here
), there are other things like excursions, souvenirs, spa treatments and specialty dining experiences to consider. By budgeting for them in the beginning, you won't be surprised or feel like you missed out on anything during the cruise. Plus, some cruise lines even offer discounts if you purchase certain things (like spa treatments or drink packages) in advance. There you have it – our top tips for getting the best price on a cruise. When you call our cruise experts at Get Away Today you won't just be getting the best price. You'll also be getting the best service, which includes extra goodies, need-to-know tips and more. Our cruise department makes sure to take care of you every step of the way, from the moment you call us at 877-510-2929 for a quote until the end of the cruise itself. We promise you won't be disappointed!