We love all of the frosty cold wintery Frozen party games and activities that are floating around the Internet. But, for our party, we thought it would be fun to change things up a bit and grant Olaf's wish to bring back Summer! So in celebration of Frozen being released on DVD today, the beach balls came out and we got busy doing "what Frozen things do... in Summer!"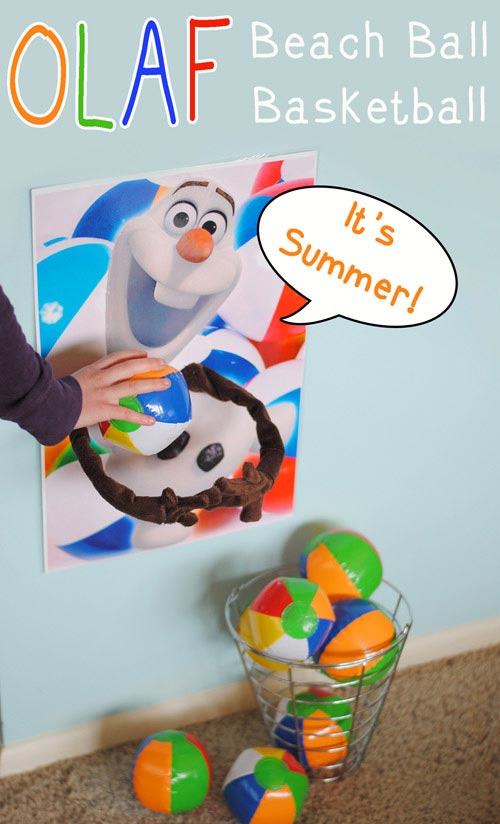 Do you want to play beach ball toss with Olaf? Here is a tutorial on making your own Olaf Basket Ball hoop. It is very easy!

Start by printing the Olaf Backboard on 11x17 inch card-stock and having it laminated. Download here.
You will need a regular wire hanger to make the frame for the hoop.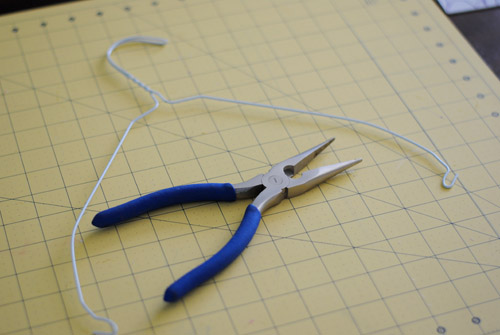 Bend the hanger into a circle.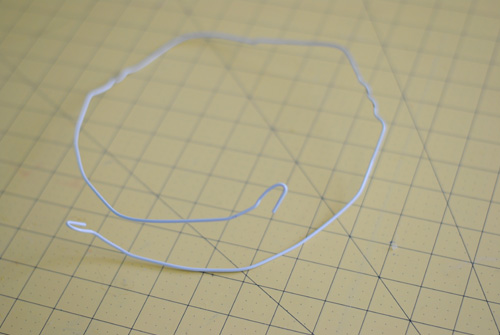 Next, sew the fabric coverings to make Olaf's arms. You'll do this by first cutting two 6 inch by 20 inch strips of brown fabric. You can use any brown fabric from your scrap pile. Felt or fleece would work great because they don't fray. I had some soft brown minkey in my stash that I used. Fold each fabric strip in half lengthwise, so you have a double thick 3 x 20 inch piece of fabric. Then cut the top 5 inches off for the hand. You will now have one 15 x 3 inch piece and a 5 x 3 inch piece. (Do this for both of the arms.)

Sew the Olaf hand shape into your small square of fabric. Olaf has four "fingers." It doesn't have to be perfect. It looks something like this: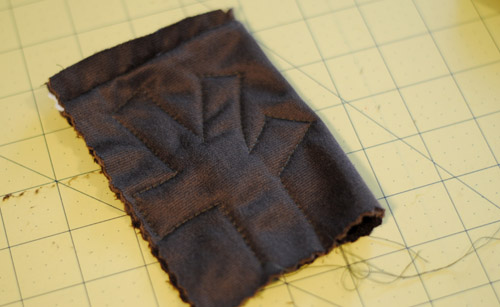 Sew both hands and then cut them out and turn them. Sew a seam along the open length of the "arm" piece so that the fabric makes a long tube. Turn it also.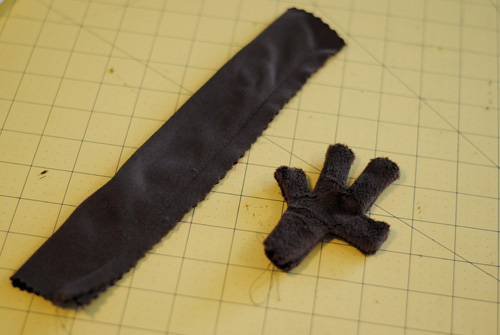 Test to make sure that the fabric covers the hanger. They will look like this: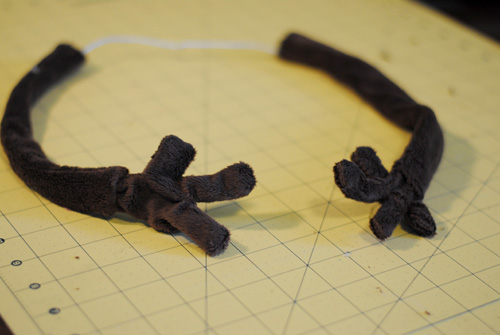 Now it is time to assemble your Olaf Basketball Hoop! Your pieces should look like this: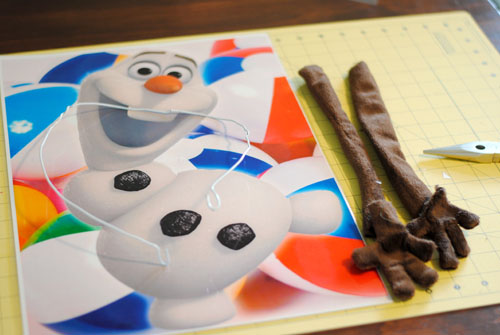 Poke holes in the Olaf Backboard where his arms should be and slip the hanger through the holes.

The next step is the trickiest. You want to add a support strip to the back of the hoop to give it more stability. I used a paint stir stick. It is the perfect size! Just attach the stir stick to the back rim of the hoop with duct tape.




Then attach the stick and hoop to the backboard with duct tape. Feel free to tape away! No one is going to see the back of the hoop, it will be against a wall.

Once you have the hanger hoop in place, put on the arm covers and glue them in place with hot glue.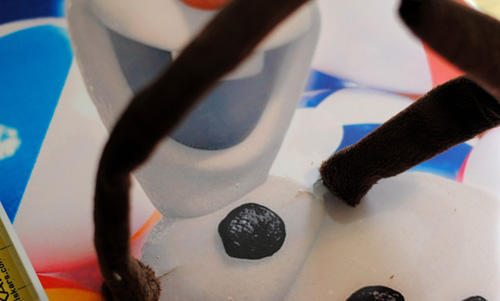 You will want to hot glue the arms where they attach to the backboard and also along seam where the hand meets the arm piece. Just tuck the hand into the arm and glue.
It will look like this when you are finished: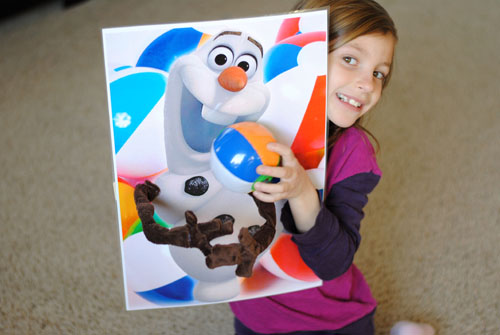 You can play any basketball-type game at your party with the Olaf hoop. We bought a whole 24 pack of 6-inch beach balls for less than $10 at the party store. We used them as decorations, in the Olaf Ball Game and then gave them to the kids to take home as a party favor!

We continued the Summer Fun, with parachute games. We bought a bright colored playtime parachute like the kids play with during gym time at school. The party guests loved playing all of their favorite parachute games together. We put giant beach balls on top and let them toss them into the air and roll them across the parachute to each other. There were beach balls flying all around and plenty of laughter and giggles in the air. Olaf would definitely approve!




Nothing screams Summer more than fireworks! As a fun prize for our parachute and basketball games, we made "Let it Go!" Party Poppers. They remind me of summertime fireworks and celebrations. The kids love to pull the string and watch the confetti fly through the air! Do you want to make your own "Let it Go!" Party Poppers?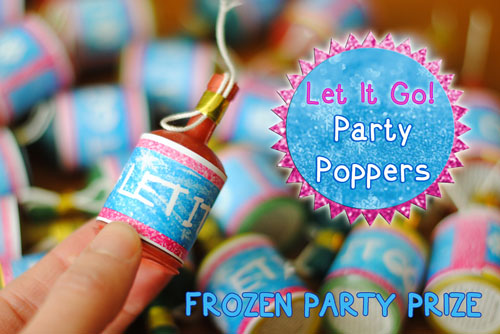 You can buy the Party Poppers at the grocery store or party store. Print the labels here, and then cut them out. Wrap each party popper with a label and tape the ends together with clear tape.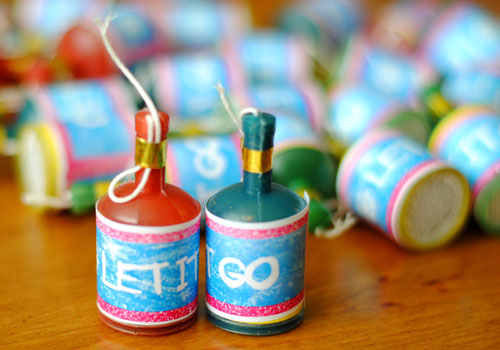 That's all it takes! Your party guests can "Let it Go!" with these fun and easy party prizes.
We hope that your party guests will have a blast doing "what Frozen things do in SUMMER," too!

One other thing Olaf does in Summer is welcome guests to Fantasyland to meet Anna and Elsa!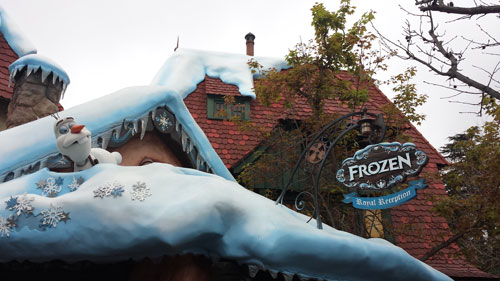 Take your family to the Disneyland Resort for some Frozen Summer fun! Save big by booking in advance. Book any of our Disneyland packages online or call our Disney Experts at 855-GET-AWAY.