"Perfect setup for families with multiple kids. Visited Disneyland last week with our 3 kids under 6 and couldn't have been a better situation. Bunk beds for the older kids, they had a pack-n-play setup for the baby. Rooms were clean and king bed was great for my wife and I. All within a half mile from front gate at Disneyland so we never had to get in our car once we got there. And for the rate you pay, can't even compare. This is our second time at Portofino and if/when we go back to Disneyland we will stay there again."
- Brad M. on the Portofino Inn & Suites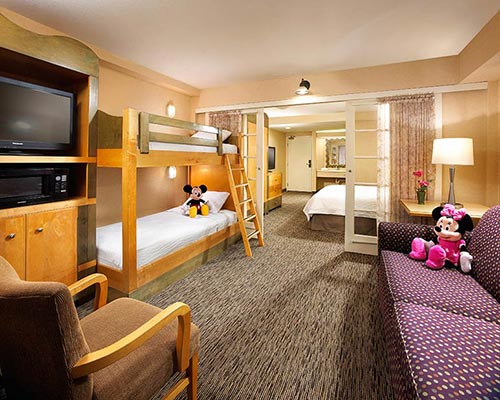 "The room was very clean, the staff was very nice and helpful. The free breakfast was always delicious also... Everything was great and only a 15 minute walk to Disney."
- Cassy T. on the Clarion Hotel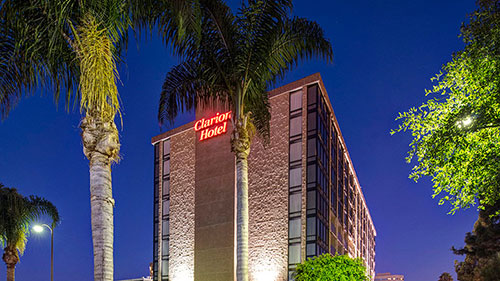 "I stayed here with two friends and we loved it! It's basically right across the street from the entrance to Disneyland. It was a good value, comfortable beds, enough space for us and a really cute room. The bathroom area was nice as well. There's not too much closet space but we were only there for one night so we didn't mind. Our room had a microwave and refrigerator, which was great. We didn't have a car so I can't speak on the parking but it looked like there were a decent amount of parking spots. I would definitely stay here again!"
- Michele M. on the Tropicana Inn & Suites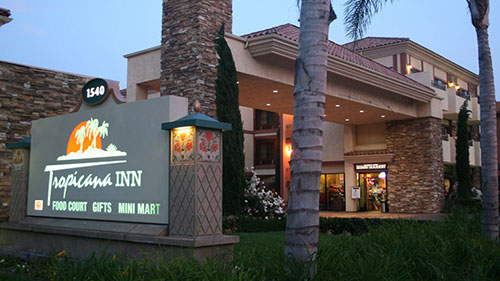 "We are so impressed with this hotel. The customer service was amazing; everyone was so friendly. The rooms are spacious, with bunk beds and two showers. There is a Starbucks in the lobby, and a gift shop with reasonably priced Disney items. The valet was so accommodating when we needed to get our daughter's jacket out of the car. This is our new favorite place for Disney vacations."
- Teresa S. on the Courtyard Anaheim Theme Park Entrance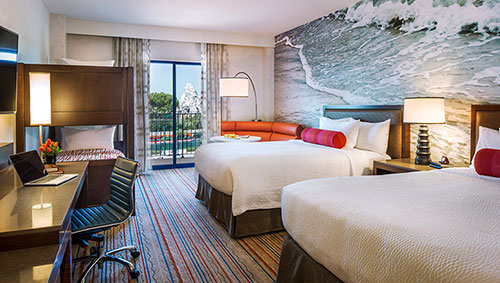 "Very clean hotel. The lobby and restaurant were perfect. This hotel served one of the best all you can eat breakfast buffets I have seen. Breakfast had a chef on standby to cook omelets and waffles.You are greeted to a nice dining area with tables and booths.The rooms were very clean and roomy. The beds were clean and very comfortable. I will definitely be staying here again in the future. The staff were all very helpful and polite. Shuttles are always on time and often enough never had to wait more than 5 minutes. Great job Wyndham!"
- Arelia H. on the Anaheim Wyndham Garden Grove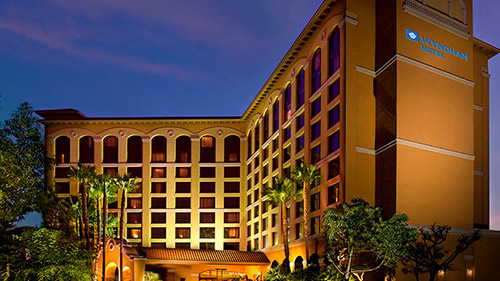 "I will definitely use this hotel again in the future. It's not too far from Disneyland and we actually walked from the hotel everyday we stayed here (3 days). The service here is great! The staff is very nice and welcoming. The rooms were nice and were cleaned daily for us. The bed was super comfortable and the room was spacious with all the needed necessities. I will stay here for my next Disneyland trip and I would recommend it to anyone!"
- Brittany P. on the Candlewood Suites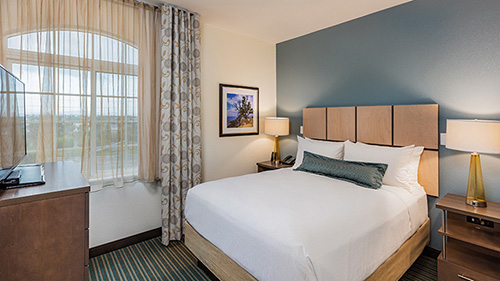 "We arrived about an hour before check in, but they had a room ready for us and let us get settled in early. We had the 2 bedroom/2 bath suite, it was awesome! Plenty of space for all 5 of us. I loved the full breakfast. They had a good variety and plenty of hot coffee. Such a nice start to a full day a Disneyland, and a great value especially for big families. We will definitely stay here again."
- Charisma P. on the Staybridge Suites by Holiday Inn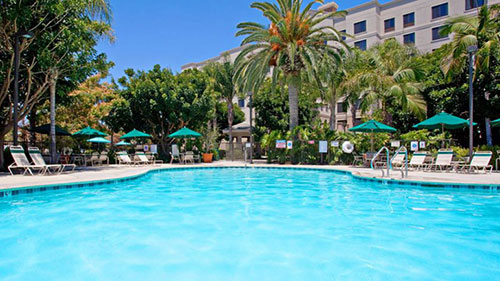 We love hearing feedback from our guests about the hotels we offer. Have you recently stayed at a hotel in Anaheim that you loved? Let us know below and we'll make sure to spotlight it so other guests can see how great it is!
Don't forget you can get the best price on your Anaheim stay when you book with Get Away Today. On top of reduced rates, many of our hotel partners offer exclusive amenities like free breakfast and free parking for Get Away Today guests. Plus, we often have 3rd, 4th and 5th night free specials available for many of the hotels we offer near Disneyland. You can book any of our Disneyland packages online or give our agents a call at 855-GET-AWAY.

Check out more guest testimonials: