Sew this simple LEGO Ninjago costume in just a matter of minutes! This easy tutorial has everything you need to make a Lego Ninja costume for Halloween or for some everyday Ninjago dress up fun!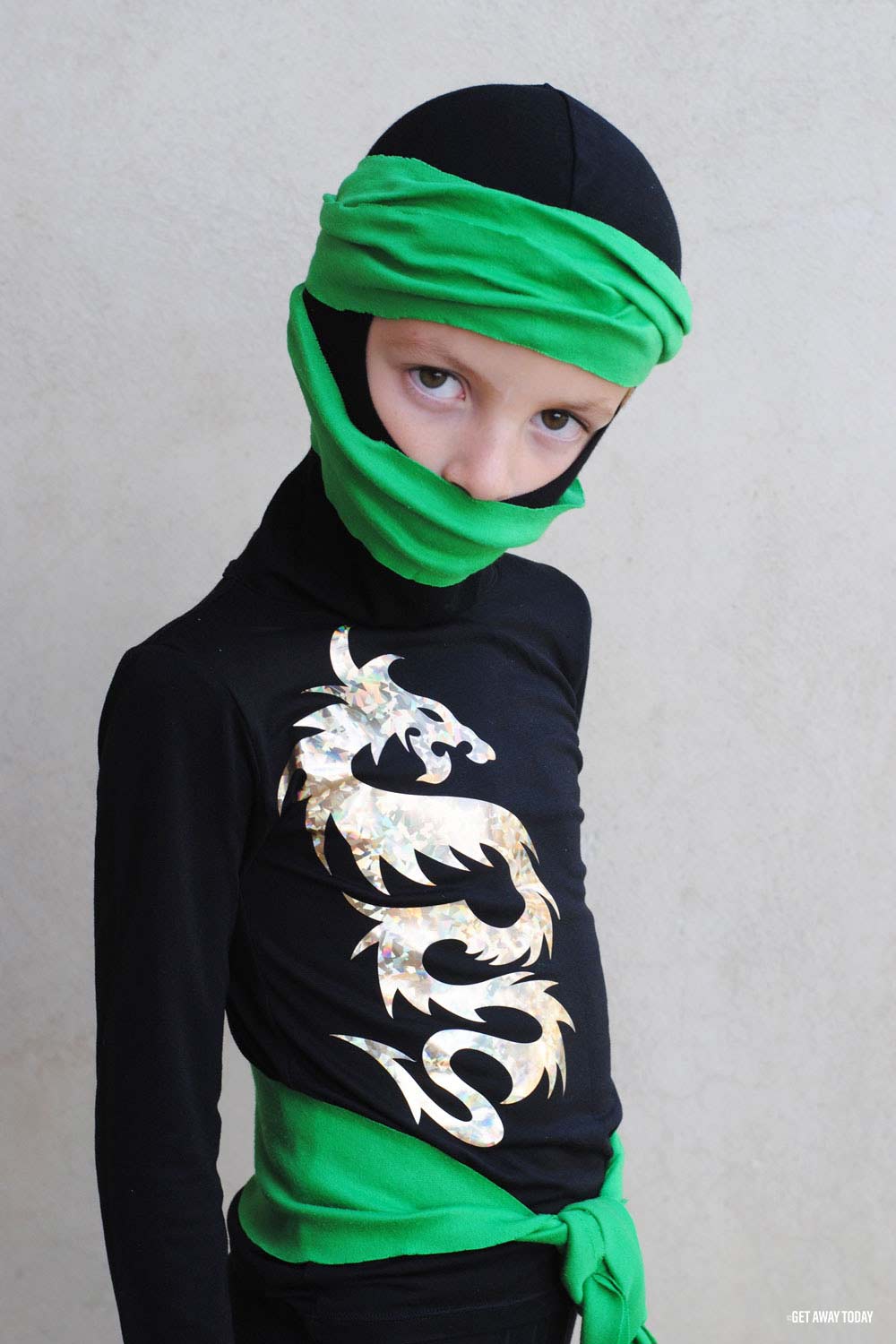 My adorable 6-year-old son came home from school the other day with the cutest little "What I want to be for Halloween" drawing. Elementary school art and writing is one of my favorite things on the planet! His picture was of himself as Loyd from the LEGO Ninjago series. There were a few other cool Ninjas on the page as well. He wrote, "I want to be a ninja."
I had to make his Halloween dreams come true, so I created this super simple Ninja costume and tutorial for everyone to use! (Just in case you have a little boy or girl at home who wants to be a Ninjago character for Halloween as well.) I have a feeling it is a popular choice!
Simple LEGO Ninjago Costume DIY
This costume is so easy to put together! The mask takes only a few minutes to make and the rest of the steps are also totally quick and doable. You are going to feel like a crafting Ninja by the time you finish.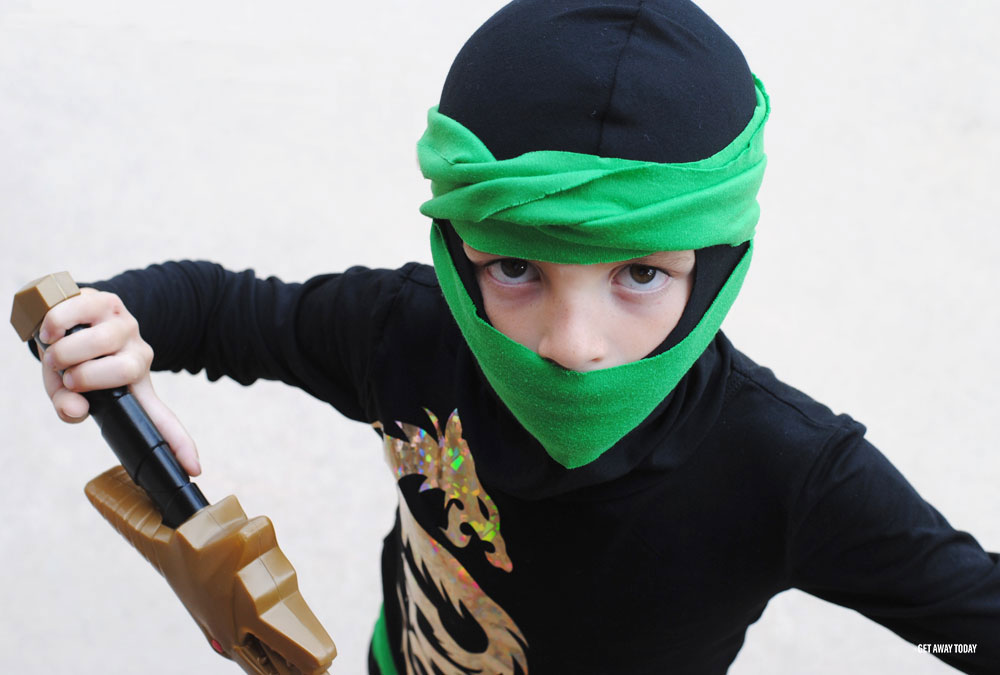 LEGO Ninjago Costume Supplies:
1/4 yard black 4-way stretch cotton knit
1/4 yard green cotton knit (or whatever color your Ninja wants to be)
Black shirt and pants (you can browse Amazon options HERE)
Sewing supplies
Iron
Pencil
Scissors
First of all, you need to get some black Ninja clothes. I found a black pajama set at Costco for only $7.00. It was perfect for this project! The clothes should be something that can move and stretch. Something in the cotton, nylon or knit family is perfect! We don't want to restrict those awesome LEGO Ninjago kicks and punches.
LEGO Ninjago Costume DIY - Dragon Silhouette
I bought a roll of gold iron-on vinyl from the craft store. You can also find some on Amazon HERE. You want to make sure to get a vinyl that is made for sticking to fabric. If you have a Cricut machine, this step is going to be a snap! Find a cool dragon silhouette image and then cut it out with your nifty Cricut cutter. Make sure to follow the directions on the vinyl and place it upside down on the sticky board before you cut it. I almost messed that part up! EEK!
If you don't have a Cricut, then you can borrow a neighbors, or just cut it out by hand! Print off a dragon silhouette from the internet and then trace it onto the vinyl. Cut it out with scissors. It's not too bad!

I picked this dragon silhouette from a shop on Etsy for only a few dollars.
Iron the Ninjago costume dragon onto the front of the Ninja shirt. It should be placed on the right side of the shirt, not in the middle. Line the dragon up along the seam on the shirt and make sure you have it set perfectly before you apply the heat! You can only put it on once. So, be careful.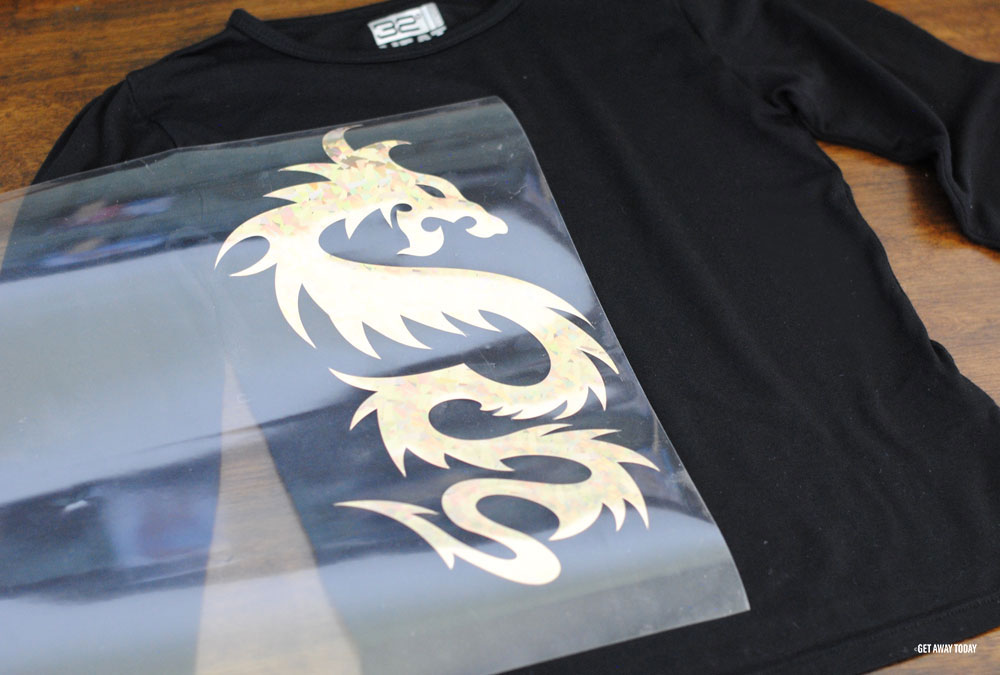 Peel the covering off of the vinyl and the gold dragon is ready for action!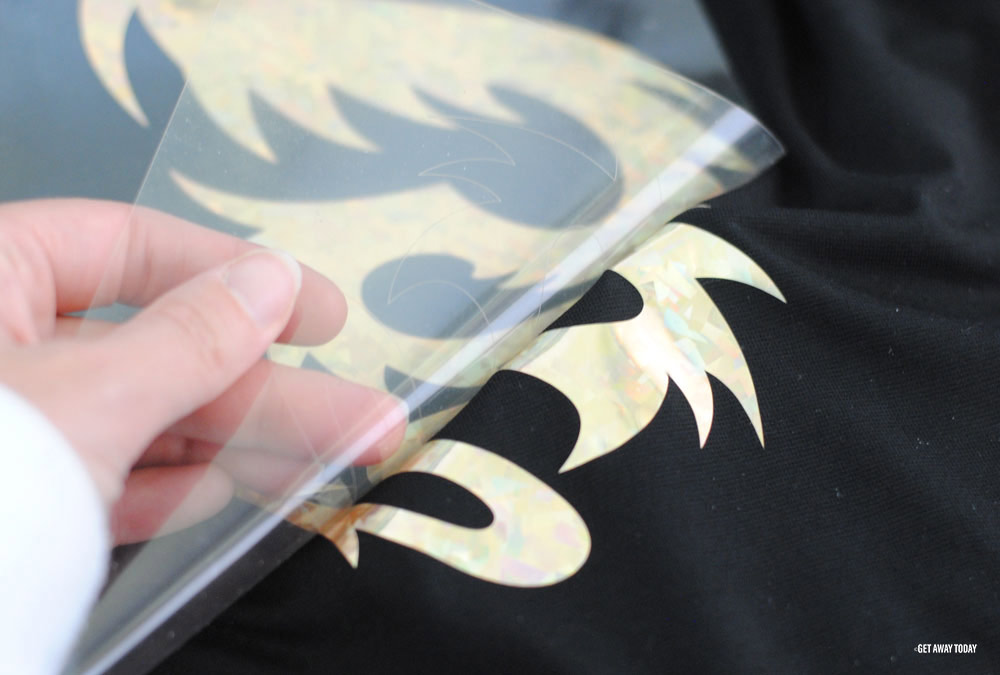 LEGO Ninjago Costume DIY - Mask
Then, it's time to sew the Ninjago mask. You can download the pattern here. This pattern is perfect for a toddler size. If your Ninja is a little bit older like mine, add about 1 inch all the way around the pattern when you cut! You only need to add the extra inch to the part that is NOT on the fold.
Fold the black fabric to make a section where the pattern fits. Lay the part with the eye hole along the folded edge of the fabric.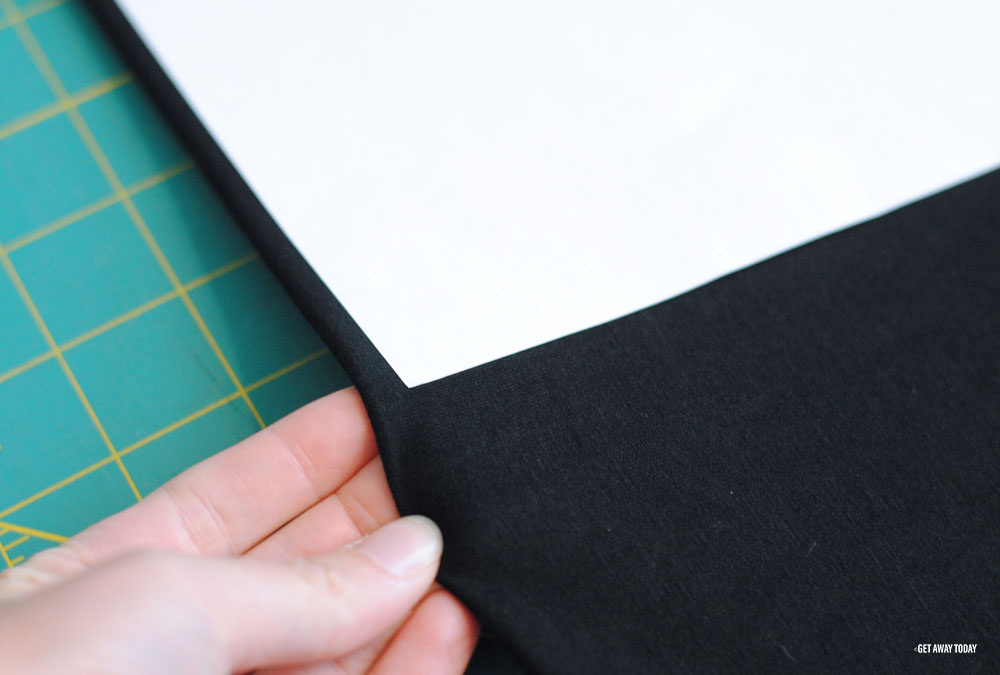 Pin it in place.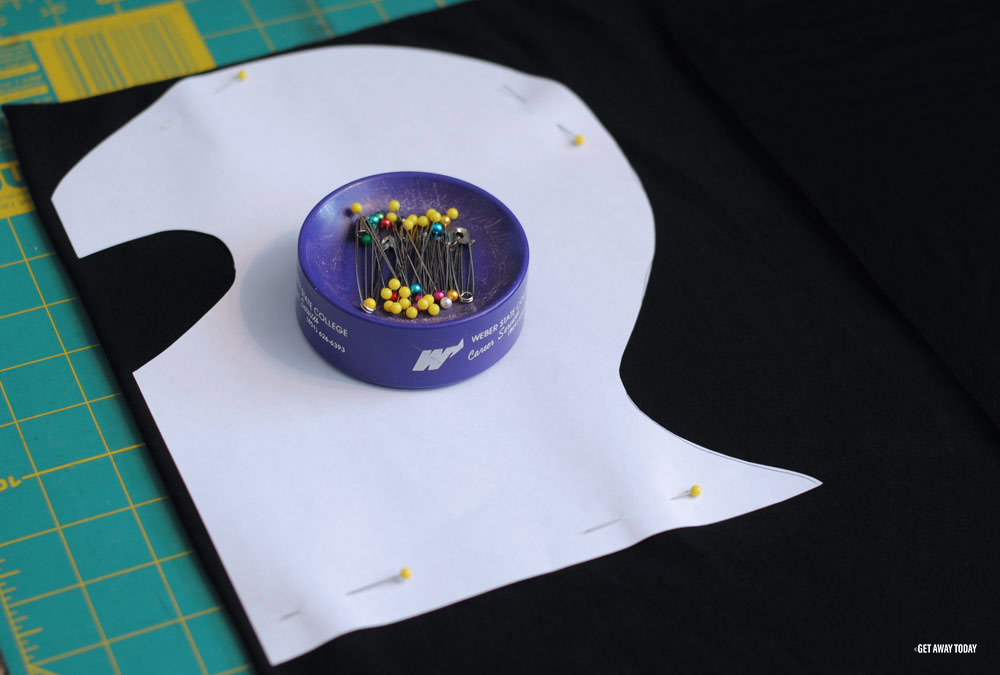 Then, cut around the edge of the pattern. Do not cut anywhere on the fold. Keep it intact.
Take the pattern off of the fabric and then put the pins back in place to keep the two fabric pieces together.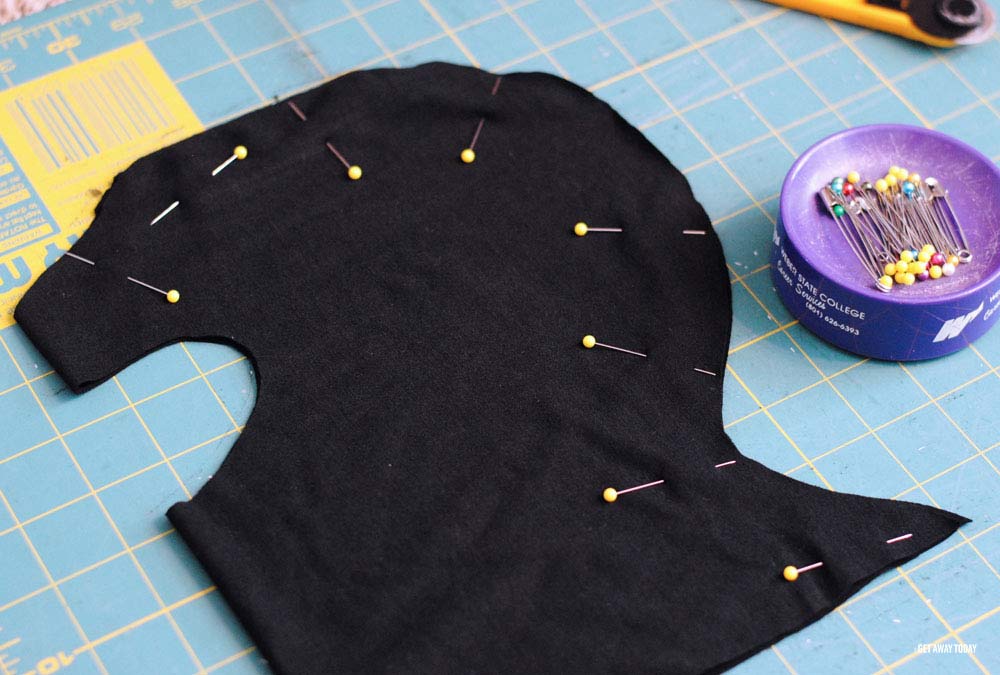 I used a serger to serge around the cut edge. If you don't have a serger then use a zig-zag stitch instead on a sewing machine. It will totally work. Don't pull the fabric or stretch it when you sew. Just let the machine feed the fabric through the foot on it's own. Do not sew the bottom closed! That needs to stay open to go over the Ninja's head.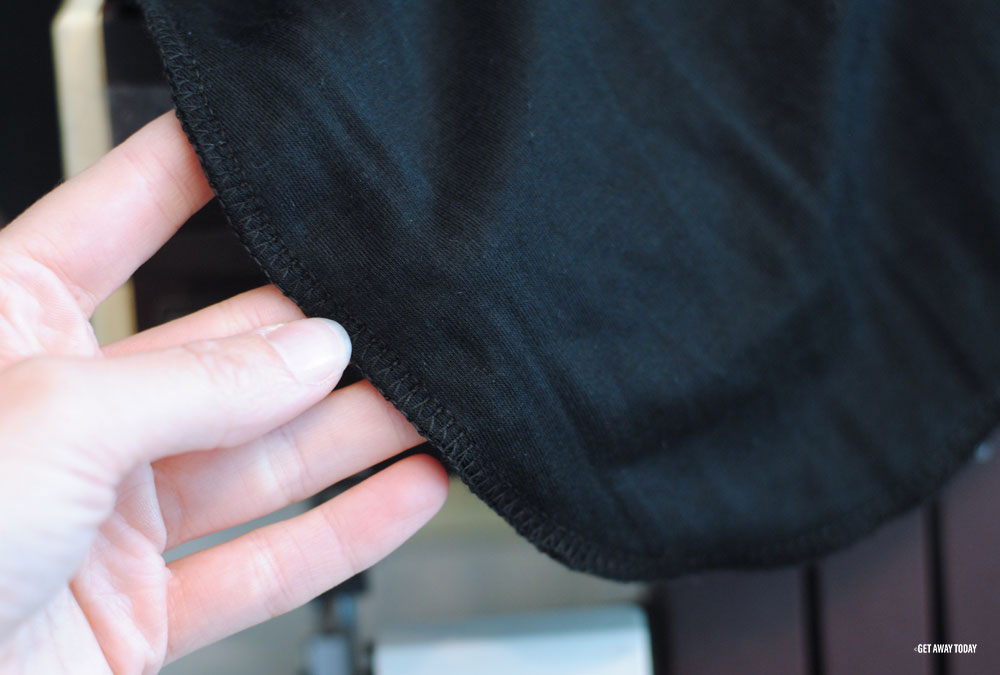 Turn the mask right side out and you are ready to rock and roll.

LEGO Ninjago Costume DIY - Green Wrap
The last part of the project is to add the green wrap. The LEGO Ninjago Loyd that we wanted to match had a black Ninja suit and then green wraps around his head and body. So, I cut the green knit fabric into long 4 inch wide strips. You can sew the strips together to make them as long as you need to get them around your Ninja. My little guy is pretty skinny!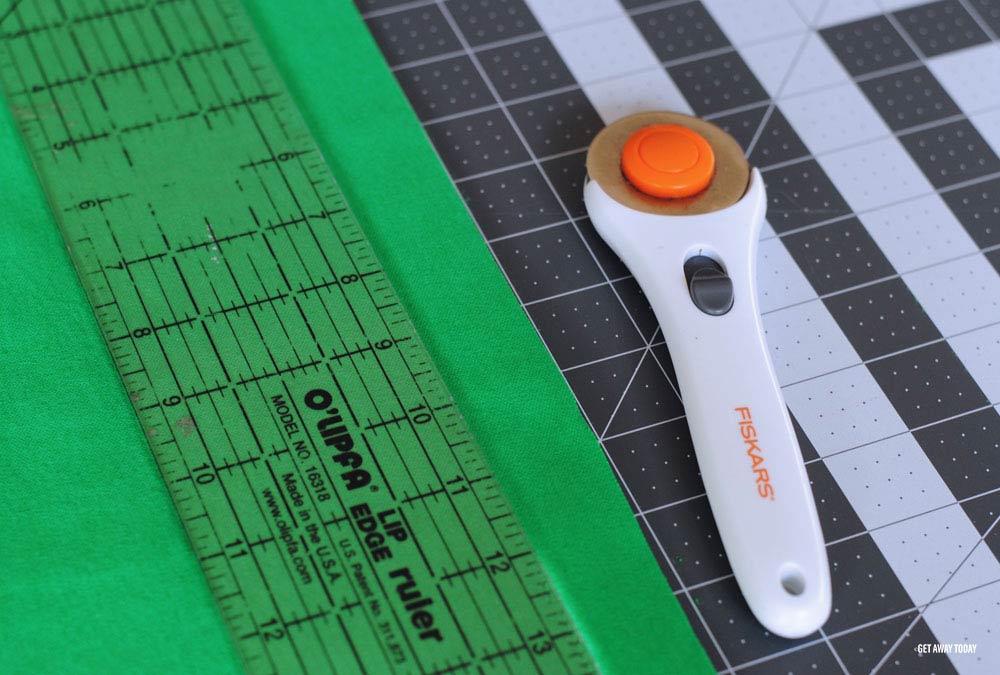 Tie the strips around the head mask and also wrap them around your little Ninja's body when it is time to get dressed up. I circled the strip around my son's mouth and then crossed up in the back and wrapped it around his forehead and then tied it in the back. Super fast and easy!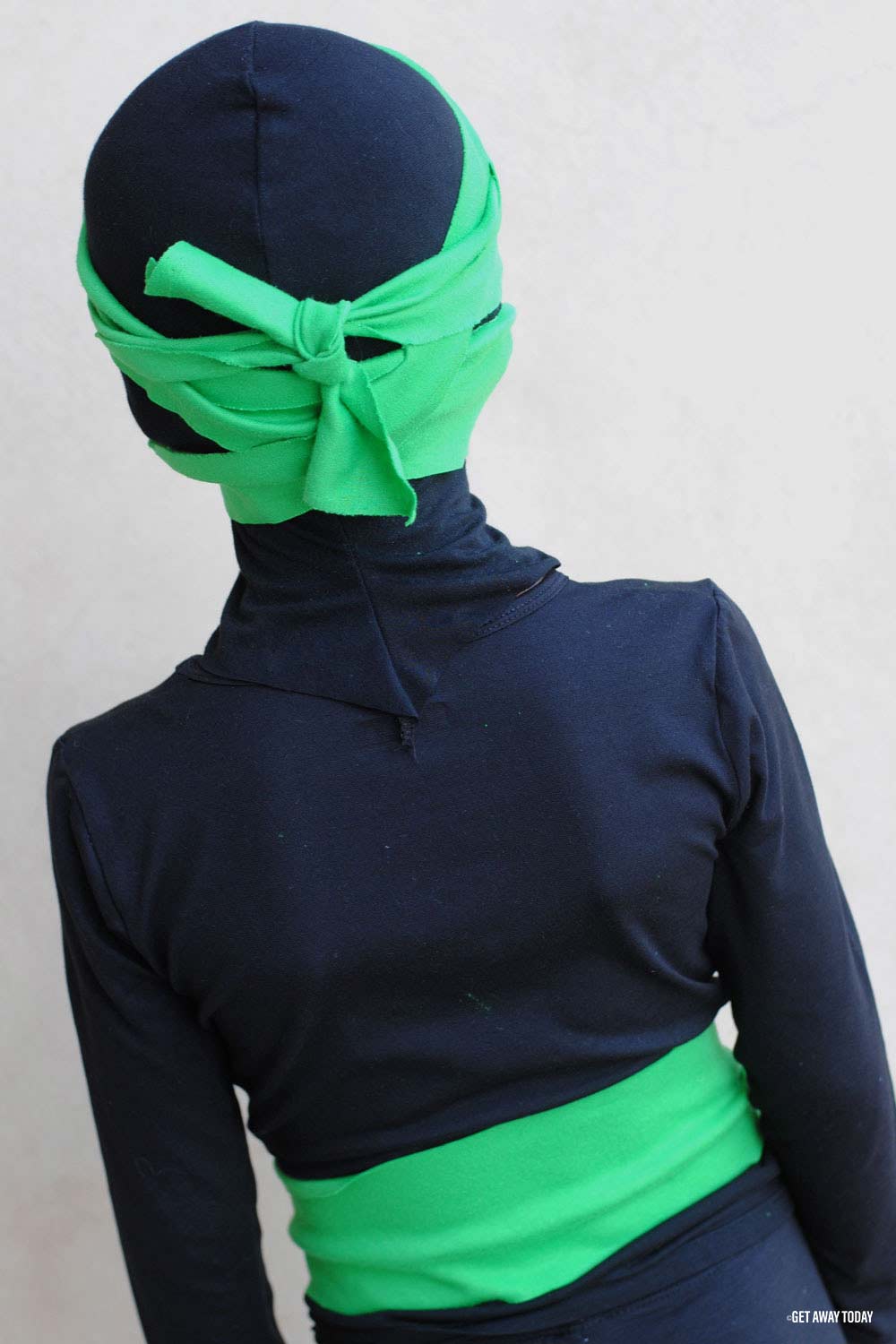 If you can't wear masks to school or to parties, the fabric is stretchy enough to pull down so it tucks under the chin. I'd say that works for a "no mask" situation.
To complete the look, add a weapon of choice! Loyd uses a sword so we picked this cool one up from Amazon. I hear the dollar store carries swords too!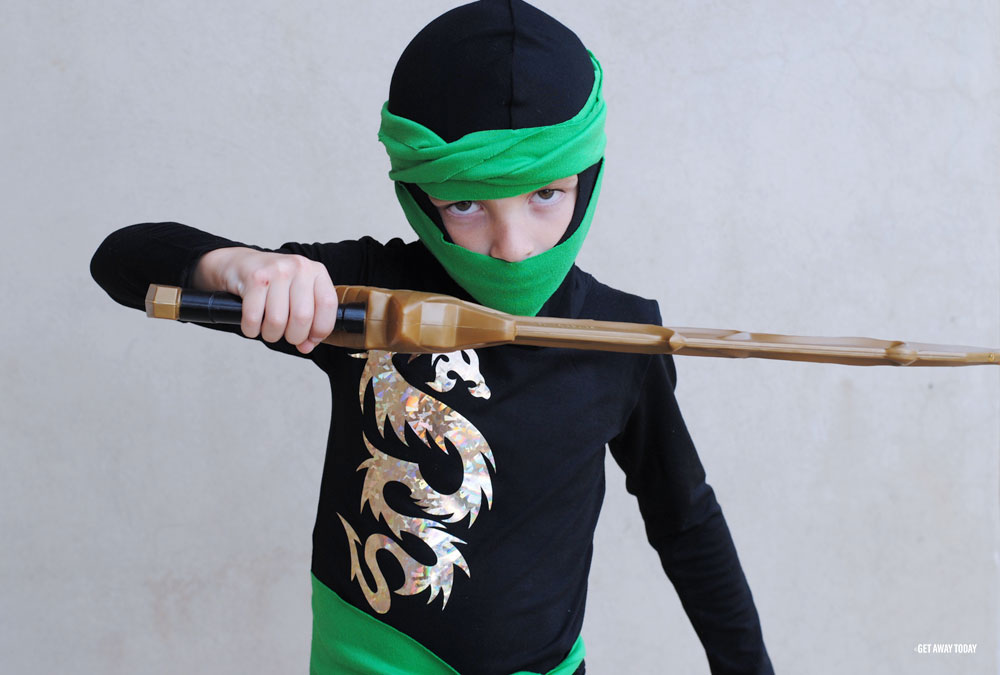 Did you know there is a Ninjago land in LEGOLAND? It's such a fun adventure for your own little ninjas! Let them tackle ninja challenges inspired by each of the Ninjago characters from their show. You can always book discount theme park and hotels with Get Away Today so you can take your family to experience LEGOLAND and see some of their favorite characters. Check out all our LEGOLAND packages online, or give us a call at 855-GET-AWAY. Book by October 31, 2019 and enjoy 2nd Day FREE savings for travel until December 31, 2019.