UPDATED MARCH 2019 One of the best and most memorable gifts you can give your family is a vacation! One of my favorite places to travel with my family is to California, and more specifically, Disneyland! It is so magical. And if you're a Star Wars fan, it just got even better with the all new Star Wars Season of the Force experiences available for a limited time at Disneyland! Plus, Star Wars Land Disneyland opens May 31, 2019!

Space Mountain is now Hyperspace Mountain as you join a league of Rebel X-Wing fighters to battle Imperial vessels. You can meet Darth Vader and Chewbacca in the Star Wars Launch Bay, and young Padawans can fight Darth Vader or the Sixth Sister Inquisitor if they're selected to be part of the new interactive show, Jedi Training: Trials of the Temple. So many Star Wars adventures await your family at Disneyland during Season of the Force!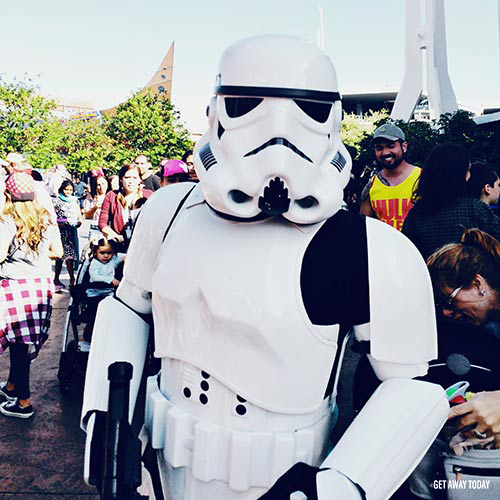 Are you looking for a cute and easy way to give your family a Disneyland vacation? Then you are going to be putting my name on the nice list for creating this post. It is a kid-friendly and budget-friendly way to announce your Star Wars themed Disneyland vacation! Stuff your Christmas stockings with the gift of fun, love, adventure, and lifetime memories - a Disneyland vacation with these easy and free Star Wars Disneyland vacation announcement gift tags.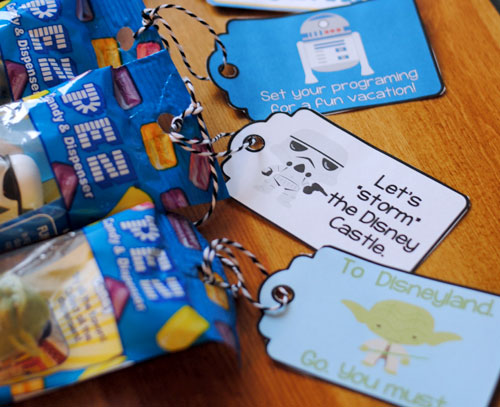 These gift tags were created to announce a Star Wars Disneyland vacation! To start, simply print the printable sheet with our free printable download. Each sheet will have one Yoda, one Stormtrooper, one R2-D2 and one Darth Vader.
Download: Star Wars Gift Tags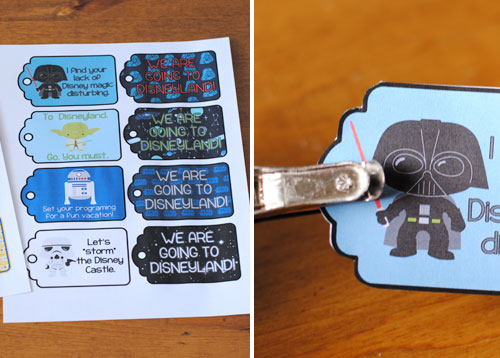 The tags are designed to have a front and a back. You can match up the tags however you want. Just glue the backs together and punch a hole at the top.
You can use these tags to go on ANY Star Wars themed merchandise... LEGO sets, action figures, or even fruit snacks. I picked PEZ candy dispensers to use with the tags, because they are cute, cheap, and there are so many to choose from! You can find practically any character you want. Star Wars PEZ dispensers are extremely popular right now because of the release of The Force Awakens. And if you don't want to go out in the crowds, you can order the PEZ dispensers right from your home with these links:

Darth Vader
Stormtrooper
Yoda
R2-D2

Attach the tags to your PEZ packaging (or other small gift item) with any kind of ribbon. I love bakers twine. It is so cute and practical. Tie the tag on the twine and hook it to the package. It's as easy as that!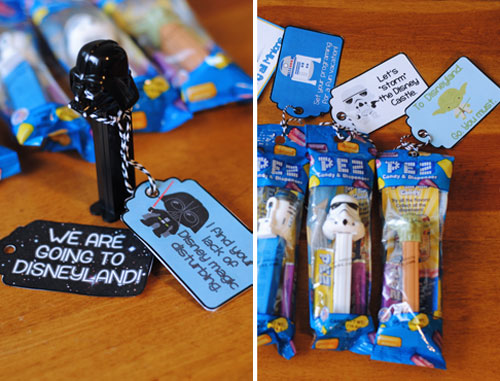 Now for the fun part... planning your Star Wars themed Disneyland vacation! You can book any of our Disneyland packages online or call our agents at 855-GET-AWAY. Take advantage of our discount Disneyland tickets, free night hotel specials, and lock-in your low price for just $125 down. May the Force be with you!

Check out these other articles:
Season of the Force is NOW Open
How to Be Chosen for Jedi Training: Trials of the Temple
Star Wars Disney Vacation Surprise Ideas Printables
Star Wars Vacation Countdown with Free Printable