There are so many fun new Frozen experiences going on at Disneyland right now and even more coming early next year! If you missed the announcement, catch up and read our article, More Frozen Fun Coming to Disneyland in 2015. It is such an exciting time to go! When we visited the parks recently, my little boy's favorite thing was the reindeer, Sven. The cute and friendly reindeer is not always in the spotlight, but he sure is popular around our house! When we found this adorable plush Sven at Disneyland, my little boy refused to put it down. We had to buy it. Every few minutes he would stop and say cheese with his new best friend, Sven. We took a lot of photos that day in the park! It made my heart so happy. There are so many reasons why Disneyland is the Happiest Place on Earth.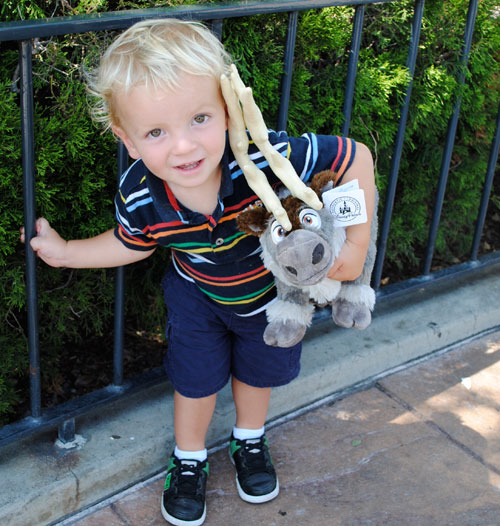 To bring a little bit of that happiness home with us, we put together some of Sven's Reindeer Games to play! We all know that reindeer like playing reindeer games. Just ask Ruldolf. I'm not sure if they really play Monopoly, but we came up with some games that I am sure Sven would enjoy! They would be perfect as part of a Frozen Birthday Party, a Christmas Party, to experience some Disney Magic at Home or to get excited about an upcoming Disney Vacation. Do you want to join in our Reindeer Games?

To start, it is important to look the part. Draw reindeer faces on each of the little deer who are going to play using a brown eyeliner pencil and a red lip liner pencil.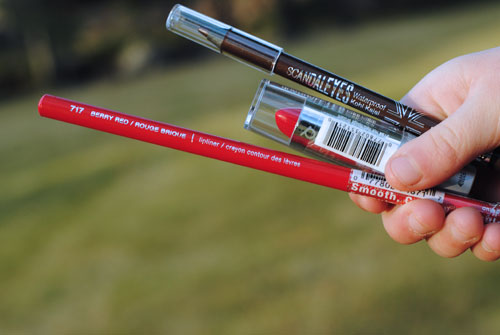 This reindeer face is so easy to create. Use the brown eyeliner to make antlers. Start the antlers just to the side of each eyebrow and head towards the forehead. Draw a red reindeer nose, just like Rudolf, onto the tip of each nose. Now, the kids can officially play Sven's Reindeer Games!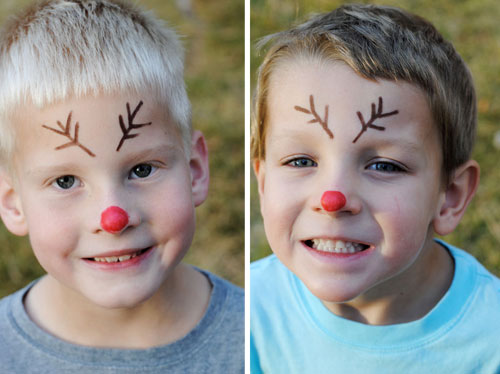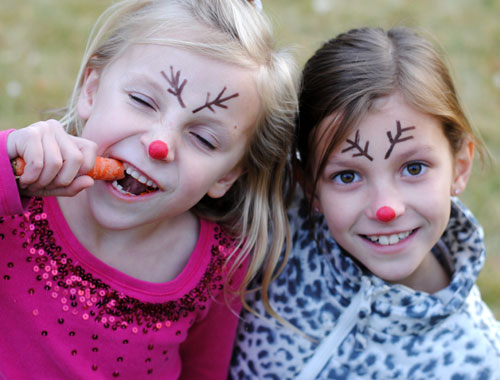 Food Fight

Who doesn't like a rowdy food fight? Sven's very favorite food is carrots. But, instead of throwing the food, your reindeer get to play with it! The pointed vegetable makes a perfect sword. Using carrot swords, players can sword fight each other or chase down pretend snow monsters to save Arendelle. The carrots also make for a tasty snack after all that running around and saving the day business.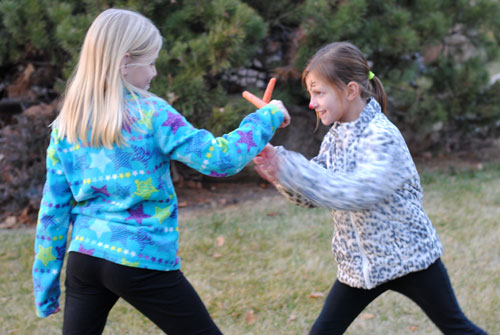 What Did Sven Say?

We don't have Kristoff around to let us know what Sven is thinking! So, we created a little game called, "What Did Sven Say?" to help us communicate with our reindeer friend. To play, have all of the participants sit in a circle. The person sitting next to Sven gets to make up something that they think Sven might say. It can be anything! Ours were usually pretty silly. That player whispers the sentence into the ear of the person to their right. Then, the secret continues to travel around the circle passing from player to player. The last person in the circle says the sentence aloud to the group. The phrase is usually totally different than what it started out as! Give everyone a chance to sit by Sven to be the leader. It is pretty funny to see how the words change as they pass from person to person.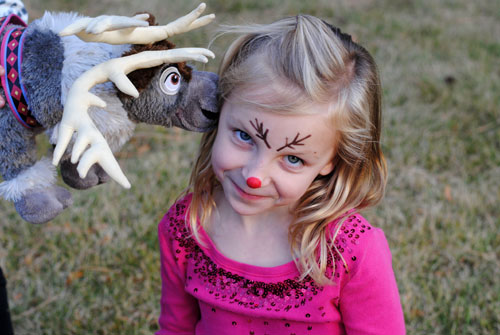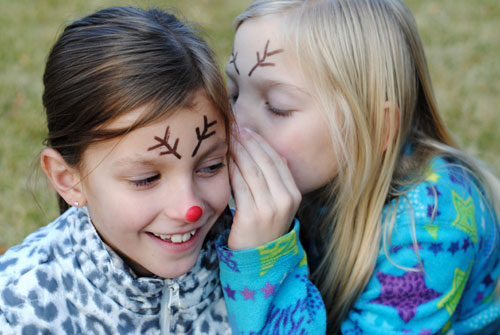 Toss the Trolls

Sven's friends aren't just reindeer! He is also friends with the Love Experts--the Trolls. We wanted to play with them too. First, make a set of trolls. I found a few rocks in my yard and glued on googley eyes. We added hair, made of various materials from my stash. Felt, feathers, furry fabric, yarn, or anything else that catches your eye works great! I used a hot glue gun to secure the materials to the rock. It is a pretty simple craft, so your kids can participate.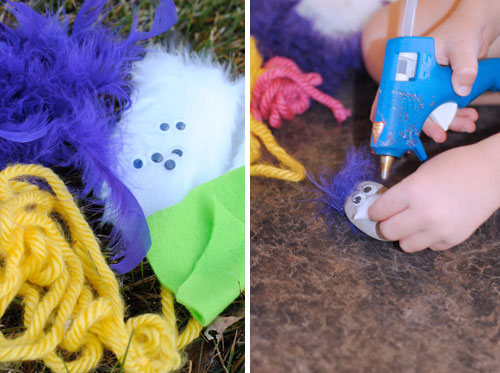 Once your trolls are ready, then it is time to to play Toss the Trolls. (If you are playing indoors, you could change it to Roll the Trolls.) Set Sven out a distance away from the kids. Then, each player gets to toss their Troll. The goal is to get close to Sven. The person whose Troll is the closest to Sven wins that round. The winner gets a point and they also get to move Sven to his next location. The players stand where Sven was in the previous round and toss towards Sven in his new location. Play continues until one person gets 5 points.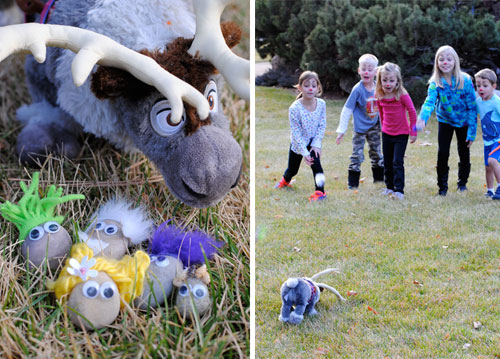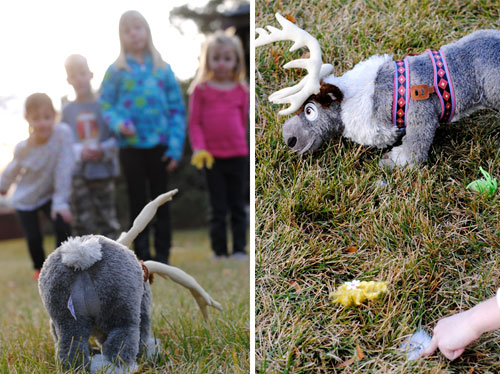 Save Anna!

Reindeer walk on four legs. So, we thought it was appropriate to have four-legged races! These aren't just any four-legged races though. It is a race to save Anna from turning into ice. Each player has to hold Anna on his or her back as they race from the starting line to the "castle," or, finish line. If Anna slips off their back, the player has to go back to the starting line and begin again. The person to get Anna to the "castle" in the least amount of time wins!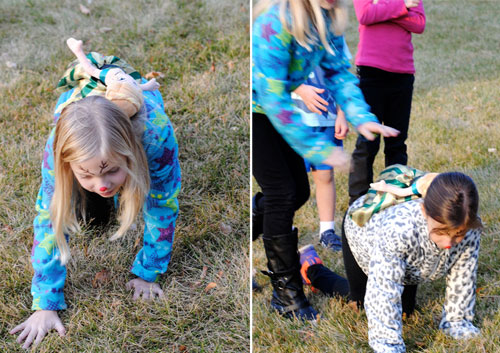 It is so much fun to play Sven's Reindeer games. We love Sven and everything Frozen! We hope you do too. And when you are ready play some reindeer games with the real Anna and Elsa, they will be waiting for you at the Disneyland Resort! Book any of our Disneyland packages online or call our Disney experts at 855-GET-AWAY.
Check out these other great articles: