Disney pins are unique souvenirs and pin trading is a fun hobby for any guest. Check out everything you need to know to start pin trading at Disney Resorts!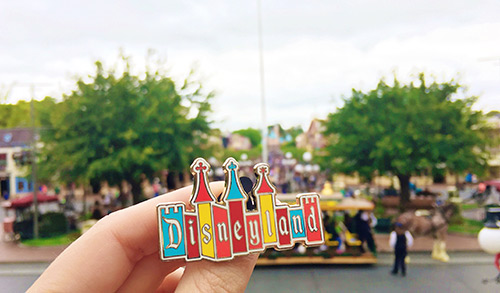 There are so many souvenirs to choose from to remember your Disney vacation. One of our favorites are Disney pins – not only can you begin a collection, but you can trade with other guests and Cast Members. If you haven't traded before or are looking for some tips, don't miss our 101 on pin trading at Disney Resorts.
Pins are the perfect souvenirs, with varying price points and the ability to find pins of nearly every character. The best part is that you can trade them between Cast Members and other guests. Being able to trade the pins allows people to add pins to their collection that are no longer sold in stores. Plus, it's a fun way to spend time waiting in line or while browsing the shops.
Pin trading at Disney Resorts has become even more popular lately, but we've noticed that a lot of people still don't know about it. Which is why I wanted to share the 101 on pin trading at Disney Resorts! As someone with a collection of over 50 Beauty and the Beast pins alone and more than 100 pins overall, I've learned a thing or two with each trip. While this contains a lot of information for beginners, I've also added a few tips that even the most seasoned of pin traders can use to their advantage.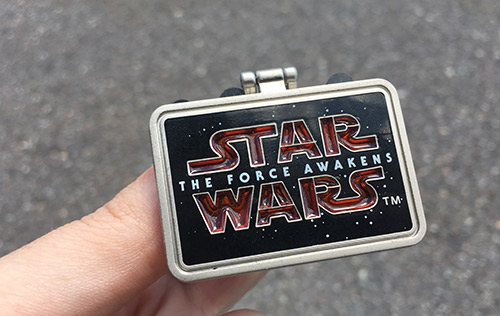 Pin Trading at Disney Resorts: 101
Where can I buy Disney pins?
You can buy pins all throughout the Disney Parks and even online on the Disney Store's website. Single pins, pin starter packs, mystery packs and more can be found in the shops and website. The price ranges anywhere from $8.99 per single pin to $25 or more for a pin starter pack. You can also buy Disney pins in bulk on Ebay and Amazon, but you have to be cautious. Many of the sellers try to sell unauthorized or fake Disney pins that aren't allowed to be traded. To be traded, the pin must have an official Disney Pin Trading logo and a stick pin closure.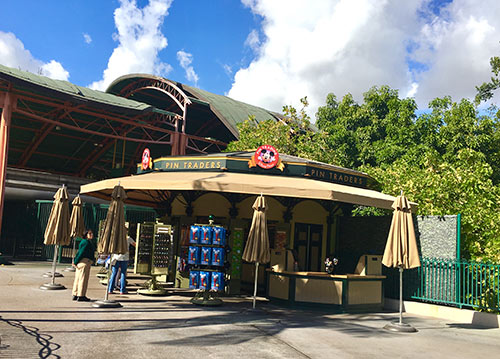 PRO TIP: The Little Green Men Store Command in Tomorrowland in Disneyland is one of the best places for buying new pins. They offer a huge selection and often carry pins you can't seem to find in other stores. If you're in Disney World, stop by Disney Pin Traders in Disney Springs. This pin shop is huge and has all kinds of pins, making it the perfect stop for any collection.
How can I save money on Disney pins?
With individual pins currently starting at $8.99 or more, pin trading at Disney Resorts has the potential to become an expensive hobby. There are a few ways to save per pin, though. The first is to purchase the pin starter packs or mystery packs. While you'll feel like you're spending more up front, you'll be getting a better deal per pin. I personally look for packs that have at least one pin I need for my collection. I keep that pin, but use the others to trade with Cast Members or other guests.
The second option is to purchase Disney pins in bulk online. People love this option since you can get pins anywhere from $1 - $3 per piece. Again, make sure to read all the reviews as a lot of online sellers try to sell fake Disney pins that aren't accepted for trading. It's important to realize that many of these pins will be duplicates and unpopular characters, so you probably won't keep any of these for your collection. However, Cast Members will accept almost any trade as long as it's an official Disney pin. It's a great way to have a lot of pins ready for potential trades – the worst thing is missing out on a great trade because you don't have any tradeable pins!
PRO TIP: Pay attention to what you spend per pin. By trading the pins you spent the least on for pins that cost more, you're saving! The value of a pin most likely won't be listed when trading, but even during your first visit you'll be able to tell which pins cost more.
Who can I trade with?
Pin trading at Disney Resorts is for both Cast Members and guests. You'll want to look for Cast Members who have lanyards displaying their pins. These lanyards can be around their neck or even hold a small square on their hip. If the lanyard is blue or black, anyone can trade with them. If the lanyard is green, those pins are reserved for trading with kids 12 and under. You'll also want to ask any shops you visit if they have a pin board or pin book. Many times, they'll have a book or board full of pins behind the counter that are just waiting to be traded.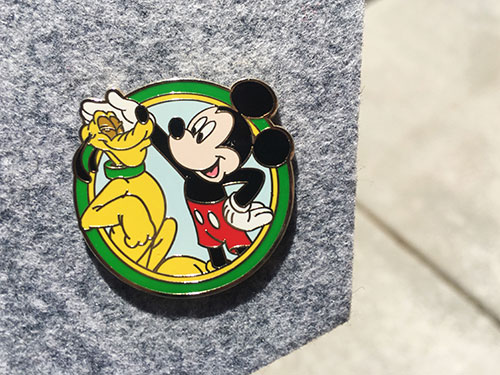 Guests can trade amongst themselves at the Disney Resorts as well. It's important to note that guests are not required to trade and can be more selective with which trades they select. Some may even want two pins in exchange for one special pin. Some may not want to trade at all. Either way, it's up to you when trading with other guests.
PRO TIP: If pin trading at Disneyland, look for Cast Members with measuring tape around their necks in Disney California Adventure. These CMs are known as haberdashers and have spent at least a few years of their Disney career working as pin specialists. They know the most there is to know about pins and usually have a better selection.
How do I trade Disney pins?
Now that we've mentioned who you can trade with, let's talk about how you trade. The first step is simply asking someone, whether a Cast Member or guest, if they want to trade. Guests can say no, but Cast Members will not. However, there are a few rules to follow.
Cast Members can only trade two times with each guest per day. They cannot accept any fake pins or pins that are already displayed on their lanyard, book or board.
Are there certain pins I should look out for?
That depends on what you're collecting. If you're sticking to a certain character or movie, then those are going to be the pins you want to be on the lookout for. There are also hidden Mickey pins and other series pins that are considered rare. Disney typically releases new series for their park each year, ranging from character themed to attraction themed. For the most information on rare pins as well as brand-new pins, visit Disney's pin site here. You'll find everything from new releases to the guidelines and rules of pin trading at Disney Resorts.
After I'm done pin trading at Disney Resorts, what can I do with the pins?
There are so many ways to display your pin collection after you've left the resort. I currently have my pins displayed throughout a few cork boards in my house. You could fill the board entirely or leave space to use it for notes and menus. Another option is to adorn a favorite hat or backpack with your pins. I've even seen shadow boxes and pennant signs filled with Disney pins before. Whatever you do, just make sure to display them!
You might want to display them while you are at the park as well. I personally like to keep a few favorites as well as some tradeable pins on a lanyard. A backup bag of tradeable pins is usually in reach in my backpack as well. I've seen other guests who keep their pins tucked away in their backpack the whole time or even have them attached to their bags and hats. Make sure your pins are secured tightly if you choose this option – you wouldn't want to lose any of your hard-earned pins! Lanyards can be purchased both in the parks and online, with options showcasing your favorite characters and designs.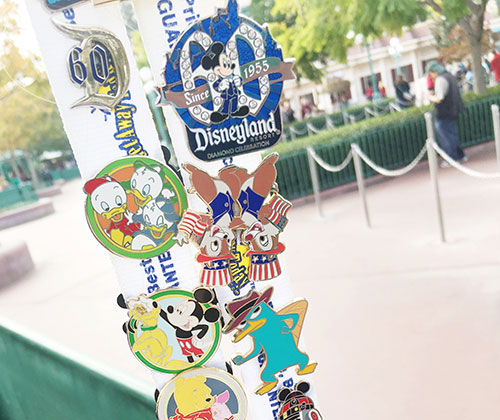 PRO TIP: Save on a lanyard by booking your Disney World or Disneyland package through Get Away Today. You'll get a free lanyard for every adult in your party and won't have to spend a dime. The lanyards are perfect for holding your ticket and pin trading at Disney Resorts.
Who's ready to trade some pins? Do you have any other tips or places you've found that offer the best Disney pin variety? Let us know below!
You can save money on your Disney vacation when you book with us. With everything from discount tickets and reduced hotel rates, we'll help you save even more to put towards pin trading at Disney Resorts. Book online or give our Disney experts a call at 855-GET-AWAY.

Check out these other great articles: