If you're looking for a value hotel within walking distance to Disneyland, don't book anything until you've read The Anaheim Hotel review our team put together. We break down everything from the rooms, amenities and location of this hotel near Disneyland.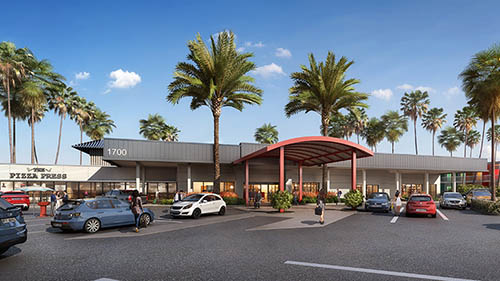 Photo courtesy of The Anhaheim Hotel
The Anaheim Hotel Review
If you're planning a Disneyland vacation, picking the right hotel can seem daunting. Luckily, that's where we come in. Our team visits the Disneyland Resort and the surrounding area annually. During that time we tour all of our hotel partners and review them for you. Our agents are well versed in Disneyland area hotels to fit any budget. Our review of The Anaheim Hotel will give you our first hand experience to help you decide if it's right for you.
If you have been to Disneyland recently, you may have noticed a retro looking two story hotel just across the street. That was likely The Anaheim Hotel. The hotel was one of the first to be built in the area and recently underwent a major renovation. While the hotel may not be the right fit for someone looking for a luxurious stay, it is fresh, fun, and perfectly comfortable, while being affordable at the same time. If you're a fan of 1960s decor and modern day comforts, it may be just the hotel near Disneyland you're looking for.
The Anaheim Hotel Review - Rooms:
The standard rooms at The Anaheim Hotel come in three main bedding types: one king, two doubles or two queens. If you have a preference, you'll want to make it when you book your stay. All requests are subject to availability at the time of check-in. With that said, making a request early is normally your best shot of getting what you want. As far as bedding goes, all of the rooms have crisp, white linens and pillow top mattresses. All of the guest rooms also have views overlooking the hotel grounds. Many of the guestrooms also have a patio or balcony. This is another request we recommend you make when you are booking your vacation.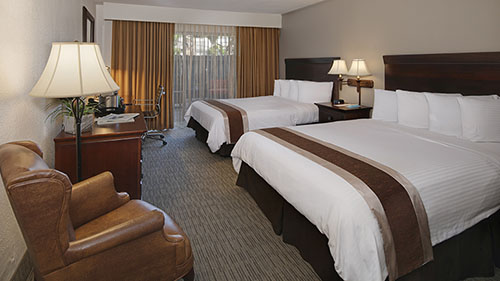 Photo courtesy of The Anhaheim Hotel
All of the guestrooms at The Anaheim Hotel also come with the standard hotel amenities that you expect like a coffee maker and Wi-Fi. The rooms also come with a mini refrigerator. While the rooms don't all come with a microwave, the hotel does have some available on a request basis. The Anaheim Hotel also offers some pet friendly rooms available for an additional charge.
The Anaheim Hotel Review - Amenities:
While not fancy, The Anaheim Hotel features some pretty awesome amenities that you may not expect from a budget hotel near Disneyland. For one, it is built on nine acres of beautifully manicured gardens. And, as we already pointed out in the rooms section of the review, all rooms come with a view of the grounds.
Additionally, The Anaheim Hotel has an Olympic sized swimming pool and an award winning restaurant. The hotel also features an expansive lobby with a bar, an on-site gym and a small business center.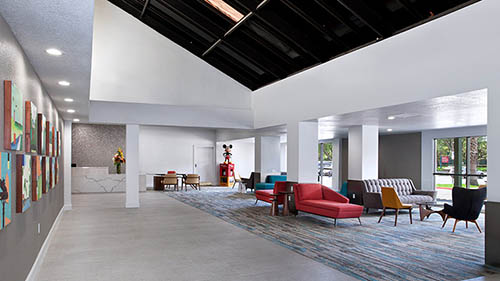 Photo courtesy of The Anhaheim Hotel
Anaheim Hotel Review - Pool:
The pool at The Anaheim Hotel deserves its own section on the review. Not only is the pool Olympic-sized, it features plenty of lounge chairs, umbrellas, and during the summer, even pool service from the bar. The pool itself is also heated year-round, and there's a good sized hot tub. It's a hit with families looking for a good pool area.
In addition to being a fantastic pool area, the pool itself has a fun story. When Disneyland was first being built over 60 years ago, hotels started to be developed as well. The owner at the time wasn't so sure if this whole Disneyland Park thing was going to make it. So, to make his hotel appealing and stand the test of time, he decided to add an Olympic-sized swimming pool. He figured that way people would still come to stay at his hotel, even if Disneyland ended up being a flop. Luckily for all of us, Disneyland is bigger and better than ever, and The Anaheim Hotel is still around as well.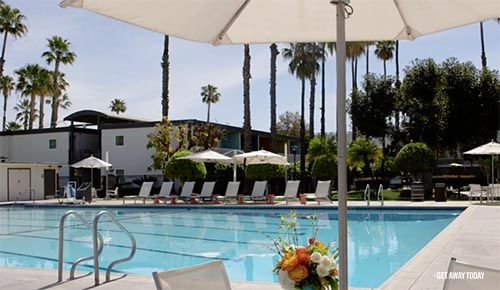 Photo courtesy of The Anhaheim Hotel
The Anaheim Hotel Review - Dining:
There are two dining locations at The Anaheim Hotel, The Front Room Lounge and the Pizza Press. The Front Room Lounge serves gastropub cuisine and a full bar. You'll find local brews, cocktails and wines.This location also offers room service and poolside service seasonally. And best of all, the Front Room Lounge hosts Happy Hour from 2-5pm daily. It's the perfect break from Disneyland so you can go back recharged for the nighttime parades and fireworks.
The award winning Pizza Press restaurant brings in many non-hotel guests; it's that good. The food is unique, affordable, and most importantly, delicious. The restaurant is decked out in a 1920s newspaper theme and guests can choose from popular menu items or choose to "publish" their own creation. Their gourmet pizzas and salads may have you coming back every night of your stay.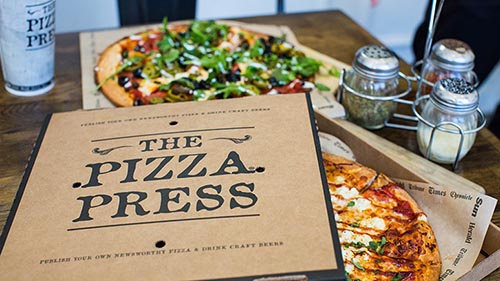 Photo courtesy of The Anhaheim Hotel
And as a bonus, the Pizza Press transforms each morning into the Charterhouse Kitchen for those looking for a breakfast menu. Here you'll find locally sourced and seasonal menu items for a fresh, delicious meal to start your day. There's everything from your classic breakfast items to more unique offerings like the vegan cornbread pancakes, chilaquiles or challah French toast. And since it's right across the street from Disneyland, the kids can even order Mickey pancakes.
The Anaheim Hotel Review - Location:
The location of The Anaheim Hotel can't be beat. It is a five-minute walk at most to the main drop off location for the Disneyland Resort. Not to mention, it is located directly in front of The Anaheim GardenWalk. It's one of the closets hotels near Disneyland we're proud to partner with! No matter which direction you face, you are steps away from world-class entertainment, dining and shopping. At the GardenWalk, you'll find places like House of Blues, California Pizza Kitchen and The Cheesecake Factory. Bubba Gump's, Johnny Rockets, Fire + Ice Interactive Grill + Bar and other fun restaurants can also be found here. There's also a bowling alley, a virtual reality gaming spot, an escape room and so much more.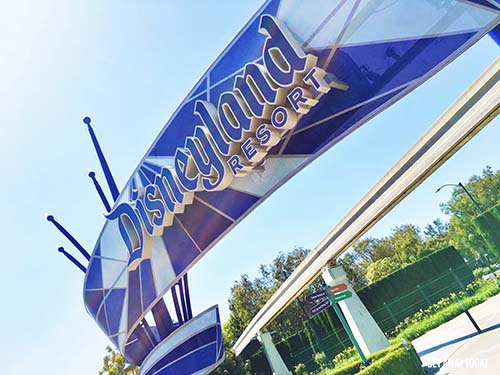 When it comes to location, you can't go wrong with The Anaheim Hotel. If you're driving a car that you'll be parking on-site, there is a $12 per night parking fee. However, if you don't need a car, it's pretty easy to see that this is truly one of the most conveniently located hotels in the entire Disneyland Resort area. Once you get to The Anaheim Hotel, everything you could possibly need is within walking distance.
The Anaheim Hotel Review - Wrap-up:
Overall, the thing that sets The Anaheim Hotel apart from so many other hotels along Harbor Boulevard is the value. You'll be hard pressed to find another hotel with so much to offer as far as amenities go. Again, it's not high-end, but in our opinion, that's a huge plus! The prices are reasonable, and if you can get one of our exclusive 4th night free specials, it's an even better deal. If you're looking for a clean, convenient location with conveniences without the frills, you'll love The Anaheim Hotel.
You can book The Anaheim Hotel online, or you can call our vacation experts at 855-GET-AWAY. Either way, we'd love to help you plan your Disneyland vacation.

Check out more Disneyland area hotel reviews: