If you've been looking for boutique hotels for your Mexico vacation, check out The Explorean Cozumel room tour we put together for #MovieMonday. We'll show you exactly what to expect at this secluded all-inclusive resort.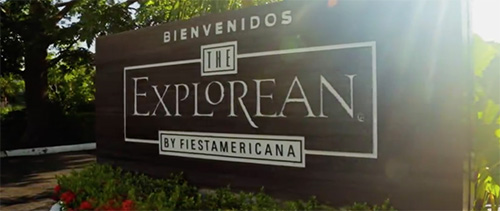 Photo courtesy of The Explorean Cozumel by Fiesta Americana
When you picture an all-inclusive resort, the first thing that comes to mind is probably not a boutique hotel. But that will all change after you see our room tour of The Explorean Cozumel. The Explorean Cozumel is an all-inclusive boutique hotel that is owned by the nearby Fiesta Americana. When you stay at The Explorean Cozumel, you not only get the exclusive boutique feel of that property, you also have exchange privileges at the all-inclusive Fiesta Americana.
Jennifer Dunyon, our Executive Vice President, recently visited this exclusive resort and we wanted to share it with you. You'll love the clean, fresh look and feel of the rooms at The Explorean. And, you may notice something intentionally missing from traditional hotel rooms. Watch our Explorean Cozumel room tour to find out what it is:
Aren't the rooms beautiful? We love everything about them. The bedding. The rainfall shower heads. The colors. The fact that there are no TVs. The guest rooms at the Explorean Cozumel truly create an atmosphere of relaxation and a place where you can completely disconnect from your regular responsibilities. And with only 56 total rooms at the entire property, you know that your room is getting special attention.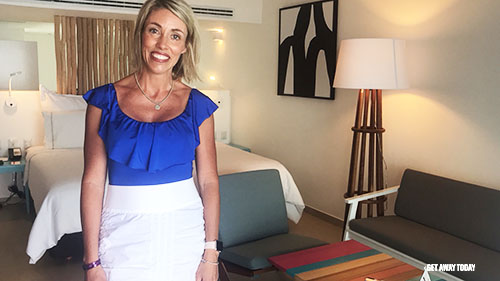 We especially love that you have exchange privileges with the Fiesta Americana Cozumel right next door. The exchange privilege gives you even more dining and activity options without losing out on the private and inclusive feel of the boutique Explorean. You can find our recent review of the Fiesta Americana Cozumel here - room tour included.
If personalized service, comfortable guestrooms with an ocean breeze and Cozumel sound good to you, we'd love to help! You can find our packages for the Explorean Cozumel by Fiesta Americana on our site by clicking here. Or, call our agents at 855-GET-AWAY for a personalized quote. There is nothing we love more than helping people make their vacation dreams a reality.

Check out more room tours from several of our top destinations: