UPDATED JULY 2019 To keep things running so smoothly and safely, Disney has some rules on what you can and can't bring into Disneyland. We are here to help you know everything on that list to have the easiest Disneyland vacation possible!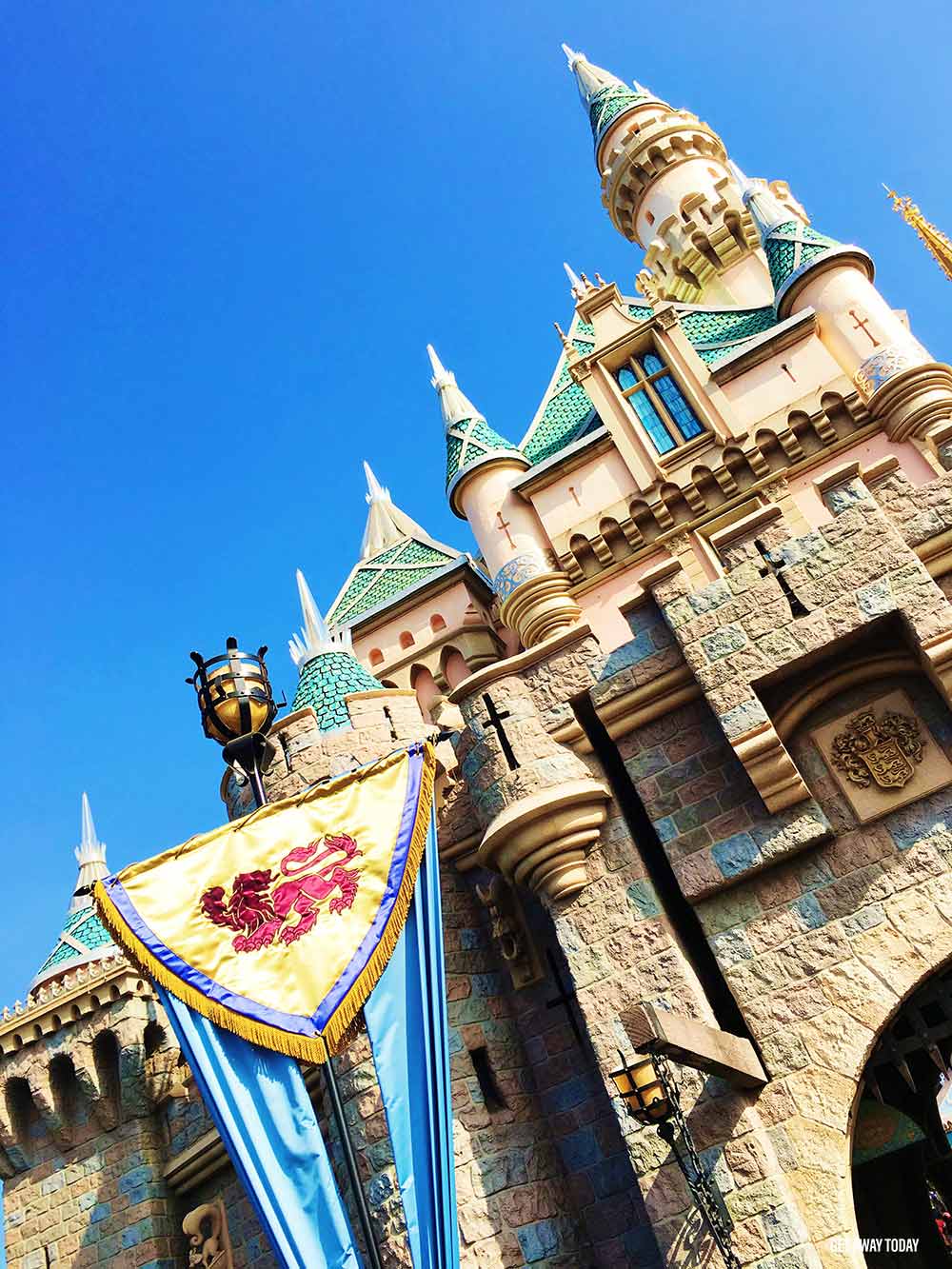 What You Can and Can't Bring into Disneyland
There is so much that goes into a Disney vacation and sometimes you don't even think about what you can and can't bring into Disneyland until the last minute. Well we are here for you! As of March 29, 2019, Disney released some updated policies regarding what you can and can't bring into Disneyland, and we're including them on our list below.
These policies apply to both Disneyland Resort in California, and Walt Disney World Resort in Florida. Security check points are located before the lockers. With that in mind, if you have any prohibited items, they will not be permitted past security, even if you planned on storing them inside a locker.
All of these rules are in place to help everyone have the most enjoyable park experience possible. We are going to go over the most important and frequently asked questions on what you can and can't bring into Disneyland:
[ Policies updated March 29, 2019; some policies in effect immediately, while some went into effect May 1, 2019. We will always keep this list up to date as Disneyland amends their policies: ]

What You Can't Bring into Disneyland:
As of March 29, 2019, we have added some new items to these lists. Some policies go into effect immediately, while others began to be enforced May 1, 2019. From here on out, all of these items are being enforced so be sure the following items are not packed in your bag!
Wagons – If you are looking to carry children or items, a stroller is the best option for you. All push and pull wagons, as cute as they may be, are something you can't bring into Disneyland. And truthfully, a stroller would be much easier to push around the streets of Disneyland than any wagon could dream of being. As of May 1, 2019, this applies to stroller style wagons as well.
Coolers – Other than soft sided coolers that are no larger than the 6-pack size, no coolers are allowed in the parks. If you want a cool drink, most quick-service restaurants will give you a cup of ice, free of charge! Then just pour your own drink in. If you have a medication or dietary restriction that needs to stay cool, talk to a Cast Member and they will be able to help you bring those items in.
Loose Ice - No loose ice or dry ice is permitted in Disneyland. Use a reusable ice pack, or see our expert tip below regarding what you can bring in to keep things cool.
Glass Containers/Alcohol – No glass containers or outside alcohol is allowed anywhere inside of the Disneyland Resort. But that doesn't mean you can't find alcohol there. If you are looking for some delicious and unique alcoholic beverages, head on over to Disney California Adventure Park for some awesome Disney inspired drinks you can't find anywhere else. Also be sure to check Downtown Disney and all of the Disneyland Hotels for some fun drinks!
As of May 31, 2019 when Star Wars: Galaxy's Edge opened in Disneyland, alcoholic drinks can be purchased at Oga's Cantina. See more about that in our blog post entitled Star Wars Land Disneyland: Everything We Know About Star Wars: Galaxy's Edge. For the glass container rule, baby food is of course the lone exception.
Smoke / E-cigarettes / Vaping - Smoking and vaping will no longer be allowed in either Disneyland or Walt Disney World. In the past there have been designated smoking areas, but they are no longer available inside either Resort. Designated smoking areas will be available outside, off-property, and smoking areas within Disneyland Resort hotels and restaurants can still be requested.
Selfie Sticks – The newest addition to the 'what you can't bring into Disneyland' list. These little beauties have been banned at Disneyland for multiple reasons, including people losing them on rides and causing a ruckus in the parks. So, find a friend with long arms and take some sweet Disneyland selfies the old-fashioned way. TIP: If you purchase an optional MaxPass, you will have access to unlimited photo downloads via PhotoPass. Any photos taken by a Disney photographer or on a ride with a photo experience will be free to download at no additional cost when you have already purchased a MaxPass for the day.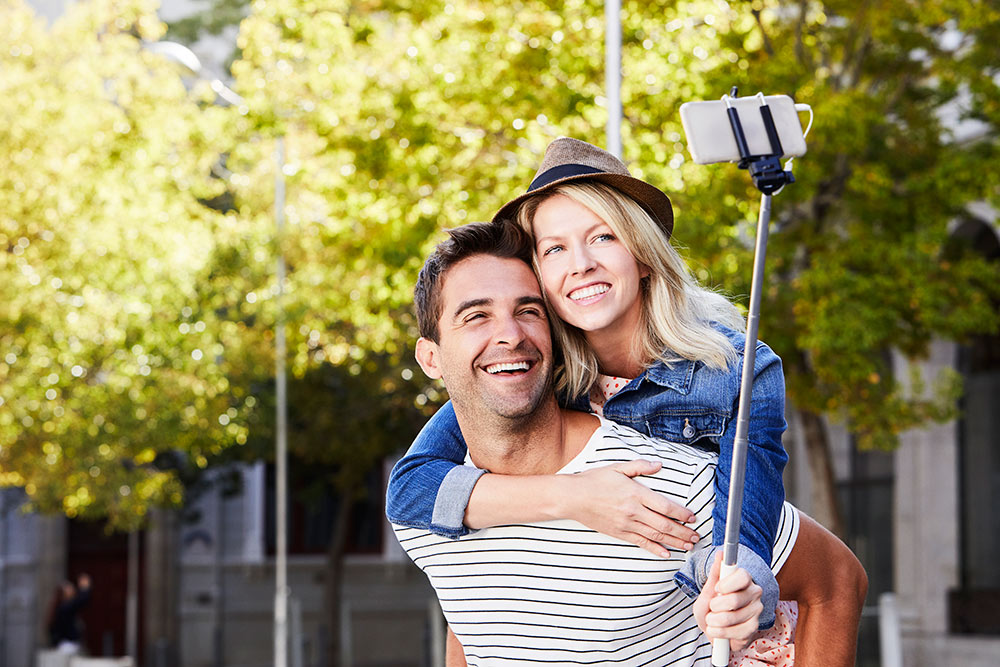 Suitcase – If you will be coming to Disneyland straight from the airport, you will need to make a quick pit stop at your hotel first. Even if your room isn't quite ready yet, all of our hotels will hold your luggage free of charge. That way, you can easily hop on over to the parks without worrying about what to do with your belongings.

Folding Chairs – These are just a big traffic jam waiting to happen. Other than cane-chairs and mobility aids, folding chairs are something you can't bring into Disneyland. When you are looking to sit down for a bit, Disneyland has provided plenty of benches and seating around the park for you to enjoy. And if you are looking to grab a bench during a parade, stake out your seat early! Some shows and events in Disneyland have FastPass options, which can be another good way to ensure you have optimal viewing spots. Another reason to purchase the MaxPass is that you can request FastPasses right on your mobile device for select attractions.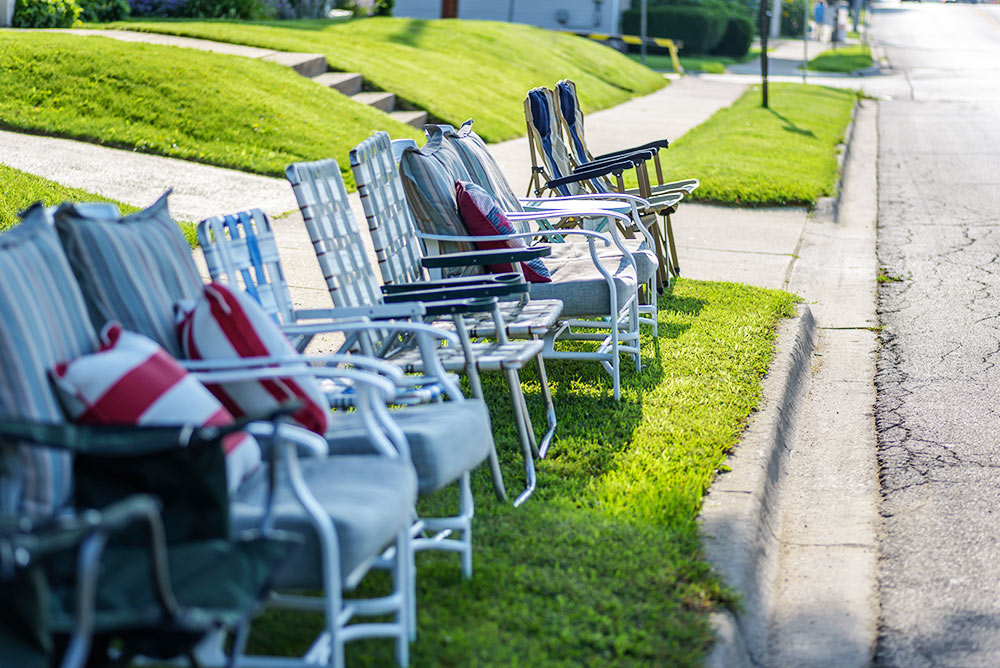 Masks / Adult Costumes – At any time of year, even during Halloween Time, masks are something you can't bring into Disneyland. For both adults and children, you will have to get creative if you are looking to dress up as that perfect Disney character. Disney bounding is appropriate for adults, while costumes are allowed for children year-round. Hats and face paint are a great alternative while still following the rules and getting into the spirit of Disney.
Skateboards – You can have your head in the stars, but you will need to keep your feet on the ground at Disneyland. Skateboards can be dangerous to the rider and other guests in the park. But if you are looking for a cool place to skate, California is known for some rad skate parks in the area.
Wrapped Gifts – If you are going to Disneyland for a birthday party or any sort of celebration and will be bringing someone a gift, be sure to keep it unwrapped. As long as the Cast Member at security can see what the gift is, and it is something allowed in the parks, you are golden.
Speakers - Disneyland does not permit items that may be disruptive, so error on the side of caution and leave Bluetooth speakers in the hotel room or at home.
Pepper Spray - Since this is considered a weapon (albeit one for self defense) pepper spray is not allowed in Disneyland.
Matches / Lighters - If you want to celebrate a birthday in the parks, you can bring your own candle for a cake or cupcake, but a match will need to be requested from a Cast Member (most likely in a restaurant). We actually suggest having the birthday celebration in a dining setting where you can request a special, birthday related treat.
Shopping Baskets - While compact, foldable push or pull shopping baskets might sound like a good idea for Disneyland, they are not permitted. Stick with a stroller for pushing things through the Resort.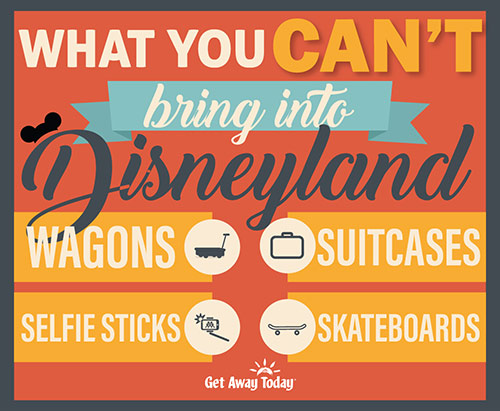 Strange Things You Can't Bring into Disneyland
To make this list as comprehensive as possible, we thought we would include some of the stranger items on the list of what you can't bring into Disneyland just in case. (We all know these items are on here for a reason.) Here is more of what you can't bring into Disneyland:
Unicycles/Tricycles/Motorcycles
Sporting Equipment
Sling Shots
Stink Bombs
Airhorns
Musical Instruments
Pots and Pans
Fire Extinguishers
Pogo Sticks
Cremated Remains
Weapons (including items that could be used as items)
Because security is now located before the lockers, you will want to double check everyone in your party before you leave your hotel to make sure no one has accidentally brought any of the banned items.

What You Can Bring into Disneyland:
Strollers – I have seen a stroller save the day at Disneyland more than once. You are more than welcome to bring your stroller from home or rent one a single or double stroller right at Disneyland! Not only are they great for pushing around tired children, strollers are also perfect for storing snacks, drinks, souvenirs and whatever else you can think of! Strollers brought into the Resorts must be no larger than 31" (79cm) wide and 52" (132cm) long. Measure from the very widest parts of the stroller to find its maximum width and length and check if it fits. These dimension apply to many common single and double strollers. Walt Disney World Resort currently rents single and double strollers by the day or by length of stay. Double stroller rentals will soon be available at Disneyland Resort as well.
Food – Snacks and pre-made foods (like sandwiches) are all allowed into Disneyland. Plus, they are a huge life and money saver! When your kids get hungry in the middle of line or you are just looking for something to hold you over until you are ready for a corn dog, snacks are invaluable. Also, admittedly, Disneyland food has never been known for its value (but it is all so delicious!). So if you are looking to save a bit of extra cash, bring in your own pre-made meal for a few lunches or dinners of your vacation to help out!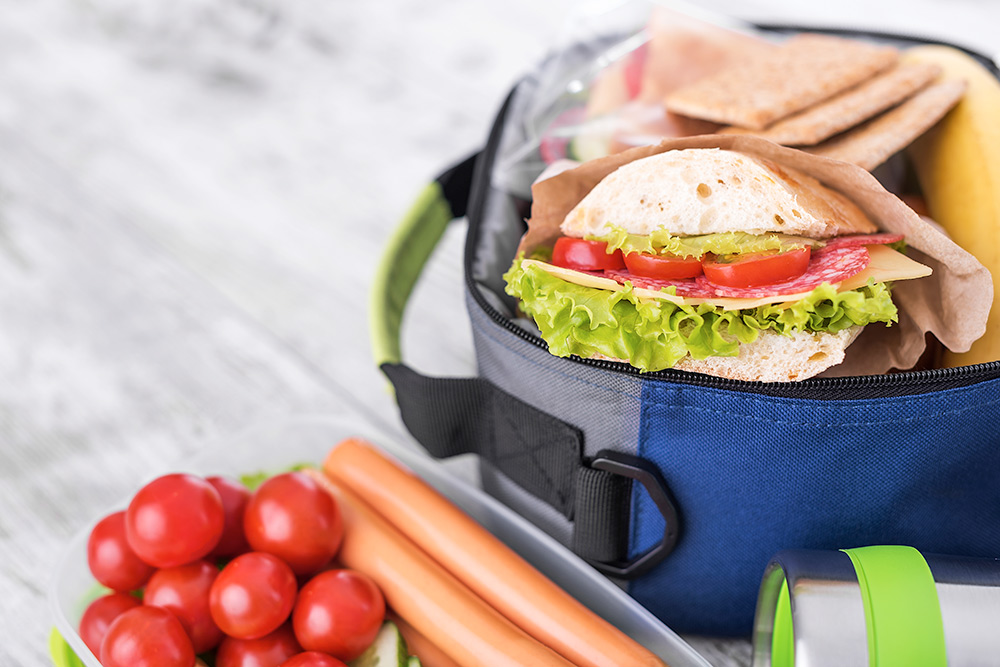 Beverages / Water Bottles – You will always be doing a lot of walking at the Happiest Place on Earth and it is important to stay hydrated. Both non-alcoholic drinks and waters are totally something you can bring into Disneyland, and even encouraged! It is so nice to have a drink on hand whenever you need to quench your thirst. You can bring refillable water bottles and refill them at water stations throughout the parks.
Contained Ice - If you need to keep things cool, here is a tip from a guest regarding ice: "Freeze a few water bottles and put them in the bottom of your cooler. Then as it melts, you have an ice cold water!" The bonus here is that not only do you align with the no loose ice policy while still keeping things cool, but you end up with a cold drink after a few hours. Thanks for the genius hack, Carlie D.! Another guest also suggested putting the frozen water bottles in a backpack to no only keep food items cool, but the backpack wearer as well. You guys are experts. You can also bring ice contained in a Ziploc bag, or use an ice pack.
Blankets – Perfect for when you need to save a spot for your favorite Disney Parade or warming up on a cool evening or even drying off after a ride down Splash Mountain. Blankets are a great when you have a stroller or bag to make it easy to carry around!
Bags/Backpacks – The nice thing is, you can bring your bag on every single ride at Disneyland! With the exception of Silly Symphony Swings, every ride at Disneyland will have a small pouch for you to stow your backpack, or space at your feet. For Silly Symphony Swings, you can leave your bag where you queued so you can pick it up after the ride. You never have to worry about getting a locker or having someone stay behind on the ride. Your trusty bag can take on all the adventures Disneyland has to offer with you! Just when you arrive at the Disneyland Resort, have your bag ready to be searched as you enter security.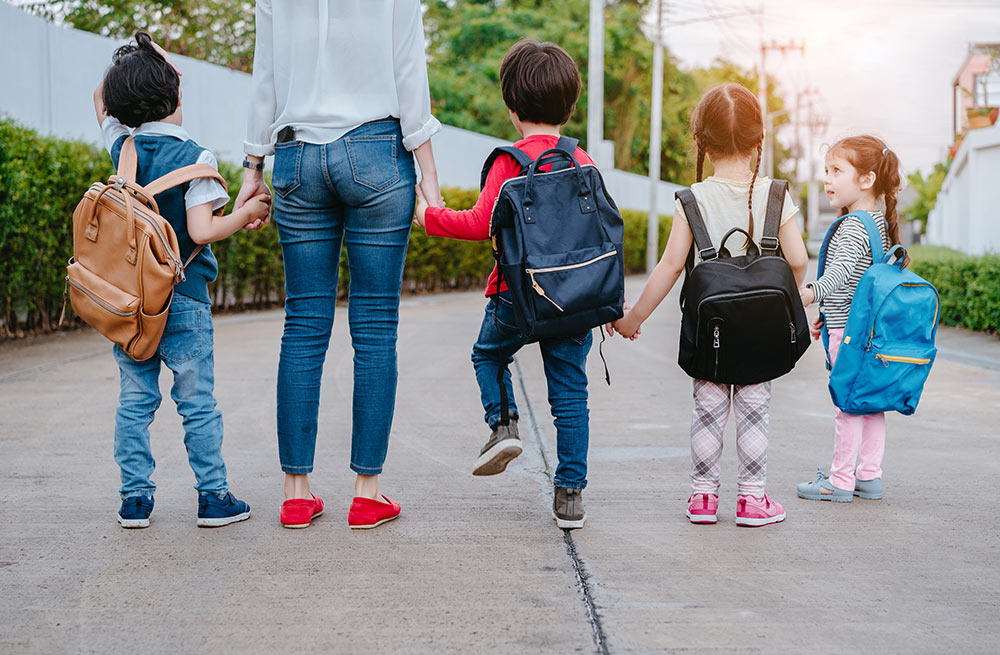 Medication / Dietary Needs – We have stated this above, but will reiterate it here: Disneyland wants everyone to have the most magical vacation. So if you need any specific medications, food or liquids, Disneyland will make the exceptions you need to have a safe and healthy visit.
Cameras – As long as it is not a large, professional camera (think a TV Camera), you are free to bring your personal camera with you throughout Disneyland. And we highly recommend it! There is nothing quite like looking back on all of your Disneyland vacation photos.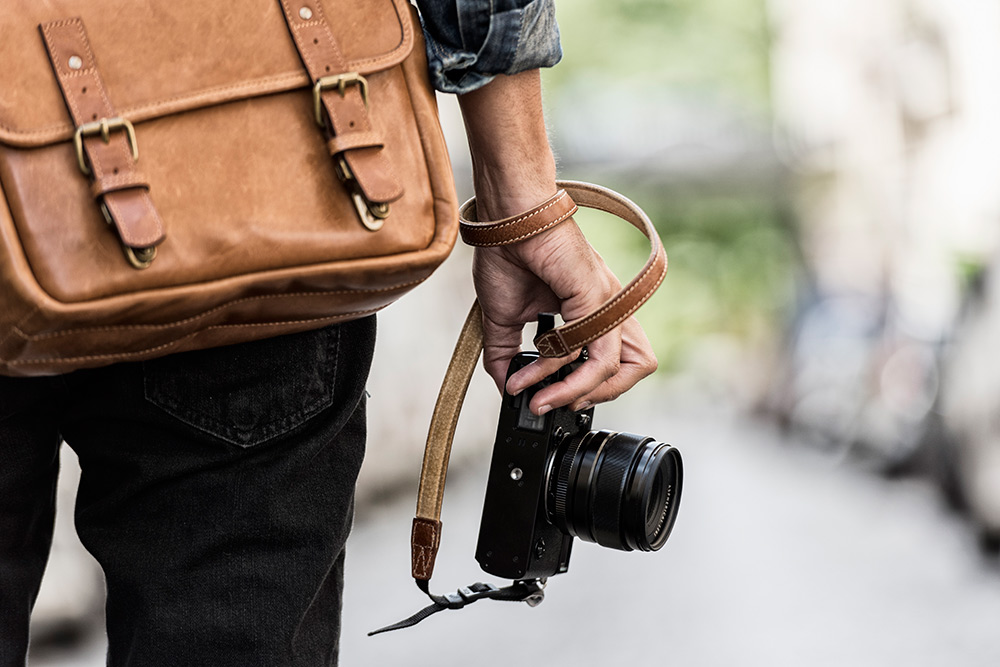 Service Dogs – I once had the honor of riding Pirates of the Caribbean with a service dog. That hard-working professional pup enjoyed every minute of the ride, all while helping their owner have the best experience. Disneyland is fantastic about any sort of special needs you, or the people travel with, might have. Let the Cast Members know at City Hall on Main Street U.S.A. if there is any additional services you might need. They are always happy to help.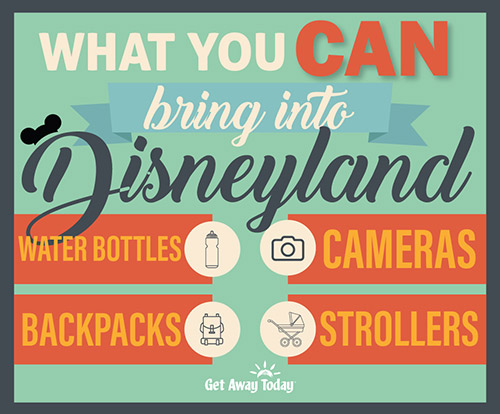 Make up - Many guests inquire about bringing make up into the park. While there is nothing on the Disneyland website regarding make up, we recommend having it in clear plastic containers so it is easily identifiable when bags are checked at security.
Glo Sticks - These add fun to the Disneyland Resort when you are there as the sun sets or the lights go down. They are allowed in the Resort.
Battery Packs - If you need to bring one to charge your phone, laptop or other electronic device, you are welcome to.
Portable Mini Fan - You can bring a battery operated, portable mini fan into the park to help you keep cool.
Umbrellas - Since Disneyland in the rain can be a great experience with less crowds, we absolutely do recommend bringing an umbrella into Disneyland! They are allowed and encouraged.
What You Can and Can't Bring Into Disneyland Wrap-Up
We want your Disneyland vacation to be as smooth and stress-free as possible. If you have any questions on any of the items mentioned above on our list of things you can and can't bring into Disneyland, or if there is anything we missed, either leave us a comment below, call our Disney experts at 855-GET-AWAY. You can also check Disney's official list of what you can and can't bring into Disneyland on disneyland.com. We would love to help however we can with what you can and can't bring into Disneyland and beyond!
Other Disneyland Planning Resources
If you're still in the process of planning your Disneyland vacation, be sure to check out our Ultimate Disneyland Planning Guide. Here you'll find details on the difference between Extra Magic Hour and Magic Morning. You'll find out how to use MaxPass, and information on all of the seasonal celebrations. Everything you need to know and more are all at your fingertips with Get Away Today.
Booking your Disneyland vacation
For the best deals on Disneyland tickets, hotels near Disneyland, service and more, Get Away Today is your one stop shop for your vacation needs! Book your Disneyland package online or call our travel agents at 855-GET-AWAY.

Check out these other great articles: