The pleasures of a Disneyland vacation are many – the weather, the rides, the park sights, the Disney characters, gorgeous hotels and more. It truly is a fantastic experience, whether you're traveling with a big family or just you and your beloved. And you're not alone – more than
16 million people visited Disneyland
in 2013. To make the most of your Disneyland experience, we've pulled together the top tips and tricks.
Tips for Families With Small Children
Traveling with small children isn't easy, but it can be easier. Here are some tips to make it easier on you and the little ones.
1. Rent a park stroller or bring your own.
Rental strollers are available at Disneyland for park use for just $15 a day, which is well worth it. Think your toddler or preschooler is too old for the stroller? Think again. After a long day, you have a choice — push them in the $15 stroller or carry them. Which sounds better?
2. Get a stroller pass. This is a biggie, so listen up! One way to avoid lines and ride the rides your younger kids cannot is to ask for a stroller or rider switch pass. Then you or your significant other goes through the line with the older kids. One stays back with the baby while the other rides. When they return, you switch and skip waiting in line the second time. Up to three riders can use the stroller pass to ride at a time, so older kids love getting to ride twice in a row.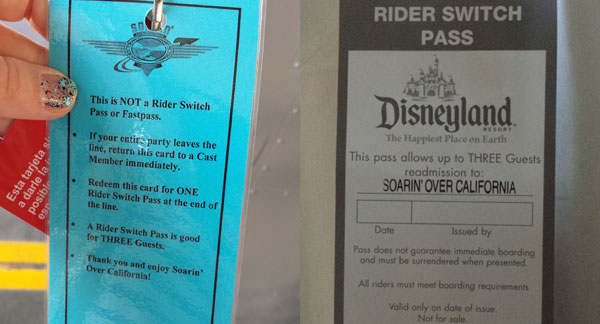 3. Retreat to the baby center. Need a few minutes away from the hustle and bustle? Need to feed your baby or change them in a clean, calm place? Then head to the baby center. You can also get necessities like Band-Aids here and other things you may have forgotten for your little ones. It's actually a perfect place to hang while the older kids are using the rider switch pass mentioned above.
4. If you can splurge, reserve a Disney Character breakfast or dinner. Skip over this tip if you're trying to get by on the cheap, but if you can swing it, your kids will love eating with their favorite characters. Plus, this will save you time waiting in lines to meet Characters since they come to you.
5. Enjoy shorter lines during the evening shows like Fantasmic. As cool as fireworks and parades are, it might be a bit much for the smallest kids. That said, take advantage of the distractions and go ride the rides while the lines are short.
6. Staying at a Disney hotel? Get into the parks early every day, watch a Princess Goodnight story in your room and have a character call in the morning. We firmly believe that the upgrade to a Disney hotel, is worth the extra perks for sure. Kids love the themed swimming pools and you can easily walk back to your room for a midday nap.
7. Check the height requirements on rides before waiting in line. Height requirements are strictly enforced for your family's safety. You don't want to spend park time consoling a child who isn't allowed on an attraction.
Tips for Kid-less Couples
Disneyland isn't just for families with kids. The fact is you can have a great time as a couple. Here's how:
8. Go when kids are in school.
Peak times for Disneyland
are easy to figure out—if kids are out of school, the parks will be busier. So first and foremost, take your vacation during the school year.
9. Hit the Cove Bar overlooking Paradise Bay in Disney California Adventure. You don't have to be 21 to go to the Cove Bar, but you do have to be 21 to sit at the bar. So escape all the children and cool off with an adult beverage while enjoying awesome views.
10. Try the single rider option. Sure it's not the most romantic thing in the world, but if you go in the single rider line, things move much faster. You'll still stand next to each other in line, you just won't be sitting next to each other during the actual ride. A lot of times you'll still end up in the same ride car, just not in the same row. It's also a great option if one of you loves roller coasters and the other would rather sit it out.
11. Get help if you're popping the question. Looking for the dream proposal? Make it a bit easier for her to say "I do" by calling in advance and getting help arranging things.
12. Ride the best rides early or late…and rest midday. It's hard to get kids out early and they're ready for bed by evening. So take advantage and ride the rides early or late. Better yet, be sure to get a 3-Day or longer ticket with Magic Morning and get into the park an hour before it opens to the public.
Money-Saving Tips
Traveling on a budget? You're not alone. Here are a few tips to help you have fun at Disneyland without spending more cash than you can handle.
13. Stick to the more affordable souvenirs.
Keep your eyes peeled for low-priced character head pens, key chains and Mickey-head lollipops. You'll often find gifts for $5 or less. Better yet, stage a few photos – they'll go a long way toward meaningful memories.
14. Buy your t-shirts elsewhere. Purchasing a shirt in the park is going to set you back a good deal. However, if you do your shopping beforehand, you can find much better deals on character tees in big box stores. Or, if you're looking for princess dresses, you can get them from Get Away Today at a fraction of park costs before you go. Most dresses start at $60 a piece at the parks.


15. Eat a big breakfast before your day at the park. Eat a good breakfast before you head into the park, since buying meals within can break the bank pretty easily. Book a hotel that serves a free continental breakfast or even a breakfast buffet. This allows you to eat big before you go to the park, and spend more time having fun on rides.
16. Pack as many snacks as you possibly can. Disneyland allows guests to take snacks they packed in their bags into the park – just no glass containers or full-size coolers. So you might consider packing some non-perishable snacks to get you through to meal times.
17. Ask for water in a soda cup. Thirsty? Ask the service stands for cups of water, rather than buying a soda. It's better for you and the kids, and free means it costs less.
18. See if you can find a discounted Disney gift card before you go. A little Googling beforehand can land you some Disney gift cards at discounted prices. If you have to spend money on souvenirs, this can help ease things a bit.
19. Book through a travel vacation package site. Save time and money by booking your Disney vacation with Get Away Today. We handle the details for you, and find discounts you won't find elsewhere - like free night specials, discounted Disneyland tickets and sometimes even exclusive free parking and breakfast.
Other Helpful Tips
A few tips that apply to almost anyone:
20. Avoid the weekends. Weekends are busier than weekdays. One reason is because California locals visit the park, too. Serious vacationers are the ones there during the week. Less crowds means more time playing, which also means more bang for your buck.
21. Special occasion? Get a button.
These are free at Guest Services and often make the staff pay a little closer attention to you and your party.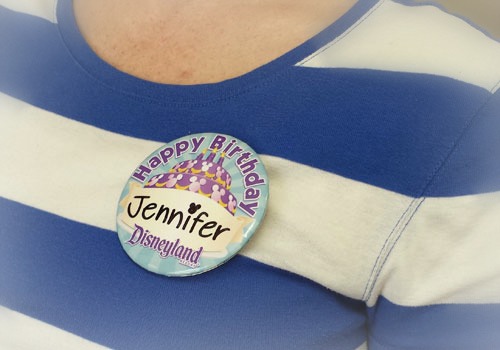 22. Use the Fastpass system. Fast passes allow you to come back to a ride later and skip the line. Think of it like a reward for being patient. Just remember, you need to get them early, and can only get one at a time.
23. Arrive at restaurants before typical meal rush times. While not always possible, if you can adjust your eating schedule to eat at off times, you'll avoid crowded restaurants.
24. Download an app to keep track of ride wait times. It's free! Check it out here.
25. Get in earlier than most. If you get at least a 3-day or longer ticket comes with a Magic Morning early entry to select areas of Disneyland. It's the only way to get into Disneyland an hour before it opens for everyone else.
Need help making your Disney vacation even better? All of our Disneyland packages can be booked online, or you can contact one of our specialists at 855-GET-AWAY!

Check out these other great articles:
Ways to Celebrate at the Disneyland Resort
Disneyland: Tips for Your First Trip
Saving on Vacation: Here's How