UPDATED JULY 2023: If you're looking for tips for your
Disneyland vacation
, you're in the right place. With over 30 years of Disneyland experience, we've compiled our team's best tips and tricks. These are the Disneyland tips we share with our best friends, grandma, our kid's teacher… you get the picture. When it comes to a Disneyland vacation, there are so many little tips and tricks that you can do to make your trip that much better. Even if it's your first time to the Disneyland Resort, these are tips that will help you navigate the parks like a pro. Things at Disneyland Resort are constantly changing, so even if you went last year, you will likely
learn something new for this year
. We've compiled our very best tips for maximizing your time, saving money, where and how to splurge and more. No matter your situation, there's always a way to make your trip to Disneyland just a little more magical.
Tips for Maximizing Your Time at Disneyland
When you're vacationing at Disneyland, you want to make the most of your time. Luckily, over the last few years, Disneyland has implemented some tools to help you do just that. These tools have made all the difference in how you can experience the parks.
Download the Official Disneyland App
-
The first thing you'll want to do is download the official Disneyland app
. The Disneyland app shows all current park hours, which you'll want to check before and during your vacation. It also has an interactive map of the entire Disneyland Resort. You can use this map to find attractions and attraction wait times, entertainment locations and showtimes, restaurants, restrooms, First Aid stations and more. The other major perk of downloading the app is that you can load your park tickets directly into the app. Once your tickets are loaded into the app, you can use your phone as your theme park ticket. You don't have to worry about losing your ticket, or keeping track of your children's tickets either. You can just load them all onto one phone. The app is free to download and to use and it will become your #1 time saving tool while on your Disneyland vacation.
Use Disney Genie Plus
- Why wait in long lines if you don't have to? Disney Genie + system lets you reserve a return time to ride for some of their most popular attractions.
The Genie+ service can be included with your Disneyland tickets
to lock in the lowest rate. You can access Genie Plus through the Disneyland app, making these two time savers a perfect combination. Any attraction that offers Genie+ allows you access into the Lightning Lane which is often half the wait time of the traditional stand by line. If you want
more details on the Disney Genie+ system, you can read about it right here
.
Mobile Order Food
- One of our favorite newer features of the Disneyland app is Mobile Ordering. It's yet another reason to have the Disneyland app ready to use on your phone.
Nearly every quick service dining location throughout Disneyland and Disney California Adventure accept Mobile Ordering
. You simply place your order from your phone for a specified time slot, check in when you get to the location and then pick up your order. It's super easy and best of all, it can be done while you're in line for an attraction, waiting for a parade or just hanging out.
Get more details on Mobile Ordering here.
Rope Drop
- Die-hard Disneyland fans call the official park opening "rope drop" because it's when Cast Members drop the ropes blocking off the different lands and let everyone begin their day of fun. Disneyland always posts an official opening time, but they begin letting guests in the main gates onto Main Street, U.S.A. before that time. Typically, guests can begin entering the park 30 minutes prior to the official park opening, but most of the park is roped off. Being at Disneyland at official park opening time, or "rope drop," is by far the best way to get a head start on your day. You'll experience fewer crowds and can get a lot done. Also, if you'd like the opportunity to experience some of Disneyland's most popular attractions like
Rise of the Resistance in Star Wars: Galaxy's Edge
or
Mickey and Minnie's Runaway Railway in Toontown
, rope drop can get you a head start to those standby lines.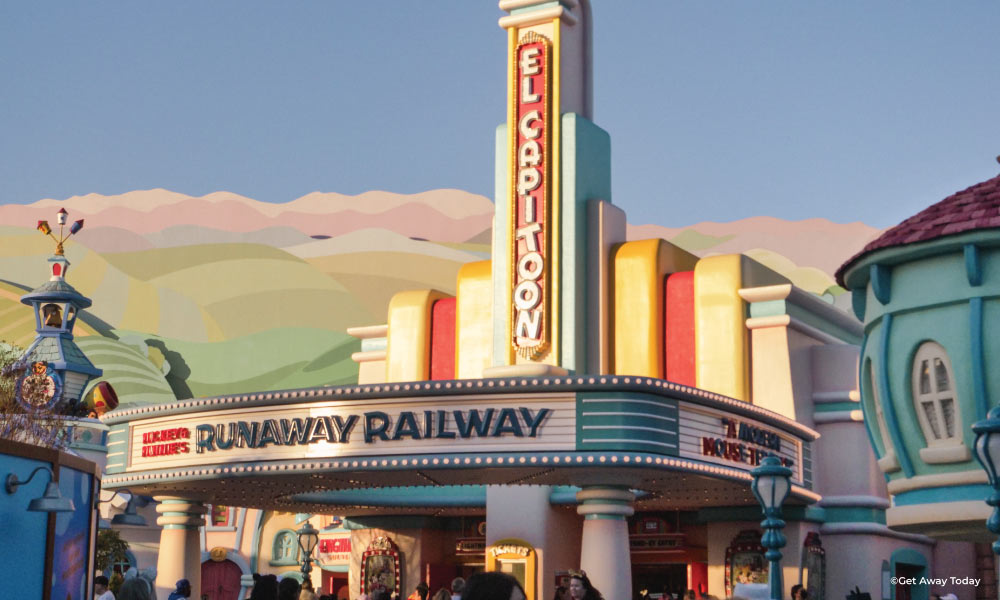 Early Entry
- There are times when you can actually get into Disneyland BEFORE official park opening! The trick here is to book a stay at one of the Disneyland Resort hotels.
Read all about Early Entry here and how we can help you save time and money on your Disneyland vacation.
Stay Late
- Unlike Early Entry, staying late is available to everyone! It's one of the best times to ride attractions with the shortest wait times. If you're visiting on a weekend or peak travel time, sometimes the parks will stay open until midnight. When that happens, the parks normally start to slow down after the fireworks, leaving minimal wait times even on the most popular attractions. You'll also find that if there are multiple showings of the
nighttime entertainment
, like Fantasmic! or World or Color, generally the later shows have fewer people watching. If you have any night owls in your family, or don't have to be up early the next morning, take advantage of those late nights at Disneyland.
Try Single Rider
- There are a few attractions that offer a single rider queue, which typically moves more quickly than the standby line. It's a great option if everyone in your group is at least 7 years old and doesn't mind sitting next to someone they don't know on a ride. I It's also a great option if you really want to ride an attraction, like Radiator Springs Racers, and don't have an
Individual Lightning Lane
for it. Your group will stand next to each other in line, but will be assigned to an extra spot as they become available. Many times you'll end up in the same car, just not in the same row. Check the Disneyland app for current Single Rider offerings.
Disneyland Tips for Families with Small Children
Disneyland is for everyone, and no one makes traveling with small kids easier than the Disneyland Resort. These tips will apply best to those visiting Disneyland with babies or younger kids.
Use a Stroller
- Rent a park stroller or bring your own. No matter how "big" your kids think they are, you'll be doing a lot of walking at the Disneyland Resort. Eventually those tired little legs will want a rest. Having a stroller is also really nice so you can store any necessities like diaper bags, water bottles, snacks and jackets. You're welcome to bring your own stroller into Disneyland as long as it's not a wagon-type stroller and it fits within the size requirements of 31" x 52". Most double strollers will fit within these parameters. Rental strollers are available at Disneyland for park use for a daily fee. Stroller parking is ample in the parks. Although stroller thefts are incredibly rare at Disneyland, we still recommend keeping valuables with you at all times. If you choose to rent a stroller, you may want to bring some identifying items like ribbons or signs, so you can easily tell which stroller is yours.
Check Height Requirements Before You Go
- Check the height requirements for rides before you even visit the parks to set expectations for your kids. Height requirements are strictly enforced for your family's safety. If you think your child is close, you can have them measure up on the height requirement check before you get into the line, so you won't be disappointed when you get to the front. And remember, if your child isn't quite tall enough for some of the attractions, there is still SO much for them to do. Oftentimes kids will mimic your attitude, so as long as you remain positive, they'll likely follow suit.
Swap Riders
- Using
Disney's Rider Swap or Rider Switch system
is a great way to avoid waiting in lines twice when you have kids that don't meet the height requirements on larger attractions. Using Rider Swap is easy. Just let the Cast Member at the queue entrance know that you'd like to swap. They'll scan up to three tickets with a return time. Then you, or another adult (or adults) go through the line with the older kids. One stays back with the baby while the other rides. When the first group returns, you switch and the second group goes through the FastPass line. Up to three riders can return to ride when swapping, so older kids love getting to ride twice in a row. One really nice thing about Disneyland is that most attractions that have a height requirement are located next to something without a height requirement. This makes it a lot easier to keep small kids occupied while older siblings get to go on "big kid" rides.
We've compiled ideas on what to do with young kids during Rider Switch at Disneyland.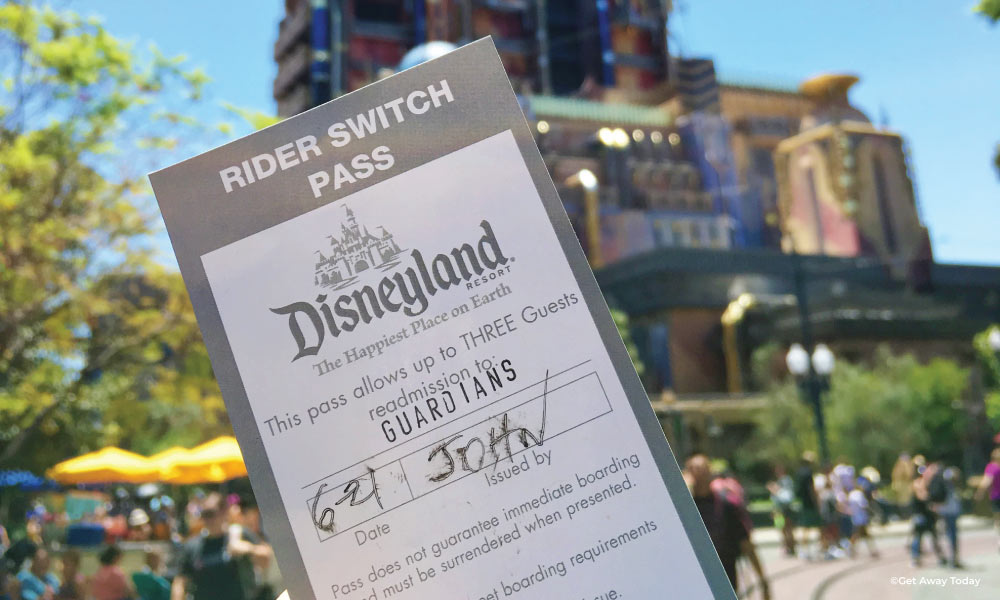 Baby Care Centers
- If you need anything at all with or for little kids at Disneyland, the Baby Care Center is likely your answer. Need a few minutes away from the hustle and bustle? Need to feed your baby or change them in a clean, calm place? Have a potty-training toddler? Run out of diapers, wipes or formula? Head to the Baby Care Center. They have everything you need to care for littles. And, they're the only place in the parks where they don't pipe in music. If you have sensitive kids, Baby Care Centers offer a true respite. Baby Care Centers are found in each park: near Main Street, U.S.A. in Disneyland and in San Fransokyo Square in Disney California Adventure Park.
Tips for Celebrating at Disneyland
The Disneyland Resort is the perfect place for celebrating any occasion. Whether it's a birthday, honeymoon, anniversary, new job, graduation, cancer remission, or any other of life's big moments, there's a way to make your moment even grander. We've compiled some of our favorite ways to celebrate at Disneyland.
Character Dining
- Nothing is quite as festive and memorable as a Character Dining experience. Most of the Character Dining experiences offer an all-you-care-to-eat breakfast buffet, but there are a couple of exceptions. Regardless of which dining experience you choose, your kids will love eating with their favorite characters. If you're celebrating a birthday or any other special occasion, let the Cast Member know when you're making your reservation and again when you check in at the restaurant. Most of the time, your server will bring a special cupcake just for the birthday boy or girl. You can also order a full celebration cake for an additional cost. The other thing we love about Character Dining is that it will save you time; instead of waiting in lines to meet Characters, they come to you. For details on each of the different Character Dining experiences,
check out 12 Things You Need to Know About Character Dining at Disneyland
.
World of Color Dessert Party
- Out of all of the special occasion dining experiences, this one tops our list. Disney California Adventure Park is the only place in the world that you'll be able to see World of Color. This is a nighttime spectacular that combines water fountains, water screens, projections, lights, music and special effects. Our favorite way to watch the show is with the
World of Color Dessert Party
. This is a special reserved area with tables and chairs with a perfect view of the show. This is important to note, because even the preferred viewing areas for the show that come with a dining package are standing room only. In addition to having a comfortable seat, each person will get their own dessert plate full of fruit, cheeses and sweets, as well as unlimited soft drinks, hot cocoa and more. It's one of the most magical ways to cap off an evening and such a great way to celebrate anything you're celebrating.
You can find out more about the Disneyland World of Color Dessert Party here.
Celebration Buttons
- One of the easiest ways to celebrate a special occasion is with a free celebration button. You can get one from many places throughout the parks, just ask a Cast Member. We've even gotten them from the World of Disney store at Downtown Disney as we were checking out. When you're wearing a celebration button, Cast Members, who are already wonderful, usually pay a little closer attention to you and your party. Plus, the buttons make a fun, free souvenir.
Money-Saving Disneyland Tips
If you're traveling on a budget, you're not alone. Here are a few tips to help you have fun at Disneyland without spending more cash than you can handle.
Cheap or Free Souvenirs
- Stick to the more affordable, or even free souvenirs. Pressed pennies are an incredibly popular, affordable and fun to collect souvenir. You can also keep your eyes peeled for low-priced character head pens, key chains and Mickey-head lollipops. You can also use park maps, drink coasters, and your physical tickets as keepsakes.
Pre-purchase Souvenirs
- If you want to dress for the occasion, buy your t-shirts before you go. Purchasing a shirt in the park is going to set you back a good deal. However, if you do your shopping beforehand, you can find much better deals on character tees and hoodies in big box stores. You can also find princess dresses ahead of time if you have little ones who like to dress up.
Free Hotel Breakfast
- Eat a big breakfast before your day at the park. Eat a good breakfast before you head into the park, since buying snacks and meals within the parks can add up quickly. If you stay at a hotel that serves a free breakfast, load up. Our agents can help you choose the best breakfast hotel for your group when you call us at 855 GET AWAY. And if your hotel doesn't offer breakfast, most hotel rooms will at least have a fridge.You can stock up on yogurt, cereal, milk, whole fruit and other breakfast goodies so you're not arriving at the parks hungry. Plus, that will make sure you're ready to start riding right away!
Snacks at Disneyland
- If you're trying to save money at Disneyland, food is one of your biggest expenses. Luckily, Disney allows you to bring outside food and drinks into the parks. Pack as many snacks as you possibly can - just no glass containers, loose ice or full-size coolers. Granola bars, fruit snacks, crackers, PB&J sandwiches, veggies and trail mix all make great options. Bring enough to keep you satisfied between meals, or even bring enough to have your own picnic.
Water at Disneyland
- Thirsty? Ask for water in a soda cup. You can ask for cups of water at any quick service restaurant, whether you are purchasing food or not. Any Cast Member will happily get you as many cups of water as you need. Not only is it going to save you money, it's also a lot healthier than buying a soda. If you have your own water bottles that you've brought in, you can also find refillable water stations located throughout both parks. If you need to find one, just ask a Cast Member, but any quick service restaurant will likely be able to help you out.
Other Helpful Disneyland Tips
We have a few more tips that apply to almost anyone! Don't skip these during your vacation.
Phone Chargers
- Because so much of your success at Disneyland relies on using your phone, not just for the app, but also for taking pictures and video, you need to make sure your phone stays charged. Bring a good external phone charger. If you don't have one,
here is one that we recommend
. If you forget to bring one, or just don't want to worry about finding one, you can use the Fuel Rod stations at the parks. Fuel Rods are external chargers that are available in specific vending machines throughout the resort. You'll buy a Fuel Rod charger, which comes with the charger and the adapters. The Fuel Rods come fully charged. Then, after you've charged your phone and used the charge from that Fuel Rod, you can return it to any machine, and exchange it for a fully charged one for free. It's the gift that keeps on giving.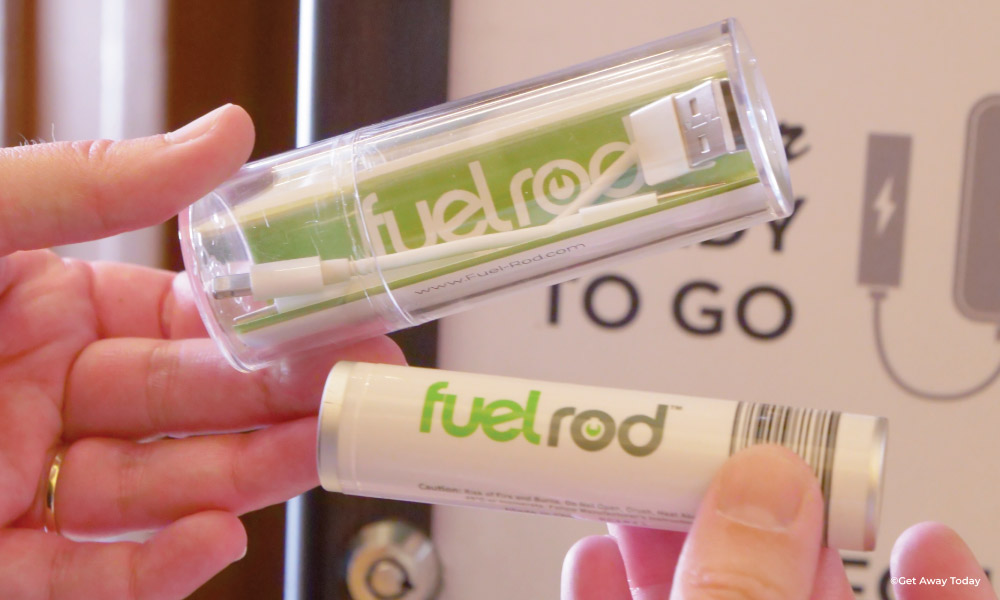 Don't Miss the Shows
- The Disneyland Resort is home to some truly amazing entertainment that you can't find anywhere else in the world. Don't make the mistake of skipping the shows. Not only are the shows incredible, they're a great use of your time. Check the Disneyland app under the entertainment section for theater performance, musical bands throughout the parks, World of Color, parades and more.
Make Restaurant Reservations
- As much as we love mobile ordering, and trust us, WE DO, we recommend taking the time for at least one table service restaurant. Disneyland has some incredible choices that are sure to give you a memorable meal experience.
Consider making a reservation for the Blue Bayou
, Cafe Orleans, Napa Rose, Carthay Circle, or any one of the five Character Dining locations at the Resort. You can make reservations up to 60 days in advance. If you can plan ahead, it's your best chance of getting your first choice of restaurant and time.
Tips for Booking a Disneyland Vacation
Ready to book? We've got you covered!
Book Your Disneyland Vacation Early
- Now that you have a pretty good base of what to do while you're actually on your vacation, we're going back to the beginning. When it comes to a Disneyland vacation, you'll want to book as early as possible. By booking early, you'll have the widest selection of available hotels, so you're more likely to be able to book your first choice. Additionally, you're more likely to
get the lowest price
, because prices typically go up as rooms fill up, and specials sell out quickly.
Book Your Disneyland Vacation With an Expert
- Our final, and most important tip for having a great Disneyland vacation is using an expert to book. Get Away Today has over 30 years of experience of sending guests to the Disneyland Resort and building relationships with Anaheim area hotels and attractions. Because of those relationships, we negotiate things like
Extra Night Free night specials, exclusive free or reduced parking and complimentary breakfast
at select hotels near Disneyland. You can purchase our discount Disneyland tickets. Save time and money by booking your Disney vacation with Get Away Today. We handle the details for you, and offer discounts you won't find elsewhere. Need help making your Disney vacation even better? All of our Disneyland packages can be booked online, or you can contact one of our specialists at 855-GET-AWAY!