The Disneyland Resort Hotels are without question the most magical places to stay for your Disneyland vacation. With the Disneyland Resort Diamond Celebration just around the corner, there's never been a time when you'll want to be as close to the magic as now - especially at night! With three all-new nighttime spectaculars; Disneyland Forever fireworks (with five immersive viewing areas throughout the park), World of Color - Celebrate! and Disney's Paint the Night Parade, as well as Fantasmic! and the Diamond Mad T Party, you'll want to spend all night every night inside the parks. There's nothing better than being steps away from your room after a fun-filled day of Disney magic.

Watch this fun video for a quick overview of some of the benefits of staying at one of the three Disneyland Resort Hotels:



Whether you choose Disney's Paradise Pier, the Disneyland Hotel or Disney's Grand Californian Hotel & Spa, you're in for the vacation of a lifetime. As you can see, each has its unique theme and incredible perks. Having stayed at each of the three Disneyland Resort Hotels, it is impossible to pick a favorite. But, here are a few of my personal favorite highlights of each of the three hotels:

Disney's Paradise Pier Hotel - largest and most affordable rooms, plus I love the fun beach theme.

Disneyland Hotel - most magical theme throughout the hotel and best swimming pool.

Disney's Grand Californian Hotel & Spa - best location and most welcoming lobby - and its home to Napa Rose, my favorite restaurant of the entire Disneyland Resort. Plus, only Grand Califonian guests have access to an exclusive entrance to Disney California Adventure! (An extra awesome perk!)

You don't need any more reasons to stay at one of the Disneyland Resort Hotels, but I'm going to give you some more anyway... The Disneyland Resort Diamond Celebration is just around the corner and with it comes more nighttime entertainment than ever before.

In Disneyland, Disney's Paint the Night Parade is being touted as the new and better and brighter than before Electric Light Parade. Disneyland Forever is the all-new fireworks display visible from five areas throughout the park. It's completely immersive and will feel like a different show from each location. You'll want to see it again and again! Plus, Fantasmic! is part of the entertainment line-up. You can now grab a Fastpass or a Fantasmic! dining package for the best viewing areas.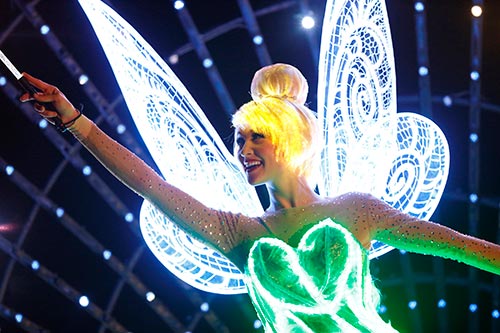 Photo credit: ©Disney

Over in Disney California Adventure Park the original World of Color is to be replaced with World of Color - Celebrate! This all-new show will take viewers on a touching, nostalgic journey of Walt's dream of Disneyland coming to fruition. It promises to be an instant favorite. The Pixar Play Parade is still regularly scheduled and the Diamond Mad T Party is back by popular demand for the 60th celebration.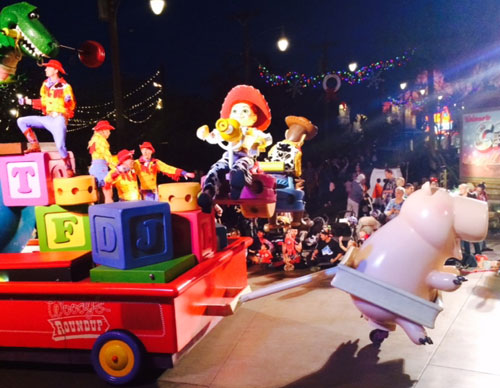 With so much nighttime activity in both parks, you'll want to stay as long as possible and as late as possible. You'll love being so close to bed each night. Staying on property also makes it a breeze to head back for an afternoon nap, which you'll appreciate after staying out late every night! Take advantage of our discounted rates to all three Disney Hotels and our discounted Disneyland tickets for the best deal.

We'd love to help you book your next Disneyland vacation. You can book any of our Disneyland packages online, or by calling our Disney Experts at 855-GET-AWAY.


Check out these other great articles:

15 Can't Miss Disneyland Diamond Celebration Updates
Everything to Love About the Disneyland Hotel
Top Reasons to Stay at Disney's Grand Californian Hotel & Spa
Everything You've Ever Wanted to Know About the Disneyland Resort Hotels