If you haven't ever experienced Holidays at the Disneyland Resort, then you are missing out. It is one of the most popular times of year and for a good reason. But, you may have also heard some rumors about this time of year - that just aren't true. Today we're busting 17 myths about Holidays at the Disneyland Resort.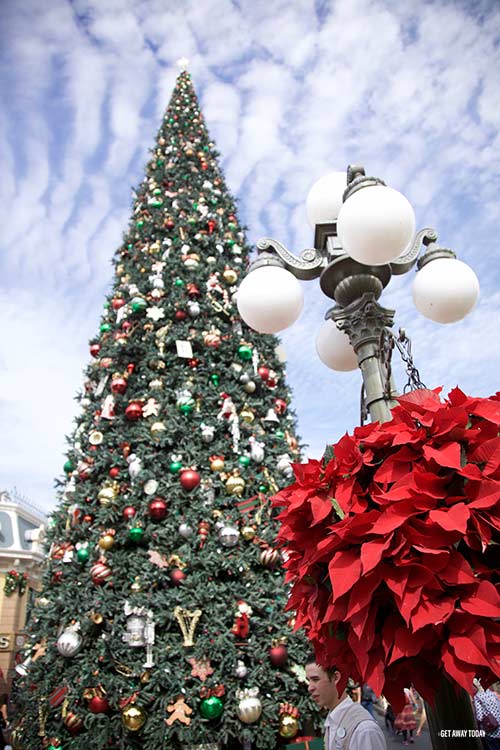 There are so many myths about Holidays at the Disneyland Resort, but today we're focusing on 17 of the most common ones. We'll share them here and then follow up with the truth...
Disneyland Myth #1. It's sold out.
Truth: We still have both tickets and hotel packages for travel throughout the rest of Holidays at the Disneyland Resort. In fact, we don't have any dates that are completely sold out through the end of the year! It's true that certain days may reach capacity at the parks. If you are going to the parks on one of the actual holidays (Christmas Eve, Christmas, New Year's Eve or New Year's Day), you'll want to get there as early as possible. However, that's good advice no matter the time of year you're traveling.
Disneyland Myth #2. It's expensive.
Truth: A Disneyland vacation during the holidays is probably more affordable than you think - especially when you book with Get Away Today. With our hotel deals, you can find packages that include a 4-night hotel stay and 3-Day Disneyland Park Hopper Tickets starting at $400 per person for a family of four. That's only $85 more than the gate price of a 3-Day Park Hopper! Plus, many of our hotel stays include extra savings like free breakfast or free parking. Considering the average family will spend $400-$500 per person for Christmas, a Disneyland vacation seems like a pretty great way to use that Christmas budget!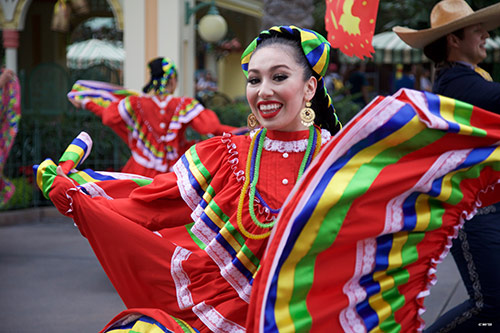 Disneyland Myth #3. It's packed.
Truth: It may be packed... BUT, there are still some good pockets where there will be fewer crowds. If you can attend weekdays before many of the school breaks, you'll likely have good luck. Additionally, there are many ways to can make good use of your time at the parks, regardless of crowd levels. And, this is the first year MaxPass has been available during Holidays at the Disneyland Resort. In our opinion, this is a game changer for crowded parks during Holidays at the Disneyland Resort.
Disneyland Myth #4. It's not that much different than visiting other times.
Truth: Disneyland is magical year-round. But... there is something extra magical during the official holiday celebration. You're completely immersed in the sights, sounds, flavors and even scents of the season.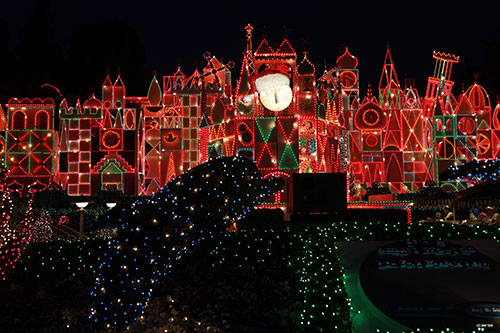 Disneyland Myth #5. I don't have time to go.
Truth: Holidays at the Disneyland Resort make a great quick getaway. We recommend at least a 3-Day Park Hopper ticket, but you could fly in and out for a 2-night weekend getaway. If you can fly in early in your first day, and fly out on the last flight of the day on your last day, you can get a lot of fun packed into three days.
Disneyland Myth #6. I have to buy Christmas presents AND a vacation.
Truth: Like we mentioned earlier, the average family spends $400-$500 per family member each Christmas. Why not take that budget and apply it towards meaningful memories together? Giving vacations for Christmas is a family tradition we've already started in our family - with rave reviews.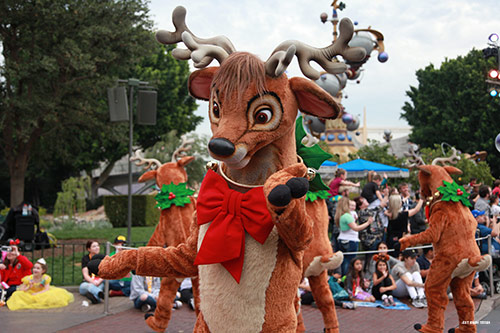 Disneyland Myth #7. My kids are too old.
Truth - there is so much to do for older kids and teens at Disneyland! Not only are there more thrilling attractions like Guardians of the Galaxy - Mission: BREAKOUT! and Space Mountain, you'd be surprised how Disneyland brings out the kids in even your "coolest" teens.
Disneyland Myth #8. My kids are too young.
Truth: There's no such thing as being too young for Disneyland. In fact, Disneyland caters to families with small children. With Baby Centers equipped with every baby need, attractions the entire family can enjoy together and so much more, you'll be glad you brought your baby. And although your baby may not remember the vacation, you'll remember the magic of it all! Find out our best tips for taking a baby to Disneyland here.
Disneyland Myth #9. I don't have kids, so I won't enjoy Holidays at the Disneyland Resort.
Truth: You may see a common theme here. Disneyland is made for everyone - no matter the age. In fact, we love adult only trips to Disneyland. Whether you're celebrating with friends or as a couple, there will be some aspects of a Disneyland vacation during the holidays that you'll enjoy even more without kids.
Disneyland Myth #10. The holiday decor is going to take away from the Disneyland magic.
Truth: We've already addressed the fact that the holidays are quite a bit different than any other time of year. However, there is no question that Disney magic always shines through. Dare we say Sleeping Beauty Castle is even more dazzling with thousands of sparking lights?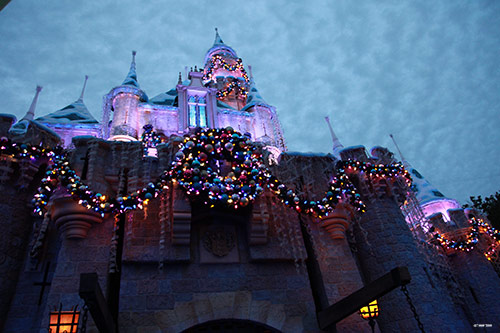 Disneyland Myth #11. I'll have to budget a ton of money for food.
Truth: While a Disneyland vacation certainly isn't cheap, there are a ton of ways to save on food. Check out our articles on our favorite cheap eats at Disneyland and some sample menus on how you can feed a family of four for $100 or less per day.
Disneyland Myth #12. I don't want to pay extra for the holiday parties and entertainment.
Truth: Unlike Mickey's Very Merry Christmas Party at Walt Disney World, all of the holiday entertainment and overlays at Disneyland are included with your regular admission! There are no extra charges and no private holiday parties. Just think - Believe... In Holiday Magic fireworks, A Christmas Fantasy Parade, World of Color - Season of Light, Viva Navidad Street Party and so much more all await.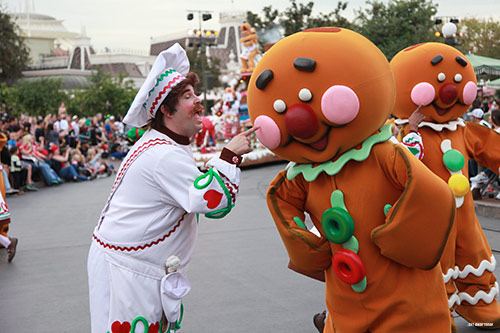 Disneyland Myth #13. I've already done Holidays at Disneyland Resort. I don't need to do it again.
Truth: This year is bigger and better than any year before. The Festival of Holidays is returning for only its second year. It features entertainment and activities from cultures from around the world. There are also 12 kiosks with various foods and treats from all around the globe. You can bet that the menus have new surprises even if you went last year. This is also the last year for many favorites... but more on that in #14.
Disneyland Myth #14. I'll just go next year.
Truth: This is the last time that Paradise Pier as you know it will be a part of Disney California Adventure Park. California Screamin', Ariel's Grotto, the Cove Bar and the Boardwalk Games will close forever on January 8, 2018 to make way for Pixar Pier. That means Holidays at the Disneyland Resort is your last chance to experience some of these beloved attractions.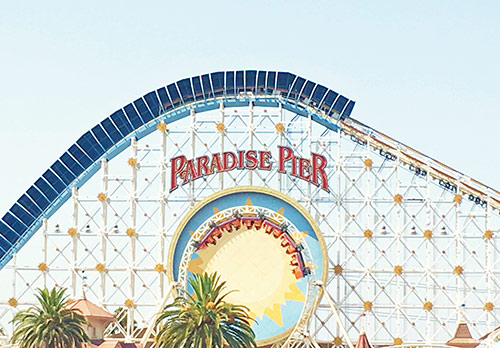 Disneyland Myth #15. There won't be snow.
Truth: We get that sunny skies and palm tries may not scream Christmas time. But, this is Disneyland we're talking about. And it's magical. It snows nightly after the fireworks. You'll also find snow on Rivers of America up to three times each night. In our opinion, snow that you don't have to shovel or drive in is the best kind of snow of all.
Disneyland Myth #16. I already went this year.
Truth: Just because you've visited Disneyland in 2017, doesn't mean you've experienced Holidays at the Disneyland Resort 2017. We promise that it will feel different than your spring time, summer time or Halloween Time Disneyland vacation!
Disneyland Myth #17. I prefer not to have fun.
Truth: We think Disneyland has the magic to turn any bah humbug into a jolly, Saint "Mick!"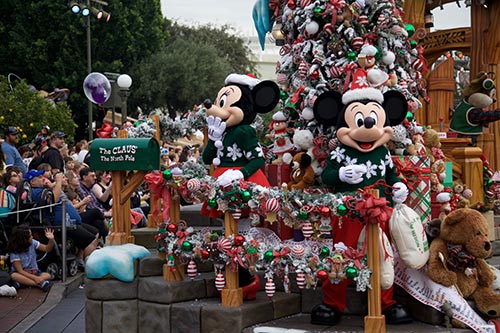 To book your 2017 holiday Disneyland vacation, book online or call 855-GET-AWAY to speak to one of our travel experts directly. It's certainly not a myth that we still have amazing deals for the festive celebration, so don't wait. Book now to experience all the holiday magic that the Holidays at the Disneyland Resort has to offer!

Check out these other great Holidays at the Disneyland Resort articles: