UPDATED FEBRUARY 19, 2020 Going to Disneyland is one of the most exciting and memorable things you can do with your family. But, in order to make everything go smoothly, there are a few things you need to know before you go. We've put together the top 7 things ALL parents should know when taking a Disneyland vacation – no matter the age of your kids!
7 Things All Parents Should Know Before Taking the Kids to Disneyland
When you're the parent, you set the tone for your Disneyland vacation. Even if your kids have been to Disneyland before, as soon as you get there, everything becomes new and exciting again. When you're prepared and know what to do, things just go better. Whether everything goes according to plan, or if the unexpected happens, you'll be in good shape with these 7 things to know before taking your kids to Disneyland.
Where to Stay
When it comes to taking the kids to Disneyland, we always recommend that you stay as close to the parks as possible. In my opinion, the Hotels of the Disneyland Resort are the most magical and convenient places to stay with kids. If it's in your budget, it's our #1 choice. There are also several nearby Good Neighbor Hotels across the street that we highly recommend. No matter where you decide to stay, you'll appreciate being able to easily go to and from your hotel for nap time, a quick swim, meal or rest. Here are some of our favorite hotels with kids: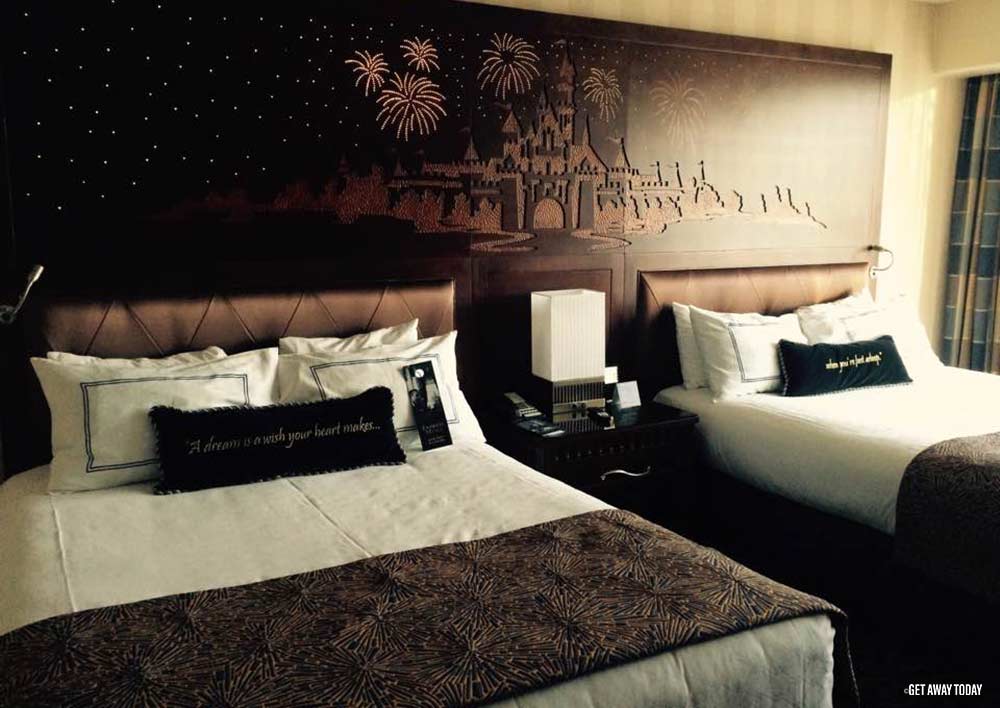 And really, there are so many more! Each of the above hotels have a fridge in the room and some have extra amenities that families love as well.
Making the Most of Your Time at Disneyland
The official Disneyland app will be your best planning friend when it comes to being on your Disneyland vacation. It's free to download, and you can download it before your trip. An interactive map of the entire Disneyland Resort is available to check at any time, so you may want to familiarize yourself with the parks before you go.
Once you're at the Disneyland Resort, you can use the app for pretty much everything. You can check park hours, the entertainment schedule and ride wait times. You can make reservations up to 60 days before your travel dates at table service restaurants, and even mobile order your meals at quick service restaurants so you don't have to wait in line to order food with hungry kids!
You can also use the app to make FastPass reservations if you've purchased MaxPass. You can either purchase MaxPass before you go, or add it when you get there at $20 per ticket, per day. If your kids are little and can't ride some of the larger attractions, but you want to keep your family photos from the day, one person in your group can purchase MaxPass, and you'll get the whole group's worth of photos from each day you have it.
Convenience and Breaks
If you are traveling with babies or toddlers, you will want to take advantage of the Baby Care Centers. These areas are clean and quiet, and feature changing stations, high chairs, microwaves for use, private nursing areas and even toddler sized toilets for potty training. And, if you've forgotten or run out of any supplies, you can find things like baby food, diapers, wipes and formula available for purchase. If you are traveling with an older child that gets overwhelmed easily and needs a break, consider taking one in the Baby Care Center. These are one of the very few areas in the parks where there is no music piped in. It's a great place to take a quick breather, even if only for a few minutes.
Both Disneyland and Disney California Adventure have a Baby Care Center. They can be found at the end of Main Street, U.S.A. in Disneyland and in Pacific Wharf in Disney California Adventure Park.

Just in Case
Most likely, your vacation will go off without a hitch, but it's good to be prepared "just in case." Consider wearing coordinating colors to make each other easy to spot. Make sure your kids have your contact info on them at all times and talk about what to do if you get separated. Point out the "helpers" (anyone with an official Disney badge) who will bring all lost children to the Baby Care/Lost Children Centers.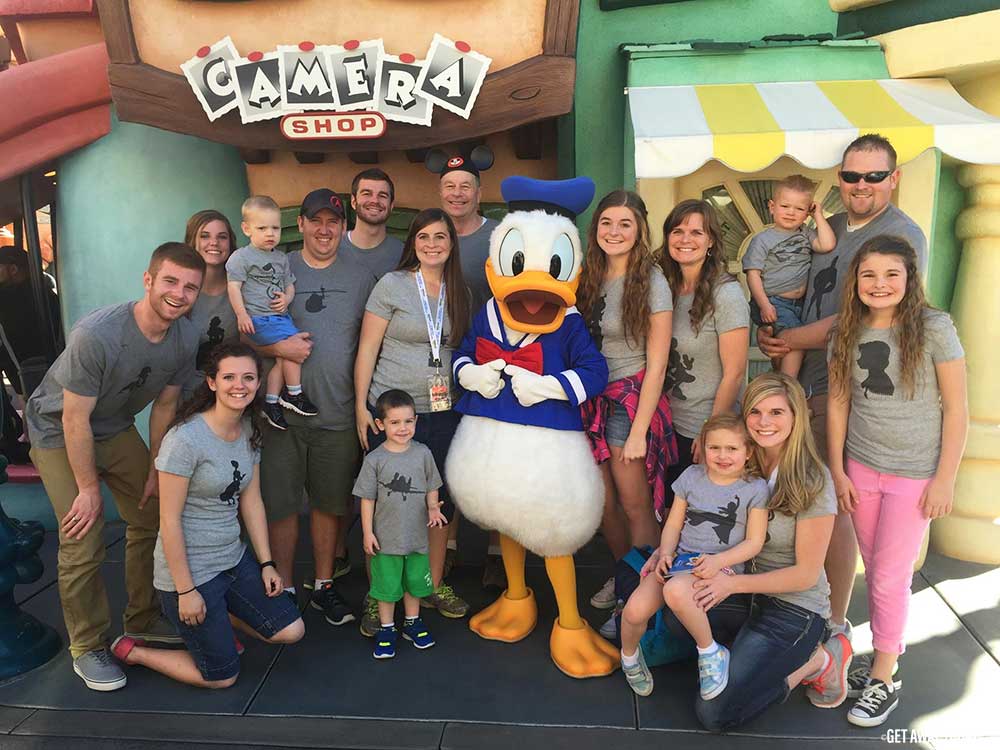 Additionally, all parents should know that there are First Aid Stations located in both parks and in Downtown Disney. First Aid Stations are staffed by registered nurses and they keep select medications available free of charge in single doses. If you need an ice pack, aspirin or even a bandaid for a blister, they've got you covered so you can get back to your day of fun at Disneyland. The First Aid Station staff will treat minor injuries and direct you to the nearest and best medical facilities should further attention be required.
Strollers and Lockers
Even if you don't typically use a stroller in your daily life, you may want to consider bringing or renting one for your Disneyland vacation. Not only will you and your kids be walking a lot more than normal, you'll be bringing more things with you than normal as well. Strollers are a great place to store non-valuables like jackets, snacks, water bottles and more.
If you're bringing your own stroller into the Parks, it must be no larger than 31" (79cm) wide and 52" (132cm) long. These dimensions will work with most single and double strollers, but keep in mind that any wagon type stroller is not permitted.
If you're unsure about your stroller meeting requirements, or you just don't want to pack one, you can rent one at the Resort. Stroller Rentals are available at the Parks for $15/day for one or $35 for a double stroller. Strollers cannot leave either park, but you can return your stroller at the rental booth at your current park, then show your receipt at the next park to receive another stroller for free.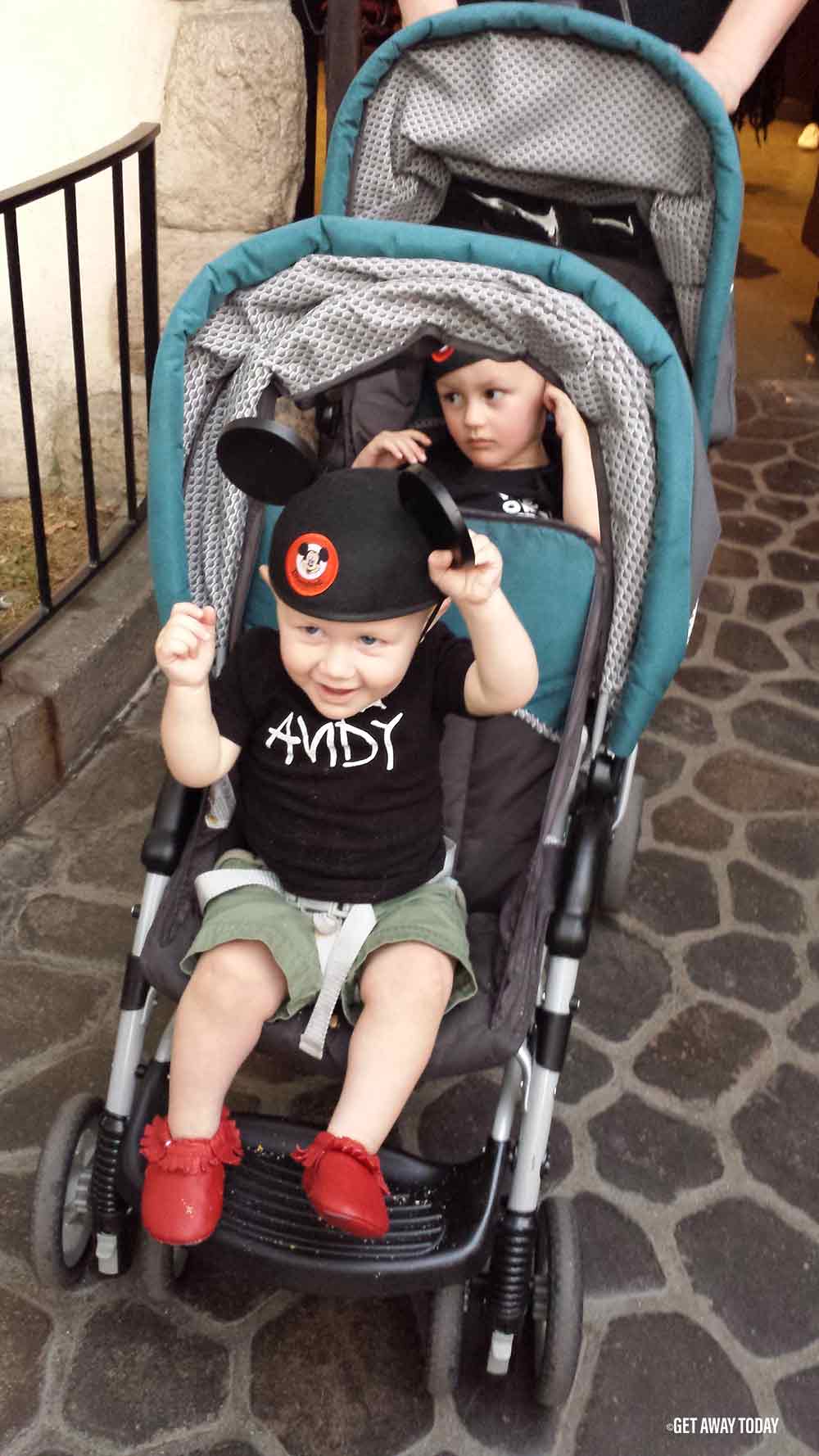 If your kids really are too old to justify bringing a stroller, consider renting a locker. Locker rentals can be found at the entrance of each park and are great for storing heavy or more expensive items like a nice camera. There are different sizes of lockers ranging in price from $7 - $15 per day, which includes unlimited access all day long.
Riding with Kids
Disney's "Child Swap" or "Rider Switch" option makes it easy for families with young children to experience thrill rides without wasting hours in line. Take your family to the entrance of any ride with a height requirement entrance and let them know you'd like to swap riders. At that time, the Cast Member will verify that you have someone who doesn't meet the height requirement staying behind. The Cast Member will then scan up to three tickets for a return time, generally whatever the stand-by return time is, plus an hour for flexibility. The group that is riding first will then get in line for the attraction. You can use either the FastPass line if you have a FastPass for the attraction, or the Stand-by line. When the first group is done riding, the adult who stayed behind can bring up to two guests with them and they'll get access to the FastPass line, whether or not the first group used the FastPass line.

There are many rides with no age or height requirement at the Disneyland Resort. Additionally, there are many shows and entertainment options that are perfect for all ages. Here are some of our favorite attractions for kids at the Disneyland Resort:
Disneyland Park
Pirates of the Caribbean
Jungle Cruise
Peter Pan's Flight
"it's a small world"
Buzz Lightyear Astro Blasters
Finding Nemo Submarine Voyage
Disneyland Railroad
Dumbo the Flying Elephant
Haunted Mansion
Mickey and the Magical Map
'Magic Happens' Parade (debuts February 28, 2020!)
Disney California Adventure Park
The Little Mermaid - Ariel's Undersea Adventure
Monsters. Inc - Mike and Sulley to the Rescue!
Toy Story Midway Mania
Jessie's Critter Carousel
Inside Out Emotional Whirlwind
Pixar Pal-A-Round
Turtle Talk with Crush
Frozen - LIVE at the Hyperion
Disney Junior Dance Party!
If you're traveling with children, it's worth mentioning that kids must be at least 7 years old to ride alone and be accompanied by someone at least 14 years old. For example, if you have a group of three riders ages Adult, 8 years and 5 years, who want to ride Space Mountain, the 5-year-old will have to sit by the adult and the 8-year-old can sit in their own row with an adult present. If no adult was going on the attraction, the 8-year-old would not be able to ride.
Food with Kids at Disneyland
Whether your kids have dietary restrictions or not, chances are they have pretty specific preferences. Disneyland caters to everyone and no one handles food needs better than Disney. You can find kid-friendly foods like chicken tenders, mac-n-cheese, fresh fruit, pizza and so much more at nearly every restaurant in the parks. You can also find kids power packs that typically come with a yogurt, crackers, fruit and a drink. If your kids have any allergies, whether it's dairy, gluten, eggs, or anything else, you just need to let the restaurant know. They are equipped to handle it.
Another must when visiting Disneyland with kids is bringing snacks. Disneyland allows outside food and drink, including lunchbox-sized bags and coolers. As long as you don't bring in glass containers, alcohol or loose ice, you are good to go. With kids, it's easier, healthier and less costly to keep your family's favorite snacks on-hand. You can also bring in water bottles and refill regularly to keep everyone hydrated and happy.
Booking your Disneyland vacation
When taking the kids to Disneyland, the most important thing to remember is that you're on vacation! Slow down, take your time and allow your family to enjoy making memories that will last a lifetime. When you're ready to get planning, we're ready to help. We'd love to help you find the perfect hotel and get everything set up for your vacation. All of our Disneyland tickets and packages can be found online. Or, you can call our agents directly at 855-GET-AWAY for personalized assistance.