Walt Disney World is a massive adventure and every inch of it is filled with magic. Over the next couple of weeks, we will take you through our discovery of the top things to do in each of the four parks at Walt Disney World! Check out this short video of our first stop: Magic Kingdom!
The Magic Kingdom brings out the kid in all of us. The sight of Cinderella's Castle as you walk down Main Street, the smell of all the incredible hand-made treats and the sounds of fun had by all instantly bring you that nostalgic feeling. Whether this is your first visit or one of many, Magic Kingdom has a feeling of home. Here we will take you through the top 10 things you can't miss when you visit the Magic Kingdom:
#1: The Mountains
You have the opportunity to take on three thrilling mountains at Magic Kingdom: Space Mountain, Big Thunder Mountain Railroad and Splash Mountain. Each with their own unique story and fun, you won't want to miss any of the action.
These are all a must for the thrill seekers and are each a great choice for a FASTPASS!
Inside
Space Mountain
you fly through the stars in the darkness of the galaxy. All throughout the line are Training Exercises to prepare you through your journey through space. A couple different games take you through different missions as you wait to board your space craft. Each training can accommodate up to 86 players at a time and lasts about 90 seconds. Once you pass your training course, you are ready to take off on your intergalactic adventure. Zoom through the darkness of space aboard your rocket ship on this indoor roller coaster that is a truly out of this world experience!
Big Thunder Mountain Railroad
is a train ride like you have never experienced before. Out in the Wild West, you fly through a 200 foot mountain and abandoned mine shaft on your journey back to the railroad station. This coaster puts you in a 5-car locomotive full of twists, turns and drops. For an even bigger thrill, try and get a spot in the back of the train.
Sail side by side with your friends and family in a hollow log through the story and fun of
Splash Mountain
. During your adventure you drop in on Br'er Rabbits daring escape from Br'er Bear and Br're Fox. As you glide along the water you will venture through Critter Cave, the laughing place and then fall 50 feet through the briar patch! Be prepared, you might get soaked! This ride combines everything Disney is known for; a fun story ride with the thrills of big drops and adventure.
#2: Wishes nighttime spectacular
In this tremendous fireworks display, you join in with favorite Disney characters as they show you the magic of believing in your dreams. When evil villains try to destroy the fun, guests will be entranced by the classic battle of Good vs Evil. Wishes is filled with famous Disney songs, extraordinary fireworks and a magical story. On top of that, special technology transforms the Cinderella Castle into a canvas where beautiful colors and scenes paint the picture of everyone's hopes and dreams. And be sure to stay after the show! A special "kiss goodnight" might be waiting to be shown on the castle.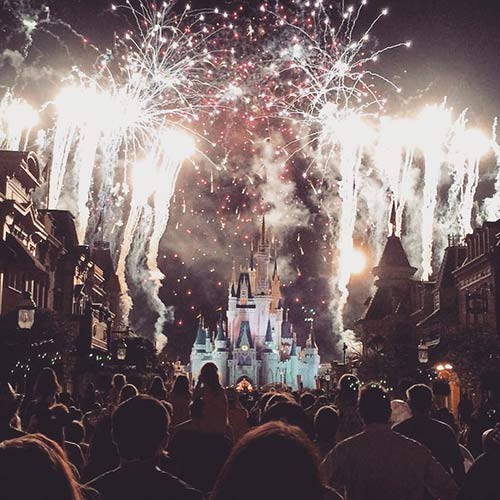 #3: Be Our Guest
Restaurant
For the first time ever, you have a chance to dine in Beast's incredible castle for a meal you won't soon forget. Straight out of Beauty and the Beast, Be Our Guest Restaurant looks like you stepped right into the movie. There are three equally beautiful areas in which you can sit: The Grand Ballroom, the West Wing and the Castle Gallery. The food and service was impeccable, as was the unbelievable environment. There were plenty secrets to find in this one of a kind restaurant. (You can even get The Grey Stuff!)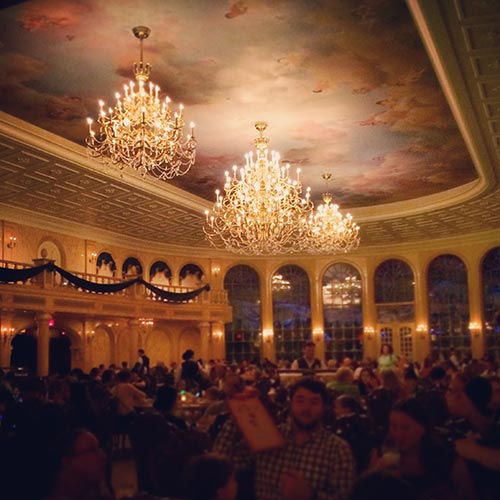 #4: Seven Dwarfs Mine Train
This innovative and state-of-the-art ride takes you on a mining adventure with all of the Seven Dwarfs! As you fly down the coaster, each individual cart swings back and forth to create an extra dimension of excitement. Whistling as you fly along bridges, forests and diamond mines, there are some exciting surprises waiting for you along the winding path. As a part of the New Fantasyland expansion, the Seven Dwarfs Mine Train is worth boarding.
#5: The Hall of Presidents
From George Washington to Barack Obama, this show takes a look back at all of America's Presidents and their impact on our country. This original film, narrated by Morgan Freeman, shows major decisions that have shaped the United States and the men behind them. Shown is a huge 700 seat theater, the presentation also includes incredibly life-like animatronic recreations of all of our presidents like you have never seen before. Where else can you see Abraham Lincoln give the Gettysburg address? This incredibly patriotic and awe-inspiring show about American history is a must see for all.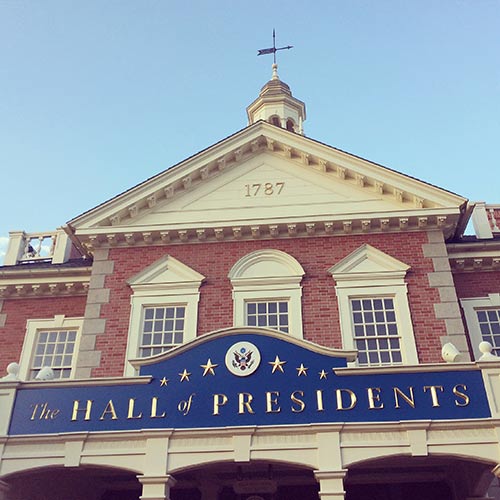 Right at the end of Main Street sits Casey's Corner. This is the perfect place for a nice lunch or quick dinner! With an American baseball type line up of hot dogs, nachos and fries, this classic food will be a home run with the whole family. My personal favorite were the corn dog nuggets! They give you a ton of mini corn dog bites (so delicious!) with a side of their famous fries. One order is easily sharable with two people as well! And if you are lucky, you will catch Jim playing some magnificent tunes on his piano outside of the shop.
#7: Main Street Electrical Parade
This beloved demonstration of lights has been around since 1972 featuring favorite Disney characters and spectacular floats. You can catch Tinker Bell, Alice and Wonderland, Cinderella, Snow White and the Seven Dwarfs, Peter Pan and more dancing along to the entrancing tune that has been around since the beginning. Still captivating audiences today, this 20-minute parade has not lost its spark. If possible, I recommend going to the 11 pm show and sitting in Frontierland. (It is much less crowded.) You can ride rides up until show time and still have your choice of seats!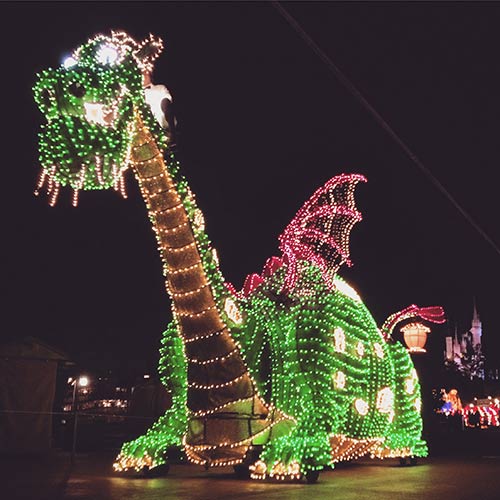 #8: Some of the Classics (Haunted Mansion, Jungle Cruise and
Pirates of the Caribbean

)
At every Disney Park in the world there are rides you just have to do – a rite of passage if you will. They are classics for a reason and everyone should have the chance to experience their lasting magic.

This not so spooky adventure takes guests of all ages on a journey through a mansion that has been haunted for centuries. These ghoulish ghosts have loved scaring riders so much they refuse to leave. The mysteries begin as soon as you step in line for the Haunted Mansion. From spooky gravestones to moving tiles, and then the famous elevator ride, there are surprises lurking around every corner.

Embark on an epic adventure through Asia, Africa and South America on the cruise of a lifetime. The Jungle Cruise is comedic adventure though the most dangerous rivers in the world. On a 10 minute journey you will encounter elephants, waterfalls, lions, hippos and everything else you can experience in nature. This ride is great for a good laugh full of clever jokes.
If a pirate'es life is what you are looking for, you have come to the right place. The Pirates of the Caribbean takes guests on an adventurous boat ride through the film series of the same name. As you cruise through battles and fall down a waterfall, you follow Captain Jack Sparrow through his many exciting pirate escapades. Adventure is around every corner on this fan favorite voyage.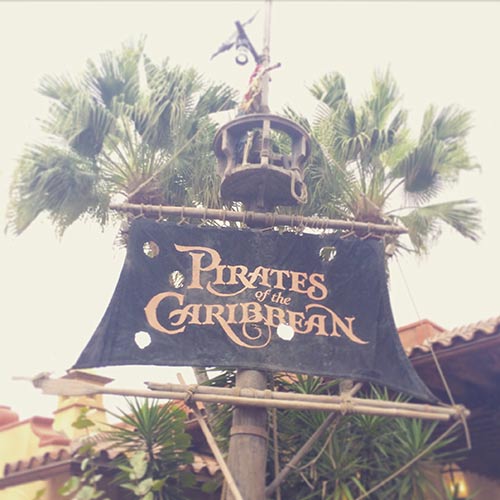 There is a reason people talk about this sweet treat all the time. The tasty Dole Whip, outside of the Dole Factory, is exclusive to only the Disney Parks. An incredibly popular soft-serve snack can be enjoyed in pineapple, orange, vanilla or swirled flavors. You can find your Dole Whip at the newly named Aloha Isle in Adventureland.
#10: Buzz Lightyear's Space Ranger Spin
If your family is anything like mine (big kids at heart), you will love the fun of Buzz Lightyear's Space Ranger Spin. Take up arms against the Evil Emperor Zurg and his army of robots. Equipped with a canon and a spinning cruiser, you must battle through space to return the stolen batteries to the toys. You earn points by shooting the "Z" targets throughout the ride. With the help of Buzz Lightyear, this epic space battle will have you competing and returning again and again to beat your high score.
And remember to utilize the new FASTPASS system to ensure you can see even more of what Disney World and Magic Kingdom have to offer. For more information, you can check out our
My Magic+ article
to learn everything you need to know before you go.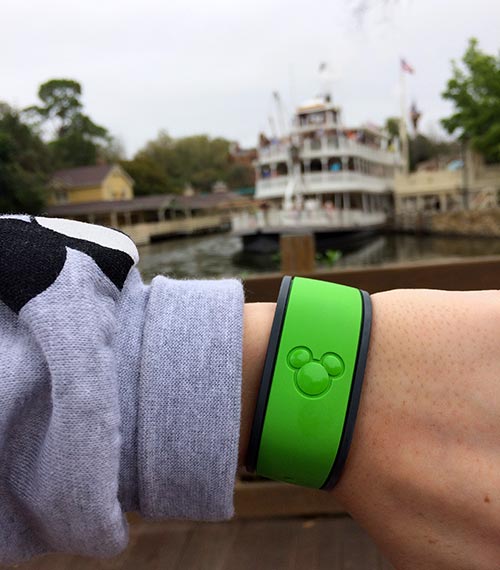 These are just a few of the fun things your family can experience. There is so much more to discover at the Magic Kingdom. Get Away Today would love to help your family to go see the magic at Walt Disney World and report back your favorite things to do. You can book your
Walt Disney World vacation
online or call our travel experts at 855-GET-AWAY. Be sure to check back for more Walt Disney World excitement.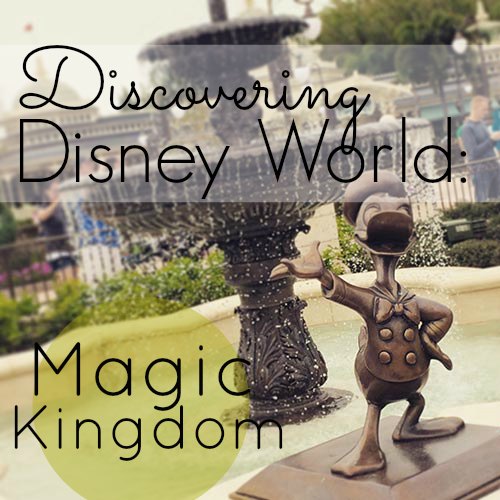 Check out these great articles: