Disney World and Disneyland are just as different as they are similar. This is part two of our Disney World vs Disneyland comparison, where we're focusing on the unique things you'll find at each Disney Park. It can be so hard to choose which Disney Park is the best, but maybe you will have to settle on believing they each are the best for their own unique reasons!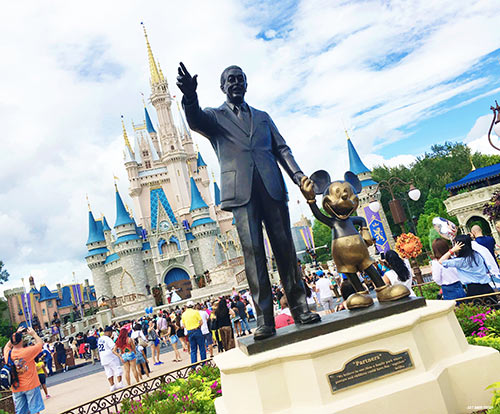 If you've only visited one of the Disney Parks in America, then you're likely curious about how the others compare. Which is why we've put together a series that looks at both the Walt Disney World and Disneyland Resorts, to pick out how they are different and how they are the same. To explore the contrast in park size, FastPass technology and more, click here to read part one of our Disney World vs Disneyland comparison. To learn more about what makes each resort unique when it comes to attractions, entertainment and more, keep reading.
Disney World vs Disneyland – Part Two:
Disney World vs Disneyland: The mountains.
An amazing shirt has recently been spotted walking down Main Street U.S.A.. It reads, "The mountains are calling! – Space, Splash, Big Thunder." Both Disneyland and Disney World have these three staple mountain ranges, although the soundtracks, ride technology and overall experience between the two are often different. Each resort also has a few more mountain ranges that are unique to its part of the world.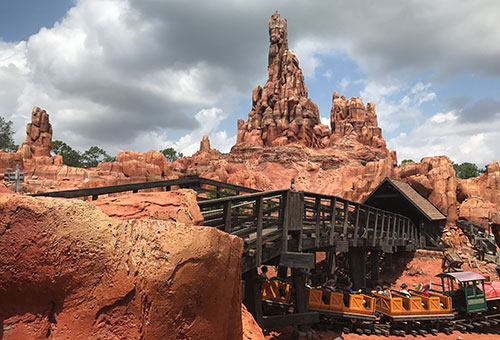 The Disneyland Resort features Grizzly Peak, home of the Grizzly Rapids water attraction, in Disney California Adventure. And you'll also find the Matterhorn, the very first tubular roller coaster built in the world, in Disneyland Park. Introduced to fans in 1959, the Matterhorn was the first E-ticket attraction and influenced many of the bigger rides we all love today.
Additionally, Disney California Adventure Park features the "Cadillac Range," car-shaped mountains that are the backdrop for Cars Land. Cars Land can only be found in California and is certainly a unique stop that you won't want to miss. The area honors the movie so well, that many a young visitor has observed to be "where they shot Cars the movie!" Not only does the entire area perfectly represent Radiator Springs, but guests can visit Mater's Junkyard, do a line dance with Luigi's cousins from Italy and race with Lighting McQueen!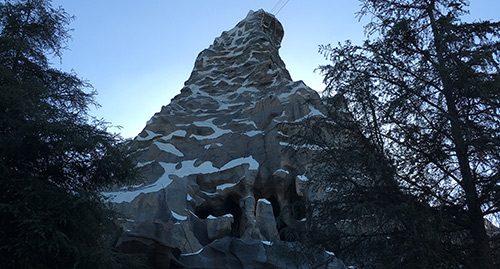 Walt Disney World's mountain ranges include Mount Everest, Mount Gushmore and Seven Dwarfs Mountain. Mount Everest is home to Expedition Everest, the exciting attraction at Disney's Animal Kingdom that will have you racing from the Yeti's clutches. Mount Gushmore is the large water slide at Disney's Blizzard Beach Waterpark, where a freak snowstorm has hit Florida and left tons of melting snow for everyone to play. Last but not least, you'll be able to sing "Heigh ho, heigh ho!" with seven of your favorite men at the Seven Dwarfs Mine Train in Magic Kingdom. Before you take your family-friendly ride through the mountain, you'll experience one of the top queue lines in Magic Kingdom. It's only rivaled by the fun you'll find in the Dumbo the Flyinng Elephant and Haunted Mansion lines.
Disney World vs Disneyland: Night shows.
The nighttime entertainment is both alike and not at Disneyland and Disney World. You'll be able to find both Fantasmic! and fireworks over the castle at each Resort, although the exact special effects and story lines do differ. Especially with the fireworks – you'll want to check the schedule before you visit either Resort as they'll often offer special fireworks for different holidays and times. Let's look at some of the unique night shows you can find at Disney World vs Disneyland.
At the Disneyland Resort, you'll find two unique nighttime spectaculars: World of Color and Paint the Night Parade. World of Color is a water show located in front of Pixar Pier at Disney California Adventure Park. It features the past, present and future of Disney stories. The show uses a submersible platform bigger than a football field, with more than 20,000 points of control and revolutionary lighting that combines nearly 1,200 fountains with color. There's also a 380-foot-wide water screen used for digital projections along with light, fire and sound effects. It's one of the largest show systems in Disney history and is able to switch out sequences for different holiday events. AS OF JULY 2018, World of Color is down indefinitely for renovations. It's rumored that something was broken during the Pixar Pier update and Disney is working tirelessly to fix it, but likely won't have it up and running until early 2019. We'll keep you updated as soon as we hear more – we can't wait to have the show back.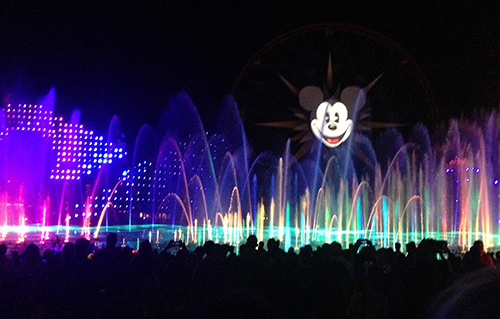 As for Paint the Night Parade, it was introduced during Disneyland's 60th anniversary and guests went wild for it. The parade combines our favorite Disney stories with high-end technology that makes it an experience unlike any other. We were all devastated when it went away, but were ecstatic to see it return for Pixar Fest, running through September 3, 2018 at the Disneyland Resort. Recently, it was announced that the parade will be running indefinitely and we couldn't be more excited. You can find out more details here on why it's something you don't want to miss.
Now, let's look at what's unique to Disney World. Disney World does not have a night parade at this time since the Main Street Electrical Parade left Magic Kingdom in 2016, but there are several nighttime water shows similar to what World of Color offers in Disneyland. At Disney's Animal Kingdom, you'll find Rivers of Light. The show combines water screens, lighting effects and water vehicles to celebrate the beauty of all living things. Your family will love the story told and be mesmerized by the captivating Disneynature scenes and spirit animals.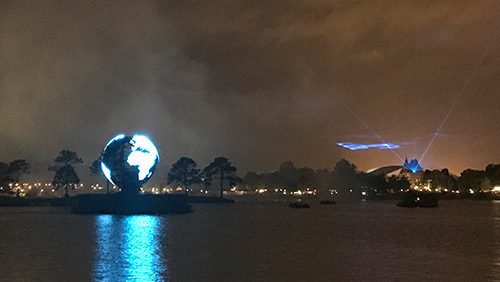 At Epcot, you'll find IllumiNations: Reflections of Earth. This exceptional show not only combines lights, fire and screen effects, but dazzling fireworks as well. The last part of the narrator's introduction alone will give you goosebumps: "…We're gathered here tonight around the fire as people of all lands have gathered for thousands and thousands of years before us... to share the light... and to share a story. An amazing story as old as time itself, but still being written. And though each of us has our own individual stories to tell, a true adventure emerges when we bring them all together as one. We hope you enjoy our story tonight: Reflections of Earth." The globe that shows at the end of the show was actually the world's first spherical projection system, which is only another reason to see this show. There have also been rumors that the show will be receiving an updated storyline with the upcoming changes to Epcot, but nothing has been confirmed. As more details come to life, we'll be sure to share.
Disney World vs Disneyland: Enhanced motion vehicles.
Enhanced motion vehicles, known as EMVs, are motion simulators that allow attractions to give guests a distinct experience through movement. At Disneyland, Indiana Jones Adventure uses the technology to help guests feel like they're racing through the Temple of the Forbidden Eye. In Disney World, you'll find the technology used in Dinosaur at Disney's Animal Kingdom. While Disney World may not have an Indiana Jones ride, Disney's Hollywood Studios offers the Indiana Jones Hollywood Stunt Spectacular with a full-size set, including rolling boulders, airplanes, gun fights and classic action.
Disney World vs Disneyland: Roller coasters.
The Disney Parks offer all kinds of attractions, roller coasters included. When looking at Disney World vs Disneyland, you'll find they share Space Mountain and Big Thunder Mountain Railroad as roller coaster options. Each Resort offers its own unique spins on these classic theme park rides, too!
At the Disneyland Resort, you'll find the Incredicoaster in Disney California Adventure Park. This attraction was formerly California Screamin' and is now the anchor of the brand-new Pixar Pier area. You'll be able to help the Parr family chase down Jack-Jack as you speed by at 55 miles per hour. The Matterhorn Bobsleds, Gadget's Go Coaster and Goofy's Sky School are also unique to Disneyland.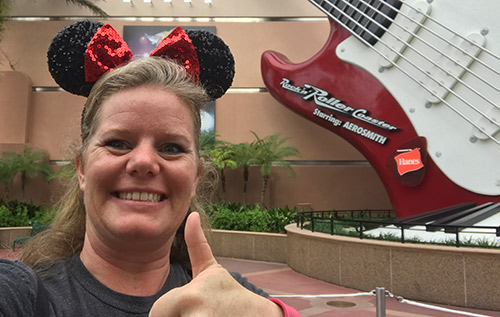 In Walt Disney World, you'll want to head to Disney's Hollywood Studios to experience a normal roller coaster ride. Except, the Rock 'n' Roller Coaster Starring Aerosmith is anything but normal! You'll be twisting and hurtling through neon signs in a dark building as you listen to some of Aerosmith's top hits. It's one wild time that will send you flying from 0 to 57 miles per hour in 2.8 seconds. Don't forget you can now experience the Slinky Dog Dash roller coaster in the brand-new Toy Story Land here, too! Expedition Everest, Primeval Whirl, Seven Dwarfs Mine Train and the Barnstormer are other Disney World exclusive roller coaster rides.
Disney World vs Disneyland: Unique attractions.
Each Disney Park features something incredibly unique! At Disney World, Epcot hosts many of these distinct experiences including the World Showcase, Spaceship Earth, Mission to Mars, the Land and more. Did you know that Epcot stands for Experiential Prototype Community of Tomorrow?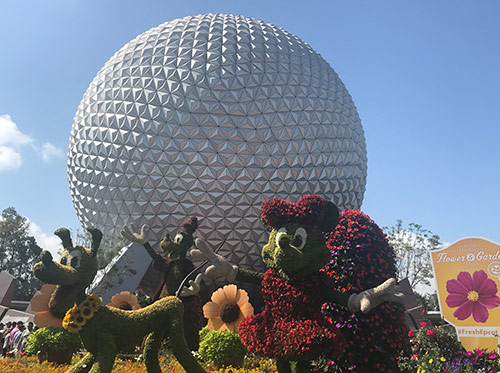 Disney World also features Disney's Animal Kingdom which highlights all the different species around the world, with a touch of Disney magic. You'll be able to visit animal habitats, pose in front of the Tree of Life watch the Festival of the Lion King or explore the world of Avatar in Pandora. The Flight of Passage attraction features ride vehicles that simulate riding a banshee from the famous Avatar movies. Guests are surprised by the details, including the feeling that your banshee is breathing as it swoops and flies through Pandora, the planet featured in the attraction!
Disney's Hollywood Studios is unique to Disney World as well, just like Disney California Adventure is unique to Disneyland. You'll want to visit Toy Story Land in Disney's Hollywood Studios and Pixar Pier in Disney California Adventure on your next trips. Both offer a more in-depth glimpse at some of the best Pixar moments.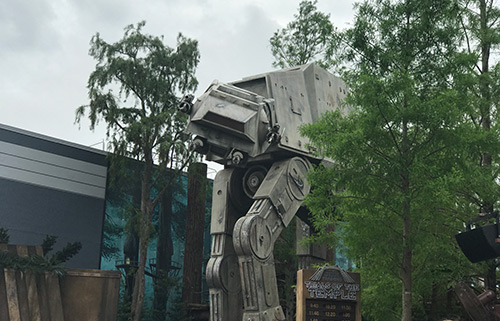 The Star Tours and Jungle Cruise attractions are very similar in nature but have exciting differences when it comes to Disney World vs Disneyland. At Disney's Hollywood Studios, you'll find a giant AT-AT and Ewok village welcoming you to Star Tours, while the attraction is housed in Tomorrowland in Disneyland. The attractions at both parks are very similar in nature but have both exciting and unique differences! You'll also want to ride the Jungle Cruise in both Disneyland and Magic Kingdom at Disney World, since they are almost identical with a few different puns or two.
We can't look at Disney World vs Disneyland without talking about the Tower of Terror and Guardians of the Galaxy – Mission: BREAKOUT!. Both attractions are nearly identical in the mechanisms, but offer an entirely different experience each time. Many people bemoaned when Guardians of the Galaxy overtook Tower of Terror in 2017, but can't help but rave about the attraction now. Plus, it's always nice when you're able to visit one park to view the original version and the other to try the updated version. There's really no way to compare the two and you have to experience them both to understand what we mean.
Did you enjoy reading about some of the differences when comparing Disney World vs Disneyland? We'd love to hear if you have any other contrasts between the two Resorts – just leave a comment below.
And, if you're ready to plan your next Disney World or Disneyland vacation, we'd love to help! You can find any of our Disney packages online or call our travel experts at 855-GET-AWAY for a truly customized and special experience. With discount Disney tickets, reduced hotel rates and expert tips, you'll be on your way to the most magical vacation yet.

For more Disney Park secrets and tips, check out these articles: