This year is a special one with the Disneyland Diamond Celebration in full swing. Since this week marks the official opening of Disneyland (July 17, 1955), we thought it would be appropriate to share some Disneyland memories from those who were there when it opened. We were so thrilled to get a firsthand account from Marv S. who was able to visit Disneyland the year it opened as a young father. Marv has been able to return a number of times since then. He shared some incredible experiences with us and we loved hearing all about it. We think you'll enjoy it just as much as we do:

When I was working for Douglas Aircraft Company before it became McDonnell Aircraft Company, prior to it becoming Boeing Aircraft it became knowledge that Donald Douglas Jr. was a partner in financing Walt Disney in his major project called "Disney Land." We as employees were offered special tickets for $25.00 a family. We had four children. On a certain Saturday all employees went to Disneyland located in Anaheim, California. We pulled into the huge parking lot and had almost our choice of parking. There were attendants pointing where they preferred we would park. Naturally, we parked as close to the many entrances available that we could.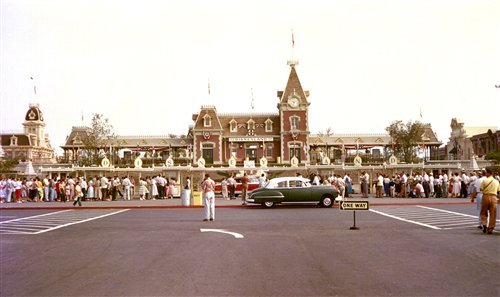 Photo courtesy of Jim Hill Media

When we presented the identification card given to us when we purchased our ticket at work, we were each given a 2" X 6" tag with a string and had our arms stamped with a certain dye that showed up under a purple light. We hung the tag on our shirts to identify that we belonged to the "Magic Kingdom Club." That tag allowed us to ride any ride free and as often as we wanted to. Often times we just motioned to the operators that we wanted to stay on the ride and once again we continued the same ride. We enjoyed every attraction and rode every ride in the park.

We also had a pass to eat at one of the dinners for lunch. When we were on the "Tom Sawyer's Island," we were introduced to an amazing drink right out of a big wooden keg. It was called "Mountain Dew." Never heard of it before and was it good. My wife especially was impressed with its name since it was on the Tom Sawyer's Island.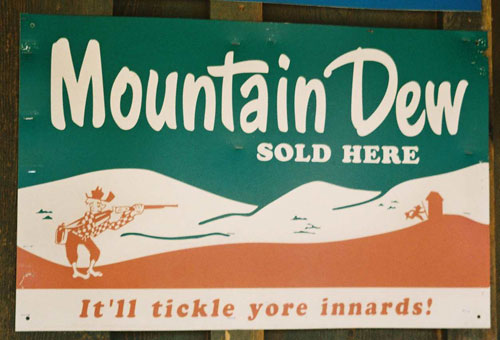 Photo courtesy of Wikipedia

We never got tired and stayed until the park closed. With every trip we always stayed until closing time and by then we usually had the park mostly to our selves. After that first experience, we made visiting Disneyland at least an annual event.

On another visit to Disneyland during the early years, we were standing in front of the Mickey Mouse Theater and we heard a somewhat familiar voice and when we turned around Walt Disney himself was immediately behind us. The children got to shake hands with him and they talked with him and had a nice visit with him. He didn't seem to be in a hurry or people didn't crowd around him. I think Mickey Mouse was with him not too sure about that but, it seems more than likely, that's probably where the crowd was.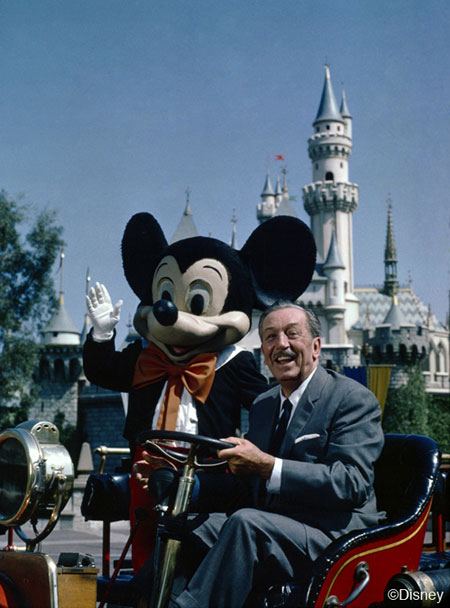 Photo courtesy of Disney Parks
Then, 14 years or so later, when our oldest daughter, Charlene graduated, the class was planning to go to Disneyland and stay all night. The school was looking for chaperones and my wife and I volunteered. We went on buses to Anaheim and joined several other high schools for the all night event. Again, rides were available free and we could ride as often as we desired to. Once more, a meal was provided and the service was its usual top quality. My wife and I wandered thru the park several times and rode many of the rides but, the lines were very long and seemed slow. It was close to: 1 or 2 A.M. I suppose, when we decided to give up and go to the "it's a small world" ride. No lines…we took our seats and told the operator to just let us continue to ride, around and around and around. I don't think anybody came to ride while we were there. When we heard the announcement to board the buses, we woke up. I guess we were not all that great a chaperone close to the end but, we sure had a wonderful time.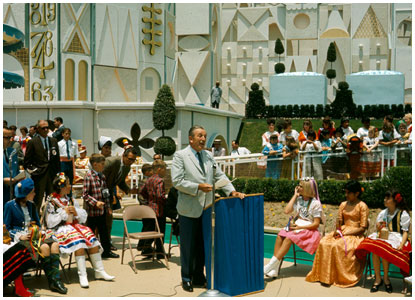 On another trip the kids were off doing their thing, we were dancing at the band stand to the music of our day, the wonderful 40's. While dancing I felt a tap on my shoulder as if some one wanted to cut in. We were face to face with the band leader, our bishop of the 50's, Del Clawson. He was still serving in Congress, but home from Washington, D.C. He had joined with his old band as a guest band member for that weekend.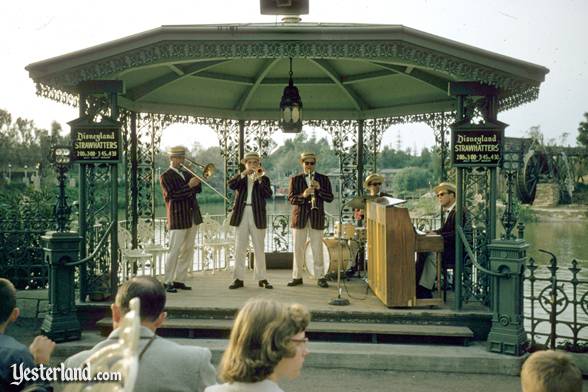 Photo courtesy of Yesterland

Our family has traveled all over the USA and Disney is in its own class. Nothing ever compared with Disneyland; not 1964-5 Worlds Fair or even Disney World. Disneyland was so clean and organized. The employees all very professional. My wife's favorite ride was "It's a Small World." My favorite was "Pirates of the Caribbean." The kids' favorite was all of it. Nothing disappointed them. Especially meeting Walt. We loved the "Lincoln's Gettysburg Address.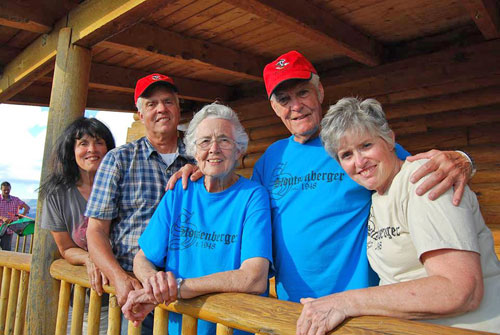 Marv, his wife, and three of his four children who visited Disneyland annually beginning in 1955.

We hope you loved reading Marv's memories as much as we did! When you're ready to create or recreate your own family memories, we're here to help. Book your Disneyland vacation online or call us at 855-GET-AWAY.



Check out these other great articles:

Best of the Disneyland Diamond Celebration (Video)
25 Tips for the Disneyland Diamond Celebration
Disneyland Diamond Celebration Merchandise and More