We have been having the time of our lives on Get Away Today's 18th Annual FAM trip! If you've been following along, you know we kicked off the fun in sunny San Diego before heading to Anaheim to visit hotels and play at the Disneyland Resort. We've been sharing our impressions and feedback here as well as our Facebook and Instagram. The most exciting part for you is all the giveaways - hotel stays, tickets and more - that we have been doing. Make sure to enter all of them before Monday night and read on to hear all about our last day!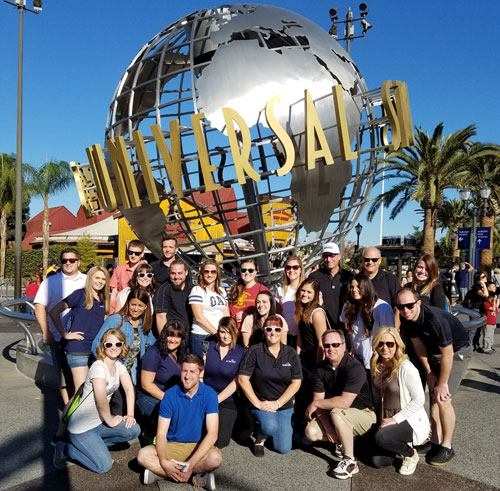 Our group said one last goodbye to the fantastic Great Wolf Lodge before shuttling over to Universal Studios Hollywood. We got lucky with nearly no traffic, but also because we had Front of the Line passes. If you are going during a busy time, this pass is a must. The Front of the Line pass enables you to go to the front of the line once for each ride. It's always nice to have, but when wait times jump during busy times, it's almost a necessity. We got to visit on Veteren's Day, so we were especially grateful to have them!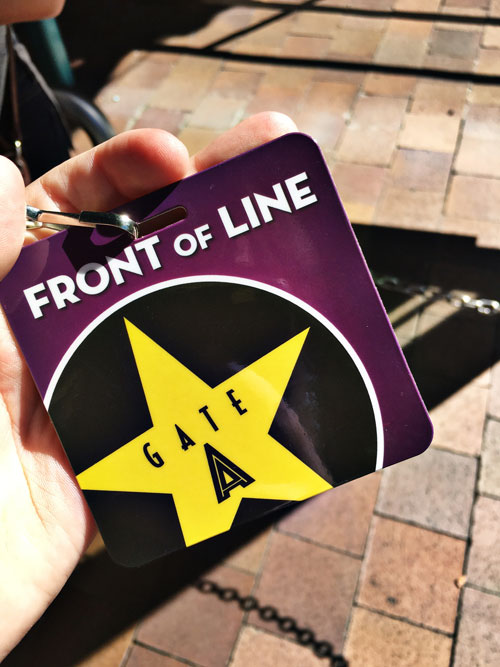 Speaking of necessities, the new Wizarding World of Harry Potter is the staff favorite and must-see of the year. We were all so excited to finally see the new addition since it hadn't been open during last year's visit. If you are a Harry Potter fan, you will be amazed at how much it feels like you are stepping straight into the books and movies! Even if you aren't a Potter fan, you'll still be blown away by the immersive experience.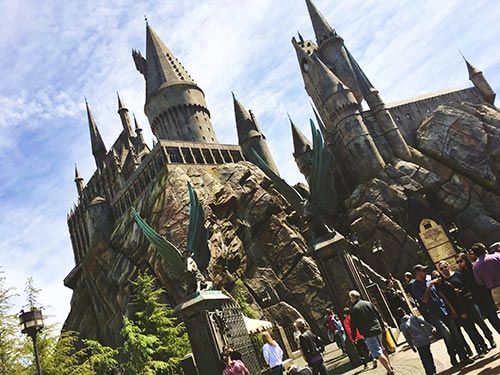 Our first stop in the Wizarding World was the Harry Potter and the Forbidden Journey 3D ride. This ride takes place in Hogwarts and may have one of the coolest lines we have been in! You actually get to walk through Hogwarts before boarding the ride. You'll definitely want to keep your eye on the portraits - you may notice a few iconic characters. If you really want to have some fun, check out our article, 20 Things to Look For In Line For Harry Potter and the Forbidden Journey.
If you're not too sure about the 3D ride, but want to see the castle, don't worry. You'll simply tell the Universal worker at the front that you want to walk through Hogwarts. They'll give you a pass so that you can enter Gate A (where the Front of the Line people usually enter) and experience the magic of the castle for yourself. It's a great option if you have any witches or wizards who aren't quite tall enough for the ride yet!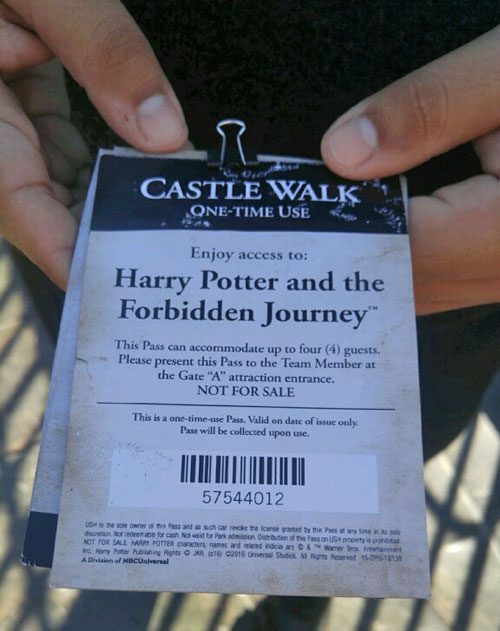 While wands and robes aren't a necessary souvenir, they sure are fun ones! You can purchase interactive wands if you want to be able to cast spells at certain areas throughout the park. One thing that we think is necessary is definitely the Butterbeer! This drink is usually served cold or frozen, but Universal just recently introduced a warm version as well. It's absolutely delicious and just another touch that transports you right into the Wizarding World of Harry Potter.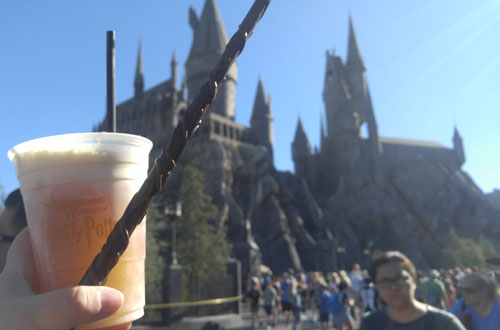 The Wizarding World is truly a magical place and we're giving away 2 adult 1 day Universal Studios Hollywood tickets so you have the chance to experience it for free. Enter here:
After waving our wands goodbye, we headed to another staff favorite, the Studio Backlot Tour. You get an insider's look at how movies are being made. We even had to quiet down as we passed a few filming spots. You will actually feel like you are in the movie when you visit Skull Island and the Fast and the Furious. These are attractions within an attraction and they are awesome! It's a must-do for all the movie buffs.
The colorful town of Springfield was our next stop. Even if your kids don't watch the show, they will enjoy the carnival games and fun food. But, if you're a fan of The Simpsons, you'll be all over the chance to try a real Krusty Burger, Buzz Cola, or even Duff Beer for those 21+. Perhaps the most popular food item from Springfield is the giant Lard Lad Donut. They're almost impossible to pass up.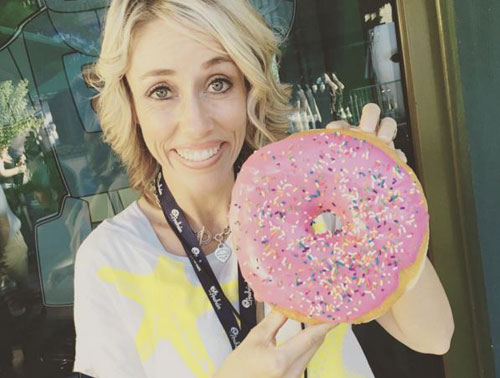 We headed for the lower lot next to experience the Transformers 3D and Jurassic Park attractions. These attractions are both awesome. As a warning, if you visit Universal on a warm day, expect to get soaked on Jurassic Park. We've included Before and After pictures for your enjoyment. If you want to stay a little bit dry, you can bring a poncho or purchase one before riding. Don't say we didn't warn you!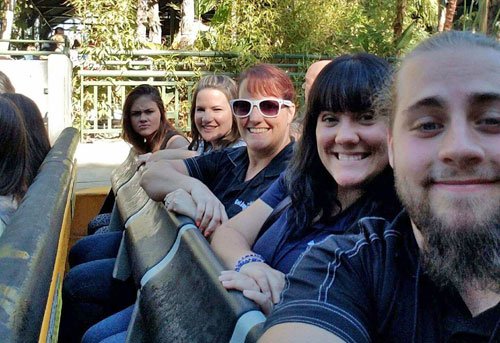 Before Jurassic Park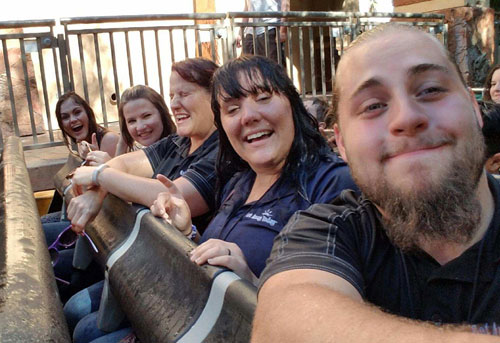 After Jurassic Park
While we were visiting the lower lot, Revenge of the Mummy was down for refurbishments. It is expected to be up in a few weeks and better than ever. While on the lower lot, keep your eye out for any raptors or Autobots that may be roaming around!
Enter here for a chance to win a Universal Merchandise Prize Pack:
If you're a fan of zombies, you'll love the attraction we visited next. The new AMC's The Walking Dead walk-through attraction opened just a couple of months ago. This is the first year-round attraction of its kind and was inspired by The Walking Dead attraction that initially debuted during Universal's Halloween Horror Nights a few years ago. This isn't for your littles or the faint of heart. In fact, they highly recommend ages 13 and up. You'll be immersed into the terrifying and incredibly realistic looking world of a zombie apocalypse.
Since we were a bit terrified after almost being eaten by zombies, we headed to the Despicable Me: Minion Mayhem. This is a great spot for the whole family since you can meet characters from the movie as well as play carnival games or splash around in the Silly Fun Land area. You'll love it so much that you'll want to become a minion yourself. No worries, just hop on to the ride and experience Gru's minion training!
Enter here to win a Minion-tastic Universal Prize Pack:
It was time for us to say our goodbye to Universal Studios and Southern California entirely. We headed for the LAX airport for our flight. We are happy to be back home today, but already missing the fun that Southern California has to offer. It's been a great trip and we are so excited to share all the things we learned with you!
You can call our agents at 855-GET-AWAY. The few weeks after the FAM trip are always a great time to call our agents because everything is so fresh in our minds. Of course, you can also book any of our packages online as well. The holidays are a great time to go and you can always book for 2017 if you aren't quite ready for a holiday trip in 2016! We hope you had fun following our travels and learned just as much as we did. Don't forget to enter all our giveaways. They will be open until 11:59 PM MST on Monday, November 14th and we will contact winners on Tuesday, November 15th. Good luck!