We have been having the time of our lives in Anaheim and will be sad to say goodbye. Luckily we got to spend our second to last day in the Happiest Place on Earth. Our contact, whom we affectionately call "Disney David," and tour guides made it one of the most spectacular Disney days we've ever experienced. Read on to find out about all the magic and make sure to enter the great giveaways!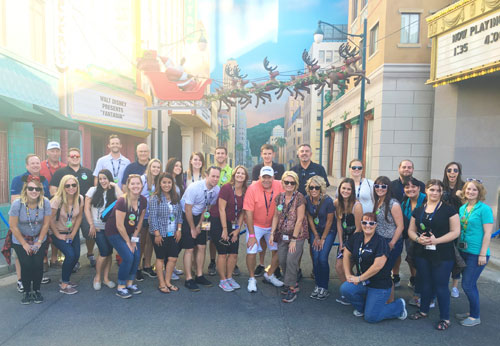 Our group met in the lobby of the Great Wolf Lodge bright and early. Most of us were awake and ready to go, though some who had played the night away in the 24 hour arcade shared a few yawns. Like we mentioned in yesterday's update, this hotel is seriously amazing. It's something you have to see to believe and that's why we are giving away a 2-night stay!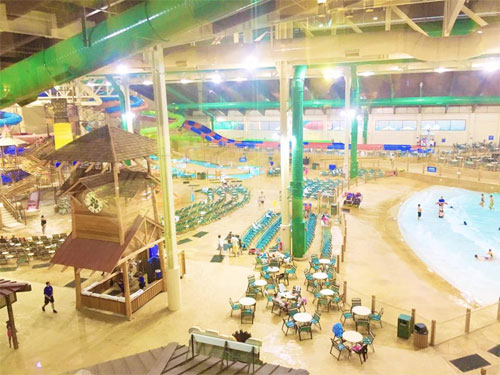 Enter here to win a 2-night stay at the Great Wolf Lodge:
After a short bus ride we met Disney David and tour guides for the day. If you ever do a private tour, make sure to request Katie, Laura, DJ or Sara. They were all so awesome and knew lots of cool facts about the parks! We took a minute for introductions before grabbing a quick bite to eat at the Starbucks in Downtown Disney and heading into Disney California Adventure.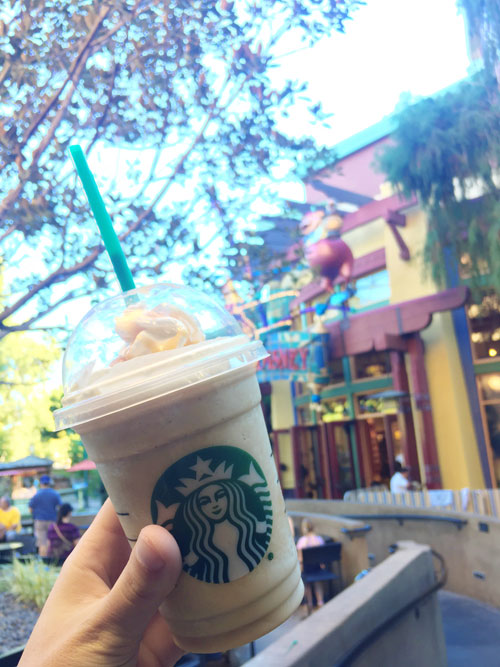 The best part of walking into Disney California Adventure Park, was seeing the holiday decorations. Today was the first day of the holiday festivities and the amazing decorations add so much! After taking a minute to soak in the beauty of Buena Vista Street, our tour guides treated us to Soarin' Around the World. If you haven't seen the updated ride, you are missing out. Make sure to check out our in-depth article, Soarin' Around the World: A Scene by Scene Guide.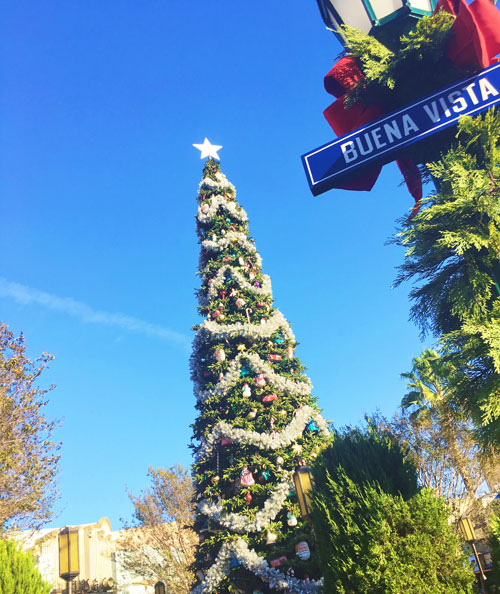 After seeing the world, we headed over to the Tower of Terror. While we are super excited for the new Guardians of the Galaxy ride coming next summer, we are sad to see such an iconic ride go. We made sure to hold on tight and scream our heads off as we checked in for the last time. There were a few unable to ride (it's a little too exciting for our pregnant gals), but they had some fun chasing down Boo with Sulley and Mike Wazowski.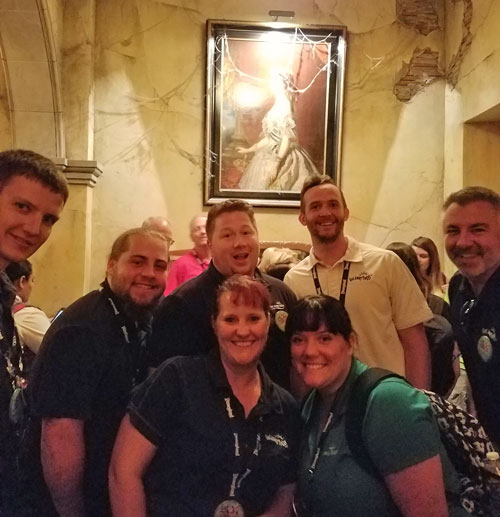 Once we made sure everyone had survived the ride, we headed over to Radiator Springs for some racing and good food. Radiator Springs Racers is probably one of the most popular rides in Disney California Adventure and for a good reason. Your kids will love getting the closer look at Mater's home town and racing each other to the end. It's definitely one you will want to FastPass for first thing in the morning. After racing, we made sure to refuel our own tanks with some delicious food at Flo's V8 Cafe, which was also decked out for the season.
Before we left Radiator Springs, we made sure to ride Luigi's Rollickin' Roadsters. This updated ride is fun for the whole family (32" and taller) as you dance along with all of Luigi's cousins. The coolest thing is that each of the cars has their own system so they have to "nap" every once in a while to recalibrate and make sure they know where all the other cars are.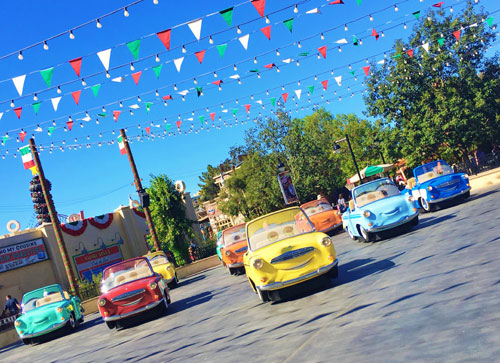 The newest entertainment to come to Disney California Adventure Park, Frozen at the Hyperion Theatre, was our next stop. Our office had been sad to hear that the Aladdin show was being retired, but we are glad to report that the Frozen show is just as amazing. The amount of technology that is used in this Broadway-like production is mind blowing. They have spinning stages, visual effects and a spectacular cast. All of our staff agrees that this is a must-see!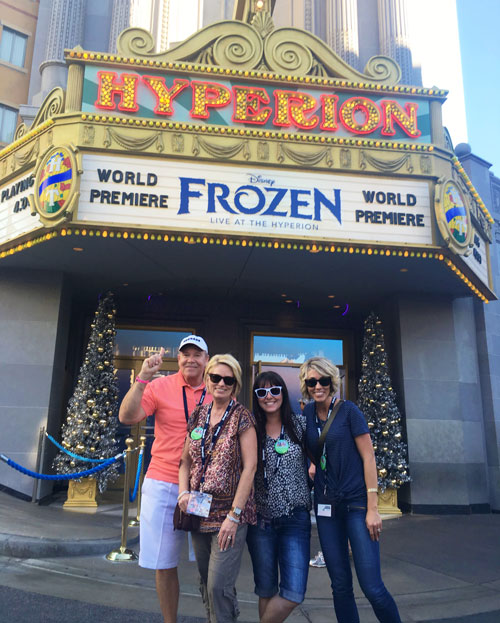 Along the way we ran into so many great characters like Sulley and Flick. It's so fun to meet your favorites throughout the park, but can be a bit tricky to track them all down...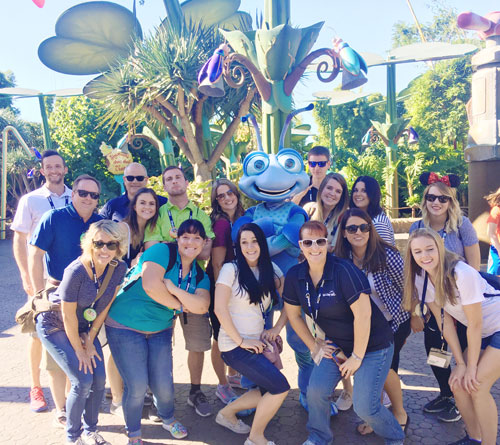 We always recommend doing character dining so you can eat some yummy food while having all the characters come to you. We're giving you a chance to win a family 4-pack of premium character dining so make sure to enter here:
Our fun tour guides led us to Disneyland next. If you haven't seen Main Street decked out for the holidays, you need to as soon as you can. They have a ginormous Christmas tree right in the center as you enter as well as wreaths, garlands and lights covering every surface.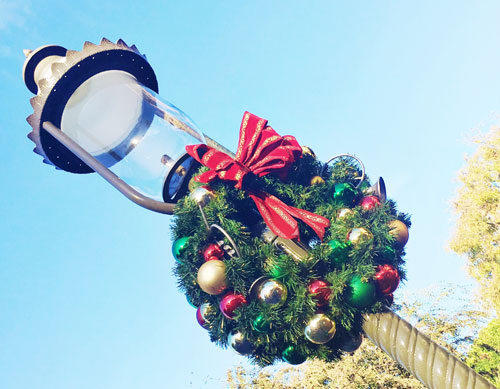 Katie, one of our "plaids," explained that they do a lot of work to make Main Street seem as big as they can. They actually switch out the trees on Main Street if they get too big. They are currently on their third round of Chinese Mongrove trees!
We headed to Tomorrowland first - where the dreams of tomorrow can be seen in everything. Half of our group joined the Resistance on Star Tours while the other half defended the galaxy with Buzz Lightyear. If you have young Padawans or Space Rangers in your family, this is sure to be one of their favorite areas of Disneyland.
We were then treated to special seating for the very first showing of Disneyland's holiday parade of the year, A Christmas Fantasy Parade. This parade will put anyone in the holiday spirit. Keep your eye out for your favorite princesses, toys, Santa's Helpers and more!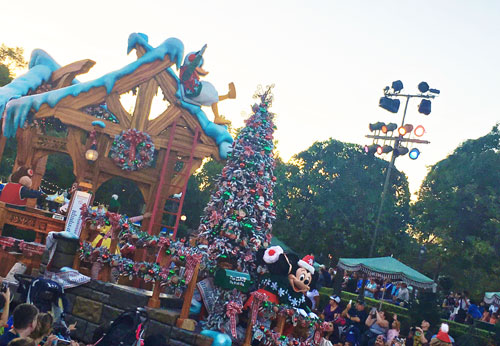 Keeping in the holiday spirit, we walked over to experience the Nightmare Before Christmas overlay at Haunted Mansion Holiday. Your family is sure to scream with delight at this ghoulish attraction where Halloween and Christmas collide. Watch for Jack Skellington and Zero throughout, and enjoy the smell of the Haunted Mansion Gingerbread House. A life-size Sally is new this year and can be found in the graveyard. It's a great chance to rest your feet and find your scary holiday favorites.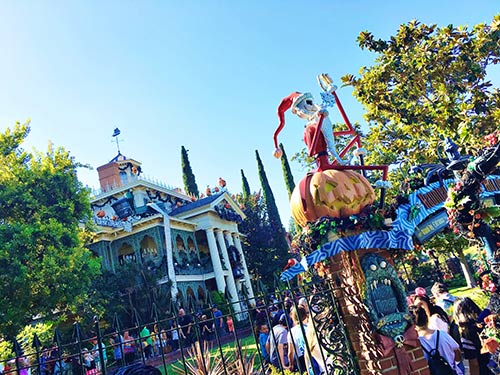 After we made sure no ghosts were following us, we walked through New Orleans to ride the Pirates of the Caribbean. This is a classic Disneyland ride that our staff loves. Follow along as the pirates search for the dashing Jack Sparrow. Careful, you might just want to join the brash gang!
We had some extra time before our next scheduled ride, so the guides treated us to a ride on Hyperspace Mountain. Space Mountain has always been a favorite, but the Star Wars touches have made it out of this world. You feel like you are in the middle of a galactic battle as you race through the dark. Fun fact - this ride uses gravity as its main accelerator!
For those who found galactic warfare a bit scary, they visited "it's a small world" holiday. This is another ride that has a holiday update that only makes it better. While you sing along to the iconic song and Jingle Bells mash-up, keep your eyes open for Disney characters who are part of the scenery.

Speaking of holiday updates, the Jungle Cruise turns into the Jingle Cruise each holiday season. You'll still get those same bad jokes and puns, but wrapped with more tinsel and lights. This is a favorite - you get to explore the rivers of the world while "laughing all the way." You will have a ball on the Jingle Cruise - just watch out for some of those wild animals!
Spending so much time kicking off the holidays put us in the giving mood. So, we are giving away two adult 3 Day Disneyland Park Hoppers! Enter here:
After spreading the holiday cheer throughout the Amazon and Nile River, we were a bit hungry. Well, Disney David did not disappoint. We were treated to what could only be described as a diamond in the rough - dinner in Agrabah! The Cave of Wonders stared down at us while we ate such good food before meeting Jasmine and Aladdin. It was one of the best dining experiences we've had at Disneyland! That could have been enough to end our night, but Disney David knows no Disney Day is complete without fireworks.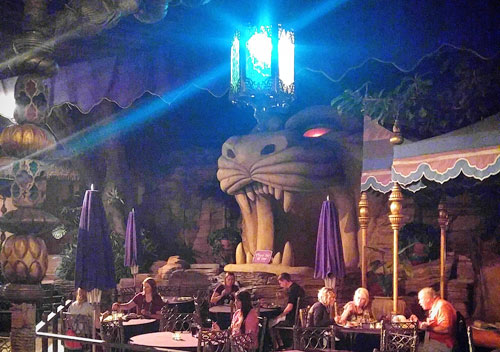 Not only did we get to see the fireworks, but we had some of the best seats in the house - front and center in front of the Walt Disney and Mickey Mouse Statue. It was the debut night of Believe... In Holiday Magic fireworks after taking a year off for the Diamond Celebration and it was even better than we remember.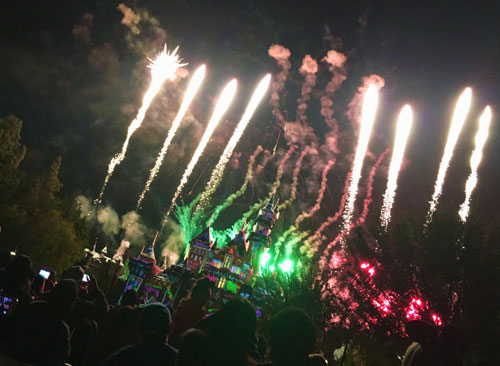 You really can't get anything but amazement when you combine Disney, fireworks and the spirit of the holidays. Especially when there is magical, not-cold snow involved! Disneyland fireworks are always an experience, but our staff all agreed that these are the best we've seen yet. There is no better way to end your night with a message of happiness and belief. It's the embodiment of Disney and why we love our jobs so much.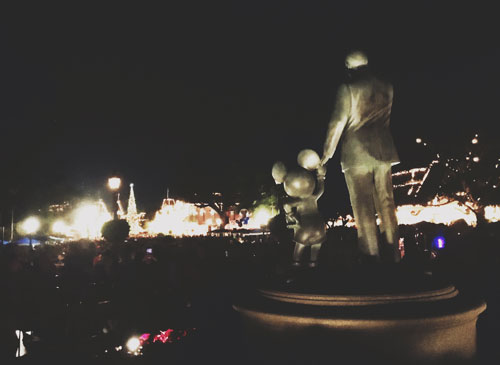 You can share the holiday magic with your family! We have 2016 and 2017 packages available that can be booked or over the phone. Our office is open 9 AM - 5 PM MST for the week, but you can always book online. Plus, this is the LAST DAY you can save even more with our exclusive online promo code: FAM2016! You'll save an extra $20 on any 2-night or longer Southern California package booked on our website only.
We only have one day left on our Southen California FAM Trip, but we will be making the most out of it at Universal Studios Hollywood. Make sure to follow along on our Facebook and Instagram for live giveaway updates. Also, check back on the blog tomorrow to make sure you didn't miss any of our final day's adventures and giveaways!