Mirror, mirror on the wall, what's the most delicious churro of all? Check out our Halloween Churros at Disneyland review to find your new seasonal favorite!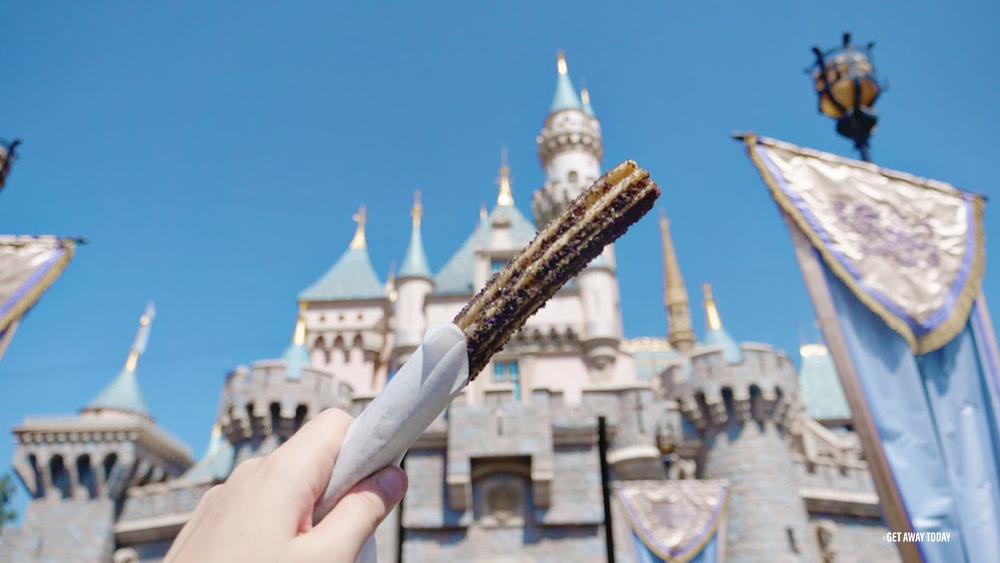 Churros are a staple treat at the Disneyland Resort – one that guests tend to indulge in multiple times a day. Disney has recognized this and keeps making churros even better with new seasonal flavors. This year, you can experience nine different churros at the Disneyland Resort. Yes, you read that right; NINE different churro flavors for you to taste during your spooky trip. To help you narrow down the list to your favorites (or at least pretend to – we won't judge if you decide to try them all in one day), we've put together a Halloween churros at Disneyland review. Check it out below and let us know if you have a favorite out of these frightful flavors.
Halloween Churros at Disneyland Review
Halloween Churros at Disneyland Review – Maleficent Churro with Marshmallow Dip:
First up is the Maleficent Churro with optional marshmallow dip. You can find this treat near Sleeping Beauty's Castle and at Town Square. If you love the cookies and crème flavor, or eating just the cookie part of Oreos, this choice might be your favorite. The usual delicious churro has been rolled in chocolate cookie crumbles and sprinkled with purple and green sugar. It's a standalone by itself but becomes a total knockout when you add the marshmallow dip.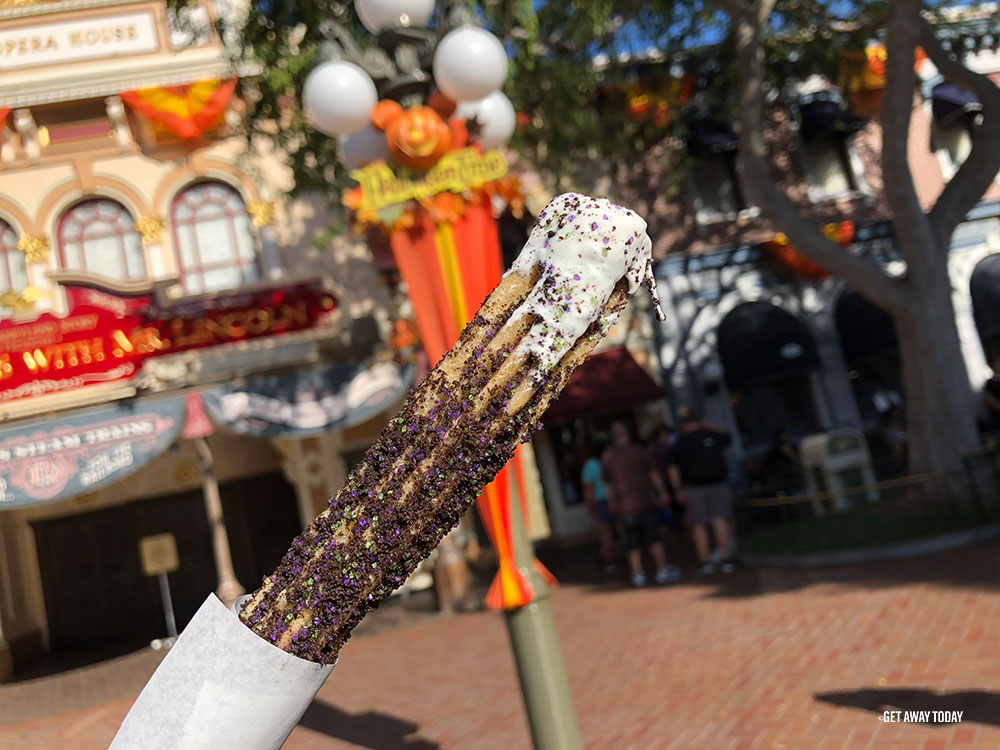 The dip does cost an extra dollar, so I'd recommend only purchasing one to share among multiple churros. If you're only getting one churro, I would probably splurge as the marshmallow dip was really what made this one of my favorites. Just make sure to eat it quickly or have some wet wipes on hand – the marshmallow dip can get sticky fast!
Halloween Churros at Disneyland Review – Orange Sugar Churro with Candy Corn Sauce:
While there may be a love-hate relationship for candy corn, everyone will love the Orange Sugar Churro with candy corn sauce. It's found at the churro cart near Big Thunder Mountain, making it the perfect sweet treat after you've rode along the wildest ride in the wilderness. The churro itself doesn't have a different taste but does have bright orange and yellow sugar that makes it resemble the candy perfectly when you add in the white wrapper.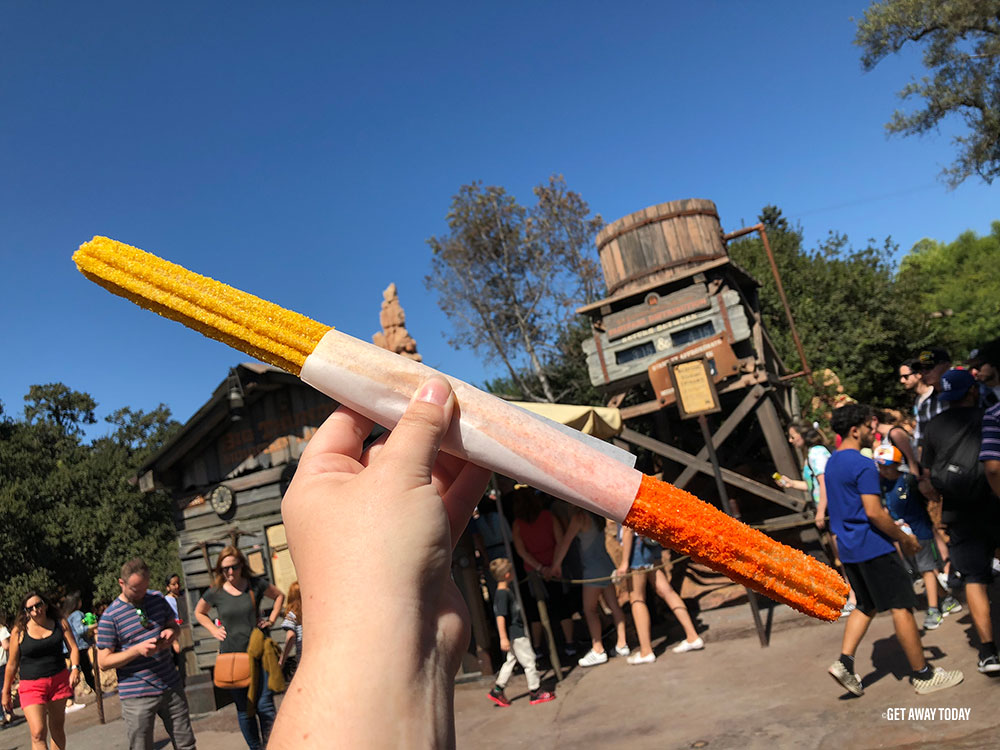 The magic is in the Candy Corn Sauce, which has white and orange layers as well as two candy corns on top. The sauce reminded me a lot of the marshmallow dip from the Maleficent Churro with just an extra pop of sweetness to better taste like a candy corn. Don't be surprised if you're tempted to lick the little container clean because you like it so much!
Halloween Churros at Disneyland Review – Pumpkin Spice Churro with Cream Cheese Frosting:
This may have been my favorite of the Halloween Churros at Disneyland and those who love everything pumpkin spice will likely agree. You can find this churro at the cart across from the Haunted Mansion or at the Cozy Cone Motel in Cars Land. There's only one difference; the Cozy Cone Motel version has edible ghost glitter sprinkled on it, while the one near the Haunted Mansion does not. If you're looking for the perfect picture of your churro, you may want to grab the one from Cars Land since they both taste the same.
On top of the churro being rolled in pumpkin spice sugar, you also get a little container of cream cheese frosting. While my husband and I both loved the marshmallow and candy corn dips, the cream cheese frosting was by far our favorite. There's just something about the little tang of cream cheese frosting that complements pumpkin spice so well!
Halloween Churros at Disneyland Review – Sour Apple Churro with Caramel Sauce:
The Sour Apple Churro with optional caramel sauce found near Buzz Lightyear Astro Blasters had the biggest range of reactions in our group. The churro itself is dusted with sour apple flavoring and you can add on the caramel sauce for an extra dollar. It's similar to eating a caramel apple in churro form.
While many in the group loved this option, just as many found it wasn't their favorite. It reminded me a little of the Fun Dip candy, just spread over a churro. The caramel sauce definitely made it better, so I'd suggest adding that on if you're gong to try the Sour Apple Churro. And, make sure to leave us a comment below whether you loved this option or didn't care for it!
Halloween Churros at Disneyland Review – S'mores Churro:
If you love S'mores, you need to try the S'mores Churro when sampling the Halloween Churros at Disneyland. You can find it near the Redwood Creek Challenge Trail, right across from the viewing area of the water wheel on Grizzly River Rapids.
The blend of graham cracker, chocolate chips and marshmallow drizzle is divine! This one almost beat out the Pumpkin Spice Churro as my favorite, it was so good. You'll want to eat it quickly, as the chocolate begins to melt as soon as it touches the warm churro and can drip a bit. You wouldn't want it any other way, though – the warm chocolate and marshmallow is what makes the S'mores Churro one of the top Halloween Churros at Disneyland.
Halloween Churros at Disneyland Review – Purple, Green and Orange Sugar Churros:
For those who want to just enjoy their usual churro with a bit of Halloween Time fun, go for the Purple, Green and Orange Sugar Churros or Purple Sugar Churros. These are normal churros with a dash of colored sugar to make them a touch spookier. You can find the Purple, Green and Orange Sugar Churro at Willie's Churros in Disney California Adventure or the Purple Sugar Churro at the churro cart near Goofy's Sky School. You can never go wrong with a dressed up classic!
Halloween Churros at Disneyland Review – Churro Bites Cereal Sundae:
The Halloween Churros at Disneyland are even better this year with sundae options. That's right; the goodness of churros and ice cream combined into not one, but two amazing churro sundae options. First up is the Churro Bites Cereal Sundae. This can be found at Hungry Bear Restaurant and has fruity churros, cereal milk anglaise, strawberry ice cream, bananas and a raspberry sauce on top.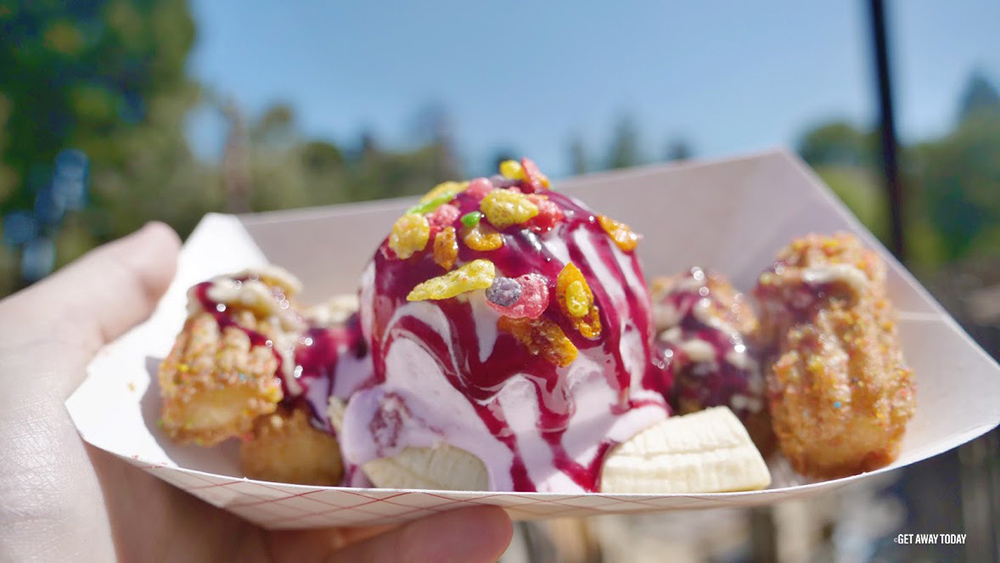 While this seems like it may be a bit of a sugar overload, the mix of churro, strawberry ice cream and bananas was perfect. This is one sundae you could easily share with others or just indulge and have for yourself. Either way, we don't doubt that this will be one of the favorites on your Halloween Churros at Disneyland list.
Halloween Churros at Disneyland Review – Churro Sundae:
The second option is the Churro Sundae from the Golden Horseshoe. This delectable treat has cookie butter gelato, churros, cajeta (similar to caramel) and whipped cream. If you love cookie dough and churros, this is the sundae you'll want to try. The gelato has tons of cookie dough chunks, which match perfectly with the cinnamon-sugar churros and caramel topping.
This is another treat that might be best to share if you're afraid of being overwhelmed by the sugar or richness. Just be aware that it will disappear that much more quickly when you share!
There you have it, a look at all the Halloween Churros at Disneyland. If you've been and tasted any of these, let us know your thoughts in the comments below. If you have a trip planned, then make sure to let us know which Halloween churro you are most excited to try!
It's not too late to book a Halloween Time vacation to the Disneyland Resort either. Get Away Today has discount Disneyland tickets, reduced hotel prices and all the insider tips to make your dream vacation a reality. You can book any of our Disneyland packages online or give our travel experts a call at 855-GET-AWAY.