According to the calendar, there are 11 weeks left until Christmas. But Christmas comes early during the kick-off of the Holidays at the Disneyland Resort! Just five weeks from now on November 14, the official celebration begins and will continue through January 6, 2015. There is so much to see and do that you will definitely want to plan some time this holiday season to experience it all! Here is a sneak peek of what you can expect from Holidays at the Disneyland Resort this season: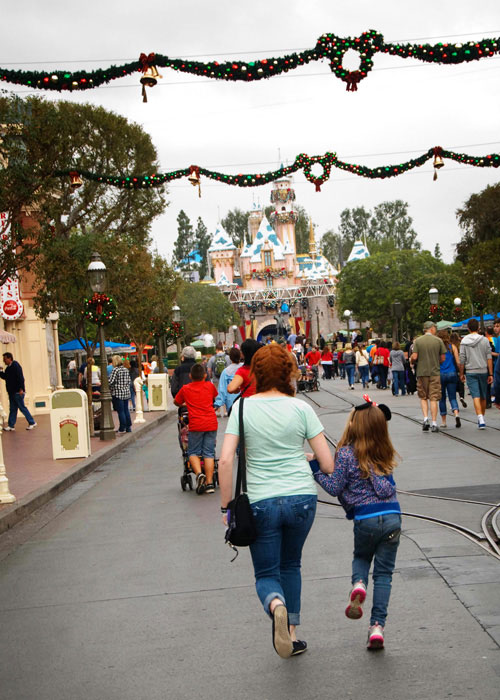 Photo credit: Monique Duke DisFanReview.com
Incredible decorations: Nobody decks the halls like Disney. Giant Christmas trees welcome visitors to both Disneyland and Disney California Adventure Park. Cars Land is transformed with tire trees, tinsel and more. Sleeping Beauty's Castle is snow-capped and is illuminated at night with thousands of twinkling icicles. Fantasy Faire, a bug's land, New Orleans Square and Buena Vista Street are all transformed as well. It seems like every nook and cranny of the Resort is celebrating the season!
Photo credit: Monique Duke DisFanReview.com
"Believe... In Holiday Magic" is possibly the most magical fireworks display of all-time. Set to beautiful music with stunning fireworks lighting up the night sky, this show ends with a magical (and warm) snowfall on Main Street U.S.A. It is not to be missed.
"it's a small world" holiday: This is one of my favorite holiday attraction transformations. The outside is fabulous with hundreds of twinkling lights, which is a sight to see in itself. Inside, the attraction celebrates the holiday all over the world and incorporates "Jingle Bells" into its soundtrack.
Haunted Mansion Holiday: Christmas and Halloween collide when Jack Skellington from Tim Burton's Nightmare Before Christmas takes over the Haunted Mansion. This is the only attraction that has the same overlay from Halloween Time through the New Year!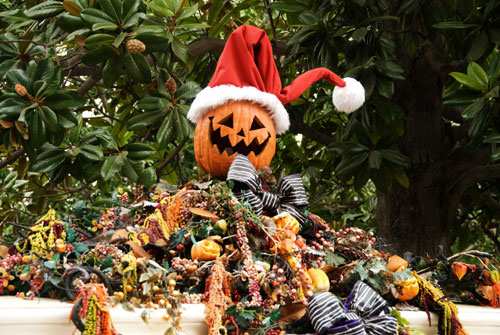 Photo credit: Monique Duke DisFanReview.com
Mad T Party: Tim Burton also makes his mark over at Disney California Adventure Park with a fun holiday version of the Mad T Party. Alice and the White Rabbit rock out to holiday hits and magical snowfall covers the crowd in between shows.
Jingle Cruise: The Jungle Cruise becomes the Jingle Cruise with a whole new line-up of holiday themed jokes and holiday decor. As they say, it's "jungle all the way."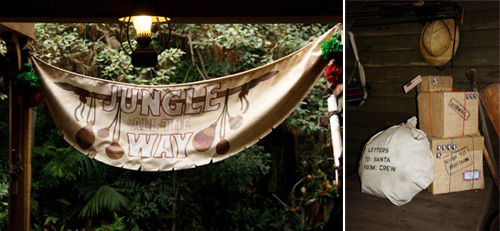 Photo credit: Monique Duke DisFanReview.com
Wold of Color - Winter Dreams: This year Olaf returns to host the festive holiday edition of World of Color. This nighttime spectacular combines the magic of the traditional World of Color show with a holiday spin including favorite holiday music and scenes from Frozen, Bambi, Tangled, Toy Story, Beauty and the Beast: Enchanted Christmas and so many more.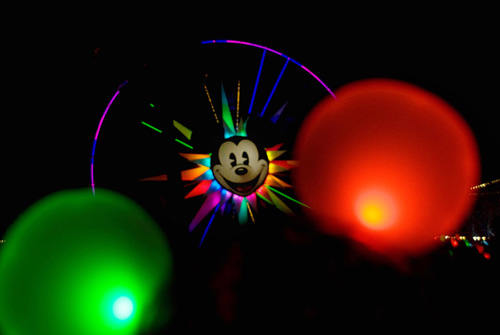 Photo credit: Monique Duke DisFanReview.com
"A Christmas Fantasy" Parade: The path from "it's a small world" to Main Street U.S.A. becomes extra merry with this parade that has become a holiday tradition for many. Disney characters prepare for a visit from Santa, Mickey and Minnie ice skate and gingerbread men come to life.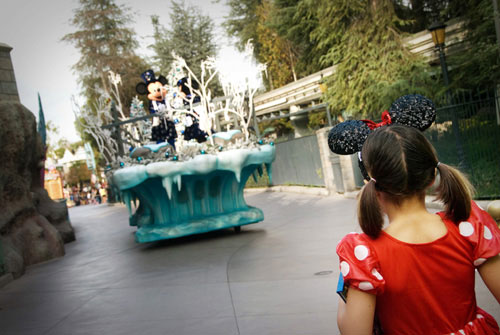 Photo credit: Monique Duke DisFanReview.com
Viva Navidad: This incredibly festive fiesta takes over the Paradise Gardens inside Disney California Adventure Park to celebrate. Mariachi and Samba music fills the air. Special visitors include the Three Caballeros (Donald Duck and pals), Mickey and Minnie, and Santa and Mrs. Claus.
Seasonal sweets: There are some treats and tastes that you can only get at the Disneyland Resort during this special time of year. Some highlights include gingerbread Mickey beignets, pumpkin fudge, yule logs and holiday themed caramel apples. If you're a fan of candy canes, you may just be lucky enough to purchase a handmade candy cane. These exclusive candy canes are only made on select days and require a wristband to purchase one of the 120 available at a time.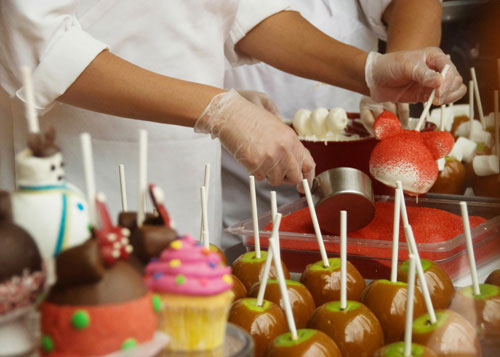 Photo credit: Monique Duke DisFanReview.com
In addition to the regularly scheduled holiday festivities, there is one event that only happens two nights during the entire holiday season. The Disneyland Candlelight Ceremony and Procession Choir is a musical version of the first Christmas. It is scheduled for December 6 and December 7, 2014 at Disneyland and features the Disneyland Symphony Orchestra, trumpets, bell ringers and a large choir. The event is typically narrated by a movie star. Celebrities performing in the past include, John Wayne, Cary Grant, James Earl Jones, and Marie Osmond to name a few. If you are planning your trip around this time, it is such a special ceremony that will create a lasting family memory.
We'd love to help you give your family the gift of Disneyland memories they'll cherish forever this holiday season. Kick off the holiday season early with one of our
Disneyland packages
and get Adults at Kids' Prices for travel November 1 - 24 and December 1 - 21, 2014. Or, surprise your family with a Disneyland vacation on Christmas morning! If you need some ideas on how to present your family with the gift of a Disneyland package, we've got you covered.
Click here to see our Disneyland vacation gift giving ideas
. No matter what you decide, we're here to help! We hope you have a very merry holiday season.

Check out these other great articles:
Holidays at the Disneyland Resort 2013: Photos and Video
Holidays at the Disneyland Resort - at Night!
Vacation Gift Giving Ideas on Good Things Utah