UPDATED NOVEMBER 2019: What could be better than a family vacation to
Disneyland
? How about a family vacation to Disneyland during the Holidays? The seasonal decor, limited-time treats and Holiday-themed attractions make the Happiest Place on Earth more magical than ever.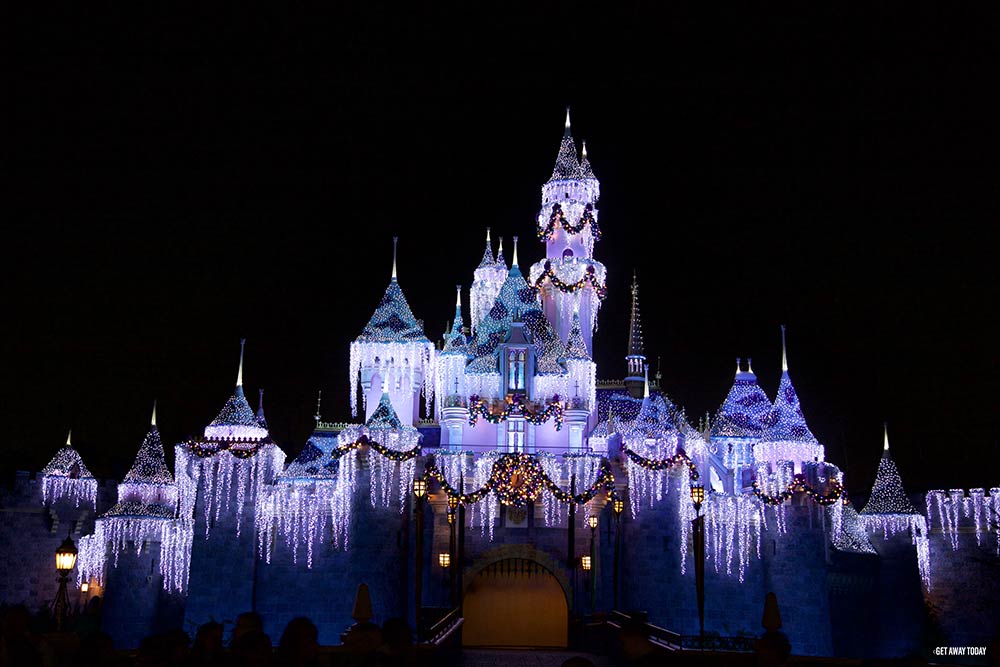 Holidays at the Disneyland Resort
Beginning November 8, 2019 and continuing through January 6, 2020, the Holidays at the Disneyland Resort are your opportunity to experience both the magic of Disney and the magic of the Holidays. Here's what you can look forward to enjoying at Disneyland during the Holidays 2019.

Holidays at the Disneyland Resort - Disneyland
Did you know you can take a guided tour entitled "Holiday Time at the Disneyland Resort?" Guests of all ages can enjoy taking a walk through the Resort and learning more about what it takes to create all the Holiday magic. This tour is optional, and you are welcome to simply enjoy the beauty of the Holidays at Disneyland without a tour. Simply strolling through Disneyland Park, you'll be greeted left and right with evergreens, miles of ribbon and sparkling light.
There are a number of no-cost seasonal celebrations you'll want to check out during the Holidays at the Disneyland Resort 2019 too:
A Christmas Fantasy Parade: Main Street, U.S.A. hosts A Christmas Fantasy Parade, showcasing Santa, Disney Characters in their holiday finest and seasonal guests such as reindeer and toy soldiers. Check the Disneyland app for parade times, which will potentially take place twice each day.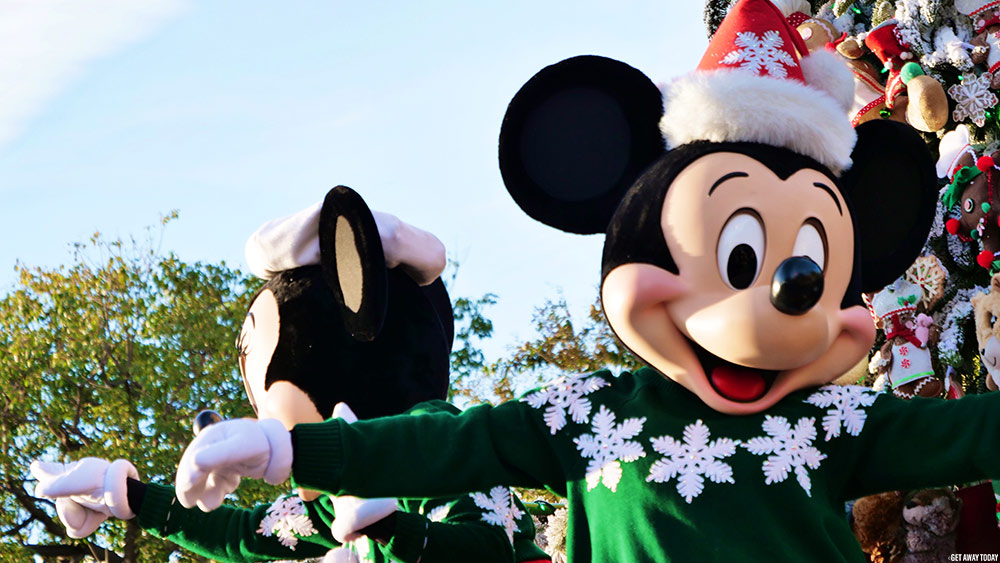 "Believe...in Holiday Magic" Fireworks Spectacular: Catch the breathtaking firework show over Sleeping Beauty's Castle outside Fantasyland. Weather permitting, falling snow will cap the display.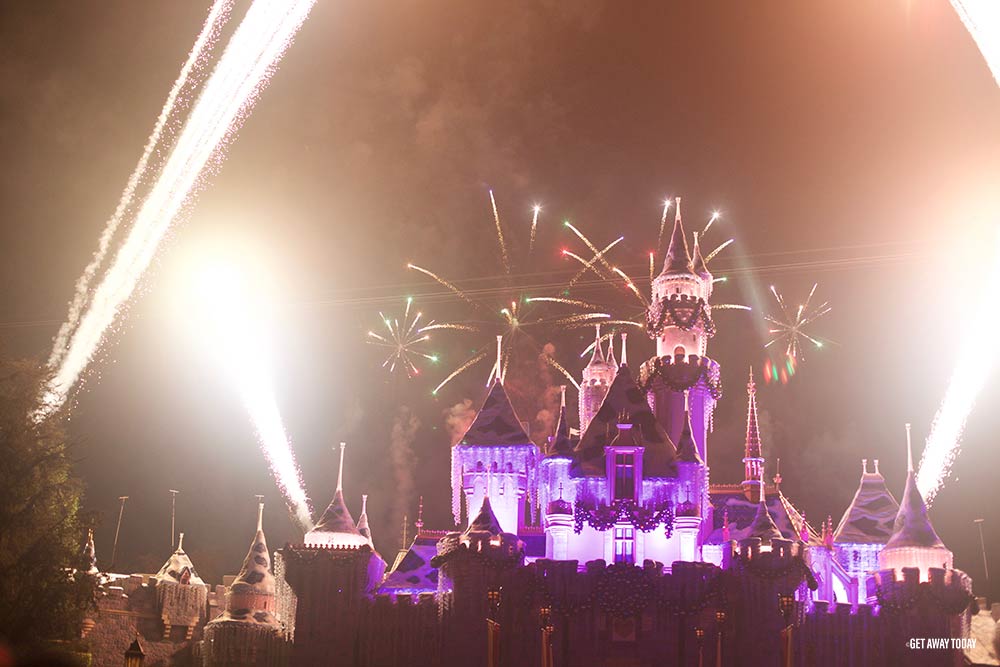 Wintertime Enchantment at Sleeping Beauty's Winter Castle: See the Castle transformed each night with its dazzling lights and Holiday decor. Thousands of lights illuminate the Castle's exterior, which also features faux icicles, yards of garland, evergreen wreaths and snow-capped turrets. It makes a picture-perfect backdrop for photos during your Holiday visit. Use the Disneyland app to see if PhotoPass photographers are at the Castle and take advantage of their services to capture priceless memories.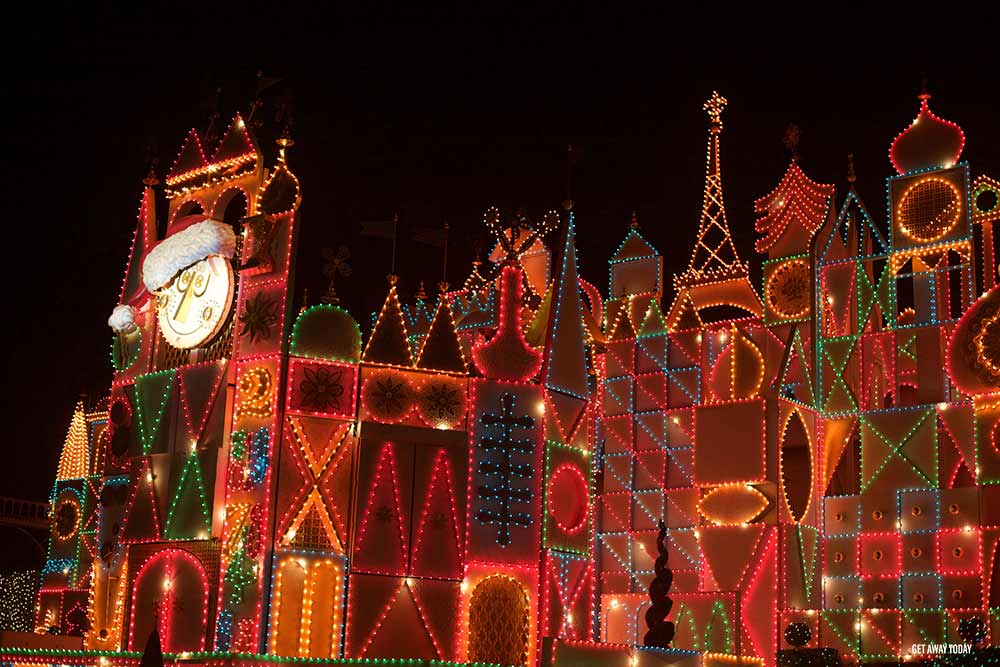 "it's a small world" Holiday Lighting and Overlay: This ride gets a temporary overlay inside and out. A light show on the attraction's exterior every 15 - 30 minutes will feature Holiday colors, and the ride itself will offer seasonal music. New scents were added for Holidays at Disneyland 2019, including cinnamon in the South America displays, coconut in the South Seas and cherry blossom for Asian-inspired sections.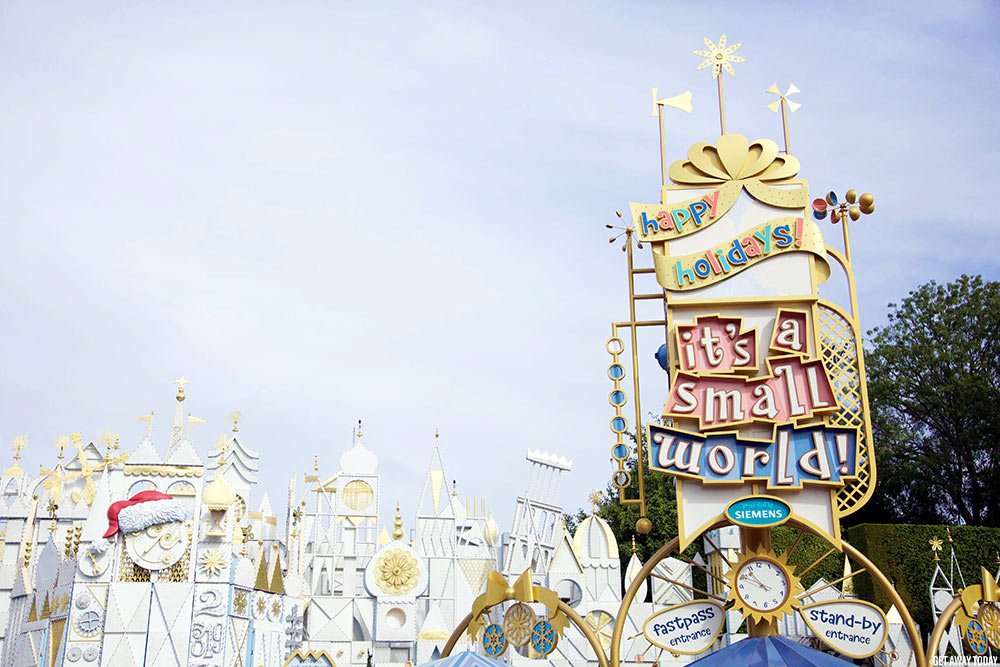 Santa in Critter Country: If you'd like to make a visit with Santa part of your Disneyland vacation during the Holidays, look for him in Critter Country. As always, we recommend referring to the Disneyland app to locate Characters within the Parks.
Dapper Dans: Keep your ears open to catch the tunes of the Dapper Dans. During the Holidays you can enjoy live music in Disneyland to commemorate the season.
Dickens Yuletide Band: Another opportunity to listen to live music is via the Dickens Yuletide Band. As with the Dapper Dans, you can locate them in the Resort using the Disneyland app. Additionally, Disney pipes Holiday music into the Parks so you can enjoy the spirit of the season in the background.

Insider tip: If you're looking for a quiet place, Baby Care Centers are an accessible-to-all area of the Parks that do not have music. The Disneyland Baby Care Center is located at the end of Main Street, U.S.A. near the First Aid Station and the photoshop.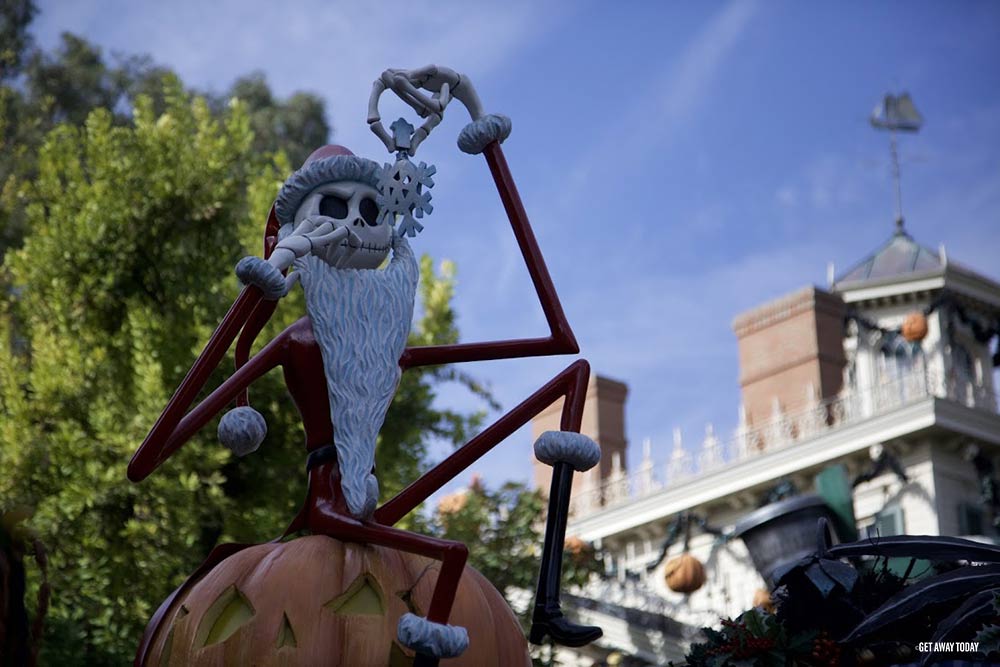 Haunted Mansion Holiday: Characters from The Nightmare Before Christmas take over the Haunted Mansion during the Holidays at Disneyland Resort. See how they decorate and celebrate this new-to-them Holiday season.
Snowfall at Rivers of America: Fantasmic! is hosted over Rivers of America, but on nights it is not showing, you can stand along the banks and listen to the Jambalaya Jazz band. Floating on a river raft, they'll serenade guests with Jazz music, and when they get to the Holiday portion of their setlist, you'll be treated to snowfall.
Candlelight Ceremony and Processional: Disney doesn't do a lot to promote the Candlelight Ceremony, but it is a lovely musical celebration of Christmas. The Processional is usually hosted by a Disney-loving-celebrity, and it can be viewed from Tomorrowland. Candlelight is typically only one weekend in December, so check the Disneyland app for events dates and times.

Holidays at the Disneyland Resort - Disney California Adventure
To complement the festivities in Disneyland, Disney California Adventure also has a variety of Latin-inspired events to commemorate the Holiday season. Plus, the residents of Radiator Springs go all out when it comes to the Holidays at Disneyland Resort.
Buena Vista Street Holiday Tree Lighting: Stop on Buena Vista Street to see the tree lighting each evening in front of Elias and Co.. Thousands of lights and hundreds of ornaments will delight young and old.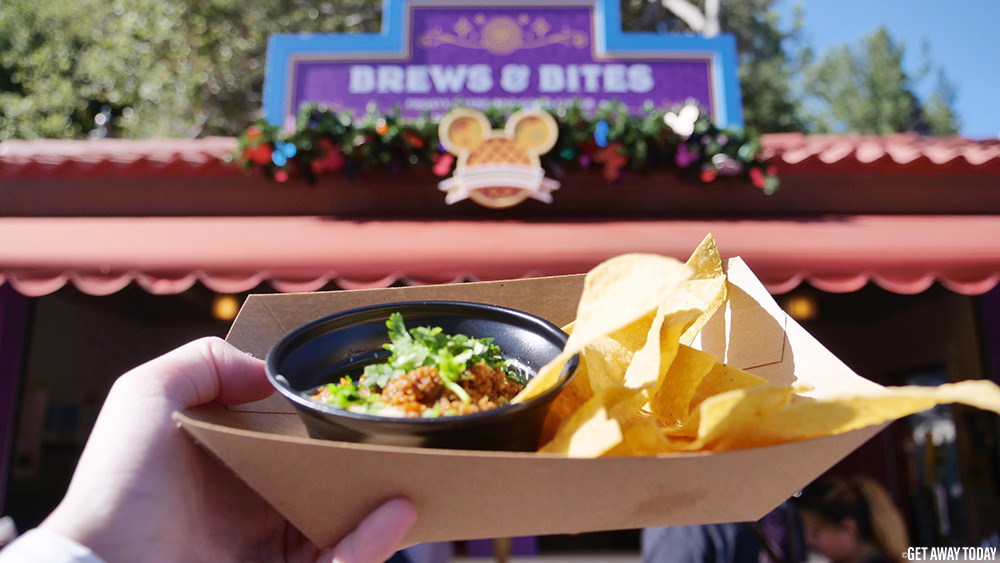 Festive Foods Marketplace: Set up near Ariel's Undersea Adventure, 12 vendors offer Latin-inspired eats to commemorate the Holiday season.

Holiday Tastings Passport. As you make your purchases, be sure to request a complimentary Holiday Tastings Passport. You'll receive special stamps on your passport with each purchase. This makes a great souvenir, even if you only make one food purchase at the Marketplace.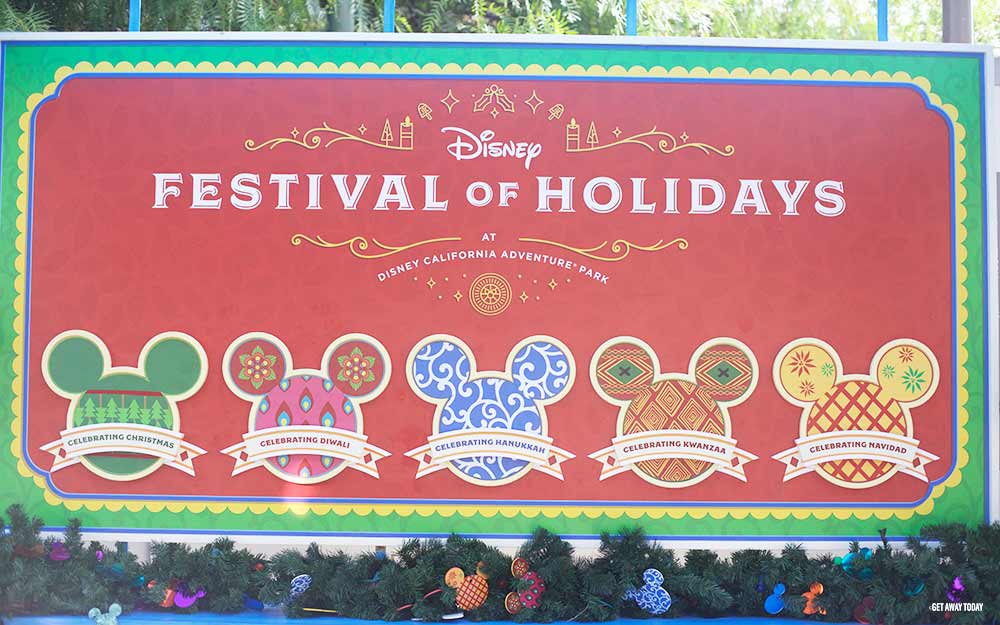 Sip and Savor Pass: For about $56 you can purchase the optional Holiday Sip and Savor Pass for the Festive Foods Marketplace. Each pass has 8 tabs that you can individually redeem for one menu item. As long as you select something more than $7 you're really getting your money's worth! Sip and Savor Pass redemption can be used more than once at any of the booths in the Marketplace.

Disney ¡Viva Navidad!: The 3 Caballeros, including Donald Duck, parade through Paradise Garden Park with festive music, 12-foot puppets and dancers. You'll love this street fiesta!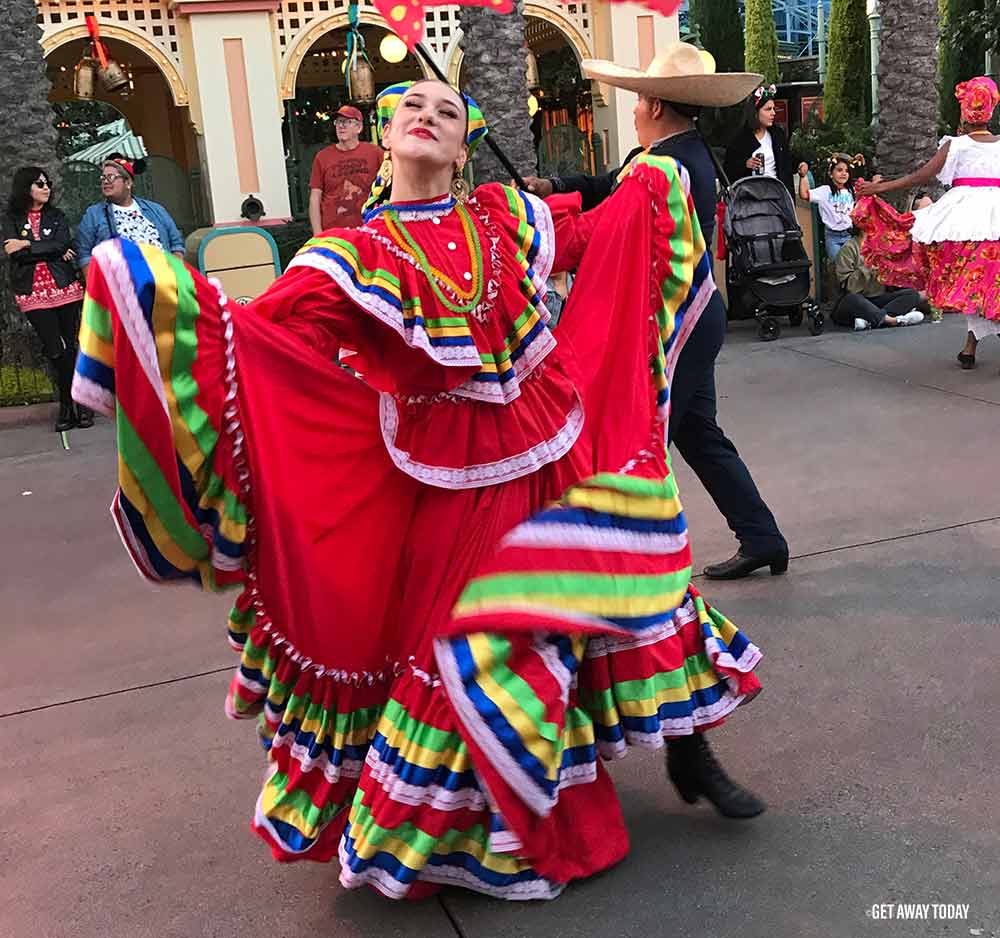 Three Kings Day: January 3 - 6, 2020 will celebrate the Three Wisemen and the 12th Day of Christmas with Latin American traditions.

World of Color Season of Light: Everyone's favorite, dazzling, nighttime projection show features a seasonal overly during the Holidays at the Disneyland Resort. Season of Light will highlight Holiday scenes and music from classic Disney movies.

Princess Elena's Musical Grand Arrival: Princess Elena greets Paradise Gardens Park guests aboard her festive float. With singing, dancing and storytelling, she'll captivate audiences and share her Latin heritage and holiday celebrations. Refer to the Disneyland app for appearance times.
Santa's Holiday Visit: Meet this Jolly Elf in Redwood Creek Challenge Trail. While you queue, look for hidden items listed on the Challenge Trail map.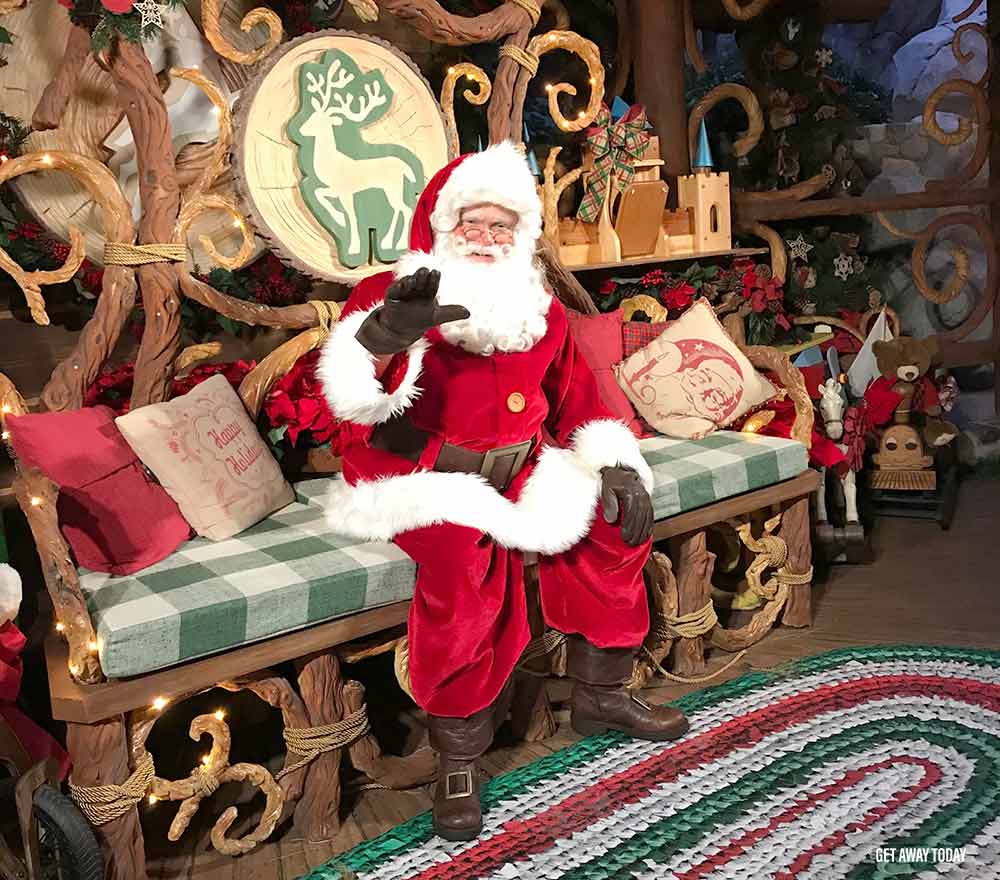 Mater's Jingle Jamboree: Take a tractor ride to the tune of Holiday music for a limited time during the Holidays.
Luigi's Joy to the Whirl: Luigi's little cars whirl and dance to Holiday-themed songs for the winter season.
Snowcar, Seasons Greetings "postcard" and neon lights: Radiator Springs welcomes you for the holidays with a unique "Seasons Greetings" postcard at its entrance. Look for the cute little snowcar when you visit, and be sure to stop by Route 66 at night to see the neon signs and Holiday lights sparkle.

Holidays at the Disneyland Resort - Seasonal Food
What would the Holidays be without some new and delicious menu items? In addition to all that is offered in the Festive Foods Marketplace, there are seasonal foods throughout Disneyland for the Holidays. Here's a look at some of our favorite holidays foods at Disneyland 2019.
Seasonal Churros:
Caramel and Coconut Churro (Available at the Town Square Churro Cart and Churros Near Sleeping Beauty Castle)
Santa's Cookies and Milk Churro (Available for purchase at the churro cart Near Casey Jr.)
Toffee-Flavored Churro (Found at the Tomorrowland Churro Cart)
Turtle Churro (Available at the Frontierland Churro Cart)
Sugar Plum Candy Churro (For sale at the New Orleans Churro Cart)
Carnation Cafe: Order the Pork Chop TV dinner during Holidays at Disneyland Resort and enjoy a nostalgic meal of pork chops, mashed potatoes and veggies.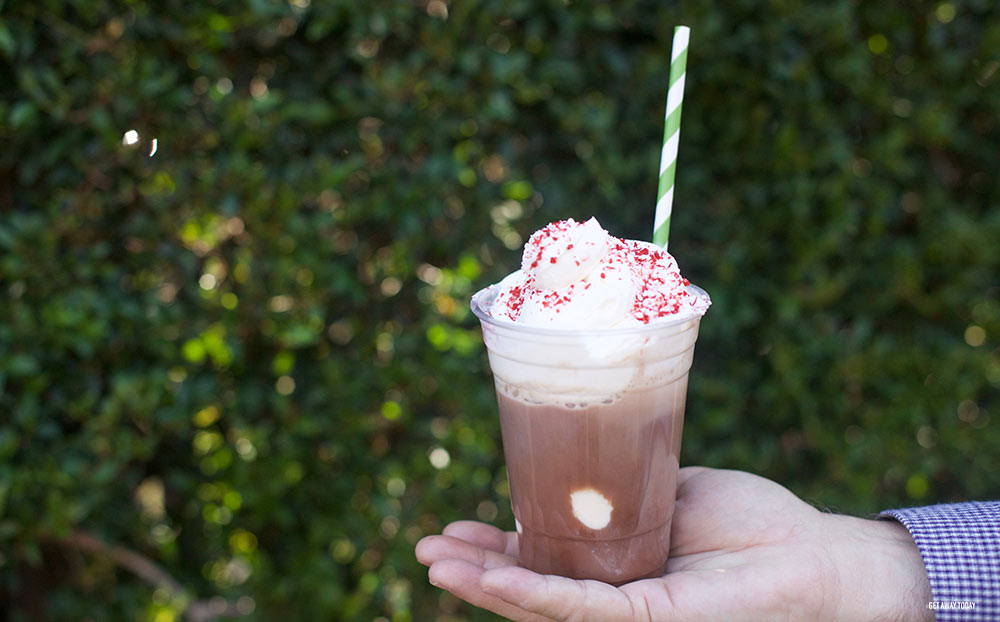 Gibson Girl Ice Cream Parlor: Indulge in the Peppermint Holiday Sundae, perfect for cooling off during warm California winters. It'll get you in the Holiday spirit even if you're wearing sunscreen!
Jolly Holiday Bakery Cafe: For a holiday-inspired meal, order the Thanks-mas Sandwich. This turkey sandwich is served with stuffing, gravy and cranberry sauce. The Bakery is also your stop for savory soups and treats such as the following:
Santa Hat Macaron
Snowman Shortbread Cookie
Eggnog Latte Cheesecake
Mickey Gingerbread Man
Plaza Inn: For more holiday desserts, order the ever-popular Yule Log or Christmas Cake here.
Rancho del Zocalo: Enjoy Latin-inspired holiday foods in this Frontierland restaurant. Choose from dishes such as these:
Champurrado with Churro Bites: The only thing better than Disneyland hot chocolate is Mexican-inspired hot chocolate served with cinnamon sugar churro bites!
Chicken Mole: This half chicken is served with flavorful mole, sour cream and toasted sesame seeds. It also comes with Mexican rice and refried beans.
Frozen Abuelita Hot Chocolate: If you think the hot chocolate is good, try this frozen version. This dessert is a layer of frozen horchata and a layer of frozen hot chocolate, all topped with spiced whipped cream.
Pan Dulce Ice Cream Sandwich: Mexican sweet bread served with dulce de leche ice cream, cajeta and churro streusel.
Pacific Wharf Cafe: When the Resort cools off in the evenings, you'll love a warm serving of pumpkin soup from this California Adventure Park restaurant.
Smokejumpers: Look for Loaded Latkes at this popular spot. Crispy potato cakes are served with tender brisket, Horseradish and green onions.
Holidays at the Disneyland Resort - Disneyland Resort Hotels
Whether or not you stay at one of the three Disneyland Resort Hotels, you can enjoy their over-the-top Holiday decorations and Character Dining.
Paradise Pier Hotel is all about the beach, and the decor definitely offers a nautical feel. Holiday trimmings typically feature hues of blue, silver and green. Look for seashell ornaments on the lobby tree, which reaches to the first-floor balcony. Paradise Pier Hotel typically treats guests to nightly, Holiday caroling until Christmas Day and you can often enjoy live piano music in the lobby.
For Holiday Character Dining, book up to 60 days in advance for Donald Duck's Seaside Breakfast at PCH Grill.
Retro-themed Holiday decor lights up the Disneyland Hotel, providing an ambiance for guests and visitors passing through. In years past the lobby has featured a silver Christmas tree with brightly colored ornaments. At the Disneyland Hotel, you can book Character Dining in Goofy's Kitchen (up to 60 days in advance), providing Holiday memories to last until your next visit.
Disney's Grand Californian Hotel & Spa
In Disney's Grand Californian Hotel & Spa, you can kick back by the fire and enjoy a warm cup of something seasonal. Head to Pinocchio's Workshop for Santa Letter Writing until December 24, 2019 and the hotel will send your correspondence to the North Pole for you. For last-minute gifts, be sure to stop by the gift shop, and don't miss the gingerbread houses on display.
Character Dining in Disney's Grand Californian Hotel & Spa can also be booked 60 days in advance, and you'll get to experience Holiday-themed meet and greets with Princesses, Mickey and more. Choose between Mickey's Tales of Adventure in Storyteller's Cafe or Disney Princess Breakfast Adventure in Napa Rose.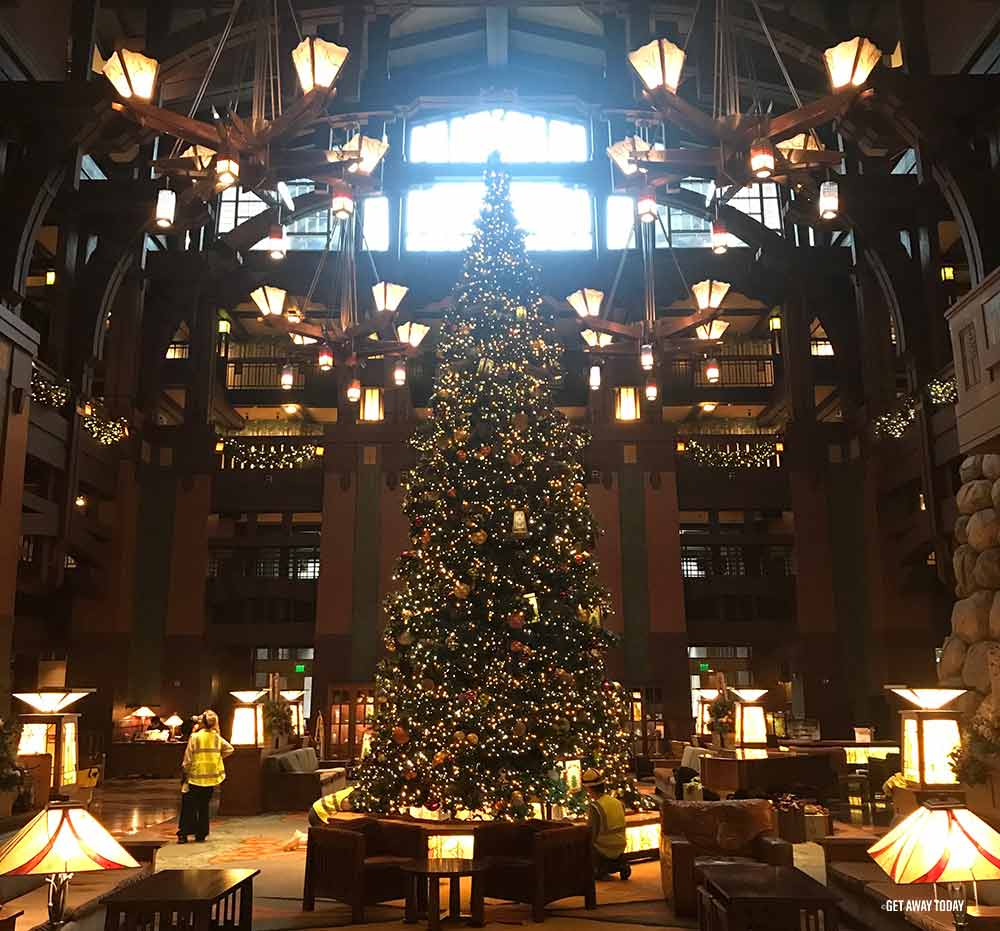 Remember, reservations become available up to 60 days in advance, so don't miss out on the Character Dining experience you want! Plus, you do not have to be a Disneyland Resort Hotel guests to enjoy these offerings. However, if you do want to include a Disneyland Resort Hotel during your stay, you can always save when you book with Get Away Today.
Book Now and Save
Get Away Today features an interest-free Layaway Plan so you can book your Holiday vacation now, and make flexible payments up until five days before travel. It's such a convenient way to plan your vacation and make it more affordable than ever before. If you want to give the gift of a vacation for the holidays, there's no better time to book! Our blog has lots of vacation reveal ideas that you can find HERE so you can give your family a vacation as a holiday gift. We would love to help you make Holiday memories, so check out all our discount Disneyland vacations online, or give us a call at 855-GET-AWAY.