UPDATED JANUARY 2019 If you're asking yourself, "How do I get the best Disneyland ticket prices?" you've come to the right place. We're going over our top tips so you can be sure you get the best deal for your trip to the Happiest Place on Earth.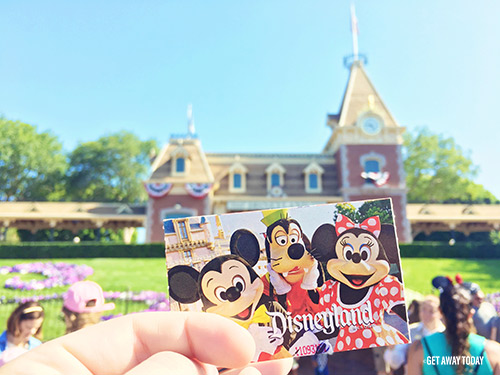 Planning a vacation to Disneyland can be fun, but it can also be stressful. Especially if you're trying to save the most money while still experiencing all the Disney magic. "How do I get the best Disneyland ticket prices?" is one of the top questions when it comes to the Happiest Place on Earth. Since the tickets are one of the most expensive components of your trip, we totally understand wanting to get a deal. This is why we've gathered our top tips on making sure you get the lowest Disneyland ticket prices.
How Do I Get the Best Disneyland Ticket Prices?

Buy your Disneyland tickets in advance.
One of the easiest ways to get the best Disneyland ticket prices is by buying in advance. With all theme parks, you can count on getting the highest price at the gates directly. Buying in advance guarantees that you'll get the best Disneyland ticket prices. This is especially true when you buy from reputable sources like Get Away Today that offer sales and even layaway plans.
Don't buy Disneyland tickets directly from Disney.
That's right, you'll find better Disneyland ticket prices when you don't buy directly from Disney. Now, there are a few rules to abide by when purchasing your Disneyland tickets. The most important is that you'll want to make sure the company you are buying your tickets from is legit and not a scam. Buying tickets off sites like E-bay or Craigslist is a huge red flag. Any locations near the park that require you to leave your ID with them while you're in the park should also be avoided. If it seems too good to be true, it likely is.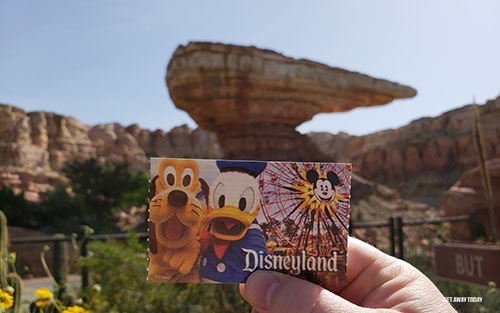 Now, there are a few sources that provide very low Disneyland ticket prices. Specifically, military bases and when Disneyland runs their Southern California resident discounts. Military bases offer extremely reduced ticket prices to active and retired U.S. military personnel and their families. It's important to note that you may be asked to show military ID when visiting the park with these tickets, so you won't want to try and cheat the system by having your military friend purchase them for you but not come on the trip. At Get Away Today, we are extremely appreciative of the sacrifice military personnel and their families and think this is a great deal when it applies.
The Southern California resident discounts only happen every once in a while, and you guessed it, only apply to those who live in select zip codes. Guests are required to show photo ID confirming a qualifying Southern California residence when purchasing and using these tickets. Disney does a great job enforcing that only those who truly live in SoCal are able to take advantage of the deal.
If you don't fall into either category, don't despair. You can purchase with Get Away Today and know you're getting the best Disneyland ticket prices. We've worked with Disneyland for 28+ years and are one of a handful of authorized ticket sellers. We are their top wholesale ticket partner and it shows in many ways.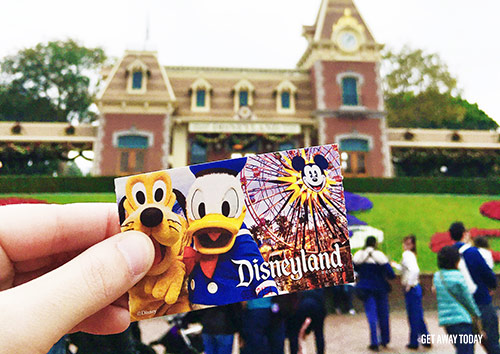 Our agents visit the Disneyland Resort at least once a year and have all the expert tips. On top of that, we actively search out competitor pricing to make sure we really do have unbeatable Disneyland ticket prices. We promise the best price on your Disneyland vacation and are willing to price match (and even beat the price!) if you ever do find lower prices. It's our continued drive to ensure top prices and unsurpassed customer service that help keep our title as Disneyland's top wholesale ticket partner. You can take a look at our current Disneyland ticket prices here.

Watch for special Disneyland ticket prices.
On top of buying in advance and not directly from Disney, you'll also want to keep an eye out for specials when it comes to Disneyland ticket prices. Depending on when you're visiting the parks, you may have access to lower ticket prices. For example, at Get Away Today we run Adults at Kids' Prices and 5th Day Free specials on our Disneyland tickets.
With the Adults at Kids' Prices tickets, you'll pay the child price on all 3-day or longer Park Hopper tickets when you travel in select dates. Historically, these specials have been offered for travel in February, May, September or August. If you're not traveling then, you can always take advantage of our year-long 5th Day Free promotion, which enables you to pay the price of a 4-Day Park Hopper and receive a 5-Day Park Hopper. In addition, we love to run sales for special events. Just this last year alone, we had ticket deals that coincided with Disneyland's annual ticket price increase, the Pixar Fest fest opening and more.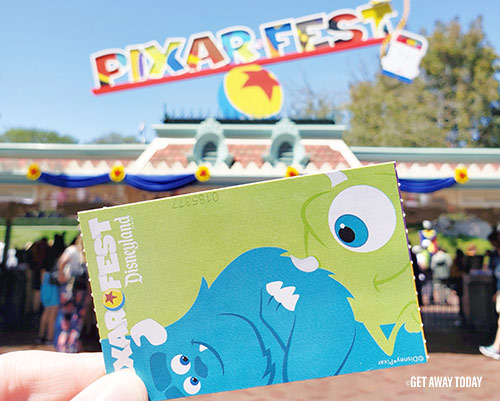 And we guarantee the best Disneyland ticket prices, which means that if you purchase your tickets well in advance (smart move!), you won't be penalized. For example, you could purchase your tickets on our Layaway Plan this month for your October trip. You'd only be required to put at least $175 down and have until five days before your trip to pay it off. So great, right? Well, if we were to run a Halloween promotion on tickets, you could call in and we'd be able to apply that lower price for you. Just like that! It's easy to see how you can get the lowest Disneyland ticket prices when you buy in advance with Get Away Today.
Spend more days in the parks.
Another tip for getting inexpensive Disneyland ticket prices is to buy a longer length of stay ticket. For example, a 1-Day Disneyland Park Hopper ticket can cost up to $185. Yet, a 5-Day Disneyland Park Hopper ticket currently costs $355 with Get Away Today. That means you'll be spending $71 per day, less than half of a 1-Day ticket could cost. When comparing a 3-Day Park Hopper ($330 or $110 per day) to the 5-Day Park Hopper price, you can see how staying longer means you'll get better Disneyland ticket prices on a per day basis. Plus, who doesn't want another reason to spend more time at the Happiest Place on Earth?

Package your Disneyland tickets to save more.
While this may not directly correlate to the best Disneyland ticket prices, it will help you save the most on your Disneyland vacation overall. Your wallet will be more than happy when you combine our discount Disneyland tickets with our reduced Anaheim area hotel rates. You can save even more when you take advantage of our hotels that offer the 3rd or 4th night free.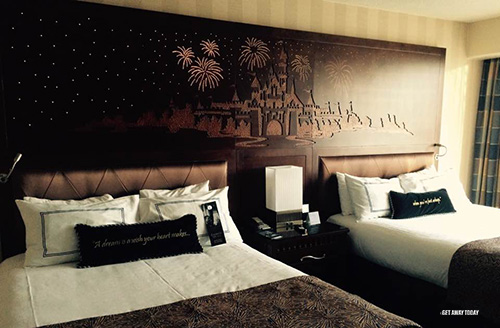 Another tip is to consider our bundled tickets as part of your package. If you're thinking about visiting Universal Studios Hollywood or another SoCal attraction, you can save even more with our bundled tickets. You can save anywhere from $45 - $160 per person over gate prices when you purchase the Southern California CityPass or any of our other combo ticket offerings.
Bonus – can Annual Passes get you the best Disneyland ticket prices?
This one really depends on how many times you'll visit the resort, which pass you'll purchase and when you plan on going. For example, let's look at the Disney Deluxe Passport. It's currently priced at $729 and has blockout dates that vary by theme park. A person would have to plan on visiting the park more than 10 days in a year (based on Get Away Today's price of $355 per 5-Day Park Hopper) for that price to become worth it. And, since the recent changes, there will be even more blockout dates with Star Wars Land opening next summer. In fact, there are whole weeks and weekends blocked off in June for the Disney Deluxe Passport.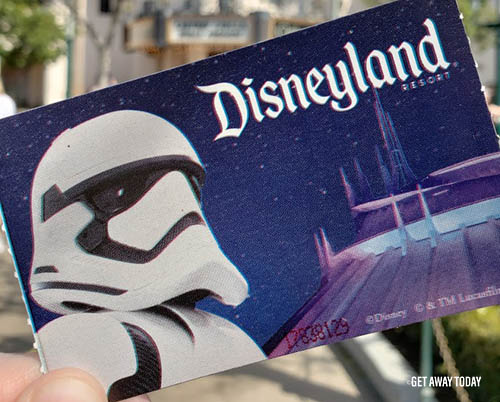 The Signature and Signature Plus Passport do not have as many blockout dates as the Deluxe Passport, but have a higher price tag. The Signature is currently priced at $999, which would require a person to visit almost 15 days in a year for them to save money. The Signature Plus is priced at $1,149, which would require just over 15 days to reach the same threshold. Now, Annual Passports (APs) do have different benefits like discounts on dining and merchandise as well as exclusive events and purchase opportunities. The Signature Plus even includes MaxPass and has no blockout dates whatsoever.
It's just important to break down the prices since so many people assume if they're going twice that an AP will definitely save them money. While an Annual Passport is great, it doesn't mean it will always beat getting the best Disneyland ticket prices elsewhere. If you know you'll be going enough for the pass to be worth it, don't forget to get a discount.
While there aren't any traditional discounts on Annual Passports, you can save when you upgrade your discount Disneyland ticket from Get Away Today to an Annual Pass. Simply take your park ticket to the ticket booth before the last day of your stay and the Cast Member will apply the full value of the ticket towards the cost of the Annual Pass, even though you paid less than that full value! It's the only way you can get a discount on Annual Pass that we know of, which makes it a great tip if you're taking that Annual Pass plunge. As a word of advice, you'll want to make sure you use your Magic Morning before you upgrade as those are not available to Annual Passholders.
Did we answer your How do I get the best Disneyland ticket prices question with our tips? We hope you were able to get the most out of this article and save even more on your upcoming Disneyland vacation. And don't forget you get the lowest Disneyland ticket prices with Get Away Today. You can purchase them online or give our Disney experts a call at 855-GET-AWAY. Either way, we can't wait to help you with your trip to the Happiest Place on Earth!

Check out more tips for planning your Disneyland vacation: