The
Holidays at the Disneyland Resort
transform the Happiest Place on Earth into the Merriest Place on Earth each winter. When you combine the most magical time of year and the most magical place, true holiday magic comes to life. The spirit of Christmas is in the air and it's no wonder that many families choose to celebrate the holidays at Disneyland. There is nothing else like it.
If you want to beat the holiday rush, you can travel when the festivities officially begin in mid-November or early December. If you want to take advantage of your kids' holiday break from school, or even surprise the family with an immediate Disneyland vacation on Christmas morning, we have some tips that will help make your trip as magical as possible. After all, you're celebrating the holidays at Disneyland!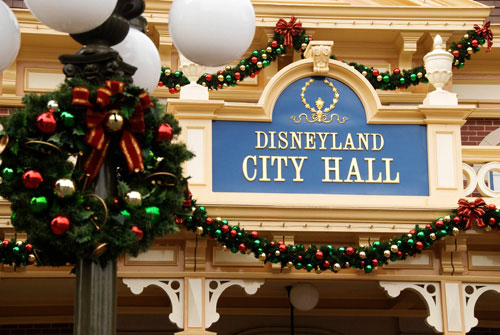 Photo credit: DisFanReview
First things first, you'll want to book your hotel early. Because it's a popular time to travel, the best hotels and specials go quickly. If you haven't booked yet for this year, you'll want to do it ASAP. You may already have this year's gift planned out, but think of how fun celebrating next year's holidays at Disneyland would be! It's not too early to start planning for next year - and as a bonus, you can hold your vacation for just $125 down with final payment due two weeks before you travel!
Speaking of hotels, we highly recommend staying at the Hotels of the Disneyland Resort any time of year, but they are extra special during the holidays. Each of the Disneyland Resort Hotels go all out for the celebration with incredible Christmas decor and giant trimmed trees in the lobby. Plus, you get all of the exclusive benefits of staying on-property, like being as close to the parks as possible, not leaving the magic, and having all of your in-park shopping sent directly to your hotel instead of carrying it around the parks all day, to name a few. My favorite perk of all though is that you get early entry into either Disneyland or Disney California Adventure Park each day of your stay. That extra hour is even more valuable during the holidays at Disneyland.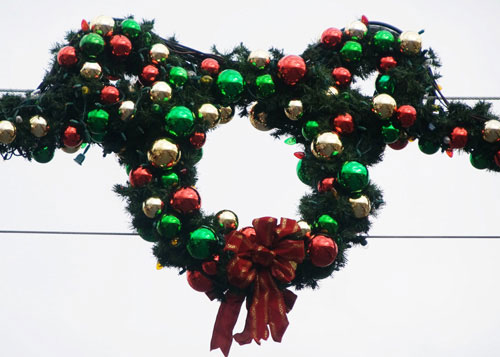 Photo credit: DisFanReview
Even if you're not staying on-property, you'll want to get to the parks as early as possible. The parks fill up as the day progresses and often reaches capacity by early afternoon the week between Christmas and New Year. Each 3-day and longer Disneyland ticket comes with one Magic Morning which gives you one early entry into Disneyland Park. Be sure to use it during the holidays at Disneyland! If you want to be among the first guests in the park, we recommend arriving 30-60 minutes before the park opens on non-Magic Morning days and just as early before Magic Morning begins if you're using it that day.
Make reservations for any table service meals you're planning on, and definitely plan on a Character Dining experience. Goofy's Kitchen is awesome for breakfast or dinner. We also love Minnie and Friends Breakfast in the Park at the Plaza Inn on Main Street and the Surf's Up with Mickey and Friends Breakfast at the PCH Grill inside Disney's Paradise Pier Hotel. Dining reservations can be made up to 60 days in advance, so we're already in that time window for most holiday reservations. You can book most sit-down Disney restaurants online, or call 714.781.3463 (DINE).
Use all of the time saving tricks possible for attractions. Pay close attention to when you can get your next Fastpass to make sure you always have an active Fastpass ticket for everyone in your group. Depending on the ages of your group, take advantage of the Single Rider Line and Rider Switch passes whenever appropriate and possible. These will help you make the most of your time during the holidays at Disneyland.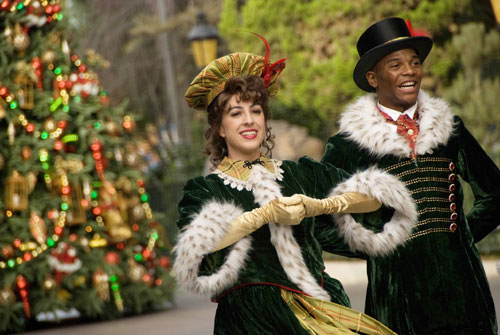 Photo credit: DisFanReview
Enjoy the shows. So much of the fun of the holidays at Disneyland includes their one-of-a-kind entertainment. Be sure to catch the seasonal entertainment like A Christmas Fantasy Parade and Disney Viva Navidad! The World of Color holiday show is one you don't want to miss. For the best seats, you can book dining packages that include a three course meal and preferred viewing for the show. Reservations for these packages can be made 60 days in advance and should be made as soon as possible through Disney Dining at 714.781.3463.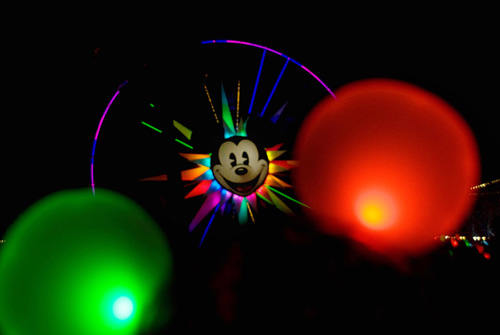 Photo credit: DisFanReview
Make time to watch the "Believe...In Holiday Magic" fireworks. Celebrating the holidays at Disneyland isn't complete without viewing the season firework show. They fireworks go off nightly during the holidays and can be seen from multiple areas in the park. The magical show not only includes a dazzling display of fireworks, but classic holiday tunes and beautiful projections too. Keep your eyes open - you may even see "snow" on Main Street!
Get a 5-day ticket if possible so you have enough time to do everything there is during the holidays at Disneyland. That way you won't feel rushed. Also, make sure you have a Park Hopper so you have ultimate flexibility to see the shows and rides in both parks. In addition to all of your favorite classic attractions, you'll want time to visit with Santa in Disney California Adventure, and enjoy the holiday overlays at Haunted Mansion Holiday, "it's a small world" holiday and the Jingle Cruise.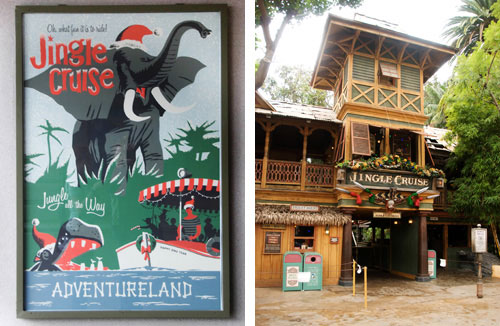 Photo credit: DisFanReview
Most of all, enjoy!
Soak it all in and we're sure you'll make memories that will last a lifetime. If you haven't booked your holiday Disneyland vacation yet, we'd love to help. Better yet, if you're planning on giving your family a Disneyland vacation for Christmas, we have all sorts of ideas on how to do it and free printables to make it even easier on our
Vacation Surprise page
. It is sure to be a Christmas your family will remember forever! If you want to spend your holidays at Disneyland, you can book any of our
Disneyland packages
online, or call our agents at 855-GET-AWAY.