You can join the Incredibles family this summer at Pixar Fest. Let your family save the day as part of the Super Squad with this Incredibles Disney Vacation Reveal.
The Incredibles family is taking the spotlight this summer at Pixar Fest in Disney California Adventure Park. You can find them saving the day with interactive character meet and greet opportunities. If you're visiting after June 23rd, you'll be able to experience the big thrills on the newly re-imagined Incredicoaster at Pixar Pier and see them shining bright in the award-winning Paint the Night Parade. You will want to dash around to all of these experiences and more all summer long!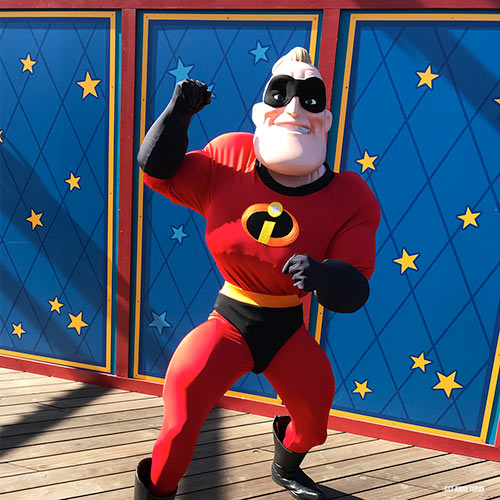 The super squad is also hitting the big screens this summer with their much-anticipated sequel. Mr. Incredible, Mrs. Incredible, Violet, Dash and Jack-Jack return for an adventure that is sure to entertain! Are you going to be first in line to get tickets? I am so excited. I love the part of the movie trailer that captures Mr. Incredible helping Dash with his math homework. He exclaims in frustration, "Math is math. You can't change math." I literally laughed out loud. If your child has ever come home with Common Core math sheets, you feel his pain. Immensely. I can't wait to see the whole show.
You can join the Incredibles crew with this fun Disney vacation reveal -- Incredibles style! Put on your own super mask and get ready for an amazing Disney adventure.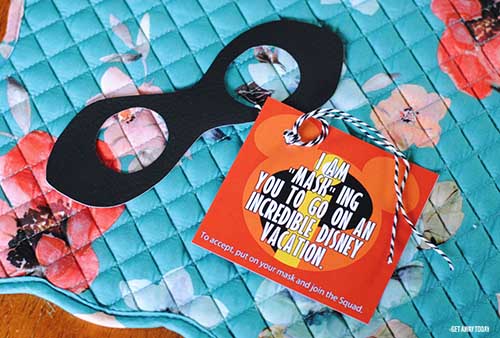 Incredibles Disney Vacation Reveal Templates:
To start, download and print the free Incredibles Disney Vacation Reveal template here. You can print it on card stock paper if you want it to have a little bit of heft. There are six cards per page. You will need one per person in your family.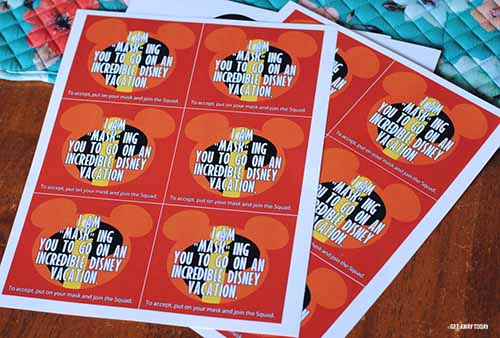 Cut the cards into individual squares.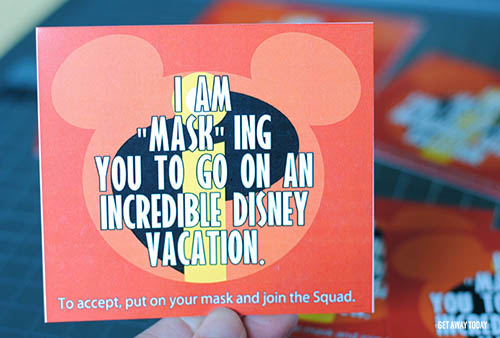 Next, you'll need to create the super mask! If you are on a time crunch, you could print the paper mask template here. There are four on each page. It is a last-minute option that totally works!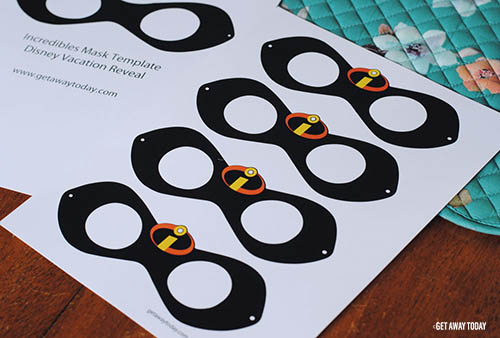 I used my Exact-o knife to cut out the eye holes.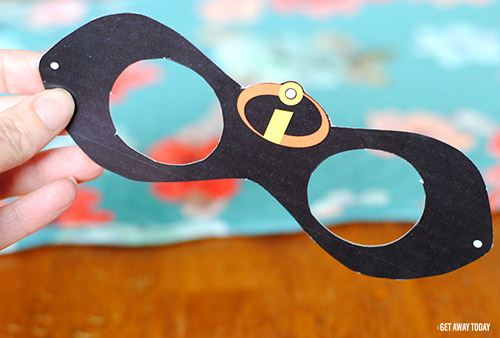 Poke holes in the edges of the mask and string though a little bit of stretchy elastic rope to keep the mask in place. Ta-da! Instant disguise.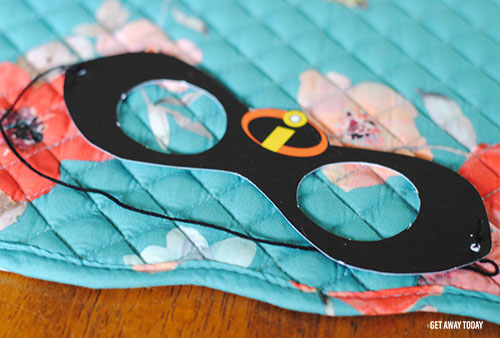 If you are making the advanced version, then cut the mask pattern from the template. This pattern should fit most kids! If you have a toddler, you could scale the pattern to about 75% before printing to make it fit his or her face a little bit better.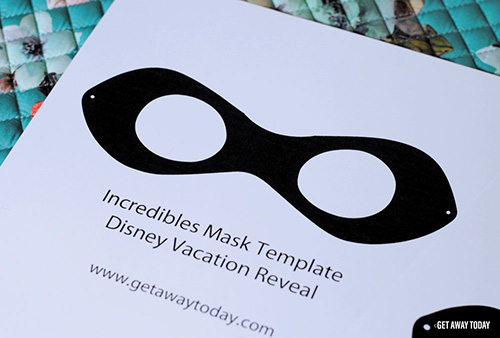 You will need black fake leather fabric or vinyl. There are a ton of options at the fabric store.
Trace the pattern onto the back of the vinyl.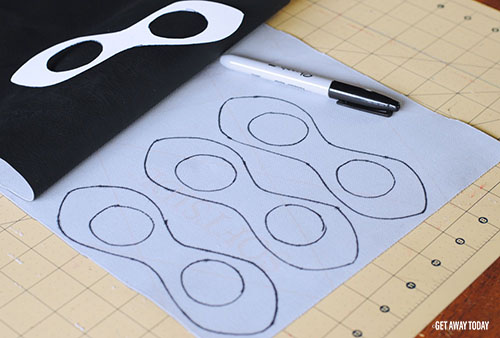 Use sharp scissors to cut along the marked lines. It's pretty easy to cut.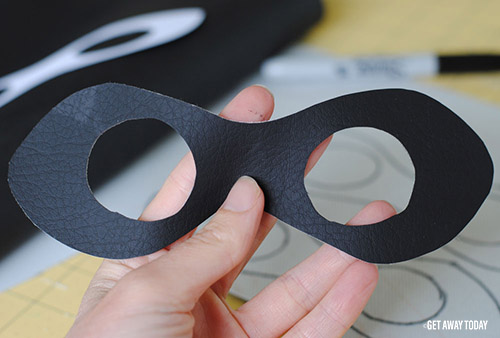 Make a small hole on each side of the mask. You can see the spot indicated on the pattern.
Cut round elastic into about an 18-inch strip.
Thread the elastic through the holes in the mask and tie the ends into place. This will hold the mask on your little heroes' faces. You may need to adjust the length of elastic depending on the size of your child's head.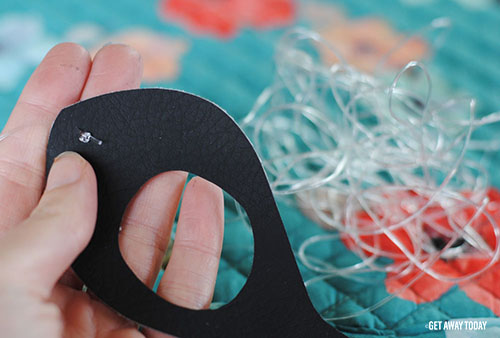 Make a mask for each person. When you are finished, attach the Disney vacation reveal Incredible papers to the masks. I looped a piece of string around the eye hole first.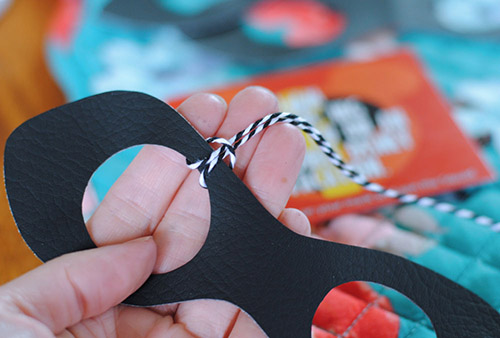 Punch a hole in the Mickey ear with a hole punch.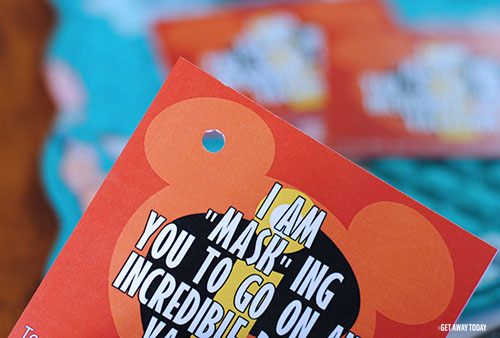 Then loop the sting through the hole and tie it into place.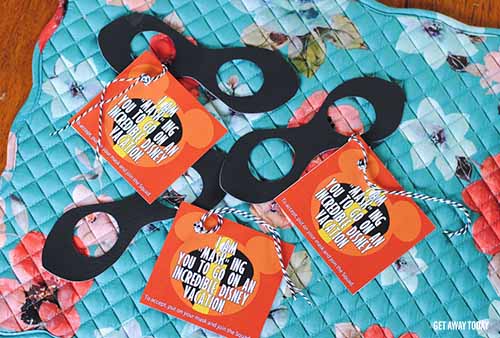 Tuck the finished Incredibles masks inside of a large packing envelope. Label the front "Top Secret!". This is a super operation after all.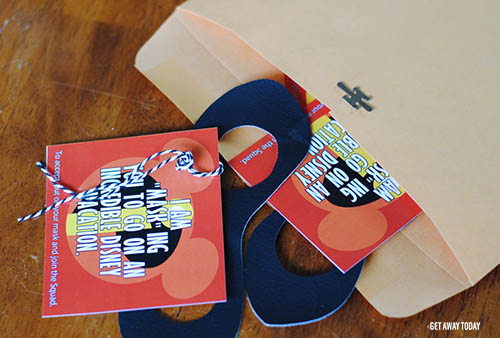 Let your family open the package together. You could have someone sneakily leave the package on your porch, ring the bell and run to make it exciting!
The soft leather masks are comfortable to wear and look pretty cute too!
Do you think everyone will agree to put on their mask? I am pretty sure they will want to demonstrate their acceptance of the invitation to travel to Disney! Your little squad is going to have an INCREDIBLE time at Disneyland. Here are just a few of the super things you'll experience when you visit the Disneyland Resort this summer:
Pixar Fest began April 13th and runs through September 3rd. The celebration focuses on friendship with a brand-new fireworks spectacular, the Pixar Play Parade at Disneyland, Paint the Night Parade at Disney California Adventure and more. Find out everything you need to know about the event here.
Pixar Pier opens June 23rd and will reveal a newly re-imagined area of Disney California Adventure. Your family will be able to ride the Incredicoaster, sample delicious food and meet some of their favorite Pixar pals. For all the details, check out our Pixar Pier article.
It's going to be one Pixar-tastic year your family won't want to miss! For the best price on your super vacation to Disneyland, give Get Away Today a call at 855-GET-AWAY. Our Disney experts won't just help you save money, but will give you all the best tips and tricks to make your vacation incredible. Plus, you'll have a reason to use this super cute Incredibles Disney vacation reveal!

Check out more Pixar inspired crafts and recipes: