Last week a couple of our contacts from San Diego dropped by our office to remind us of a few of the reasons why San Diego is one of our most popular travel destinations - and that October is Kids Free Month in San Diego! The San Diego Zoo and Safari Park started it all and we're so glad. This October your kids can get into San Diego's best attractions free - just be sure to book now for the best availability.
If you're wondering where to stay for your San Diego vacation, Dana from the Bartell Hotels gave us a quick overview of her hotels and why we love them. Between the seven properties, there is something for everyone:
The Dana on Mission Bay
is the closest hotel to SeaWorld San Diego - and the hotel offers a free shuttle. We also love their two great outdoor pool areas including the infinity pool overlooking the marina. It's also the only hotel in San Diego with onsite water rentals.
The Pacific Terrace
is the only 4 diamond hotel on the beach, underground parking Dana - only hotel with onside water rentals. Plus, you can get your 5th night free when you travel during October (Kids Free Month!) or your 4th night free when you travel in November or December.
The Holiday Inn San Diego Bayside
has been a favorite hotel for families because of their comfortable rooms, Kids Eat Free program, awesome location (right across from San Diego Bay), free beach cruiser rentals, and great pool area with games, a putting green and "dive-in" movies during the summer. If you are flying in for a cruise, the hotel also offers complimentary shuttle to/from the airport and cruise terminal.
The Days Hotel
- Hotel Circle is a 3 diamond hotel, not what you'd expect from a Days Inn, because it's not a Days Inn. The hotel's guest rooms were recently renovated and the hotel offers an in-house restaurant, room service, a fitness center, free parking and a great pool area tucked behind the hotel.
The Sheraton La Jolla
is located just minutes away from San Diego's most beautiful beaches. Also, guest services can help you get tee times at the world renowned Torrey Pines Golf Course. PS - there is a Sprinkles cupcake shop within walking distance from the hotel!
Humphrey's Half Moon Inn & Suites
is located among lush, tropical gardens on Shelter Island. They are well known for their concert series from April to October. Guests can purchase tickets, or enjoy the sounds of the show from pool where you can also order room (or pool) service. They also offer a free shuttle to/from the airport and cruise ship terminal, which is such an added bonus if you're cruising from San Diego.
The Best Western Island Palms Hotel & Marina
is a favorite San Diego hotel because of its perfect Shelter Island location. One side of the resort overlooks the private marina while the other has views of the San Diego Bay. It's also one of a handful of San Diego hotels that offers free parking as well as free shuttle service to/from the airport and cruise ship terminal.
Next, Melissa from the San Diego Zoo and San Diego Zoo's Safari Park gave us the update on the two parks.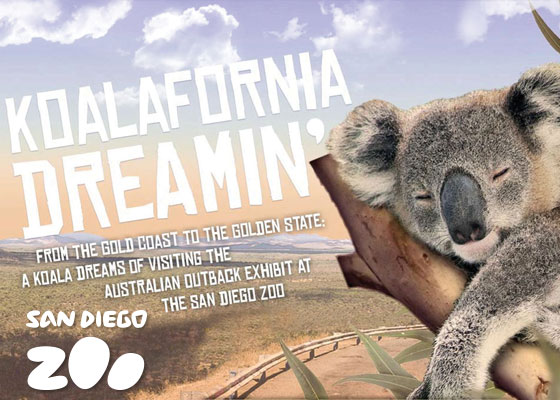 The San Diego Zoo
is world-famous for a reason. They have some of the best exhibits around and are one of the only places in the United States where you can see giant pandas. Another unique exhibit is the new Australian Outback. This addition is home to over 20 koalas, which is the largest colony outside of Australia. The San Diego Zoo is also one of only two zoos in the US to have Tasmanian devils. You will want to be sure to visit both of these exhibits. Melissa also shared her recommendations on how to do the Zoo. First, she suggests that you do the guided bus tour, which will let you see 85% of the Zoo. You'll be able to determine which exhibits are most important to you. You'll also want to take advantage Kangaroo Express Bus, which allows you to "hop" on and off (get it?) at popular stops throughout the park, and take a ride on the Skyfari, which gives you an aerial view of the Zoo and surrounding Balboa Park. The bus tours and Skyfari are included with our regular admission, but not with the October kids free tickets. If you're traveling during October, you can purchase the passes for these separately at the Zoo.
The San Diego Zoo Safari Park
is another must-see when visiting San Diego. The African Safari (included with our regular tickets) gives you a look at animals living together on open plains. The safari is not included with the Kids Free tickets, but can be added during October at the park. Some other highly recommended attraction is the new Tiger Trail exhibit where you'll see Sumatran tigers basking, playing and even swimming - because who knew, tigers LOVE water! Other popular attractions include the Cheetah Run - a once-a-day show in the afternoon where you can see the world's fastest land mammal get up to full speed in seconds and the Lemur Walk, another new exhibit where you walk through the exhibit WITH the lemurs.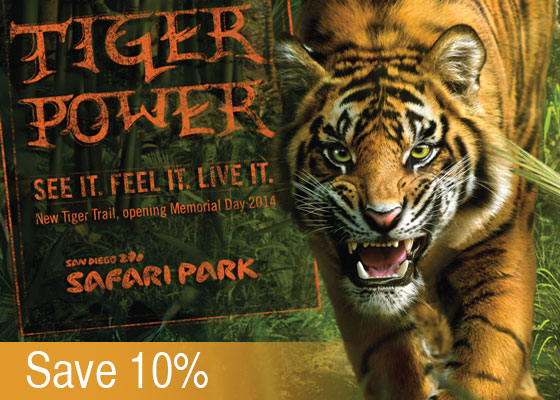 We hope you're as excited about San Diego as we are! We'd love to help you plan your San Diego vacation. Book online or call our San Diego experts at 855-GET-AWAY.

Check out these other great articles:
Best San Diego and Carlsbad Vacations
Tiger Trails at San Diego Zoo Safari Park Now Open
Get Away Today Visits the Safari Park